Briggs Cunningham: Sportsman, Gentleman, Sailing Gadget Inventor
Diesel, Kalashnikov, Graham (crackers), Mason (jars), Ohm, Edsel, Ferris — the list is long of items, properties or ideas named for the people who came up with them. One of the most familiar to sailors is the cunningham, that now-familiar tackle used to tension the mainsail luff. It is named for Briggs Cunningham II, the tall, dashing race car driver/builder, and victorious skipper of the 1958 America's Cup.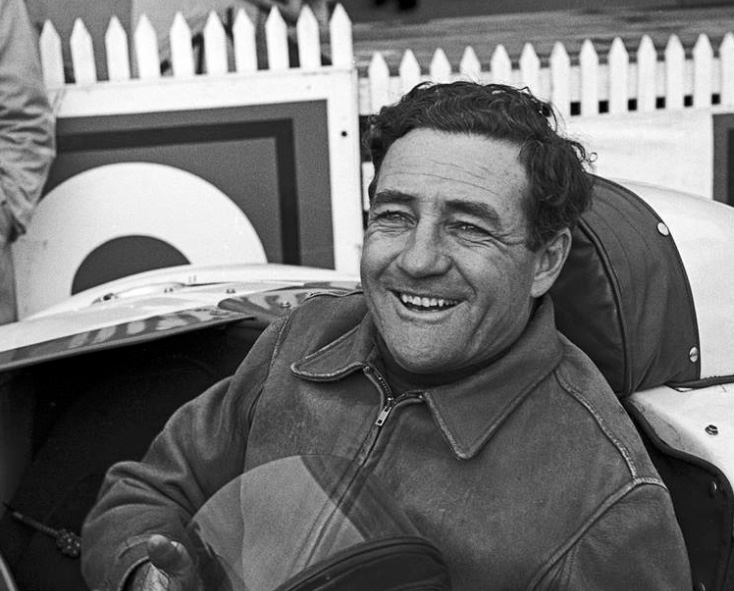 Born into money in Cincinnati in 1907 (his father had built a fortune in railways, utilities and real estate), the younger Cunningham is best remembered for his exploits in the world of car racing. By his early 20s, he was wheeling exotic sports cars around tracks both at home and abroad. By his 30s, he was building race cars in a large facility in West Palm Beach, just a short hop across Florida's Intracoastal Waterway from the seaside estate socialite Marjorie Merriweather Post had christened Mar-a-Lago.
A consummate sportsman, Cunningham was also a golfer, tennis player, boxer and bobsledder. But after car racing, his second love appears to have been sailing. At age 17, he was racing Star boats out of the Pequot YC in Connecticut. In 1930, he married Lucie Bedford (their combined family fortunes were said to have made them the richest couple in America at the time) and spent part of his Mediterranean honeymoon sailing his new 6-Meter, Lucie. The next year, he crewed on the breakthrough new S&S yawl Dorade in the '31 Fastnet — a victory that resulted in a ticker tape parade for the crew down Broadway upon their return stateside. He owned many boats and collected many trophies over the years, but spent a lot of his on-the-water time with the 30-ft Atlantic Class fleet — a popular Starling Burgess sloop that still boasts a strong fleet Down East. Among his contributions in decades with that group, he paid to have a mold taken off one of the hulls so it could be produced in fiberglass. (They were originally built of wood by Abeking and Rasmussen in Germany, and the plans had been destroyed in Allied bombing during the war.) He also owned the 62-ft Olin Stephens-designed schooner Brilliant in the mid '40s, and later donated it as a sail training vessel to the Mystic Seaport Museum, where it still operates today.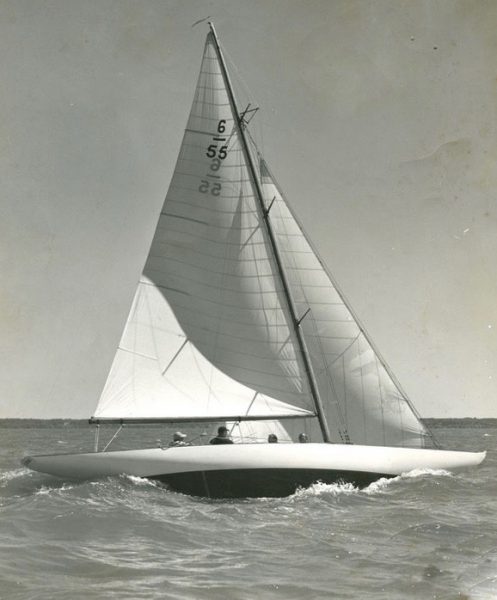 His involvement in the America's Cup came in the first post-World War II bout. In the 1937 Cup, Harold Vanderbilt's J-Class Ranger had prevailed, and it had long been thought that the revived event would again feature the magnificent 120-ft J Class sloops. Economics and the desire to field more affordable yachts led the New York YC — holders of the Auld Mug since the schooner America won it in 1851 — to settle on 65-ish-foot sloops built to the 12-Meter rule. Cunningham was initially asked to help finance the NYYC syndicate building Columbia, US 16. But after legendary skipper Conelius Shields suffered a heart attack, Cunningham, then 51, was asked to take his place. (Shields survived, and served as tactician and alternate helmsman during the racing.)
The 1958 defender trials were more hard-fought than almost any actual Cup series. Sailing against two other new boats, Easterly and Weatherly, and an old but radically rebuilt one, Vim, Columbia barely eked out victory over the latter boat by virtue of superior handling in bouncy, windy conditions. By contrast, the Cup races themselves were a cakewalk. The British Sceptre tipped the scales at a buxom 68,000 pounds, to Columbia's almost dainty 57,000, and was soundly trounced four-zip in the best-of-seven series.
In his later years, Cunningham founded a museum in Orange County to showcase both his own cars and other exotics he had collected over the years. It was finally sold off and closed its doors in the mid-80s.
Briggs Cunningham II died of complications from Alzheimer's in Las Vegas in 2003. (Not to come to a grim full circle, but Alzheimer's was named after Dr. Alois Alzheimer in 1906.) He was 96.
In the interests of full disclosure, we could not for the life of us find exactly when, where and how Cunningham came up with the luff-tightening idea named for him. If anyone out there knows, please drop us a line.
Correction: We originally said that Mr. Cunningham was racing Stars out of the Pequod YC in Maine. As it turns out, there is no Pequod YC in Maine. We meant to say the Pequot YC in Connecticut.
Receive emails when 'Lectronic Latitude is updated.
SUBSCRIBE