---
SAILORS OF THE MONTH

December 2013

Marin County native Elliott James is perhaps the youngest skipper to have competed in last December's Audi Melges 20 Worlds in Key Largo, Florida. Some of the best sailors worldwide, including America's Cup veterans and multi-medal Olympians attended. But Elliott's challenging efforts to find crew, housing and entrance fees, and ultimately his winning the event's award for "most improved racer" has led us to choose him as our Sailor of the Month. The 22-year-old has been sailing for most of his life. He started taking lessons as a junior at Sausalito YC. Then on to racing with his dad on their Tartan 30, which led to working the foredeck on J/105s, and he has raced on many different boats ranging from J/22s to TP52s. A graduate of Vallejo's California Maritime Academy, he's been campaigning his Audi Melges 20, Problem Child, throughout the Bay Area and beyond.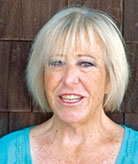 November 2013

When the awards were handed out at the YRA Trophy Party on November 19, Lori Dennis wasn't sure if she fit the description of "serious racer" like many of those surrounding her. She made a quick ascendancy into the spotlight, having only learned to sail relatively recently. She sailed a "run what you brung" kind of boat, the Cal 2-27 Jack Aubrey, to a season championship in the YRA's Party Circuit non-spinnaker division. Her strategy this year was to sail hard, focus, and not call out to friends on other boats as she drove. Together with crewmate Dave Gardner, she took first place in all but one of the Party Circuit races — both this year and last. For the Great Vallejo Race, their virgin crew were John Baum, Cliff Roble, Colin Ross, and Diane Rasch.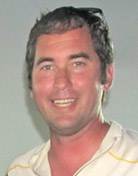 October 2013

Will Paxton, with boat partner Zach Anderson and crew on the Express 27 Motorcycle Irene, won pretty much everything he tried his hand at this year, starting with the Berkeley Midwinters Saturday Series, Sunday Series and Winners Race. They went on to win the Express 27 Nationals and the owner/driver trophy, then the fleet's Party Circuit division, their SF Championship Series, and their Long Distance Series. Crew for the 2013 adventures of Motorcycle Irene included Casey Grey, Sherry Smith, John Morrison, Betsy Flynn, Molly Robinson, Ashley Rae Crawford, Parker Mitchell, Angie Rowland, James Clappier, Stella de la Vega, Marci Bravo, Dan Morris, and Deborah Tamburri. Look for more about the 'Cyclers in the Season Champs feature in the December issue of Latitude 38.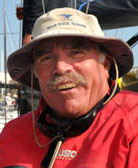 September 2013

Sailmaker Kame Richards, owner of Pineapple Sails, has been a fixture on San Francisco Bay for as long as Latitude 38. This year his Golden Moon won the Express 37 season championship, including the inaugural Made in Santa Cruz Race Week, plus their Nationals at Rolex Big Boat Series this September. This is the sixth Big Boats win for Golden Moon – the first was back in 2002. "I am very fortunate to have a great crew that really does all the work," he said. Bill Bridge (boat partner/pit assist), Tom and Eliza Paulling (bow and pit), Aimee Daniel alternating with Karina Vogan (trim), Larry Tuttle (tactics), Mike Mannix and Jason Westenberg (cockpit), John Horsch (main), and Jeff Angerman (mast) made up the crew for Rolex Big Boat Series. Kame got to drive. He is also one of the founders of Alameda Community Sailing Center. You can read more about Kame and Golden Moon in the Season Champions feature in the November 2013 issue of Latitude 38. Photo ©Stephen Buckingham.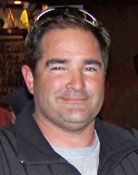 August 2013

In the wild and windy Windjammers Race from San Francisco to Santa Cruz on August 31, Greg Nelsen and crew Karl Crawford not only won the new Shorthanded Division, but took first place monohull overall on Greg's Azzura 310 Outsider. Greg also won first singlehanded monohull overall in the SSS Three Bridge Fiasco in January. After 9 hours and 20 minutes of racing Outsider, Greg was first to finish last May's SSS Stand Down Marathon, a singlehanded long-distance in-the-Bay alternative to the Singlehanded Farallones, which Greg won overall in August 2012. He has devoted a good chunk of 2013 to Frank Slootman's R/P 63 Invisible Hand program. As captain of that boat, Greg won Division 1 of the Transpac this July.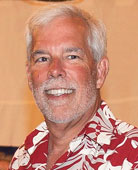 July 2013

Matt Brooks not only won the Transpac overall, he did with the same boat that won it in 1936! He and his wife, Pam Rorke Levy, acquired Dorade in 2010 and restored the 1930 S&S 52-ft racing yawl. They won first in class at the 2012 Heineken Regatta, Les Voiles de St. Barths and SF Leukemia Cup, and in March's Cabo Race. "In spite of being told that it couldn't be done, I think we are demonstrating that classic boats like Dorade can be restored to their former competitiveness," said Matt. "It takes a tremendous amount of preparation, discipline and thoughtfulness, but that is true for any boat to make a good showing in major ocean races." Joining Brooks on the Transpac were Eric Chowanski, Ben Galloway, John Hayes, Hannah Jenner, Kevin Miller, and Matt Wachowicz. See www.dorade.org. Photo ©Doug Gifford/ultimatesailing.com.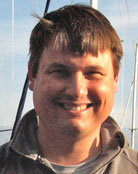 May-June 2013

Andy Costello and crew on the J/125 Double Trouble won Class A in the Spinnaker Cup in May (their fourth Spinnaker Cup win in a row) and first overall in the OYRA Farallones Race in June. They've have had great success in offshore races in the past four years. "Her design makes her the perfect tool for windy West Coast point to point racing," says Costello. But he credits his core crew – Trevor Baylis, Jody and Skip McCormack, Matt Noble, Ben Landon, and Molly Robinson – as the key to the program's success. Dana Riley, Corey Lynch, Erik Mattson and Nick Keately were onboard for this year's second straight overall win in the Farallones Race. The boat is in SoCal following a win by Andy's boat partner, Peter Krueger, at Ullman Sails Long Beach Race Week, so next up for the talented team will be the King Harbor Race. Plans for 2014 include Quantum Key West Race Week and the Pacific Cup.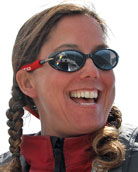 April 2013

Most skippers take some time to adjust when they first buy a boat, even a really good one, before they start kickin' ass – especially if it's their first boat! Deb Fehr, who bought the Santana 22 Meli'ki in November 2012, just went out and started winning races like it was no big deal, including her very first one, OYC's Sunday Brunch on January 4. She then won IYC's Sadie Hawkins in late February and the women's crewed division of OYC's Rites of Spring on the Central Bay in March. So far, she has won her division in all of EYC's Spring Twilight Series on the Estuary."Boyfriend? What boyfriend?" said Fehr. "Meli'ki and I will be racing the Santana 22 one design series, the Nationals in July, some Estuary beer cans, and singlehanded races. I love her!"

March 2013

We've had our eye on Buzz Blackett for more than a year. His accomplishments on his Antrim Class 40 California Condor include: winning the last two Big Daddy pursuit races, the last two Doublehanded Lightship Races, the 2012 OYRA Lightship, and first doublehanded monohull in this January's Three Bridge Fiasco. "The main key to our success on California Condor is that Jim Antrim designed a wonderful boat," said Buzz. "Jim and I have had a blast sailing in short-handed events. We work our tails off and finish with nothing left in the tank." Among notable second place finishes: the new Farr 400 division in 2012's Key West Race Week, second in division in March's Doublehanded Farallones on California Condor, and second to finish the recent Bullship Race. "El Toro sailing is my antidote to the organizational and maintenance hassles of big-boat sailing."
January 2013
We took a quick poll around the office, and the consensus was that January's Sailor of the Month should be the overall winner of the 333-boat Three Bridge Fiasco. Although the TBF is a pursuit race, four boats actually place 'first overall'. First in the Doublehanded Monohull Division was the Antrim 40 California Condor, sailed by owner Buzz Blackett and designer Jim Antrim. First in the Singlehanded Monohull Division was Greg Nelsen on the Azzura 310 Outsider. First Doublehanded Multihull, and First to Finish, were father and son Rich and Mike Holden on the F-27 Sea Bird. And First Singlehanded Multihull went to Gary Helms on the Corsair Dash 750 White Knuckles. Congratulations to all the finishers; kudos also to the SSS for pulling off a nearly impossible race once again!
December 2012




Kiteboarding siblings from Marin, Johnny and Erika Heineken are our choices for December Sailor(s) of the Month. Both are reigning Course Racing World Champions and North American Champions. In December, US Sailing announced the shortlist of Rolex Yachtsman and Yachtswoman of the Year nominees, and both Heinekens were on it. So you can see why we couldn't choose between them! Update: Johnny Heineken has been selected as US Sailing's Rolex Yachtsman of the Year!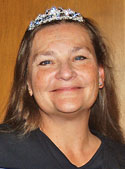 November 2012

November's Sailor of the Month is also 2012's Queen of the Women's Circuit and the outgoing Commodore of Island YC. Kristen Soetebier raced her Cal 20 Kapi'i in IYC's Sadie Hawkins Race in February and her Santana 22 Pueo in IYC's Jack & Jill + 1 in November. She was an organizer of the Women's Sailing Seminar in September and volunteered during both days of the event, which was also held at IYC. She was crowned Queen of Latitude 38's unofficial Women's Circuit at the YRA Trophy Party on November 14.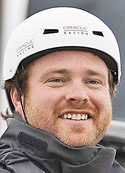 October 2012

Thomas Watson, who sails theTriton Darwind, gets our vote for October Sailor of the Month. Tom created the super fun Pink Boat Regatta, in which you rack up as many buoys as you can in three hours on a short course. (CYC hosts the SF Bay version.) Not only is the event a total hoot, but Pink Boat Regattas have raised more than $50,000 for the Breast Cancer Research. Tom's own racing skills could serve as an example to neophyte racers everywhere. Over the past few years we've seen him go from DNF or DFL in the local races he entered to winning his division in the Singlehanded TransPac. Now his goal is to sail around the world, alone, non-stop, to raise a million dollars for breast cancer research. For more, see www.thepinkboat.org.


September 2012

Our Sailor of the Month for September brought fast catamaran racing to the San Francisco Cityfront – and you didn't even have to be a billionaire to enter the regatta. Peter Stoneberg, Commodore of St. Francis YC, got a multihull class added to the Rolex Big Boat Series for the first time this year, and, for the most part, it was a big hit – we predict that it will return next year. He continued to lead the way by entering his own ProSail 40 Shadow. Then, guess what, he and his crew led the way around the race course, placing first in four races and second in three, winning handily.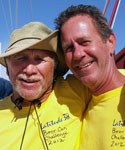 August 2012

Chuck Hooper (left) and Roger Ruud completed Latitude 38's Beer Can Challenge the week of August 20-24 aboard Chuck's Contessa 33 Warwhoop. Monday they raced at Bay View Boat Club, Tuesday at Sausalito YC, Wednesday at Vallejo YC, Thursday at their home club, Benicia, and Friday at Berkeley YC. The logistics of getting the boat from club to club during the work week was part of the challenge. "Our great crew joined us where they could," said Roger. "John Cooney, Carrie Maha, Joe Rivera, Scott Neiman, David Schiff, and Dan, an able hand taken off the dock in Berkeley."


July 2012

Jim Quanci, a veteran of numerous Pacific Cups, raced to Hawaii solo this year in the Singlehanded TransPac. His nimble steed, the Cal 40 Green Buffalo, carried him from the start off Tiburon's Corinthian YC to Kauai with a speed that belied the name of his division: 'Big and Comfy'. Jim crossed the Hanalei Bay finish line third on July 13 and corrected out to win the regatta overall. Jim credits conditions favorable to his waterline, and his driver, 'Otto', with the win, claiming he spent most of his time in the bunk!

June 2012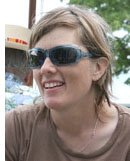 Sarah Deeds of Berkeley, together with her crew, Andy Hamilton and John McBride, scored the overall win in June 2's extremely challenging Delta Ditch Run sailing Aaron Strum's well-rigged Wylie Wabbit Wild Bunch 2. While competitors were wiping out all around them, Sarah's bunch stayed on their feet. "We were light and agile. At 170 pounds, John was about 40 pounds lighter than the average Wabbit trap guy. His atheleticism kept us from having any bad wipeouts." Teamwork and experience also played key roles in their win. "We all work well together. Between the three of us, we have upwards of 30 trips up the river."


May 2012

The Bay Area will have their very own sailor at the Olympics this summer in Weymouth, UK. Molly O'Bryan Vandemoer of Redwood City crews for Anna Tunnicliffe on Team Maclaren in the Women's Match Racing event sailed in the Elliott 6m. The team, rounded out by Debbi Capozzi, has won their last three major regattas, including the US Sailing Olympic Trials at Weymouth in May and two ISAF Sailing World Cup events in April. When she's not representing the USA at Olympic class regattas, she's a sailing coach at Stanford.


March 2012

Jonathan Andrews won the nine-boat Santana 22 division of Encinal YC's Jack Frost Regatta on Bonito. What makes his victory unusual is that Jonathan is only nine years old! His crew included Tom Rankin for every race with John Hunt, Erik Glaser, Pat Broderick and Chris Hanson rotating through. Said Jonathan, "Sailing in the Jack Frost races was scary at first, but then it became fun later." Next on his sailing agenda, Jonathan will focus on Optimist racing with the EYC team.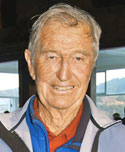 February 2012

Sausalito sailing icon Hank Easom pulled off a trifecta at the four-race Corinthian Midwinters. Not only did his venerable 8-Meter Yucca win PHRF 3, but Hank and crew won the new Rob Moore Trophy for Best Performance – fittingly since Rob crewed on Yucca for ten years before his death in January. Rounding out their accomplishments, the Yucca crew won the Aotea Team Trophy, along with fellow San Francisco YC members Scott Easom sailing the Farr 30 8 Ball, and Richard vonEhrenkrook on the Cal 20 Can O'Whoopass.


January 2012

Ian Klitzaand Brendan Busch sailed the D-class cat Rocket 88 across the Three Bridge Fiasco pursuit race finish line first on January 28, 2012 – a repeat of their first-to-finish performance in 2011! With the third member of their trio, Bill Turpin, they've revived the 25-year-old cat. Next up: Big Daddy and the Great Vallejo Race, then the Delta Ditch Run – for which Rocket 88 still holds the record.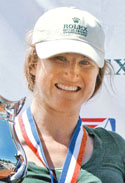 August 2011

Oakland's Christine Neville is the new US Sailing Women's Singlehanded Champion after a come-from-behind win at the event, hosted by the Columbia Gorge Racing Association in Cascade Locks, Oregon, July 22-24. A fifth in the final race capped an eight-race scoreline that began with a 1-2-2-1 for the sailmaker from Pineapple Sails who has become a fixture at just about every Laser practice session across the Bay in the eight months she's lived here.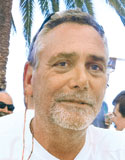 July 2011

After having to drop out of the '09 race due to blowing up all but one of his kites, San Francisco YC's Steve Stroub was prepared for this year's Coastal Cup. His SC 37 Tiburon was carrying a back-up sail in addition to its usual quiver, one that you wouldn't even still find on the boat it was originally built for. "About a week before the race, I was thinking that the last time I did this race, I had to drop out because we blew up all of our kites," Stroub said. "So I called up the guy who bought my old J/105, and asked him if we could buy back the kite. It's a 1.5-oz, 77 sq.-meter kite that I'd bought right before the rule changed (to allow larger spinnakers) and had only been used once. That sail rocked! It was about six feet short on the hoist and two feet short on the tack, and it was perfect." It turned out that not only did they end up using that sail almost the whole way, the Sharks used it to win the race overall!

May 2011

In the last few years, Richard vonEhrenkrook (right) and Paul Sutchek have put up a string of division and overall wins that would be the envy of many racers. They extended that streak in April, taking overall honors in the 70-boat, nine-division doublehanded fleet in the Singlehanded Sailing Society's Corinthian Race aboard vonEhrenkrook's Cal 20 Can O' Whoopass. They did it despite the fact that Sutchek was sailing with a broken finger and swollen spleen suffered when they launched off a wave in Island YC's Doublehanded Lightship the month before. "When he hit the boat it sounded like Gallagher hitting a watermelon with a hammer," vonEhrenkrook said. "All I saw was his finger at a 60 degree angle from where it should have been. He calmly put it back in line and kept going, but I could tell he was hurting." "I still made all the jibes on the way back in," Sutchek said. "They weren't fast, but I completed all of them."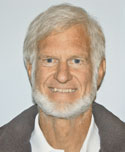 April 2011

Gordie Nash pulled off a rare double at the Richmond YC's Big Daddy Regatta last month. Nash not only won PHRF G in Saturday's buoy racing with his modernized Santana 27 Arcadia, he went out the following day and was the top overall monohull finisher in the pursuit race, beating 80 other boats for the honors. If you want to win like Gordie — and he does it a lot — you'll probably have to up your sailing schedule. Nash figured that in January alone, he crossed the starting line at least 14 times — split between three midwinters series. There's nothing like time on the water!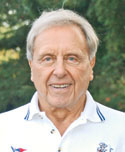 March 2011

Ray Lotto sailed his El Raton to the Express 27 division win in the Berkeley YC Saturday midwinters — out of 18 boats — and followed it up by winning the series' Champion of Champions race on February 27. After winning the 18-boat division in the final 'regular season' race, Lotto took the Kirt Brooks Perpetual Trophy with a two-second win in the mixed PHRF fleet that included all the division winners from both the Saturday and Sunday Series.
Return to Schedule Index
---