This picture was sent to us by Walter Funk. "Predator, a Hobie 33, heads to the City," Funk wrote us.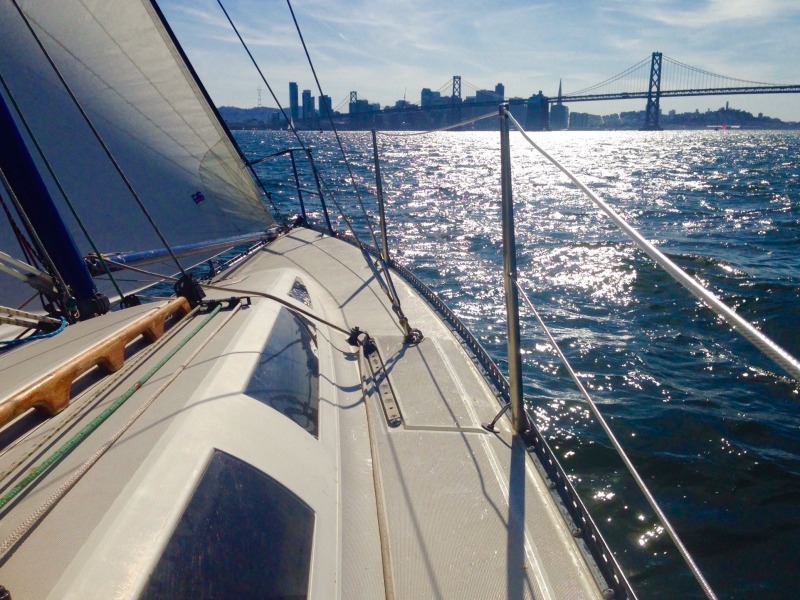 Have a great picture or story? Send them here.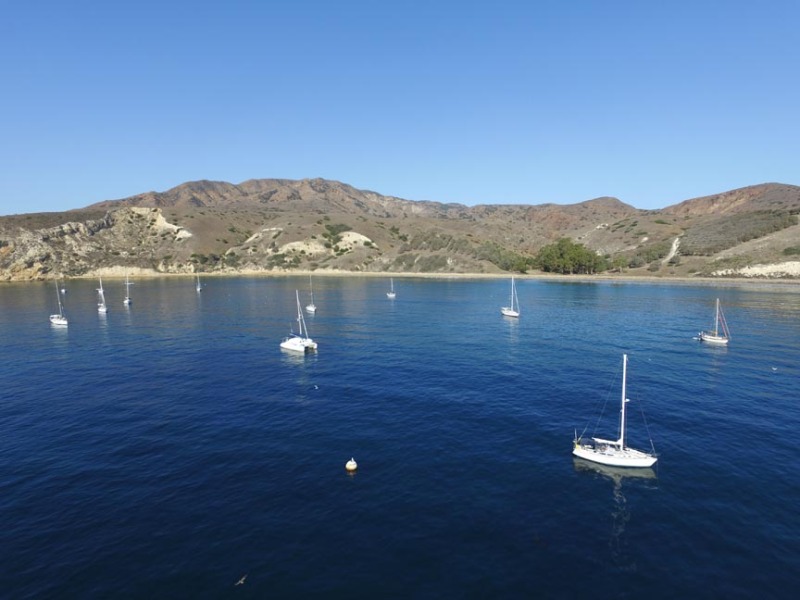 Several entries for this year's Baja Ha-Ha — there are currently 123 — have indicated they plan on spending some of the fall at the Channel Islands. Understandably, they tell us that while they're looking forward to getting away from cars and 'civilization', they worry about not being able to get connected to the Internet.
"Please tell us that we can we get the Internet at some of the Channel Islands," they plead.
If it were up to us, there would be high-speed Internet access all over the world. After all, it should be a basic human right up there with shelter and food. Alas, we're not in charge.
We haven't been to the Channel Islands yet this summer, but based on our previous experience, the only island in the chain with Internet is Catalina, and there's only Wi-Fi in certain parts of the island.
We've had good Internet off Avalon, Two Harbors and on Harbor Reef, and so-so Internet at White's. At peak times — weekends and mornings and late afternoon — lots of users can really slow things down.
If you've been to the islands lately and have anything to add — perhaps which carrier has the best connectivity — southbound cruisers would like to hear about it.
The headline above may sound as if it should be really old news, but apparently it's not. On August 4, Pacific Inter-Club Yacht Association commodore Linda Blue wrote: "I would like to share the following press release from Recreational Boaters of California. I want to thank the clubs that sent correspondence to PICYA, which I forwarded to RBOC concerning the Twin Tunnels Project in the California Delta. I also want to thank RBOC for all their hard work and responsiveness on this matter. Being the PICYA Commodore, I am an ex-officio member of the RBOC board. Please consider taking up an additional collection at your clubs for RBOC, as opposing the California WaterFix Twin Tunnels Project will surely be taxing on RBOC's resources to pay their professional lobbyist. The Delta is a very special place to me having grown up in Sacramento and having my boat in Isleton. I am personally very relieved we have RBOC and others on the job."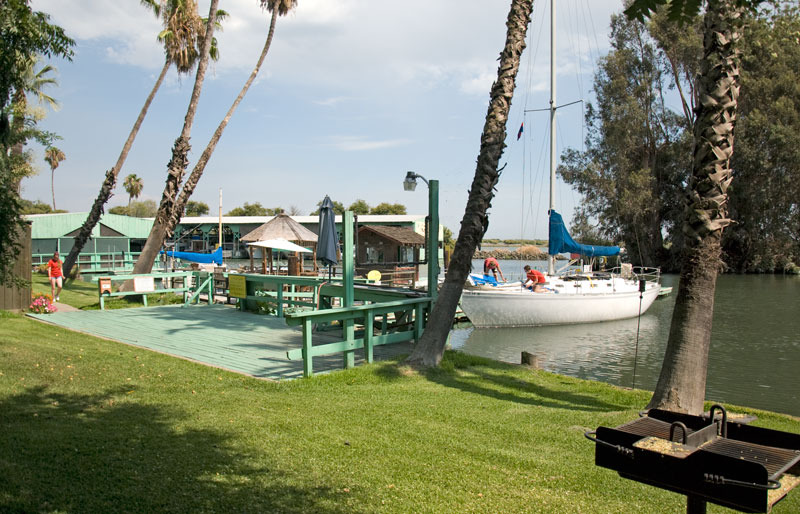 The RBOC press release was dated August 3. "The Recreational Boaters of California (RBOC), a nonprofit organization serving the boating community, has stated its opposition to the proposed WaterFix project, a massive construction project that could seriously impact boaters' access to the Delta for years to come."
"RBOC has, for decades, been at the forefront of opposing proposals that would impair the ability of boaters to access to the 1,000 miles of waterways in the Delta," said RBOC president Peter Robertson. According to RBOC, "The proposed WaterFix project is the latest threat to boating in the Delta. The project, which could take 14 years or more to complete, involves digging huge, 47-mile-long tunnels under the Delta to facilitate movement of water. During construction, major waterways and tributaries could be closed to recreational boaters.
At an August 1 meeting of its Board of Directors, RBOC identified specific, boater-related concerns:
The significant, negative impact that will occur with the closure of waterways to navigation during the lengthy construction period.
The absence of a plan to ensure that the Delta infrastructure will not only be preserved, but improved.
The lack of surety that the plan will address the threat that climate change and increased water transfer pose to the amount and quality of water in the Delta.
Having spent quite a lot of time in the Delta over many years, we would point out that many Delta businesses live on a very narrow margin bolstered by or supported by boat traffic. Without waterborne recreation, the fragile economy of the Delta could collapse, creating ghost towns that would be beyond reviving even if the waterways were to be eventually reopened — not to mention that the ecosystem of the Delta is also fragile.
"We are encouraging the state to consider other sources of water such as increased storage and desalination," stated Robertson.
"This very welcome change seems to have come about as a result of a letter from Dick Loomis, Richmond Yacht Club's commodore, to PICYA," writes a contact at RYC. "He was very much concerned about the extreme danger to the Delta posed by the Two Tunnels (aka California WaterFix, Bay Delta Conservation Plan). Dick may be a down-Bay commodore, but he has strong ties to the Delta. His father built Farallon Clippers up at the Stephens yard in Stockton."
Receive emails when 'Lectronic Latitude is updated.
SUBSCRIBE