On Saturday, we headed to one of our favorite windsurfing spots at the Berkeley Marina. Berkeley is not exactly among the famous locales on the Bay, especially when compared to the epic scenery of Crissy Field, the gnarly ebb swells at Third Avenue in San Mateo or the nuclear sea breezes along the Delta. Berkeley is tame and quiet by comparison.
So we were surprised to see the grass in front of HS Lordships full of brand-new and stylish boards and sails, and lots of young windsurfers with their specialized vernacular. The event was part of US Windsurfing's 2017 nationals, and included foil-sailing, course racing, slalom, and the freestyle portion we stumbled on.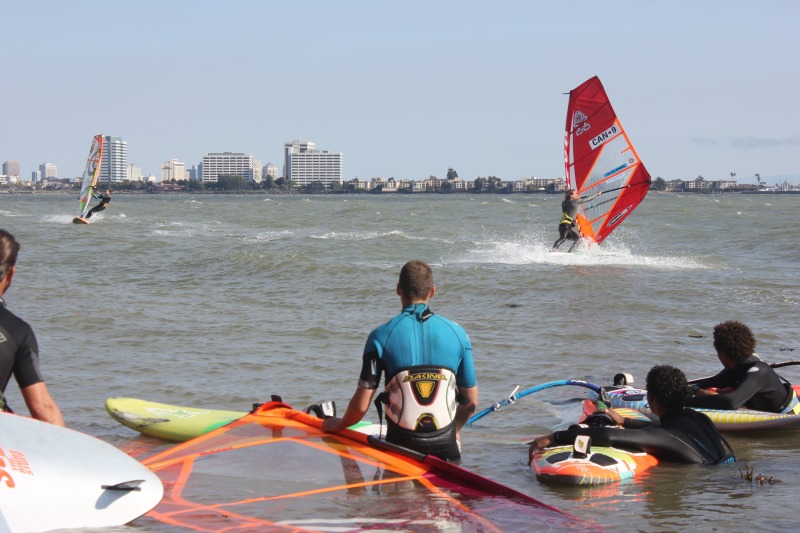 As windsurfers, one of the first things people usually ask us is, "Why don't you kitesurf?" One of our contributors even wondered if anyone still windsurfed at all anymore.
"I'd say that windsurfing is making a comeback," said David Mertens, a competitor and one of the organizers of the Rio Vista Grand Slam, which takes place in June, and is part of the International Windsurfing Tour. "When kiting started, windsurfing took a big hit. A lot of people left windsurfing. And, kiting is definitely an easier sport to get into. But windsurfing has made a lot of progress to make it more accessible for beginners, in terms of technology and the way the boards and the sails are. It's easier to learn today."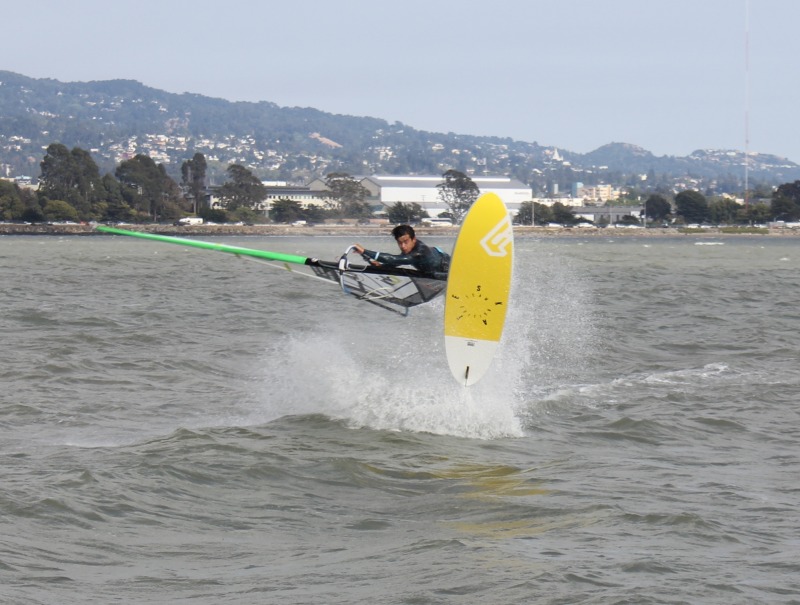 Because it's tame, Berkeley is one of better spots in the Bay Area to learn. The basin is relatively small, and the South Basin near the Cal Sailing Club is in a lee, offering flat water and slightly calmer winds. There's no major shipping traffic (as there is at Crissy Field and Treasure Island), and in the event of major gear failure or injury, sailors simply drift a half mile to shore.
"The Cal Sailing Club does a fantastic job," Mertens said. "They're probably one of the best clubs in the Bay Area that promotes windsurfing. But then you also have communities everywhere around the Bay, where there's camps for kids on the weekends or during the summer. Yeah, windsurfing is coming back."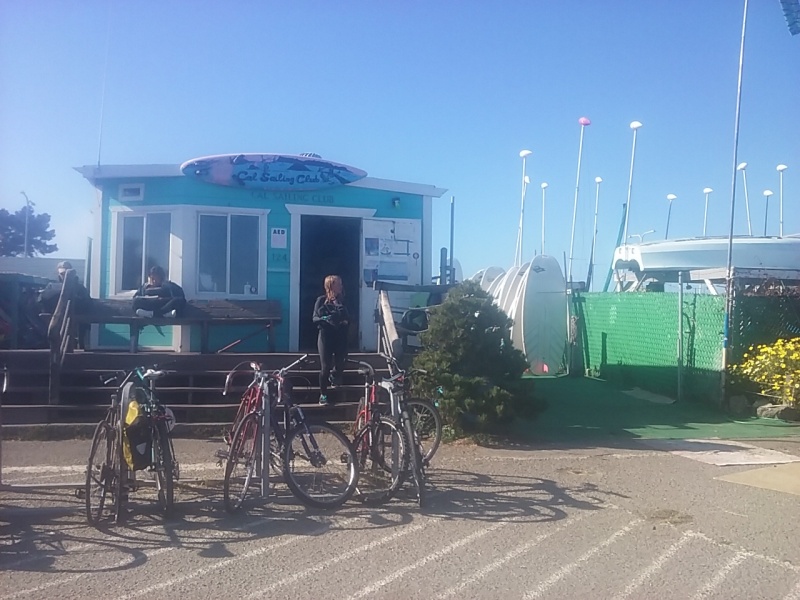 Mertens said that a there are a lot of younger people going into the sport. The majority of competitors on Saturday were in their late teens, according to our informal observations.
When snowboarding came along, a lot of people thought that skiing would become dated and obsolete. But intstead, skis got better, and skiing itself progressed.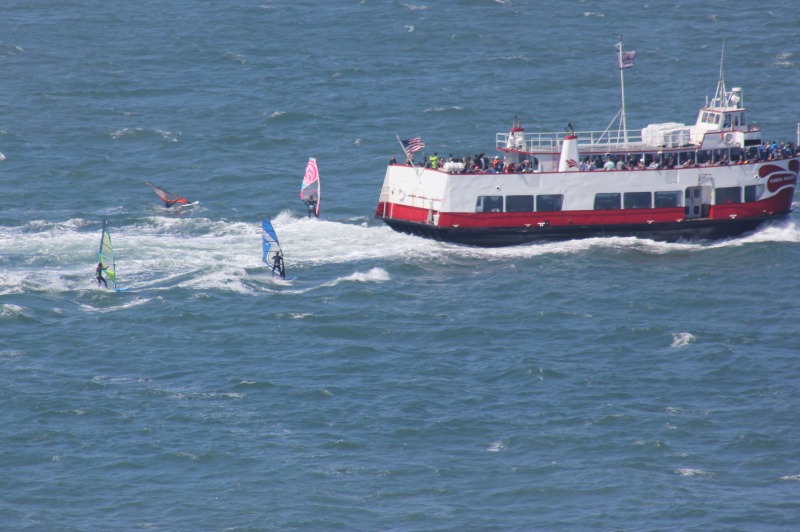 "And some of the guys that were doing extreme snowboarding, they went back to skiing because it was more challenging for them," Mertens said. "That's kind of where windsurfing is. A lot of people have come back from kiting to do windsurfing. Because they wanted to challenge themselves, and because you're always learning in windsurfing."
Hanging around the young crew of windsurfers made us feel a little dated. The moves have names like 'Spock 540s', 'Vulcans', 'Double Flakas' and 'Double Funnel Punetas'. Seriously. "Like in the competition today," Mertens said, "there's probably 200 known moves, plus all the variations like one-handed or no-handed or whatever, right? And there's more added every year."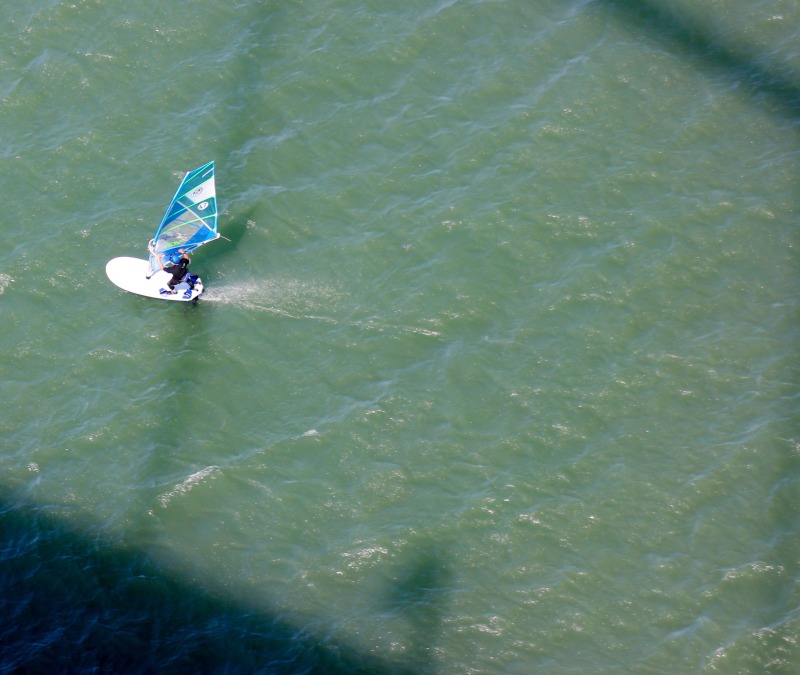 Going through old issues for our 40th anniversary, we were surprised to see how much we used to cover windsurfing. So we'd like to hear from any windsurfers out there, past or present. Would you like to see more windsurfing — and kiting — in the pages of Latitude?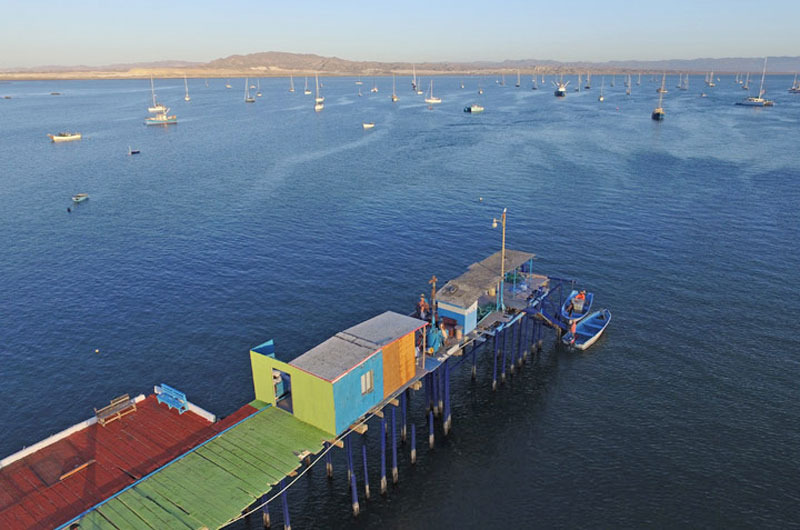 "I want to give everyone doing a Baja Bash a heads-up on what Enrique has been charging for diesel at the pier in Turtle Bay," writes Leonard Lee of the San Diego-based Hunter Legend 40 Mi Casa.
"I've bought fuel in Turtle Bay for years, and usually paid the national fixed rate, plus an additional $1/gallon or so more because Turtle Bay is so remote. And I tipped.
"But on my way north this summer, Enrique charged me 35 pesos per liter —about $8 per gallon. I opted for just 100 liters, about 25 gallons. But when he came to deliver it, he had a huge jug that he said was 135 liters. And he said he had to pump it all into my boat because he didn't have any way to measure a lesser amount.
"I told him that in that case I just wanted to have my five 5-gallon jugs filled. Well, he barely had enough fuel in his supposed 135-liter tank to fill my five 5-gallon jugs. Five gallons is just under 60 liters.
"To top it off, he asked me for a tip!
"I got a little nervous about my fuel situation, so I walked up the hill in town to the Pemex station. I bought five gallons of diesel at 17 pesos a liter — less than half of what Enrique had charged me. When I walked down the pier to go to my dinghy, I was stopped by Enrique, who told me that I wasn't allowed to bring 'outside' fuel on 'his' dock. I apologized for not knowing the custom, and he let me pass. Next time I come north, I'm going to carry a few more gallons so I don't have to stop in Turtle Bay at all.
"By the way, I want to thank the Grand Poobah and others for the wonderful job of making last year's Baja Ha-Ha such a great event. I hope to do another one someday."
Hans Petermann of Vamanos reports that Enrique charged him about $10/gallon for diesel. Fortunately, Petterman had pesos with him, because Enrique was going to use an exchange rate of 13 to 1, far from the official rate of 18 to 1.
Due to space limitations at Channel Islands Harbor, the SoCal Ta-Ta is going to have to cut off entries at 25. With 18 current paid entries, plus Profligate, that means there are just six slots open. The only exception is if you already have a slip at Channel Islands Harbor.
So if you want to do the Ta-Ta this year, we suggest that you sign up immediately. To enter, go to www.socaltata.com and click on 'Sign Up Here', the fourth item down on the Menu.
Santa Barbara can take more boats, as can Santa Cruz Island, Paradise Cove and Two Harbors.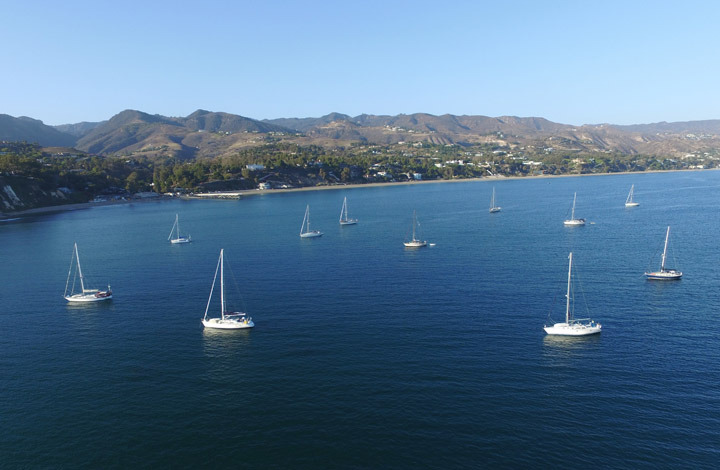 Thanks to Dan the Man and Michelle at Channel Islands Marina and Vintage Marina Partners, Ta-Ta monohulls have always gotten free slips for the night because those marinas had a lot of empty slips. But Dan and Michelle have been doing such a good job that they no longer have as many vacant slips, and thus can no longer be as accommodating. It's a bummer, but that's the way it is.
For current entries, about the only change there will be is now the entire crew, not just the Captain and First Mate, will be invited to a Sundowner Party aboard the mothership Profligate.
As a final reminder, if you want to reserve a berth in Santa Barbara, the only way it can be done is through the SoCal Ta-Ta. (Santa Barbara's rules, not ours.) The deadline for getting your berthing information and check to the Ta-Ta is August 15. If you're late, there is nothing we can do. Whatever you do, do not call the Santa Barbara Yacht Harbor and ask about reservations, because they do not accept them.
Receive emails when 'Lectronic Latitude is updated.
SUBSCRIBE