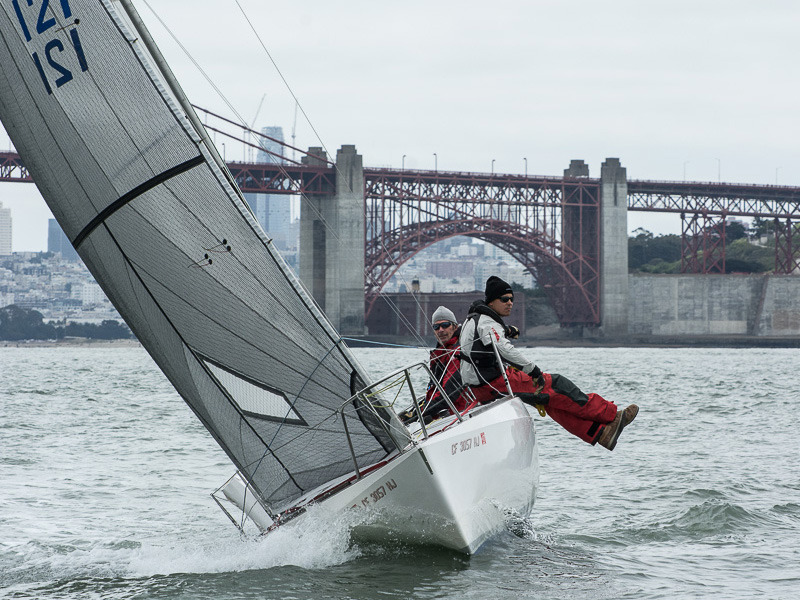 We've written about Karl Robrock and Gilles Combrisson numerous times over the past several years. The duo has experienced some legendary adventures — and success — onboard Karl's Moore 24 Snafu, but surely nothing could have prepared them for what happened to them Monday night and Tuesday. During a windy Coastal Cup from Monterey to Santa Barbara — the kind of race that keeps them coming back time and again with the Moore 24 — Karl and Gilles dismasted.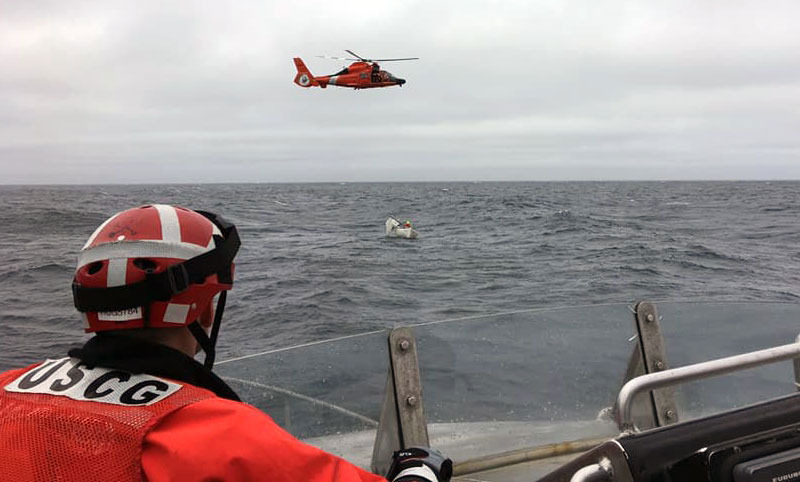 Making a distress call to the Coast Guard at around 9:15 Monday night, while roughly 30 miles west-northwest of Morro Bay, the doublehanders were reportedly "beset by weather and a fouled mast," per the Coast Guard report. A 47-ft Motor Life Boat was launched from Morro Bay to render assistance, but it was determined that the weather was too hazardous to conduct a safe tow of Snafu into the harbor. The following morning, Karl and Gilles were airlifted to safety by a Coast Guard MH-65 Dolphin helicopter crew, which took them to San Luis Obispo Airport. Fortunately, no injuries were reported.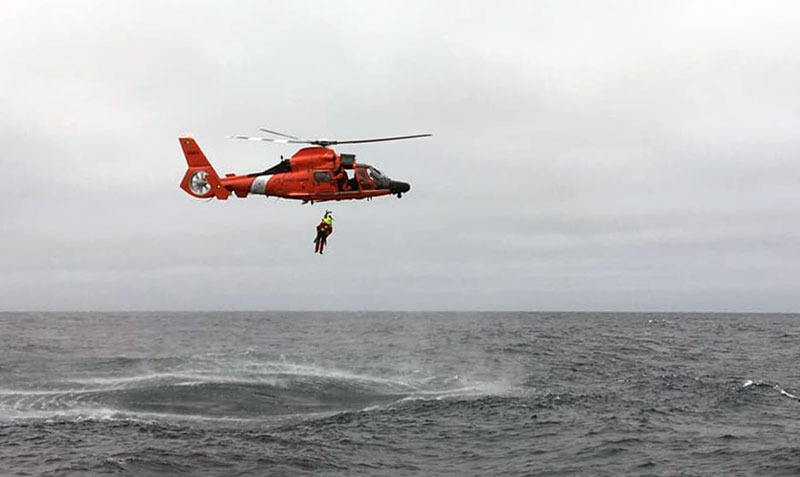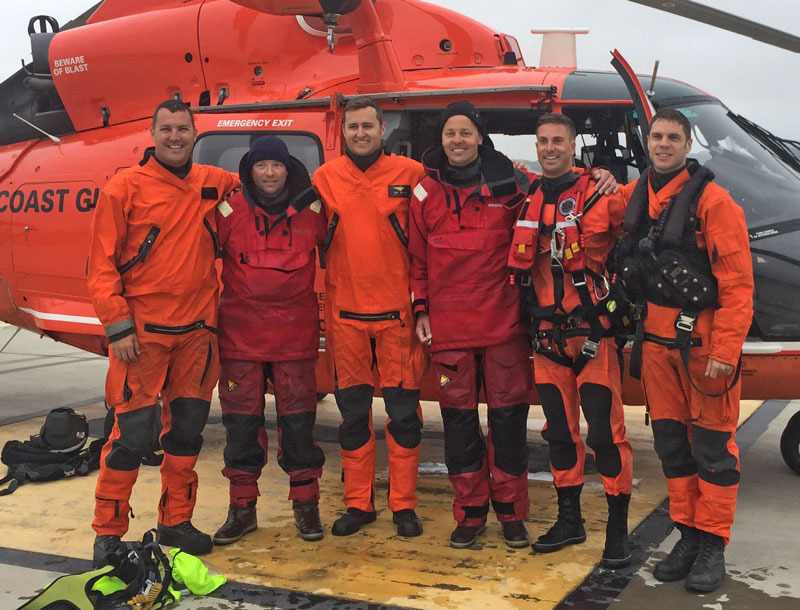 Snafu was recovered and towed to Morro Bay on Tuesday afternoon. Hopefully this whole experience proves to be just a little 'snafu' for the well-campaigned Moore 24, which has tasted victory in the Pacific Cup race to Hawaii.
PHOTO
Snafu wasn't the only boat to sustain major damage due to the nuking northwesterly breeze, as John Gallagher's Gunboat 62 Chim Chim broke a rudder about 35 miles from Morro Bay and withdrew from the race. Chim Chim was able to make it to Santa Barbara under her own power.
Joel Ronning's Santa Cruz 70 Catapult claimed line honors and a divisional win, while John Shulze's SC50 Horizon and Rodney Pimentel's Cal 40 Azure also claimed division victories in a revitalized Coastal Cup that is part of the second edition of the California Offshore Race Week. We'll have more coverage of the CORW in a future 'Lecronic, as well as a full recap in the July issue of Latitude 38.
In other, (and decidedly happier) Moore 24 news . . .
When we last reported on Webb Chiles — the 75-year-old solo circumnavigator going for his sixth lap around the planet, this time in a Moore 24 — he'd left Durban, South Africa, made a pit stop on St. Helena Island in the South Atlantic and crossed the equator (for the 15th time in his life) on April 1.
Chiles left San Diego aboard Gannet in 2014 and eventually made his way to New Zealand. In 2016, Chiles continued westward to Darwin, Australia. This year, he sailed from Africa toward the US, and recently made one of his final legs of the year from St. Lucia to Marathon, Florida, before he'll wait until 2018 to complete his trip.
Chiles said sailing from the Caribbean to Florida was among "the most beautiful of passages. Until it wasn't."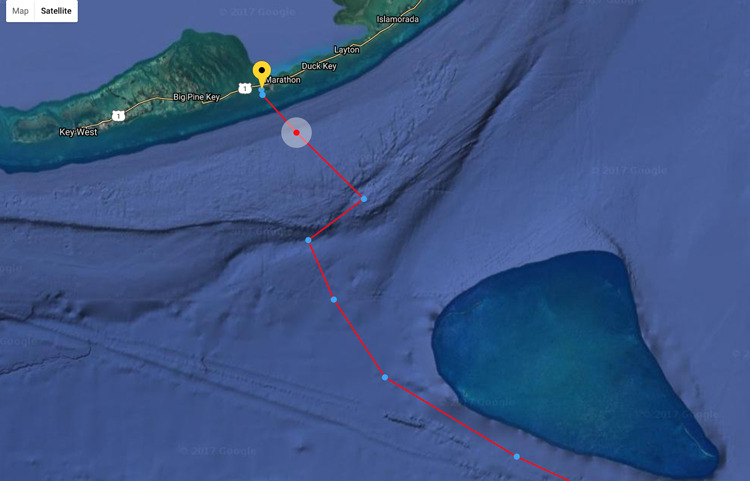 "Twelve hundred miles were full of fine sailing, and the last one hundred full of frustration and despair," Chiles told Latitude. Upon leaving St. Lucia, his electric outboard motor wouldn't start. "I have emailed [the manufacturer] asking for explanation. I cursed various nonexistent gods, walked down the dock, came across a St. Lucian with a Cigarette boat who towed me from my slip and thirty yards before I could sail and refused payment.
"After that for almost two weeks it was so wonderful that I began to consider if good can be appreciated without evil, if all sailing were that good would we enjoy it as much as we do having known gales and hurricanes? I think not."
Chiles said he was aiming for Key West, "but the wind was weak and then died completely. We were helplessly carried northeast at 2.5 knots in the middle of shipping lanes. Only skill and chance enabled us to get an anchor down Monday night off Boot Key, which encompasses Marathon, Florida."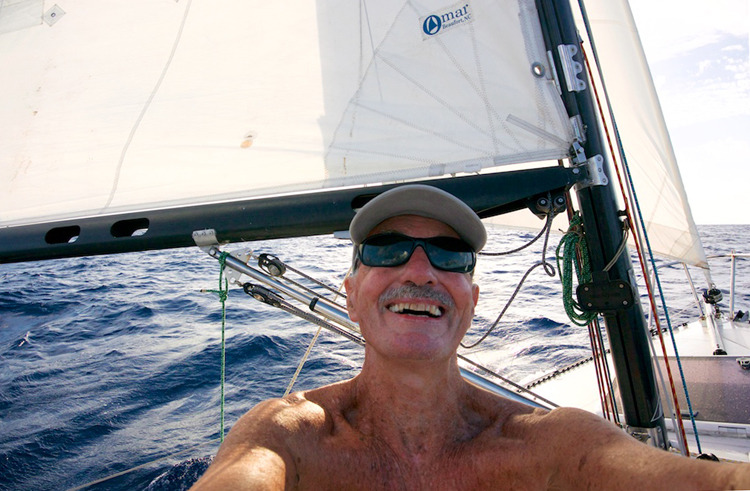 Chiles said it took him seven and a half hours to cover the last sixteen miles, when his depth sounder finally read 30 feet of water, enough to drop the hook and keep him from drifting toward the Bahamas.
Gannet will remain in Florida for the remainder of 2017, "unless a hurricane blows her into another state." Chiles hopes to sail for the Panama Canal early next year, then make his way back to San Diego.
You can read about the adventures of the Chiles on his blog, and follow his meandering path here.
When you pick up your June issue of Latitude 38, out tomorrow, be sure to check our Calendar for an overabundance of intriguing events, including the following regattas:
The lake circuit will really ramp up in June, starting with Gold Country Yacht Club's Go for the Gold on Scotts Flat Lake outside Nevada City this weekend.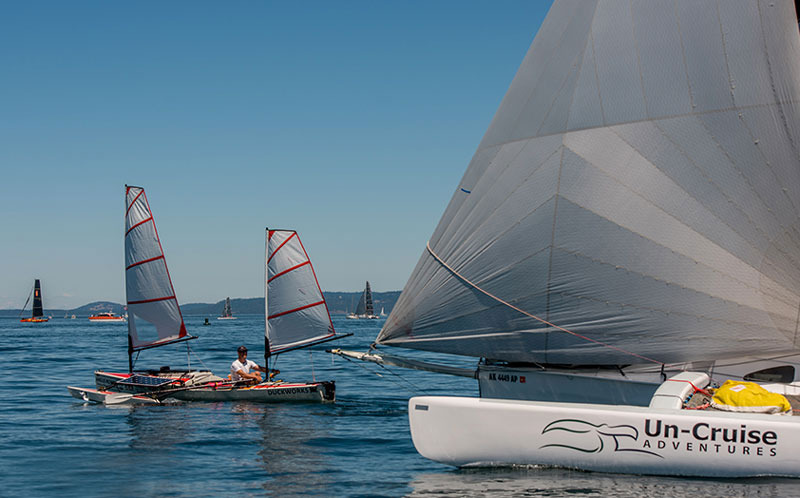 The third Race to Alaska will depart Port Townsend, WA, on Thursday, June 8, bound for Ketchikan, AK, by way of Victoria, BC.
On June 10, the Delta Ditch Run will travel 67 miles upriver from Richmond to Stockton in one day. Included for the third year in a row will be Delta Doo Dah cruisers (and racers). We'll have more on that in a future post.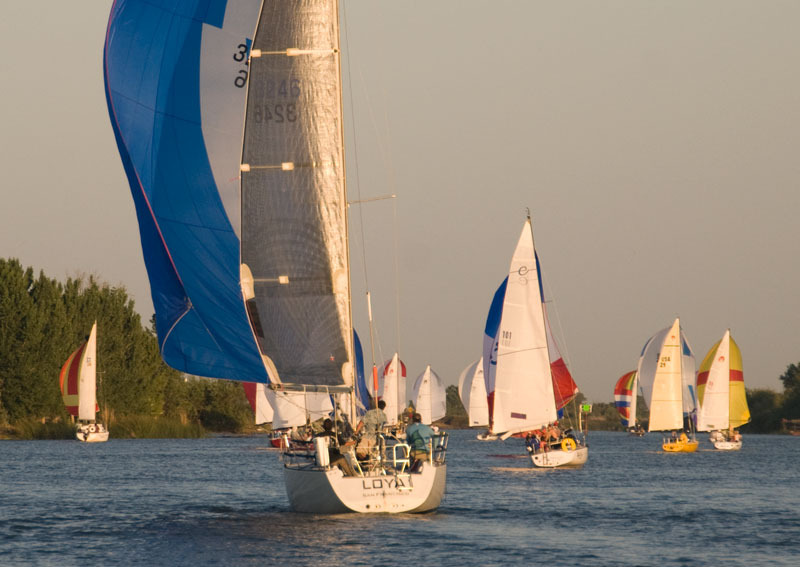 June 17 will be a particularly busy day in the region. Among the choices are:
The OYRA Farallones Race will be run by San Francisco YC.
The Great San Francisco Schooner Race & Classic Invitational is hosted by those industrious folks at SFYC.
The El Toro Regionals will be held on Clear Lake on June 17-18.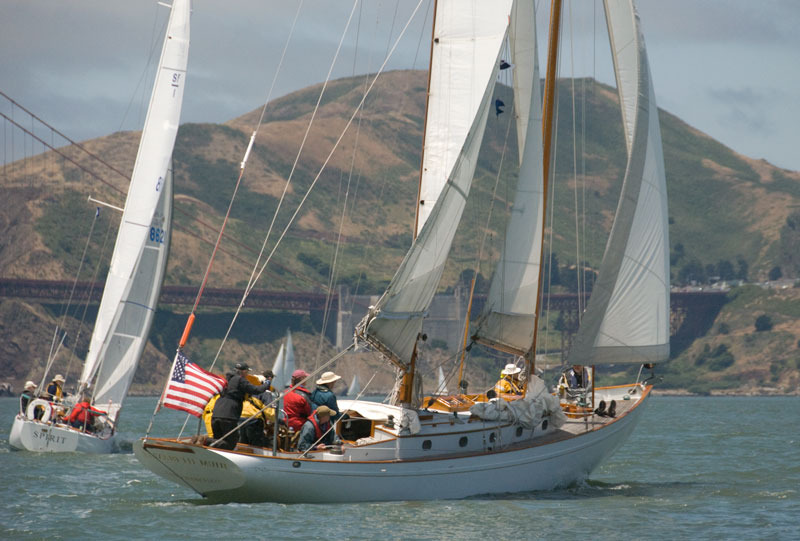 Stockton Sailing Club's South Tower Race, from Stockton to San Francisco and back (nonstop) will start on Friday, June 23. If this isn't a challenge worthy to be a bucket-list item, we don't know what is.
Ullman Sails Long Beach Race Week on June 23-25 draws entries from up and down the West Coast and beyond.
The Trans-Tahoe Regatta will be hosted by Tahoe YC in Tahoe City on June 23-24, with buoy racing on Friday and the long-distance race on Saturday.
Encinal YC in Alameda will put on a big shindig for Summer Sailstice on June 24, including a Sailstice Invitational for Small Boats. See the June Sightings for more on Summer Sailstice.
Sailors who just can't wait for Fresno YC's High Sierra Regattas in July can get a taste of all that nice fresh water in Huntington Lake on June 24-25 during the Commodore's Classic Regatta.
So many more worthy events abound in the month of June than we could possibly list here, so be sure to pick up the magazine tomorrow and check them all out!
Receive emails when 'Lectronic Latitude is updated.
SUBSCRIBE