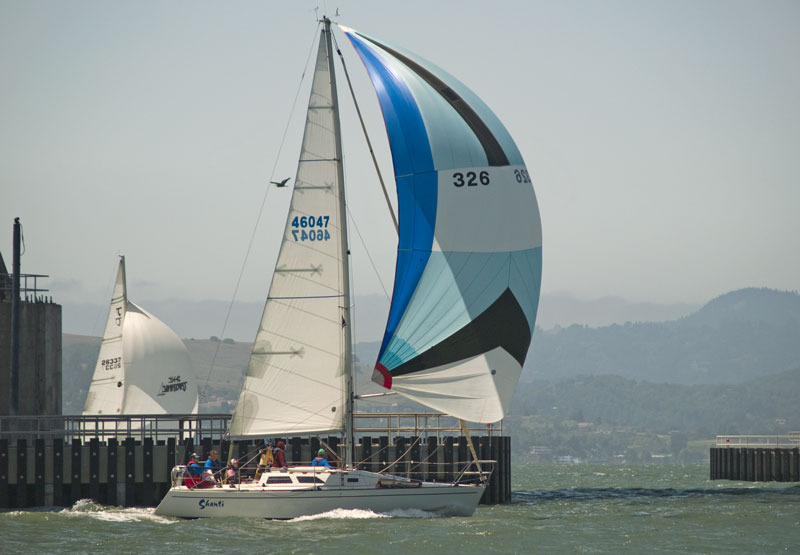 "What happens wind-wise on Saturday for the YRA's Great Vallejo Race is the topic of great debate," writes Mike Dvorak of Sail Tactics. "NOAA has issued a gale warning over the open ocean waters. The Sail Tactics 2-Day Outlook forecast shows strong offshore winds being reduced to something more manageable in San Pablo Bay, although it could be gusty, so keep an eye out for the big puffs on Saturday. An upper-level trough (low) is transiting the area and the exact magnitude of the winds in San Pablo Bay is unclear at this point. Each successive run of the GFS and NAM models shows a slightly alternating intensity and location of the trough over the Bay Area. Our Sail Tactics Day-Of wind forecast, out at 8:30 a.m. on Saturday, will give the best guidance on the wind intensity and direction. As always, please keep a strong watch on the NOAA warnings to get the best marine safety information."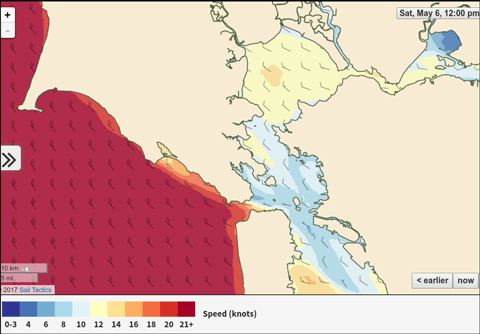 "Sunday's race is looking a little more normal, with patchy winds scattering fleets, making one route more favored than others. Winds from the 2-Day Outlook forecast are showing everything from calm to low teens for knots in a mostly WNW direction."
The forecast for Saturday night at Vallejo Yacht Club calls for a crowded but convivial harbor, serious rehashings of race tactics, not-so-serious random Captain Ron sightings and BBQ sauce stains, topped off by Mt. Gay Rum-fueled dancing to two live bands. Remember, you haven't 'done' the Great Vallejo Race if you haven't done the party!
After one of the longest, wettest winters in a hundred years, we can only imagine that the to-do lists for Bay Area sailors are miles long.
Are you hauling out or putting on a few new coats of bottom paint? Are you sanding scraping, refurbishing or revamping? Have you been reading how-to books or studying YouTube videos on how to install, replace or build from scratch everything your boat needs?
If your project is interesting, unique, or if you're just a brave soul for taking it on yourself, we'd like to visit you at the yard and profile your work. We'll be writing about a few projects from around the Bay for our June issue.
If you fit the bill, please give us a shout, and send some pictures of what you're into.
For the last couple of years the Santa Catalina Island Company has put a lot of effort and money into updating the Avalon visitor experience. Lord knows it needed it.
The organization, which has tellingly changed its name to Santa Catalina Island Resort Services, has more recently turned its attention to Two Harbors, the much smaller and less commercial version of Avalon near the West End of the island. Here's how the changes are described:
"South Pacific Ambiance Meets Two Harbors Charm
"Discover the calmer side of Catalina at Harbor Sands, where South Pacific ambiance and Two Harbors charm come together for a unique getaway that defines the West End experience. Harbor Sands at Two Harbors is the ideal place to relax and enjoy beautiful views of Isthmus Cove, while friendly servers bring all your favorite food and drinks from Harbor Reef Restaurant directly to your beachside palapa or lounge chair."
Beachside palapas?
"Surrounded by soft sand beneath swaying palms, our six rustic-style furnished palapas — named after movies of the time — are roomy enough for small groups, yet intimate enough for couples to enjoy a peaceful, relaxing day at the beach. Other Harbor Sands amenities include lounge chair rentals, beachfront dining deck, enhanced group picnic areas and more. Food and beverage service is available from 11 a.m. to 5 p.m. daily during spring, summer and fall. The wait staff will wear uniforms similar to garments of that period."
"We hope that will attract the attention of additional boaters to Two Harbors," reads a press release. "We think we'll also get a lot more visitors from Avalon to spend the day at Two Harbors. We'll provide transportation with the 30-knot high-speed vessel Cyclone to get people there in 30 to 40 minutes."
The introductory pricing, through May 26, is as follows: Furnished palapas, seating up to eight, are from $129 on weekdays and $189 on weekends. Lounge chair pairs are $25 a pair per day on weekdays to $35 a pair during weekends.
Change is always hard, and we suspect some mariners in particular aren't going to be very happy with the new look. Indeed, it does look as if always-funky Two Harbors has gotten a Hollywood makeover.
But Randall Herrel, president and chief executive, says they studied photos from the early 1900s to get ideas for the updating. Indeed, historical photos show palapa-like structures on the beach and near the water's edge.
"We're keeping with its history and authenticity," says Herrel, "but we're enhancing the experiences of our guests and attracting everyone from millennials to retirees and having lots of things for them to do. We want to maintain the feel of today for the future."
For reservations, call (310) 510-4215. To comment on the changes, email Richard.
Receive emails when 'Lectronic Latitude is updated.
SUBSCRIBE