Sausalito Yacht Club's every-other-week Sunset Series began last night with classic, breezy Knox-racing-area conditions. Sailing on San Francisco Bay is never better, and it makes for an ideal excuse to disentangle from your devices and take an early 'hump day'.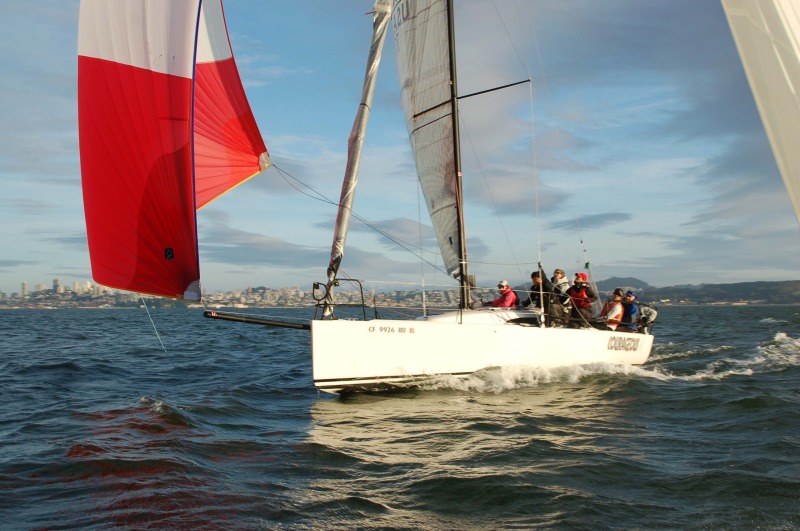 If you want to attempt a 'King of the Beer Cans' challenge in 2017 by sailing five consecutive beer can races, Monday-Friday, the SYC series will take care of Tuesday. To make your plan of attack you can check out the full Bay Area Beer Can schedule here.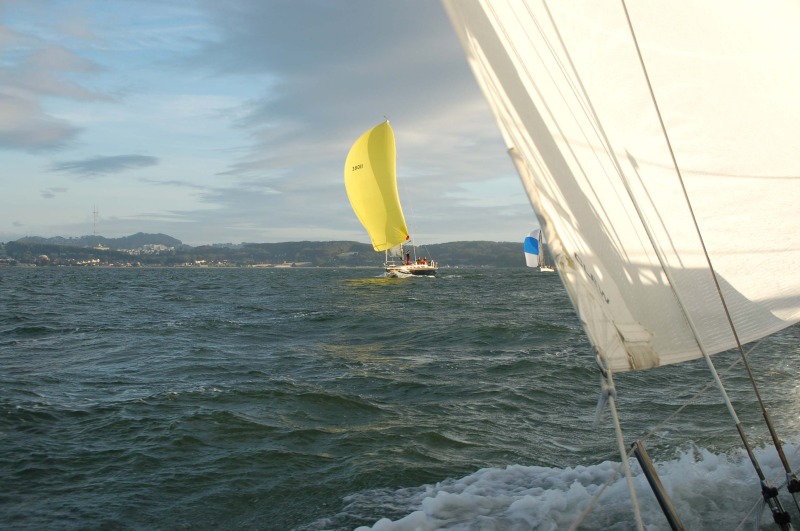 With 19 boats starting in three divisions there's room for more, and there are certainly plenty of boats sitting in Sausalito marinas ready to go. See the results from Race #1 here.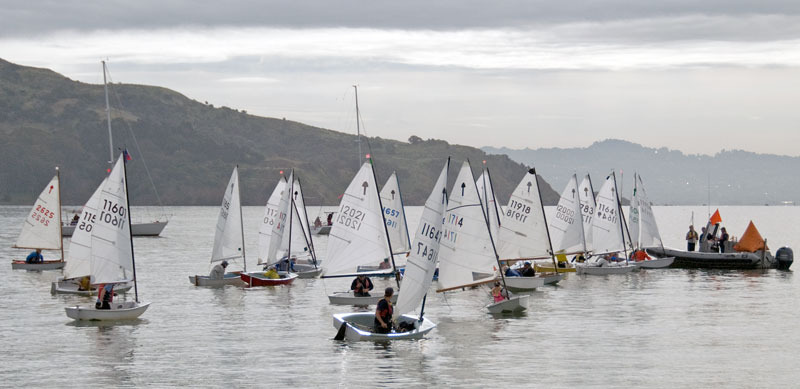 The Bullship Race on April 22 started promptly at 9:05 on Saturday morning with enough of a northeasterly breeze for the 25-boat fleet of 8-ft El Toros to make headway against a dying flood. After staging out of Sausalito Yacht Club, the race starts off the Trident restaurant at the south end of downtown Sausalito and finishes off the spit at the entrance to the San Francisco Marina.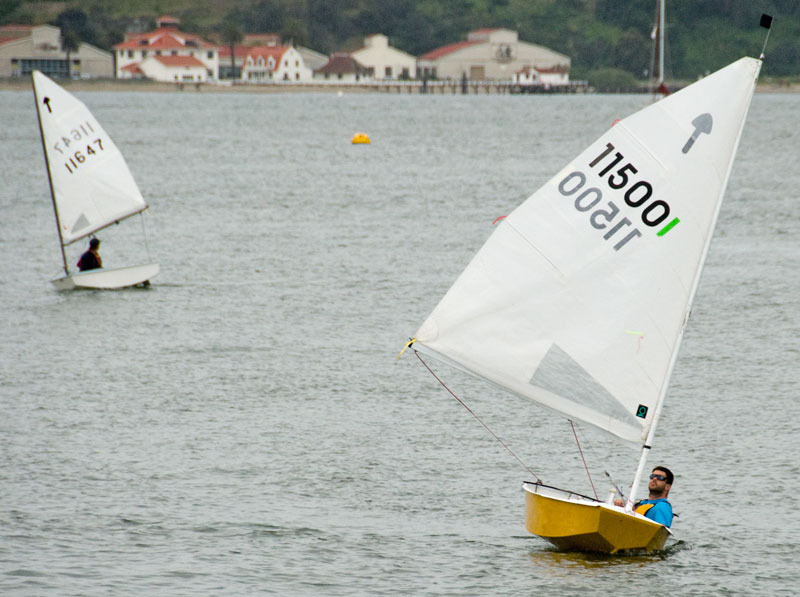 Winner Nick Nash commented, "The flood at the start hurt a little but not too bad. The way I went was kind of risky. It was definitely a flyer." He took four tacks to get to the westerly, then reached across the Bay, while the majority of the fleet went for the North Tower of the Golden Gate Bridge and got stuck in a wind hole. By the mid-Bay the flood had switched to ebb, but there was still a narrow lane of flood on the San Francisco shoreline. "I knew if I got there I was good," said Nick.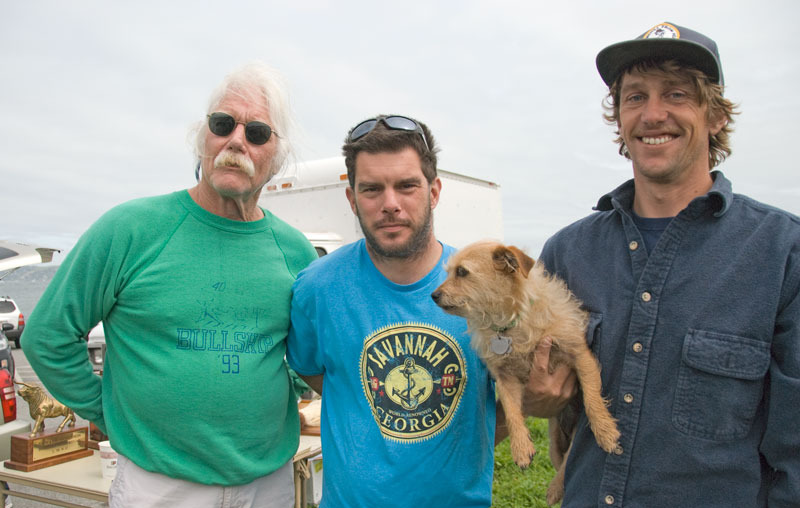 While El Toros were scattered about in the Slot, the 51-boat fleet of the OYRA Lightship was massing off the Cityfront for their start off St. Francis YC. It was quite a sight to see 8-ft El Toros weaving their way through keelboats of up to 53-ft. By the time the back of the El Toro pack were approaching San Francisco, the Lightship was already in sequence. One sailor managed to do both.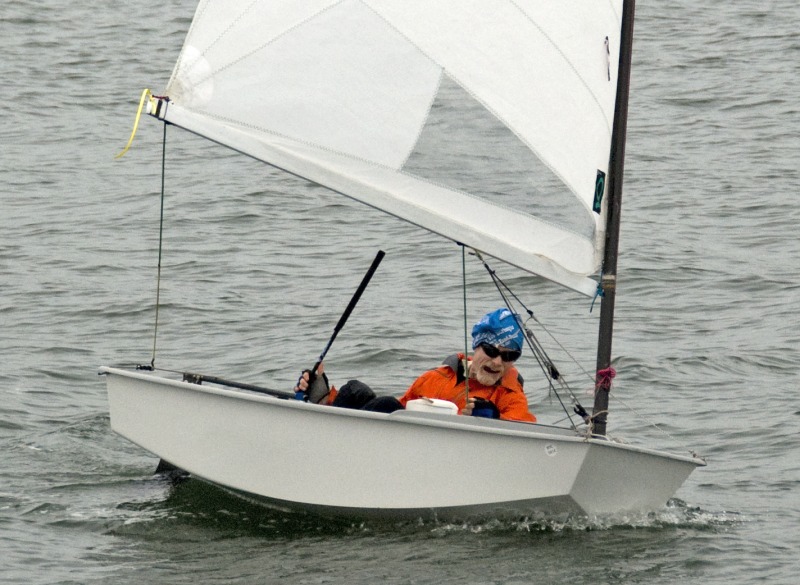 "My biathlon wouldn't have been possible without great help from a junior sailor at RYC, Wes Seifers, and the skipper of the lead cowship and commodore of RYC, Dick Loomis. Wes jumped aboard my El Toro as soon as I finished the Bullship, and Dick gave me a quick lift over to California Condor.
"In addition to the usual stress during one-design racing, I worried a lot about missing my Lightship ride. I had told the crew to sail without me if I was too slow. At one point a mile from the Bullship finish, I looked at my watch as saw 10:45. I was crushed . . . until I realized I was 1 hour, 10 minutes, and 45 seconds into the Bullship with a half hour to go before the Lightship start.
"As cool as it was to do the doubleheader, I hope the folks at OYRA and ETIYRA decide never again to schedule the two races on the same day. Kudos to Dick Loomis for escorting the tailender El Toro through the phalanx of big boats converging on the start line!" ('Cowships' motor alongside the sailors to lend assistance if needed.)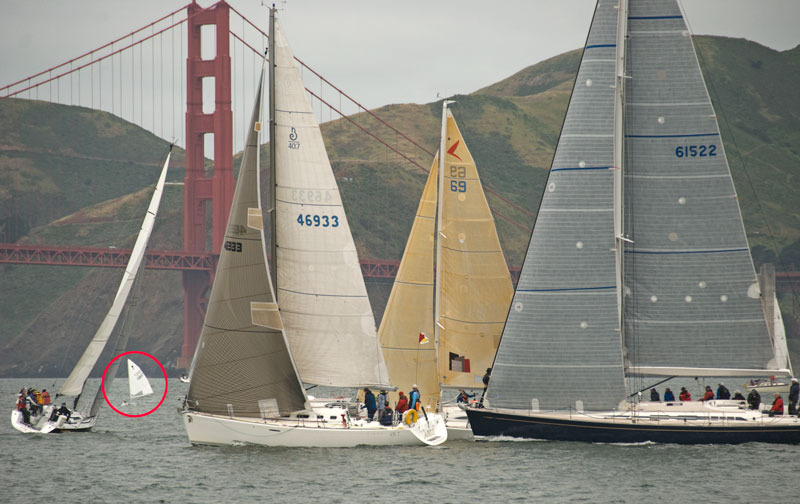 Besides first and second to finish, various other awards were given out on the lawn east of StFYC after the Bullship, including Clydesdale (first heavyweight) to Chris Nash; first maiden voyager to Chris Sullivan; Viejo (oldest finisher) to Art Lange, 75; Woody to James Savattone for first wooden boat; and Tailender to Barry Danieli for the last boat to finish.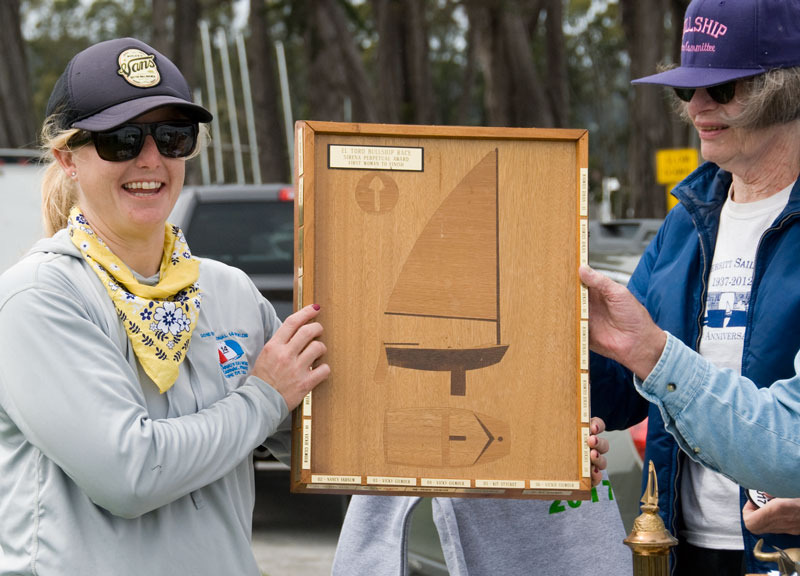 For more on the Bullship, see www.richmondyc.org. For more on the Lightship, see www.jibeset.net.
Chris and Monica Glubka of the California-based Hylas 46 Sea Glub have been writing a blog about their cruise down into Mexico, and some lines from a recent posting got our attention. They were written from Cabo San Lucas and were about "greed" and dogs.
"After coming to Cabo for 26 years, and choosing this over any other city in the world in which to get married, I don't know if I ever need to come back," wrote Chris. "This place has been so overrun by greed. Today we were told by the management of seven restaurants and bars, including outdoor ones, that we couldn't spend our money there if we had our dog with us. No dogs allowed! Well, screw them! If they're making so much money that they can turn us away because of our dog, then congratulations. But we no longer want to spend our money here."
Hilary Helkenn responded to Sea Glub's posting: "This makes me sad. Dogs are everywhere in La Cruz. I wonder how many there are in La Paz? And I'm not sure about Puerto Vallarta. We just won't go if we can't take puppies. We ain't about that life!"
Yes, the tourist places in Cabo San Lucas are expensive. But that should be expected from any tourist place in any tourist mecca. There is plenty of dirt-cheap food and drink to be had in Cabo. You just need to eat and drink where the locals do.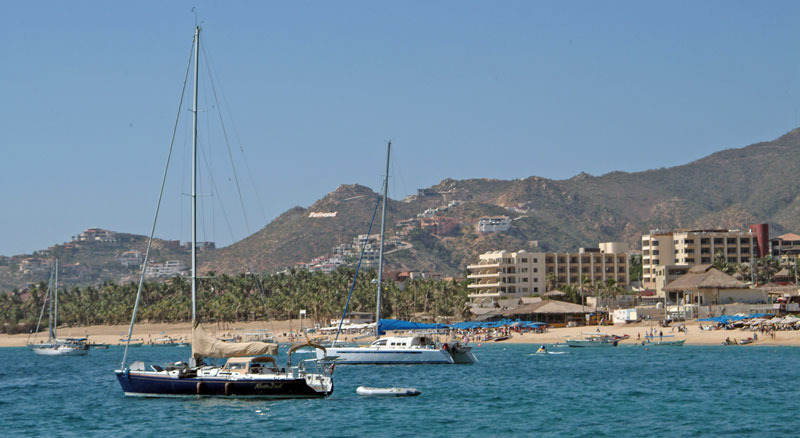 Speaking as the Wanderer, I have mixed feelings about dogs. I know they bring tremendous pleasure and comfort to their owners, and in some cases are almost as important as life itself. That is a wonderful thing.
On the other hand, I wonder what goes through the minds of pet owners who, upon seeing that a person doesn't want to be bothered by their dog, continues to let the dog sniff, lick and bark at them.
Dogs are welcome at many restaurants and bars in the La Cruz, Punta Mita and Sayulita area. The presence of what I've found to be some obnoxious dogs is the reason I patronize some of these establishments less often than I would otherwise.
There is also the issue of dogs crapping in the middle of a dock or on your electrical cord or hose. Many dog owners always clean up after their dogs. But too many don't. And in Mexico there are so many wild dogs that stepping on poop in the dark of night is a concern.
Nor can I ignore the problem of dogs barking their brains out anytime anyone walks by their boat at the dock or rows past their boat in the anchorage. Some dogs will continue barking for the next half hour.
I have a hard time understanding why people wouldn't rather have a cat than a dog on a boat. After all, cats are smaller, more nimble, and less noisy — and thus more ideally suited for a boat. It seems so unfair to the dog to have a big dog on a boat.
Cruise with a dog if you want, but please do everyone a favor and be a good owner. And don't let your love for your dog blind you to the fact that a substantial number of people — and businesses — don't feel the same way that you do about your choice of a pet. Those who love dogs will let themselves be known.
Receive emails when 'Lectronic Latitude is updated.
SUBSCRIBE