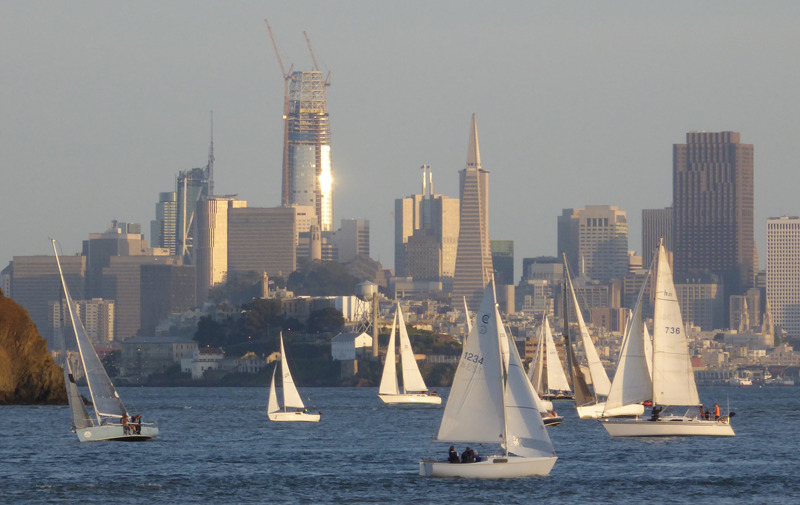 Wildflowers coat California hillsides and Easter eggs have been sighted rolling around on the White House Lawn, sure signs of spring. Another is the budding of race boats — and not-so-racy boats — that appear out of yacht clubs and marinas on weekday evenings. In mid-April, 'beer can' racing is approaching peak bloom.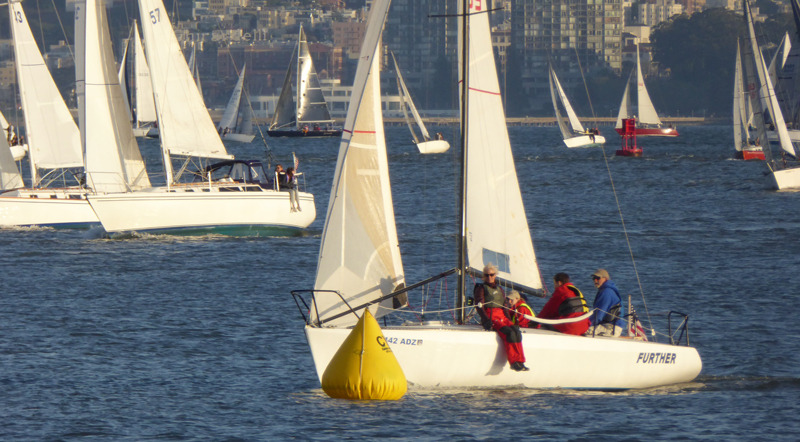 The very popular Corinthian Yacht Club's Friday Night Races out of Tiburon attract a diverse fleet, from a Farr 40 to Cal 20s, from semi-pro sportboats to vintage racer/cruisers. J/105s have their own division with nine boats entered, and Express 27s are well represented with six boats.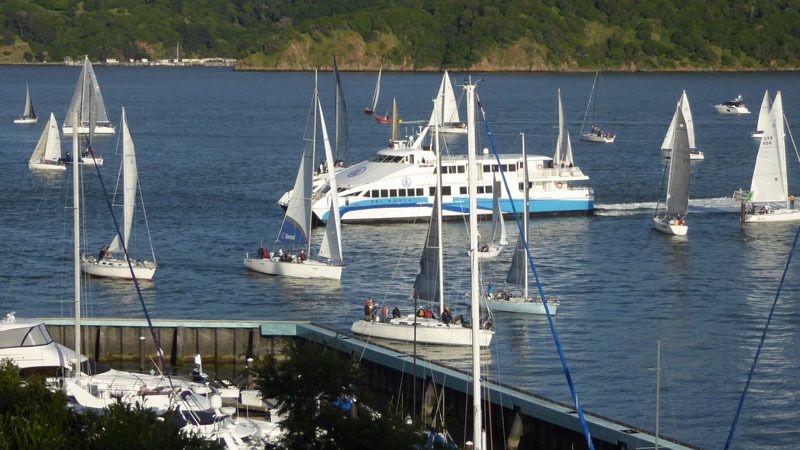 On Good Friday, 49 boats sailed out of Belvedere Cove on a weak northerly, which strengthened as the fleet made their way around various fixed marks and returned to Tiburon to enjoy the grill, drinks and camaraderie back at that other 'White House', as CYC's historic clubhouse is nicknamed.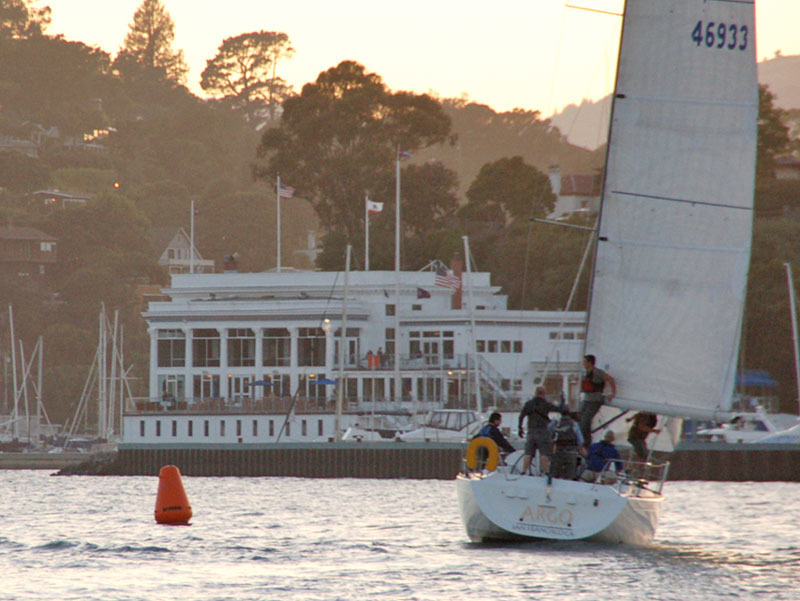 The CYC series continues every Friday night through August 25. But if you can't make it to Tiburon, never fear, as beer can race series abound throughout the region. Check out our list at www.latitude38.com/calendar.html#BeerCans.
At the end of March, we posted a harrowing video of a small sloop flailing dangerously close to a Southern California pier before being picked up by a wave and swept into the pilings.
The video we ran (above) shows the Martin 242 Bad Wolf's jib flogging — the sheets apparently fouled — in front of the King Harbor Pier in Redondo Beach. Longer versions of the video show Bad Wolf's crew lowering and trying to secure the mainsail, and struggling to trim the headsail. The Bad Wolf strayed into the surf zone, and was eventually picked up by a breaking wave and violently slammed into the pier's pilings. Her crew was washed safely into the beach.
"Len Abbeduto and his crew, Jason, Luke and Patricia, suffered various non-life-threatening injuries and were treated on the shore as well as at a local hospital," read a post on an M242 fleet website.
"Len is a very experienced racer, Bad Wolf was an excellent 242," wrote Michael Clements on the M242 site. "It looks like they just misjudged the approach angle to the Harbor. The pressure on the jib coupled with the wave action just pushed them sideways into the pier. It also looks like they had no motor rigged and running on the stern, so their forward motion was drastically reduced in the critical last minute."
The disaster prompted us to ask 'Lectronic Latitude readers, "What would you have done?" as such mishaps always seem to generate 'lessons learned' that we can all learn from. Several commenters pointed out that the most important decisions should have been made before the Bad Wolf left the dock — a point that reminds us of the old adage: "The superior sailor uses his superior knowledge to avoid situations requiring his superior skill."
Bob Schilling wrote: "Weather conditions would have called for considerable caution on the part of anyone sailing a small craft such as the one in the picture. I think I would have considered carefully whether my crew and I had the skill and experience to go out into winds that would have justified a small craft advisory."
The majority of commenters asked: Why not use the motor or drop an anchor? "Know your area, anchor early if an option," wrote Erik Pedersen. "Dropping an anchor even from a stern locker might've been an option."
Many of you asked why the boat only had her jib up. Pedersen added: "If your heavy-wind tactic is jib only, you need to rethink. Too hard to tack out and maneuver. I see so many people being lazy using a furling jib only in heavy wind, with the main not even ready to go. Deeply reefed main is much better. Have it available or don't go out."
Most of us have been in situations far less dramatic where we couldn't get enough speed to maneuver, especially if we found ourselves with only a headsail. Given that without boat speed you have as much control over your circumstances as any random piece of flotsam, Sam Crabtree's point deserves careful consideration:
"In the early days of my sailing I got into some situations where I've been dangerously close to pilings, shore and 'aids' to navigation," Crabtree said. "One of the things I learned was that I had to keep the boat moving in order to steer out of the danger. Often times it meant going toward the danger to acquire steering movement, and then steering away."
Craig Federspiel said that if he'd been in Bad Wolf's situation, he would have made a run for shore. "If I came on this problem, I would try my best to beach it. The beach is safer than rocks, pilings and other obstructions like jetties, piers and docks. Over the last 40 years, I have seen success in this situation."
It's easy to second guess, wrote Jim Brown on our Facebook page. "Everyone likes to comment about what they should have done, but they weren't there. Equipment fails, engines die, anchor lines break. Sometimes you simply wind up in shitty situations. Skill comes from making good decisions, and experience comes from making bad ones."
A point well taken. For us armchair quarterbacks to suggest the crew should have taken specific action earlier is like saying, "Damn, I knew I should have sold my stocks in 2007." In any case, thanks to all who responded. Stay safe out there.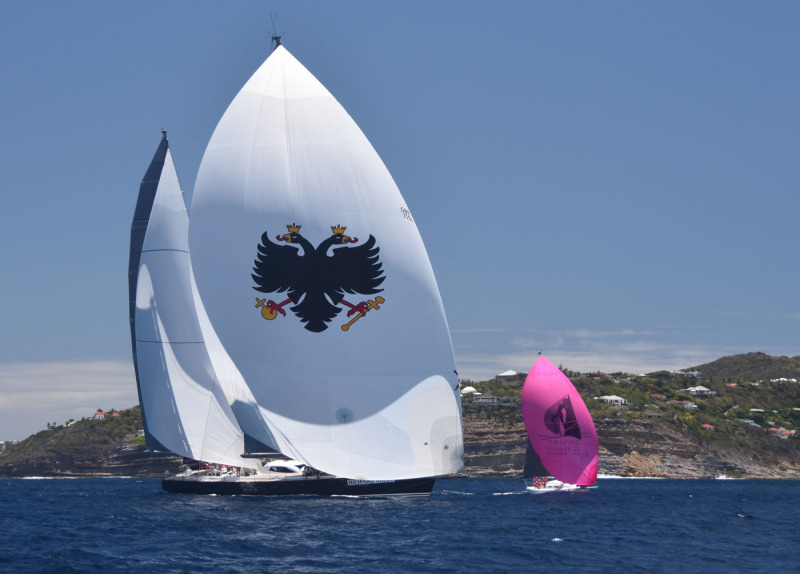 With a maximum of 18 knots during the first race, 12 in the second, eight in the third, and none in what was supposed to be the fourth and final race, the eighth annual Voiles de St. Barth was not the windy event that most participants expected. But it was still a blast — especially for the crew of one boat considered to be a supreme underdog.
Known as the 'Champagne of Caribbean Regattas' because the fleet isn't artificially fattened with bareboats, this year's Voiles attracted 65 entries from as far away as Malta. The boats ranged in size from three Melges 24s to the Farr 115 Sojana. The fleet was maxi-rich, with 15 highly competitive big boats crewed by pros. These included Rambler 88, one of the most technologically sophisticated boats in the world, the R/P 82 Highland Fling, a group of super-competitive maxi 72s, and three Volvo 65s.
West Coast boats and sailors put in a good showing at the Voiles. When it was all over, the maxi 72 Proteus, winner of her very competitive class, was also declared to be the overall winner for the second Voiles in a row. She's run by Reggie Cole, whom many readers will remember as a West Coast sled sailor in the 1980s.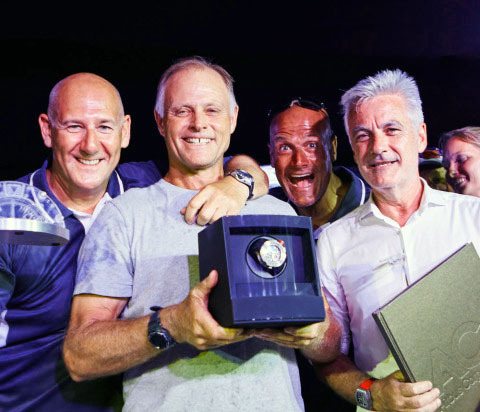 Taking honors in CSA 1 was San Francisco's Kenneth Howery, who did the driving on his Solaris 50 Fortunata. "This is my first time winning any type of regatta," said Howery, "and I credit it toward our amazing team and Tommaso Chieffi, our tactician, who's sailed in the Olympics and the America's Cup." Howery later told Latitude that although he's bringing Fortunata to San Francisco, someday he'll be bring her back to St. Barth for another Voiles.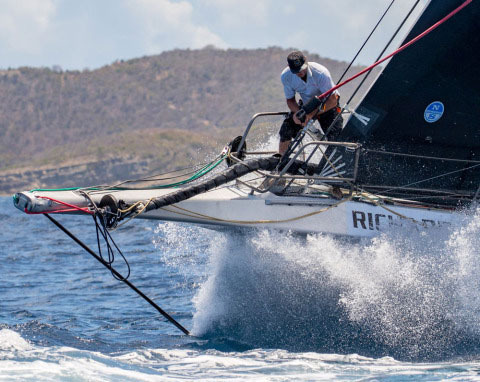 Also winning his class was Greg Slyngstad of the Bieker 53 catamaran Fujin. Greg and his crew managed a first and two seconds despite the light air, which this Seattle-based boat isn't best suited for. Having done five of the eight Voiles, Slyngstad says he'll be back — but hopefully July's Los Angeles-to-Honolulu Transpac will come first. Hopefully, because he reports there is currently a three-week wait for recreational boats to get a Panama Canal transit slot.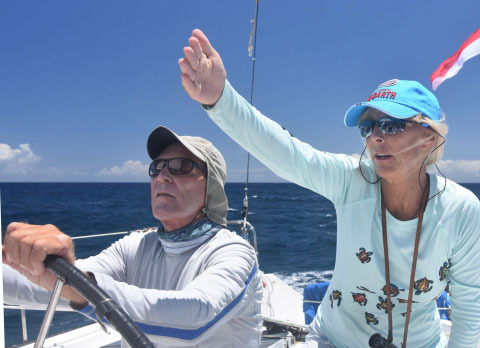 While there was no official 'Big Bang for the Buck' prize in the Voiles, if there had been, Steve Schmidt's Hotel California, Too would certainly qualify for it. She took second in CSA 1. Hotel is a 26-year-old Santa Cruz 70 built as a cruising boat. Thus she has a stubby mast and a giant back porch for an inflatable. Hotel was one of only three boats that didn't have a downwind sail, and was the only boat in the regatta that didn't use a downwind sail or a spinnaker pole when trying to go DDW in light air.
Two days before the start of the event, the Wanderer found about 20 crew for Schmidt, headed up by the greatly accomplished — and equally fun-loving — Annie Gardner of San Diego. She and her husband Eric, like much of Hotel's core crew, took a break from cruising their catamaran to do the regatta.
Thanks to pluck, luck — and mostly three boats in the seven-boat division fouling themselves out of contention — beer-boat Hotel finished second in class in the Champagne regatta. Nobody was more shocked by the finish than the crew, who were repeatedly assured in advance that while everyone would have a lot of fun, they would certainly not find themselves on the podium.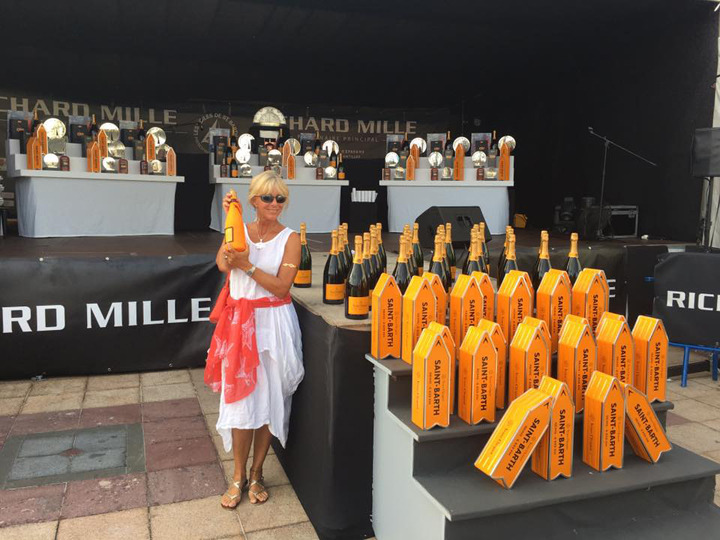 No matter if your boat is competitive or not, it's almost impossible not to have fun at the Voiles, because St. Barth is such a great little island, the fleet is a perfect mid-size, and shoreside activities are so French. The Wanderer has only missed one of the eight Voiles, and doesn't plan to miss another. If you love sailing in the tropics, and if you love fun, you might want to join him.
Receive emails when 'Lectronic Latitude is updated.
SUBSCRIBE