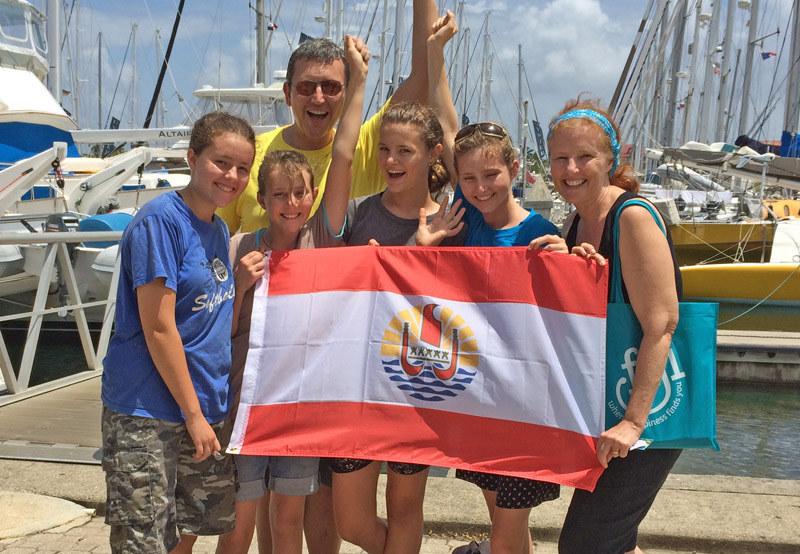 As reported previously, we had a very busy schedule last week in Panama, getting to know sailors of all stripes who will soon sail west to the storied isles of French Polynesia — on the 3,000 to 4,000-mile crossing dubbed the Pacific Puddle Jump.
Meanwhile, additional groups of Jumpers will soon head west from La Paz and Puerto Vallarta, Mexico, and elsewhere. All in all, 178 boats from many nations are currently registered on the official Puddle Jump website. As noted Monday, 28 sparkling Oyster yachts participating in the Oyster World Rally are also poised to pounce soon.
You, too, would have an upbeat attitude if you were about to head west to Tahiti. We met these international sailors at Shelter Bay Marina last Saturday.
Video Andy / Latitude 38
Joining with partners who flew in from New Zealand, Fiji and Tahiti, we did our best to educate this year's fleet members about everything from favored anchorages to immigration rules in a series of three half-day Bon Voyage seminars at Balboa (co-hosted by the Balboa YC) on the Pacific side of The Ditch, and Shelter Bay, on the Caribbean side.
As always, the collection of sailors we met varied wildly, from those with vast experience to some who were relative newcomers. Some were new to Latitude 38 while others were longtime devotees, such as Australian John Pool of the Brisbane-based Beneteau 50 Jandamarra, who found his British crew members through Latitude 38's free online Crew List.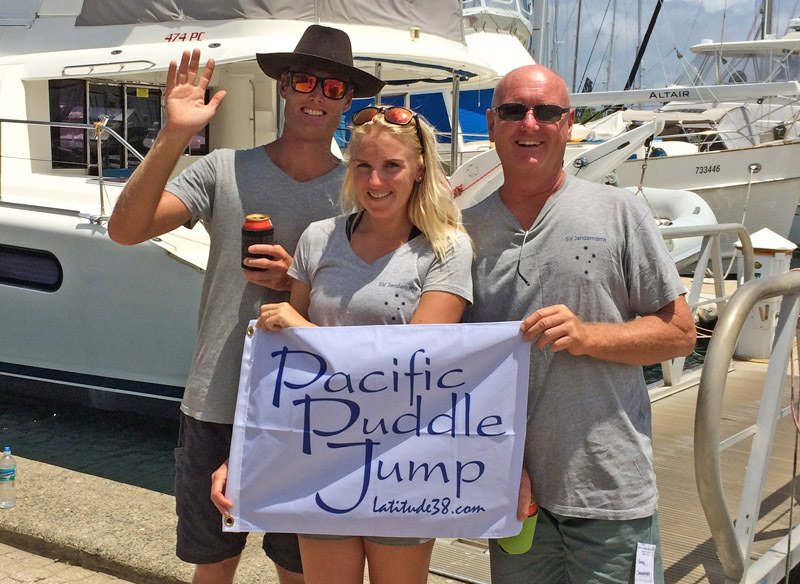 In upcoming issues of Latitude 38, look for profiles and photos of many of this year's Jumpers. And in issues this summer we'll recap their crossing experiences and the three-day arrival celebration called the Tahiti-Moorea Sailing Rendez-vous. But what about you? Is there a Pacific Puddle Jump in your future?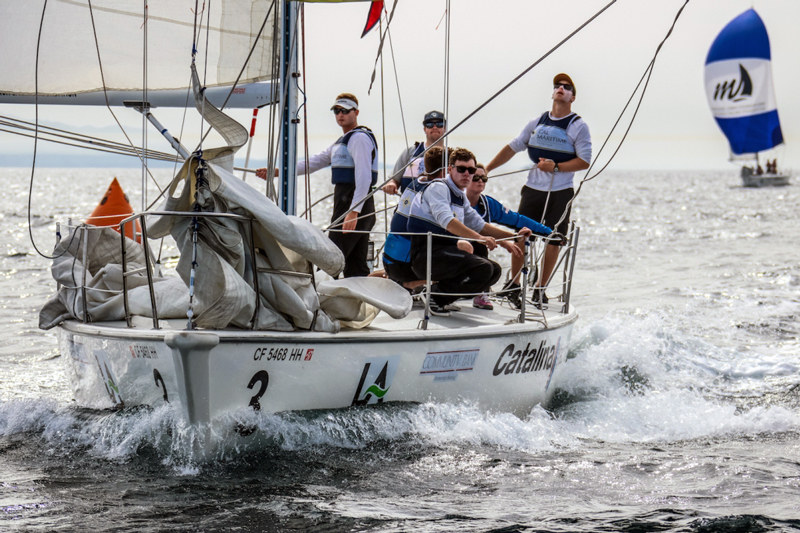 The Cal Maritime Academy Keelhaulers outpointed the University of South Florida to bring home their sixth win in the 10-year history of the Harbor Cup after races were abandoned on Day 3 of the Port of Los Angeles Harbor Cup. Thick fog and light winds forced the cancellation on Sunday. College of Charleston won last year, but Cal Maritime won in 2011-2015. LAYC is the host club.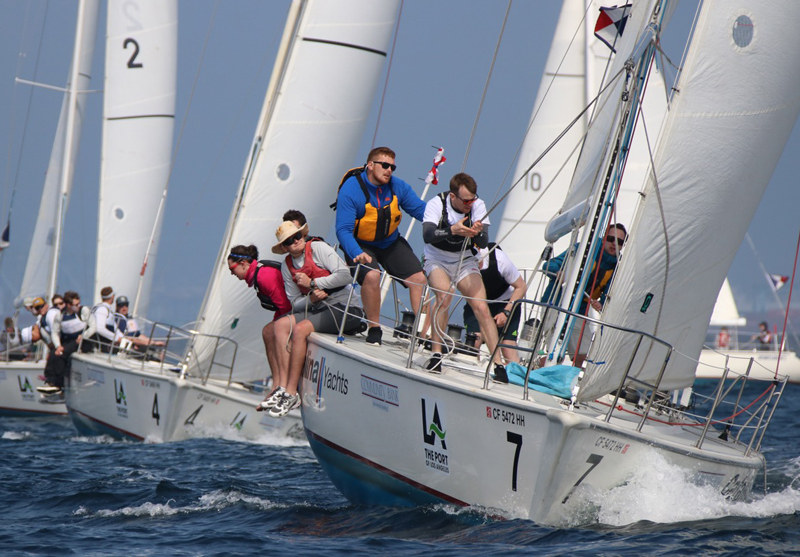 The intercollegiate regatta invites 10 of the top sailing teams from across the US. This year, Team Ireland debuted as the event's first international team; they finished seventh overall. The Irish team captain, Marcus Ryan, said, "We heard about this event through Tyler Wolk [Cal Maritime's coach, when we were competing against his very competitive American team at the Student Yachting World Cup in La Rochelle, France, last year." The sailors, recruited from neighboring colleges in Counties Cork and Mayo, looked forward to "the opportunity to sail in a region where heavy offshore sailing gear isn't a requirement all year round."
Friday's racing featured 8 knots of breeze building to 12 over the course of a hazy afternoon. With Cal Maritime over early in the second race, the University of South Florida topped the leaderboard at the end of the day. Thick fog delayed racing on Saturday until gusty winds of 10-15 knots cleared the course enough for sailing to start. Cal Maritime ended the day three points ahead of South Florida. One of our readers theorized that the Keelhaulers' success in this keelboat regatta is "because they don't have dinghies and only practice on big boats." A CMA dad disagreed: "Actually CMA dinghy/big boat teams are very active and made up of various combinations of the crews — very easy to look up at www.cmakeelhaulers.com/roster/0/10.php."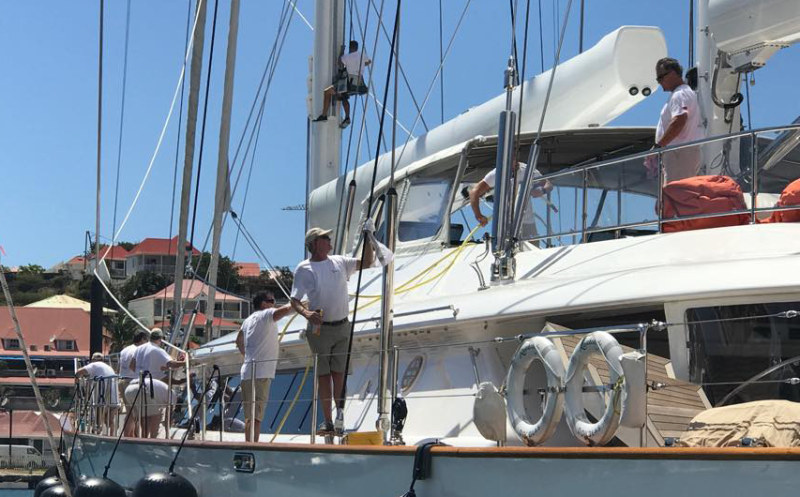 The Ultimate Women's Fantasy has started in St. Barth. Men, hundreds upon hundreds of men, are crawling all over the 40 or so megayachts… cleaning! That's right, cleaning!
Many of the men are half naked. And these are not just ordinary men, but ripped and buffed men whose sweat is 90% testosterone. Men who make even those who pour off the gay cruise ships look a bit out of shape.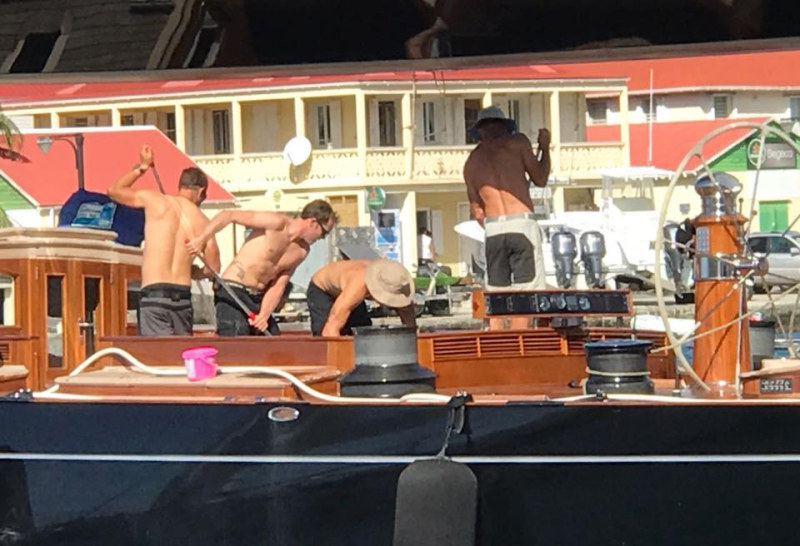 These men, who come in crammed vans from villas in Flamands, St. Jean, Vitet and Toiny, or in overloaded dinghies from Sunsail catamarans that serve as bunkhouses, are not just going through the motions of cleaning. They are doing it with a will, each one of them risking the dreaded and potentially career-ending 'chamois shoulder'.
As many as 40 men from all parts of the world scramble about on a single megayacht. They are wiping down varnish. Polishing stainless. Scrubbing topsides. Coiling lines. Neatening things up. There are even guys scrubbing the top of 150-ft-tall masts and all the rigging. Belowdecks new crewmembers are cleaning each link of the anchor chain with a toothbrush.
Medical teams are stationed on the docks to ensure that the women who swoon aren't badly injured and can be revived in time to enjoy more of the show before the men retire to Le Select or L'Oubli.
The odd thing is, there are hardly any women here. Officials in St. Barth say St. Barths Bucket Regatta week is the busiest week of the year on the island, yet around the docks the men outnumber the women 20 or more to 1. If a woman was looking for attention, this would be the place.
Willie Sutton used to say that he robbed banks "because that's where the money is." Using that logic, you'd think there would be a lot more single women in St. Barth during the Bucket, because this is where the manly men are, manly men who aren't afraid to clean.
Receive emails when 'Lectronic Latitude is updated.
SUBSCRIBE