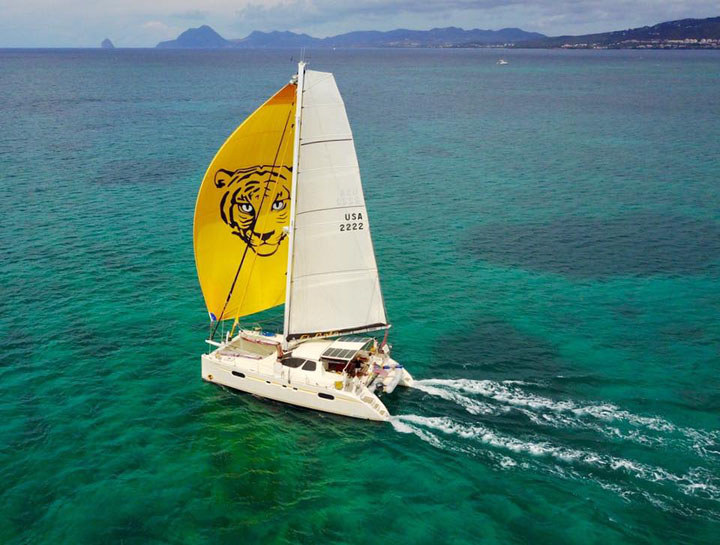 Our nomination for the Best Cruising Boat Photo so far this year goes to Eric Witt and Annie Gardner's San Diego-based (but never been there) Catana 47 El Gato, which they bought in France a few years back. If we had to take a guess, the photo was taken off Martinique.
There are so many factors that go into making this a great shot, perhaps the most important being the bird's-eye view provided by the drone. The bird's-eye view shows the complete length and width of the boat, something you couldn't get from any other angle. The yellow spinnaker against the shallow green water makes for a nice contrast and says "We're loving the tropics." The graphic of the cat's head is nice, too, although the eyes on the cat of the Disneys' Pyewackets have been the best. The expression on Pyewacket's eyes says, "Be nice, or I'm going to claw you to death." The twin wakes add speed and motion to the photo.
We're not sure who was operating the drone, but well done!
If you've got a great photo of a cruising boat, we'd like to see it.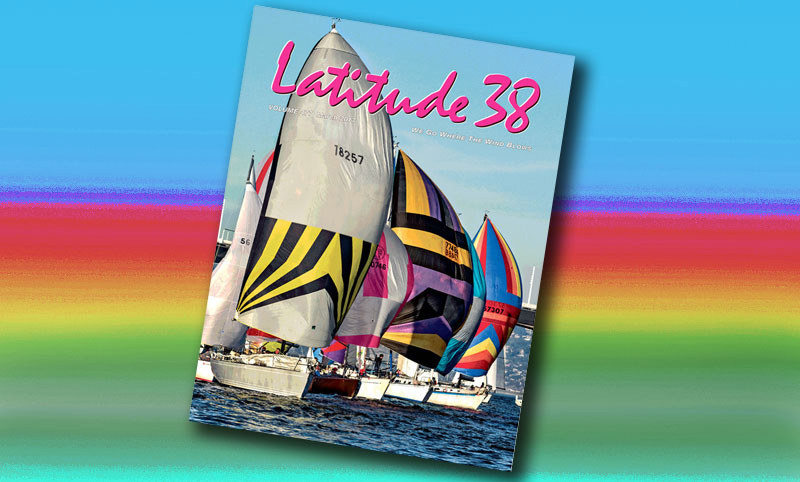 Even if your only goal today is to recover from too much Fat Tuesday celebrating yesterday, we hope you'll carve out some time to pick up a copy of the just-published March issue of Latitude 38 — we think you'll enjoy it. (See distribution points here or read online here)
Inside, you'll find our usual smorgasbord of sailing news from the West Coast and beyond, including racing recaps, profiles of both sailors and boat projects, and cruising reports from around the globe.
This month's feature articles include a salute to the volunteers who built the nearly-completed brigantine Matthew Turner, a recap of the Three Bridge Fiasco, arguments for taking it slow in the South Pacific, a celebration of the 16th annual Zihuatanejo Sailfest, and Max Ebb offering tips on how to succeed at captain-and-crew mixers. (Speaking of which, Latitude 38's next Crew List Party will be held Wednesday March 8 at the Golden Gate YC, 6 to 9 p.m. (See full details here.)
As a new month begins, we're now ramping up for our April issue — a very special one, as it will celebrate Latitude's 40th year of publishing. If you've been a longtime Latitude addict, we'd welcome your thoughts on this milestone.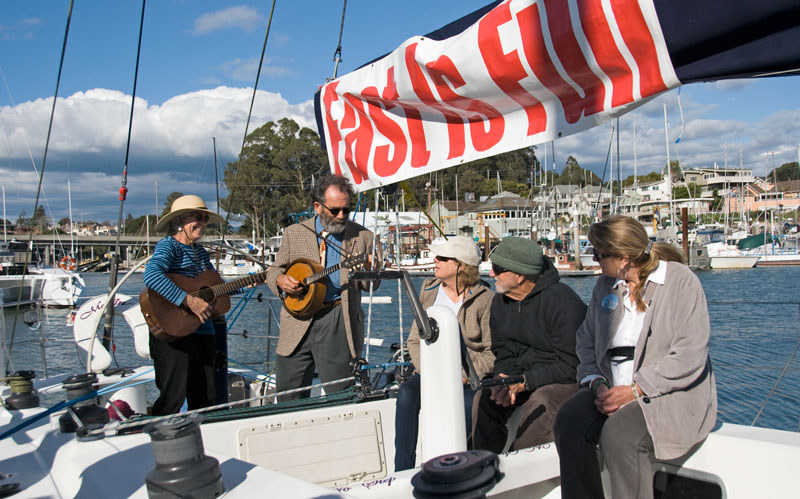 On Sunday, Mother Nature smiled upon Santa Cruz for the blessing, recommissioning and 40th birthday party of Merlin, Bill Lee's 'Fast Is Fun' 68-ft sled. Lee designed and built her in 1976-77, and she was launched on February 23, 1977. In October 2015 he bought her back and brought her home. Since then, work has progressed on preparing her for this July's Transpac from Los Angeles to Honolulu. In 1977, her maiden year, she set a Transpac record of 8 days, 11 hours, which stood for 20 years.
Merlin's recommissioning/40th birthday party in Santa Cruz on February 26.
Video by www.norcalsailing.com.
Because breaking a bottle twice is bad luck, the rechristening was called a 'recommissioning' and Karen 'KT' Trapp draped a lei around Merlin's sprit in lieu of wasting good champagne. Bill Lee's wife Lu's nephew Billy Burr blessed the boat, and her people, and then the crowd drifted up to Aldo's temporary venue for appetizers.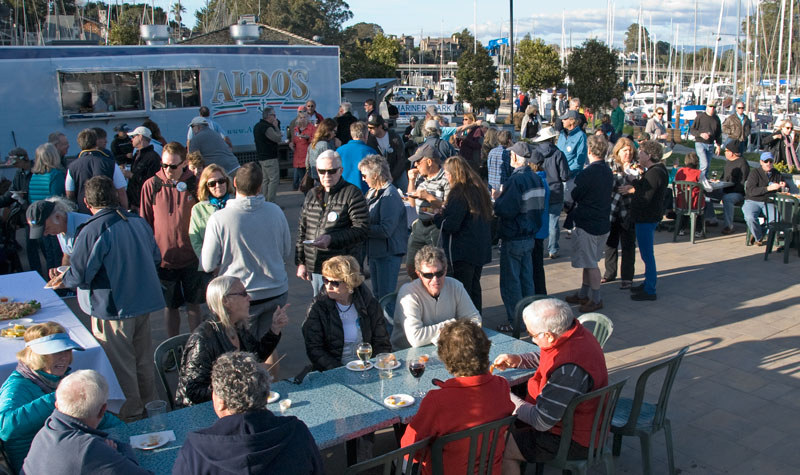 Many of Merlin's old race and delivery crew — as well as new crew — were on hand to celebrate her. Some of the old guard sported memorabilia from back in the day.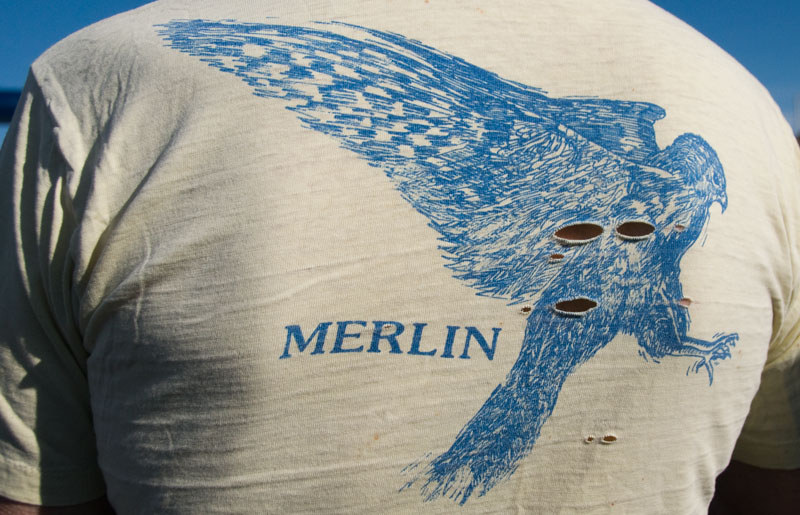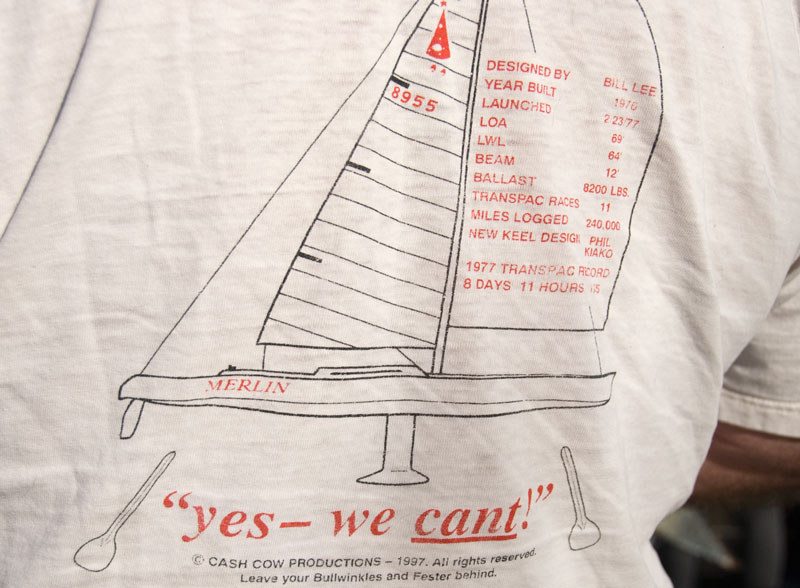 We'll have more in the April issue of Latitude 38.
Receive emails when 'Lectronic Latitude is updated.
SUBSCRIBE