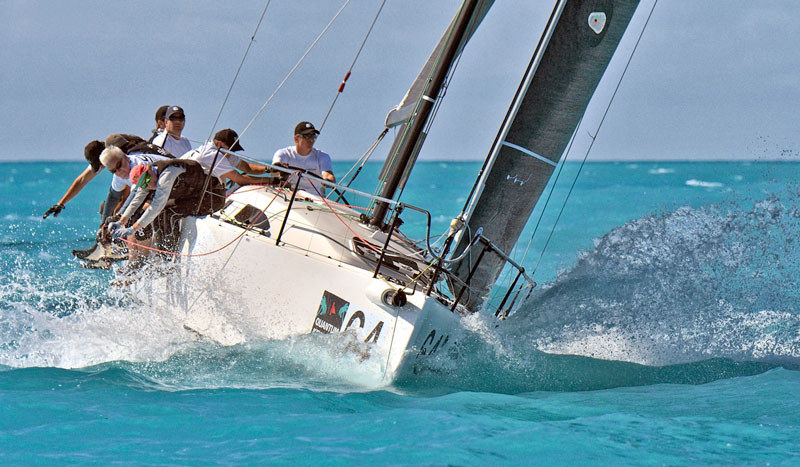 It's not only ICW (Intracoastal Waterway) sailors who swoop into Key West for its turquoise waters and competitive week of racing on January 15-20. Quantum Key West Race Week attracts contenders from the West Coast and around the globe. For the second year in a row the Bay Area's Peter Wagner and the Skeleton Key J/111 crew earned a first after five days of racing, logging a tally of 25 (8-3-1-1-4-1-3-2-1-1). By scoring an 8 then a 3 right off, the crew found themselves digging out for the comeback. This year saw nine J/111s on the line, and Wagner reports that the entire fleet had raised its competitive game. Wagner purchased the boat in 2015 and competes with an entirely West Coast crew, including his mainsail trimmer, who is a college mate and fellow All-American sailor from Harvard.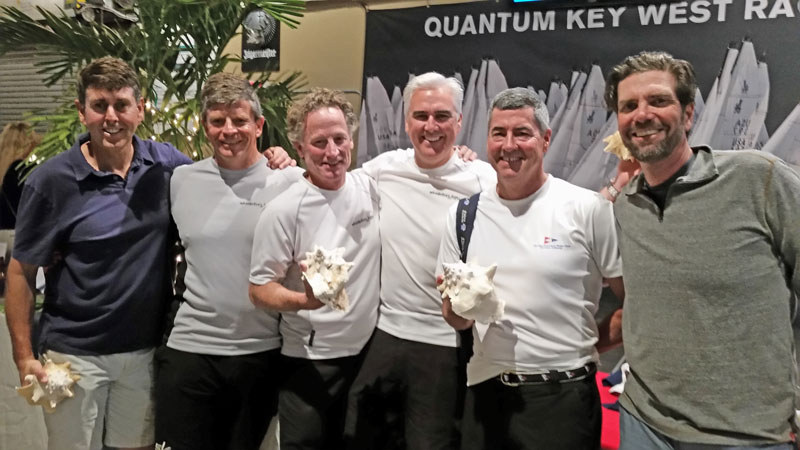 Gary Panariello of Sausalito has been racing in Key West since 2010, initially in the J/80 and now the J/88 class. He chartered a boat for his bicoastal Courageous crew. "This year was super-competitive and racing was tight. Conditions were fantastic, but at this venue you really need to focus; this is a challenging place to race." The Courageous team earned a fourth in the fleet of seven.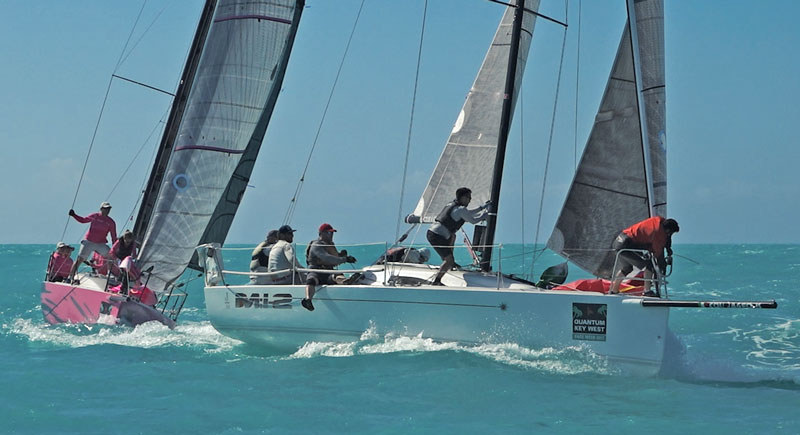 Chris Snow of Menlo Park and crew campaigned Cool Story Bro., placing 20th in the competitive J/70 division of 41 boats. In the C&C 30 division, RoXanne relied on tactician Steve Hunt, and the Anema & Core crew included Southern California sailors Will Tetrick on the bow and Kevin Abbink as mast/grinder. "This event has a large participation of boats, grand prix and PHRF, and organizers provide a great social venue," says Tetrick. "Racers are treated very well with educational debriefs and panel discussion, plus good food and beverage. This event is on many racers' bucket list."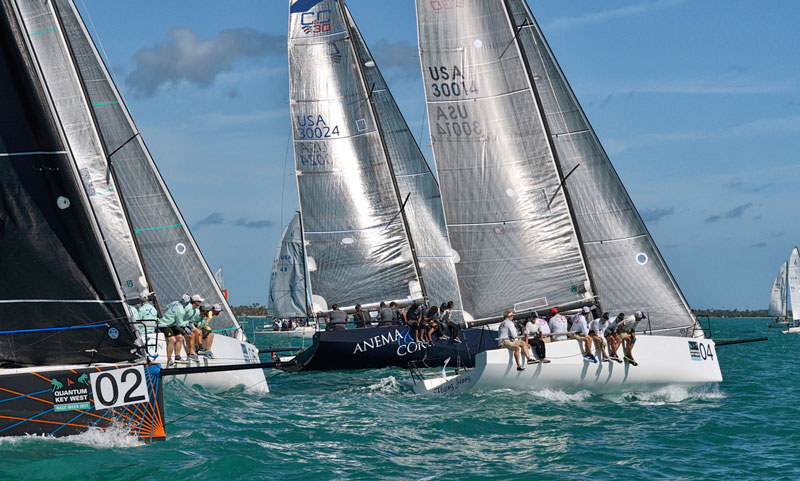 Quantum Key West Race Week is managed by Storm Trysail Club, which also hosts Block Island Race Week, plus offshore events such as the biennial Pineapple Cup race to Montego Bay, the Transatlantic Race and various others along the eastern shore of the US.
The Three Bridge Fiasco, which draws the largest fleet of any race on San Francisco Bay, is always unpredictable and filled with drama. Normally that all begins at the start line. but for competitors who keep their boats dry stored at Alameda Marina, the challenges this year began well before the first gun.
On January 20, a Singlehanded Sailing Society member notified fellow members that the Alameda Marina staff confirmed that the three-ton hoist — the only one of three hoists that has been operable recently — was out of service with a broken motor and would not be available January 28 and 29. A note to tenants said "repairs were expected to be completed in the next few weeks." The announcement drew howls of protest from tenants, who said they suggested alternatives, including renting a temporary crane and installing a motor from a different hoist. But such suggestions were initially dismissed by marina management.

On January 24, perhaps nudged by an inquiry from City of Alameda officials, harbormaster Paul Houtz announced that the marina was hiring a temporary crane for Three Bridge weekend, and was working with tenants to confirm the most convenient four-hour windows for operation before and after the race. In addition, free guest docking will be available all weekend.
Houtz said the marina had purchased a new three-ton, motorized vertical mechanism for the hoist. "We're hoping to have it in by the end of next week," said Houtz. If the new motor hasn't been delivered by then, the marina may install a two-ton rebuilt motor as a stopgap. "We plan to get the new motor in as soon as possible," Houtz assured. adding that the marina has recently been reaching out to tenants to gather their email addresses in an effort to improve communication regarding the hoist operation.
Past issues with the hoist have affected not only Alameda Marina racers, but also race results throughout the Bay Area since many competitive boats reside there. On January 14, a boat that was leading a division at Berkeley YC missed the race because of the broken hoist, and hoist issues forced boats to drop two races of the Oakland Yacht Club brunch series. Missed races can affect the scoring for results for a variety of Bay Area classes and fleets – and fellow racers aren't keen to benefit from the snafu. "Even if I'm not in the same class as someone who can't make a given race, SSS scores season standings overall," said Bay Area racer Max Crittenden. "So I have an unfair advantage over somebody who missed a couple of races with his sportboat."
Proposed development at Alameda Marina would dramatically reduce dry storage. In addition to problems with the hoists, some dry dock-storage tenants claim marina officials have been unreceptive to ongoing issues with engine thefts and have retaliated against tenants who have complained publicly by evicting them from the marina.
If you'd like to have your expectations exceeded, we suggest you take a look at Bill Leary's Noodle's Notes, which is a free online cruising guide to the Hawaiian Islands. Subtitled 50 Years of Sailing In the Hawaiian Islands, we think it's arguably the best cruising guide to the Hawaiian Islands going.
"There are other Hawaii cruising guides available," Leary wrote in a cover letter to Latitude, "but they don't include most of my favorite anchorages and harbors, yet do include places that I wouldn't consider stopping because there are better spots nearby. My guide also includes URL links to the state regulations that affect many of the anchorages, as well as links to 360° videos that were shot in most of the anchorages."
Each of the descriptions of the 37 anchorages includes an aerial photo, with the important features identified, and local knowledge imparted.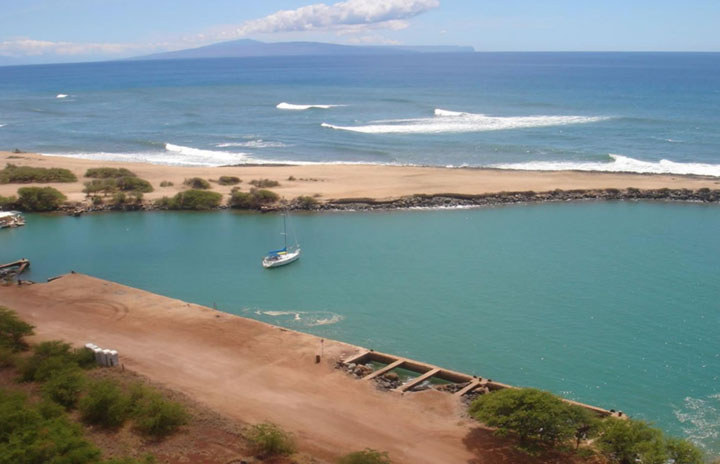 Noodle's Notes includes an all important section on sailing conditions in Hawaii, which vary drastically depending on whether you are sailing in a channel between the islands or in the lee of an island. Leary also provides an informative overall view of cruising in the Islands: "When I was a teenager, we would go cruising every chance we got, no matter what month it was. Thanksgiving, Christmas, Spring Break in April, it didn't matter to us. As my experience grew though, I realized that we were having to forego many of the best anchorages unless we went there during the summer. June, July, and August are the best months for extended cruising in Hawaii because anchorages exposed to North swells, which include most of the best anchorages in the state, are safest from North swells during this period. As the section on wind indicates, it is likely to be windier during these months, but being able to utilize the many great anchorages during that period is more important."
Leary notes, however, that you "can have great cruises any month of the year in Hawaii."
Even from just skimming though Noodle's Notes, we could tell that Leary knows what he's talking about. For example, as most sailors know, the 'Forbidden Island' of Niihau is privately owned and thus off-limits. Except that it isn't, although "thugs" — Leary's description — will try to make you believe it. Read Leary's guide for the important details.
While Noodle's Notes is intended to be an online guide, the PDF file for it can also be downloaded to your computer, or printed so you can keep a hard copy on the boat. As we mentioned before, it's free, and available here.
Receive emails when 'Lectronic Latitude is updated.
SUBSCRIBE