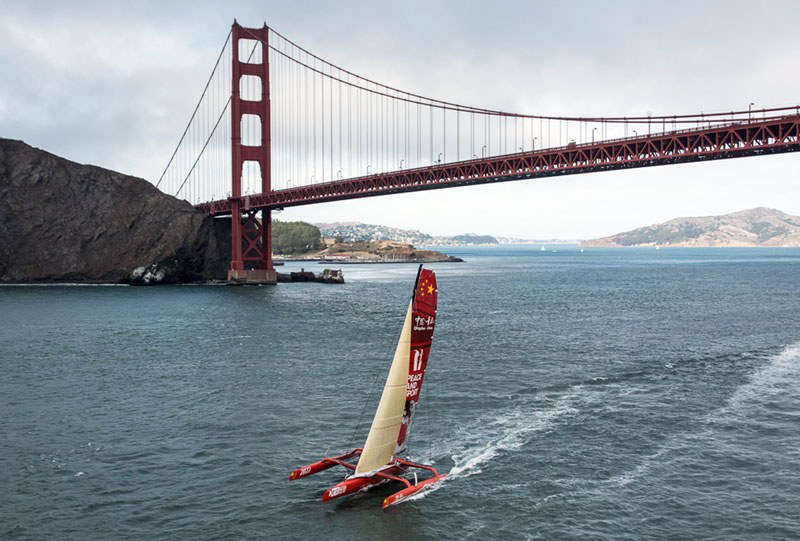 Chinese singlehander Guo Chuan, 51, has gone missing while trying to break the solo record for sailing across the Pacific from San Francisco to Shanghai. His shore team lost contact with him around 3 a.m. Hawaii time yesterday (3 p.m. Beijing time). Personnel from Maritime Rescue Coordination Center China notified US Coast Guard Joint Rescue Coordination Center Honolulu.
An HC-130 Hercules airplane from Coast Guard Air Station Barber's Point, Oahu, was launched to initiate a search. The air crew located Chuan's 97-ft trimaran Qingdao China, but did not see the solo sailor on deck. According to Chinese radio station CRI, the aircraft spotted the mainsail in the water, "broken off Guo's trimaran." However, the photo taken by the Coast Guard clearly shows the reefed main right where it should be — but there appears to be a headsail in the water.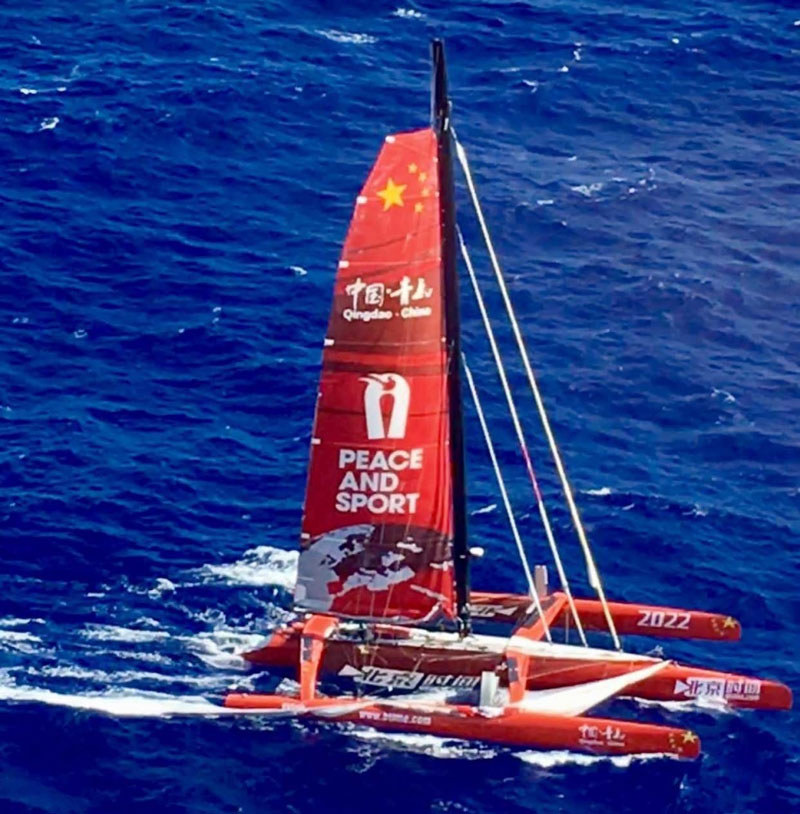 As of Wednesday morning, the tracker shows the boat due west of Kauai and about 620 miles northwest of Oahu, sailing at 10-11 knots, and ahead of the reference time set in 2015 by Giovanni Soldini and crew on the VOR70 monohull Maserati.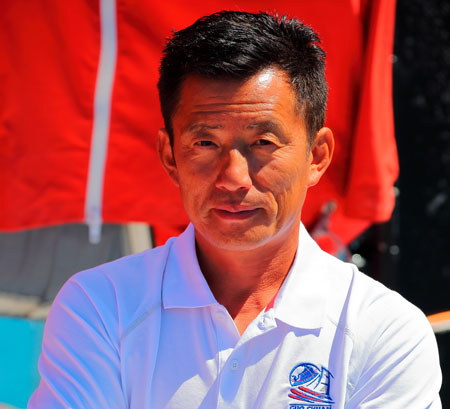 Chuan sailed out of San Francisco Bay on October 18 to challenge Maserati's time of 21 days and to set a new solo multihull record. Qingdao China was formerly named IDEC. Francis Joyon sailed her to a solo nonstop around-the-world record in 2008. In 2015, Guo Chuan used the trimaran to set a world record for the Northeast Passage nonstop with an international crew. Chuan was the first Chinese person to sail around the world when he completed a circumnavigation in 2013.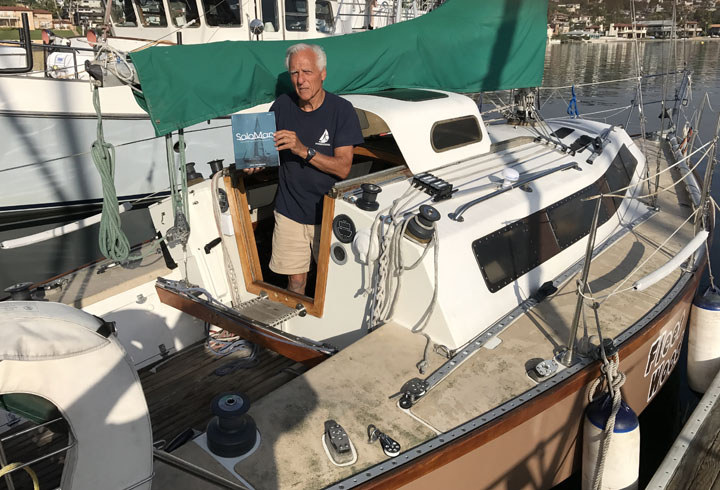 The days just before the start of a Baja Ha-Ha are among the Grand Poobah's favorites of the year. Everywhere we turn in San Diego we see folks getting their boats ready for the Monday-morning parade and start. Everyone at the Police Dock, which is packed, is eager to chat and make new friends.
There's one boat at the Police Dock, the Najad 30 Fleetwood, that will be leaving the day after the Ha-Ha start. That's because her owner, Jack van Ommen, is singlehanding. Nonetheless, Jack will be the Poobah's special guest at the Ha-Ha Kick-Off Party at the West Marine Superstore on Sunday.
Van Ommen is a hero of Latitude's, for after he went bankrupt at age 60, with nothing to his name but his 30-ft kit boat and a modest Social Security check, he's managed to outfit his boat and sail over 50,000 miles and visit 50 countries. His second-favorite country will surprise you — Romania! You'll have to ask him what his favorite country has been.
You'll also want to ask Jack, who is on his way to cross an imaginary line between Trinidad and Miami by February, and thus complete his circumnavigation, how he keeps looking so young and fit. He'll turn 80 in February and looks fabulous. It might have something to do with cruising on a small boat on a small budget for the last 16 years.
We stopped by Patsy 'La Reina del Mar' Verhoeven's Gulfstar 50 Talion, but she wasn't home. Then we remembered that she was going to Tijuana this morning to get a Mexican SIM card so her friends in Mexico can call her on her Mexican phone. How was Patsy getting to Mexico? She was riding her beloved mini-bike from Shelter Island to the trolley station in downtown San Diego, taking the trolley to the border, walking/riding across the bridge into Mexico, and finding the phone store. She's done this before and wasn't the least bit worried about getting kidnapped or anything bad happening to her.
Just before we left the Police Dock, we said hello to Brian Timpe of the Schionning 1100 that he's mostly completed after 6.5 years of building. The cat, which has outboard propulsion, is so light that Brian and his wife Sheri didn't need a Travelift to put her in the water. Each of them just lifted a hull, walked her to the water, and dropped her in. All right, that's a little bit of an exaggeration.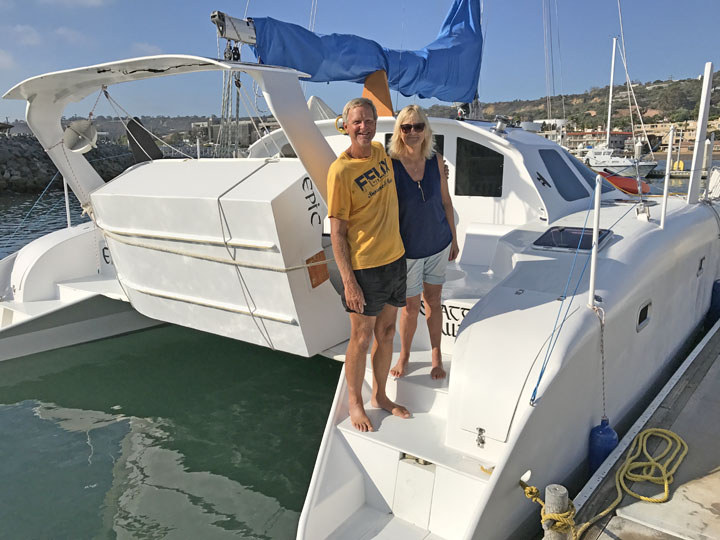 Brian had an exciting trip down the coast. Part of the reason is that Sheri remembered she'd left the bath water running and thus had to return home after the first leg from Seattle. Sailing by himself and without an autopilot, Eric was impressed at how big the seas are off the Pacific Northwest. "It didn't matter which direction they came from," he says, "they were big." He also got hit by winds of nearly 40 knots, but he hove to and the cat did just fine.
Brian's most exciting moment came not far from San Diego, when the steering failed because of a line chafing on a fuel tank. But all's well that ends well, and, now that he's been rejoined by Sheri, they were trying out a new chute they'd purchased at Minney's, eager for the Ha-Ha start.
Hey, we're having a bit of bit of a flea market on Profligate. We've got four Harken 48 self-tailing winches. They need lubing. Make us an offer. We've got about 11 Spinlock sheet stoppers that have worked great for Santa Cruz 70 chutes but need cleaning up. Make us a ridiculous offer. We've also got two Raritan electric toilets that were working when they were taken off another boat. They aren't right for Profligate, so we're giving them away. Email Richard if you're interested. But call quickly, because there are a bunch of new Ha-Ha folks the Poobah is eager to meet.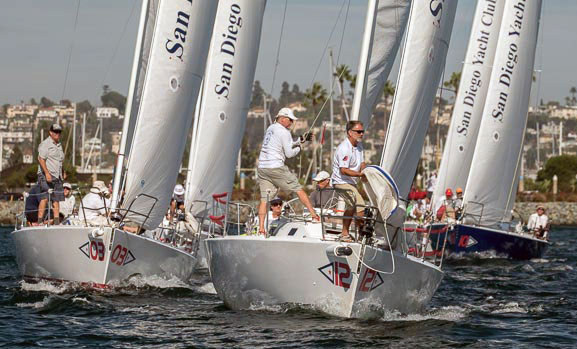 San Diego Yacht Club hosted the International Masters Regatta on October 21-23. Local sailor Chuck Nichols, winner of the 2013 edition, describes it as "a bunch of old characters that come back and tell you about sailing. It reminds you of how great they were and still are." The minimum age to skipper is 60, and crewmembers must be at least 45. Entry is by invitation only. Among the 12 skippers competing, the 'International' flavor was provided by Dick Tillman from Melbourne, Australia, and Bob Fisher from Royal Lymington YC in the UK.
Bill Menninger, Richard du Moulin and Jon Andron went into the final race on Sunday in a three-way tie. So eager was the competition that half the boats were over early, but Menninger's was not among them. He was able to lead all the way to the finish line.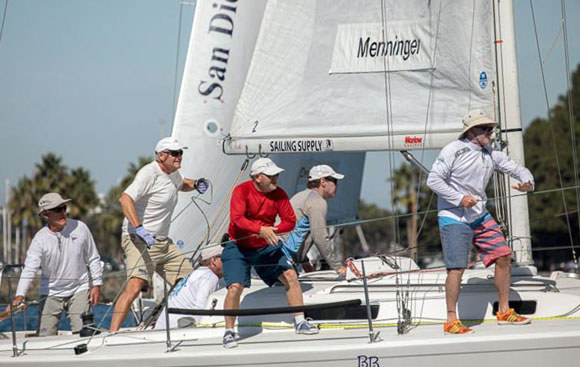 "My overall strategy for these three days was to get better every race," reflected Menninger. "Sailing aside, my favorite part of the Masters Regatta is the camaraderie of the guys that you've raced against your whole life, or new guys that you haven't sailed against yet."
Menninger, with Jon Pinckney as tactician, sailed for Newport Harbor YC. Bill and his son Michael will crew on Pinckney's NHYC Lipton Cup team at SDYC this weekend. Like the Masters, that regatta will be sailed in J/105s.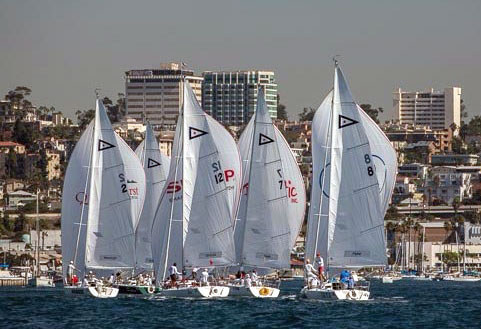 Don Trask, with Paul Cayard and Chris Snow by his side, sailed for St. Francis YC. Trask founded the Masters Regatta in 1975 at StFYC, and for years it was sailed there on J/24s. But the smaller boats were getting too tough on the aging sailors. So Trask came up with the idea to hold the regatta in J/105s. It moved to San Diego in 2012.
Receive emails when 'Lectronic Latitude is updated.
SUBSCRIBE