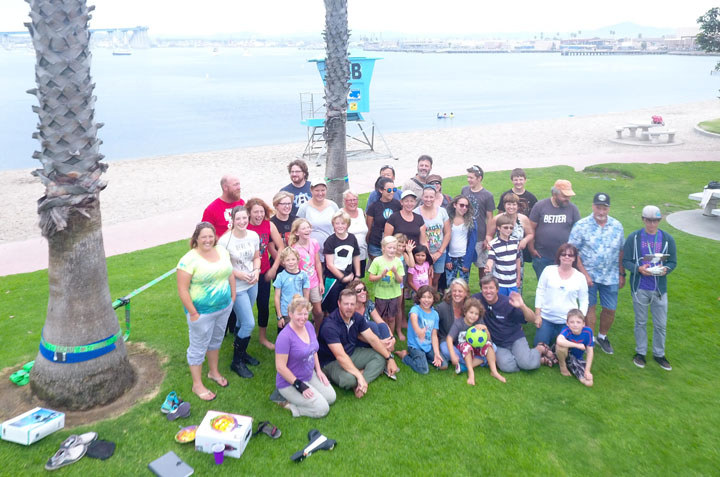 Some of the parents and kids who will be participating in the 23rd annual Baja Ha-Ha cruiser's rally from San Diego to Cabo San Lucas, which starts next Monday, gathered on the shores of San Diego Bay yesterday for a 'meet and greet'. There will be others.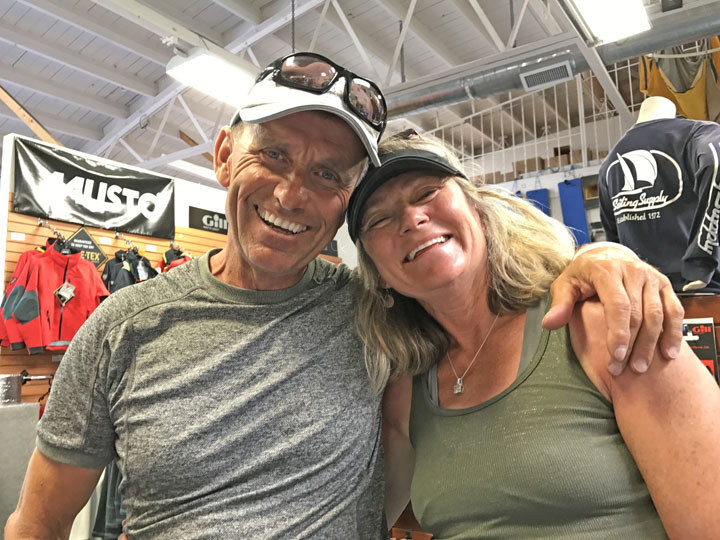 While at the Downwind Marine pre Ha-Ha Kick-Off Party on Saturday, Scott Doran and Laura Ritchie of Sidney, BC-based Lagoon 40 Muskoka expressed disappointment to the Grand Poobah that the Ha-Ha website was no longer accepting entries. The Grand Poobah doesn't like to see disappointed people, so he gladly accepted their entry. If you want to be a late entry, the Poobah is the guy to contact. Email him here.
One of the old Ha-Ha friends we met at the Downwind event was Alan 'Doctor Electron' Katz of the San Diego-based Slocum 43 Kemo Sabe. Alan says he was "pleasantly surprised" to have the folks at Pearson's Fuel Dock on Shelter Island offer to sell him fuel at the less expensive large-volume price. Why? "Because Kemo Sabe is entered in the Ha-Ha."
There are fuel docks on both sides of Shelter Island. Pearson's is the one between the San Diego YC and Humphreys. Please note that diesel is much more expensive in Mexico, and for reasons we're still not completely clear on, there is a very high 'dock fee' charged at the marina in Cabo San Lucas. If possible, you'll want to fuel up elsewhere.
The only bad Ha-Ha news to date is that the winds out of the south have been relentless for boats north of Pt. Conception trying to get south. We've never seen anything like it. And such southerlies are forecast to continue. We're afraid that more than a few boats planning to do the Ha-Ha won't make it to San Diego in time for the October 31 start. If you know that you won't be able to make the start, please email the Grand Poobah here. If you're just a little late, we're hoping you'll catch the fleet farther on down the road. We'll hold your swag bag for you.
As some Ha-Ha folks know, after 23 years the Poobah decided to move the Ha-Ha starting date back a week. Part of the reason is to not conflict with a huge annual fishing tournament when the fleet arrives at Cabo, and part of the reason is to move even further back in the hurricane season. So it is with interest that we notice hurricane Seymour is brewing, albeit far off the coast of mainland Mexico and Baja. It will be long gone by the time we get to the same latitude, so there are no worries with it.
With the days getting shorter and the water beginning to cool at the latitudes between Puerto Vallarta and Cabo, the Poobah is pretty confident that hurricane season will end with Seymour. Nonetheless, the possibility of future hurricanes will be monitored each day of the Ha-Ha. For the record, no hurricane or even tropical storm in the last 50 years would have crossed the Ha-Ha route when the Ha-Ha boats were there.
San Diego weather for the upcoming week features temps in the mid- to high 70s, while the forecast for the Monday start of the Ha-Ha is in the high 60s. Downright chilly! But no worries, because the temps in Cabo are in the high 80s and low 90s, and should be about the same when we get there in a little over two weeks. If you always wanted to sail where it's warm, the Ha-Ha is for you.
Need a berth in San Diego? Because of cancellations, there are still a couple of spots open at Intrepid Marina in San Diego, right in the heart of the pre Ha-Ha festivities.
Here on California's North Coast, boaters who venture offshore have been reporting abnormally large numbers of whales in recent weeks. So many, in fact, that they pose a serious potential threat to small-boat operators, while their own safety is potentially threatened by ship strikes.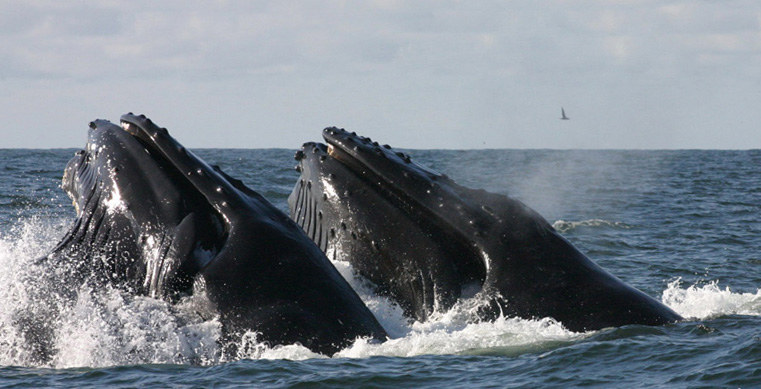 For scientific insights into the apparently abnormal population growth, we checked in with MaryJane Schram, media liaison for the Greater Farallones National Marine Sanctuary:
"These huge numbers of whales are borne out by our own observations during recent sanctuary ACCESS research cruises, with the highest whale numbers and highest record concentrations of whales in the entire history of our ACCESS (Applied California Current Ecosystem Surveys) cruise series.
"The [SW Farallon] island biologists did a one-hour 'snapshot' of whales last week from the Farallon Lighthouse and recorded the following (with a visibility of 35 nm, in 1.1 hours):
• 95 Humpback Whale
• 3 Blue Whale
• 108 TOTAL Whales
"While thrilling to experience this, it's important to keep in mind that while here, they are at significant risk of death or injury from shipstrikes, especially if they are concentrated in the shipping lanes that converge on the Golden Gate, [used by ships] from all over the world. That's why marine sanctuary and other researchers are carefully documenting their movements, correlating them to prey and ocean conditions, to help prevent collisions. Our science is applied science, with specific conservation objectives. Using this data, we succeeded in getting the shipping lanes changed, and have called for a voluntary 10-knot speed maximum while in the lanes (for vessels 300+ GT), effective from May 1 through November 15. Smaller craft should be careful to maintain a 100-meter distance from all whales, too, all year round.
"Blue whales are endangered, and are still not recovering strongly from intensive hunting. Some of our sanctuary's humpbacks remain endangered, though others have been down-listed or delisted. All need protection against factors that we can control. They are already running a survival gauntlet with climate change, prey shifts, and other stresses. We're determined to give them a break, where we can."
If you are fascinated by huge cetaceans and would like to learn more about them, consider attending the "Big Whale Soirée" November 19 at Sausalito's Bay Model. Promoted as 'a science and art celebration of big whale biomechanics,' the program features a presentation by Researcher Jeremy Goldbogen of Stanford University/Hopkins Marine Station, who will share his latest research, and answer questions such as: "How do giant blue whales, the most massive creatures on earth, manage to eat up to four tons of food per day?"
The program runs from 7 to 9:30 p.m. at 2100 Bridgeway, Sausalito; $20 per person admission includes two drinks. Reservations: Sara.heintzelman@noaa.gov or (415) 530-5366.
Located in Annapolis, MD, the Sailing Hall of Fame may seem to some West Coast sailors like an East-Coast-centric institution. But the class of 2016 includes four West Coast luminaries, and the induction itself will be held in San Francisco. St. Francis Yacht Club will host the invitation-only ceremony this Sunday, October 30. The induction will be dedicated to the AmericaOne Foundation. You may recall that AmericaOne was StFYC's America's Cup challenger in 2000. The Foundation supports Olympic sailing, disabled sailing and sailing for underprivileged youth.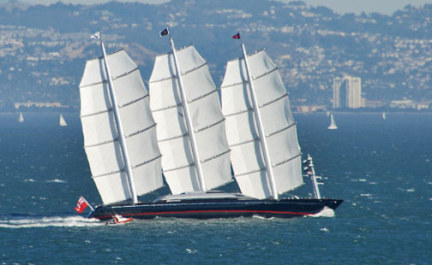 Latitude readers are well acquainted with Tom Perkins of Belvedere, who brought his innovative 289-ft Dyna-Rig yacht Maltese Falcon here in 2008. Perkins was also a great champion of the Leukemia Cup Regattas, the most recent of which was hosted just yesterday by San Francisco YC. The venture capitalist, who got his start at Hewlett Packard in the 1950s, recruited the likes Al Gore, Rupert Murdock, Ted Turner and Sir Ben Ainslie to come to Belvedere and speak at Leukemia Cup VIP dinners in past years. Perkins once contributed a feature story to Latitude 38, Cruising with Patrick O'Brian. He passed away this year on June 7.

This year's NSHF inductees from Southern California are Dave Ullman, Bill Ficker and Malin Burnham.
Burnham started his sailing career as a junior at San Diego YC, was the youngest (at age 17) Star World Champion, and went on to America's Cup syndicates in the 1980s. He was the design director for the IACC yachts (which many fans still miss in these days of foiling catamarans) and managed Dennis Conner's comeback in 1987. He won the International Masters Regatta four times, the last in 2015.
Another Star World Champion and America's Cup alumnus, Bill Ficker was the AC-winning helmsman on Intrepid in 1970. In 1980, Long Beach YC established the Ficker Cup, a match racing Grade Two event, to honor him.
Dave Ullman, who opened his first sail loft at age 21, won multiple championships in the 470, Melges 24, Thistle, Snipe, Lido 14, Sabot and Coronado 15. The 1996 Rolex Yachtsman of the Year currently coaches US Sailing's women's 470 team.
Also being inducted this year are adventurers Exy and Irving Johnson. The couple's explorations of the world by boat were ahead of their time. We remember picking up a 1950s-vintage copy of National Geographic and reading of their travels. They were frequent contributors to that and other magazines.
Ever sailed on a J/Boat? Too many to count? Yeah, us too. So it comes as no surprise that the brothers who founded the line are being honored this year. Bob and Rod Johnstone started the company when the makers of the Sunfish, AMF-Alcort (Bob's employer at the time), passed on a 24-footer that Rod was building in his garage. That boat became the J/24.
Another America's Cup-winning sailor, Ed Baird, rounds out the class of 2016. He was the helmsman in 2007 when Switzerland won the Cup, after which he was named Rolex World Sailor of the Year.
Speaking of Swiss success with the America's Cup, that syndicate's head, Ernesto Bertarelli, was inducted in the Herreshoff Marine Museum / AC Hall of Fame in a ceremony on October 21 at New York YC. Honored along with Bertarelli was Lord Dunraven, aka Windham Thomas Wyndham-Quin, a challenger in the 1890s with Valkyrie II and III.
Receive emails when 'Lectronic Latitude is updated.
SUBSCRIBE