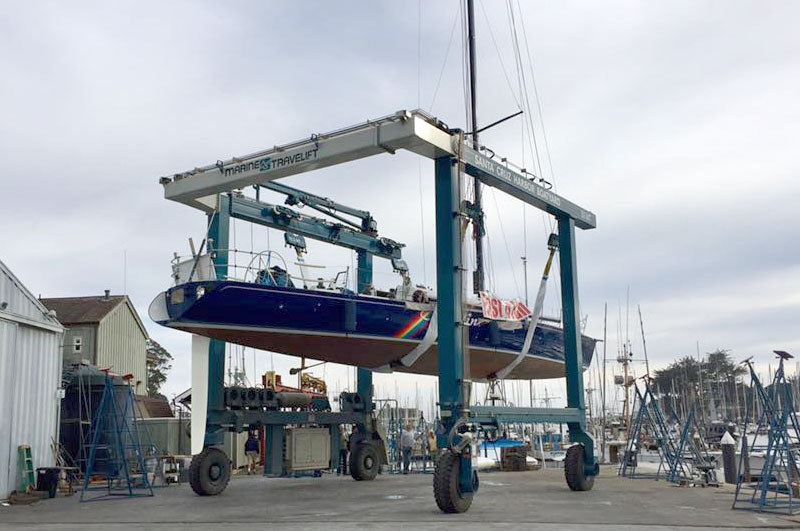 Like Latitude 38 itself, Bill Lee's 68-ft Merlin is pushing 40 years old. The mighty sled's initial launching coincided with our first issue and was covered therein. We've always had a soft spot in our heart for Merlin so were thrilled when Bill Lee bought her last October and had her trucked home to Santa Cruz from the Great Lakes. Lee's intention is to sail her in the 2017 Transpac. Bill and Merlin set the Transpac record in 1977 and held it for 20 years.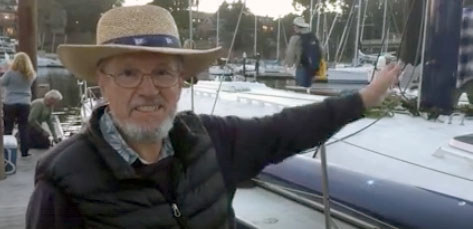 The first project was to replace the modern canting keel with a fixed one. After much searching for something appropriate, Lee finally had a new one built from scratch. The keel has been installed, the boat reassembled, and the rig stepped. Yesterday, Merlin was launched in the harbor at Santa Cruz, and the new keel tasted saltwater for the first time.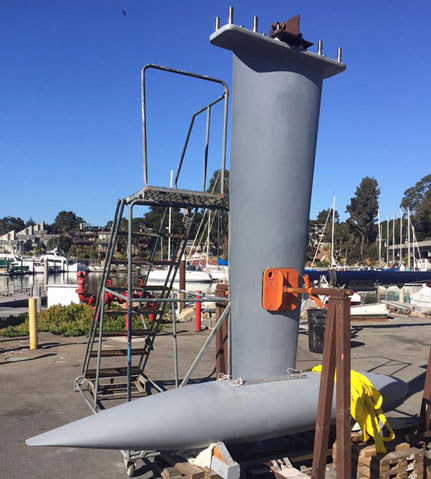 Jeremy Leonard shot a video interview with Lee at the dockside, and we've shared it on our Facebook page, www.facebook.com/Latitude38.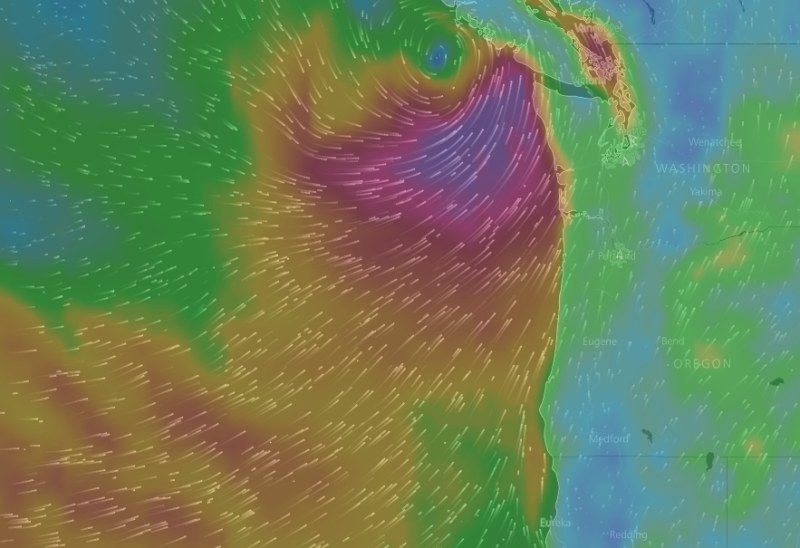 If you're in the Pacific Northwest, you're no doubt getting pounded by the first of three powerful storms sweeping across the Pacific. Here in the San Francisco area it's raining and breezy, but more than anything, the region is getting a nice dousing of much-needed rain. In Southern California, it's cloudy and mild.
It's not going to be an easy trip for any Baja Ha-Ha boats from the Northwest that haven't made it south to San Francisco Bay by now, as all these storms feature strong winds out of the south. Wind on the nose is not good.
Craig Shaw of the Portland-based Columbia 43 Adios, a vet of numerous Ha-Ha's, is planning to head south as soon as the storms pass through. But based on the forecast by windyty, in the Northwest these southerly winds only let up for a short time on Tuesday, to be followed by more winds out of the south. While the winds may not be as strong, they are still on the nose.
As bad as it will be trying to get south from Portland, it will be even worse trying to get south from Seattle.
For those lucky enough to have made it south to the San Francisco area, the weather in California is about to turn glorious. It's all sunshine around San Francisco starting on Monday morning, with a week full of bright sunshine and temps in the mid- to upper 70s. In Los Angeles it's going to be a week in the high 80s to 90s, and even San Diego is supposed to get 90° by the end of the week.
Our best wishes to all you folks trying to work your way south from the Northwest. Above all, be safe.
Speaking of staying safe, Bermuda survived a direct hit from Category 3 Hurricane Nicole yesterday with no deaths reported. Significant flooding, severe road damage, roofs blown off, and boats sunk or blown ashore have been reported. Trees and live power lines are down. The America's Cup teams went on lockdown. To see how they prepared for the storm, see www.americascup.com/en/news/2314_Storm-Force.html.
On Saturday, October 22, Women Who Sail is having a reunion meeting at the pool at La Cruz Inn that will include all the original speakers from the very first meet-up there in February 2014. Charlotte Kaufman of the ill-fated Hans Christian 36 Rebel Heart founded Women Who Sail in 2011. As reported on 'Lectronic Latitude in the spring of 2014, Rebel Heart was scuttled at sea after the Kaufmans' 1-year-old daughter became ill and had to be rescued during the family's Pacific Crossing.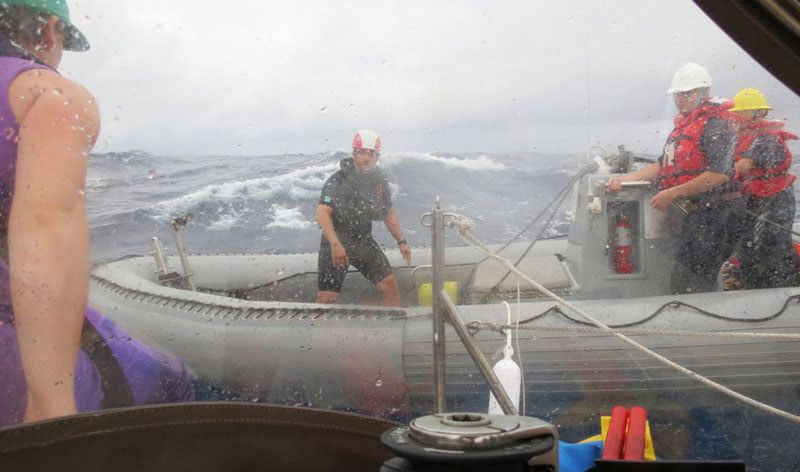 Women Who Sail is a not-for-profit organization with more than 9,000 members worldwide. All women boaters (both sail and power) are invited to attend the free meet-up on the 22nd from 2 to 5 p.m. by the pool at La Cruz Inn in La Cruz de Huanacaxtle, 14 miles north of Puerto Vallarta. Free wine will be available until it runs out, courtesy of Katrina Liana of Marina Riviera Nayarit, and there will be a cash bar, taco stand, and many door prizes. The inn is just a couple of blocks from the marina. Speakers will include Charlotte Kaufman, Michelle Williams, Eugenie Russell, Tamiko Willie, Pat Henry, Judy Jensen and Katrina Liana.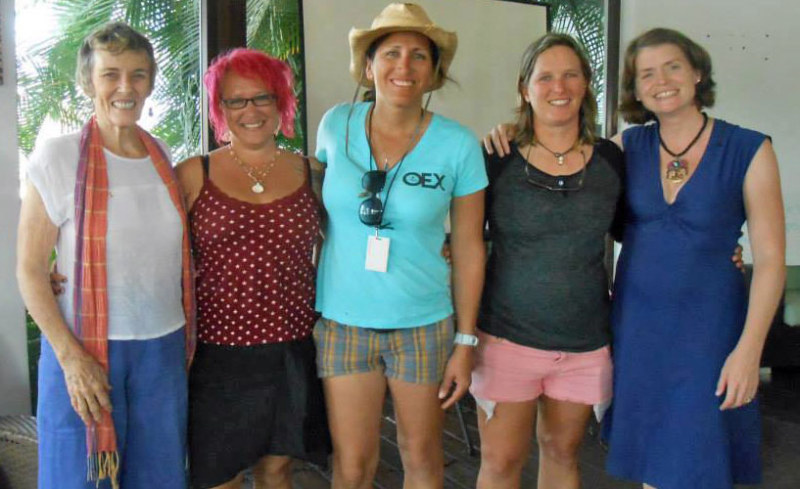 If you're interested in the group but can't make it to La Cruz for the meet-up, check out Women Who Sail's closed Facebook group at www.facebook.com/groups/WomenWhoSail.
Receive emails when 'Lectronic Latitude is updated.
SUBSCRIBE