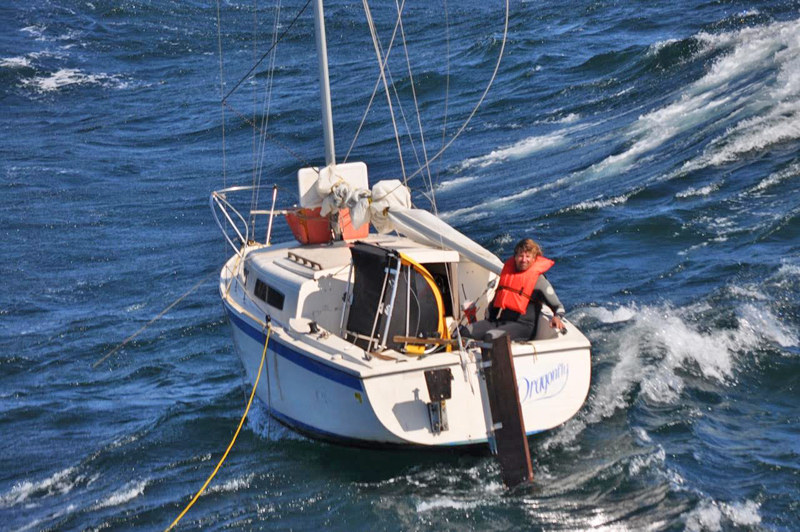 You may think it was foolhardy for the solo sailor pictured above to venture into the rough waters surrounding San Miguel Island (24 miles south of Point Conception) in his engineless, 23-ft pop-top sloop — especially since he had to be rescued by the Coast Guard. But we have to give him credit for having the foresight to have an Emergency Position Indicating Radio Beacon (EPIRB) on board Dragonfly. Without it, this story may have had a different ending.
The unidentified male sailor reportedly activated his EPIRB when his anchor dragged in 8- to 10-ft seas. Evidently he had no functioning radio on board, as he wasn't able to communicate with Coast Guard rescue personnel until they dropped him a handheld VHF from their helicopter. Although the little sloop's mast and shrouds appear to be intact in the photo, the singlehander told his rescuers that he was unable to make sail, as his mast was damaged.
Most offshore sailors regard their EPIRB as an absolutely essential piece of equipment — even more important than a life raft. If you're unfamiliar with the concept, such devices transmit coded signals that uniquely identify the vessel in distress to the nearest rescue coordination center via satellite. The good news is that the cost of EPIRBs has dropped dramatically since they were first introduced, and there are now several smaller, personal EPIRB-like devices that are even cheaper, such as the DeLorme inReach and the SPOT Messenger.
Since EPIRBs were first introduced in the 1970s, more than 20,000 people have been rescued worldwide. If you're heading offshore this fall, you really can't afford not to carry some sort of satellite distress device aboard.
A while back we did a shout-out to young sailors within our readership to learn how they enjoy the sport of sailing, how they got into it, and how they like the content of Latitude 38. We received lots of enthusiastic responses (which we'll distill down into an article next month), including a note from Dennis Olson of Santa Rosa.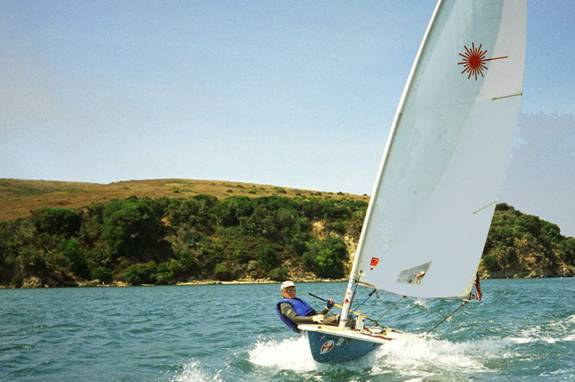 Although he has plenty of opportunities to sail on big boats owned by friends, Dennis's favorite boat to sail is his Laser, for which he paid $1,800 when it was nearly new.
In answer to our question "What events or destinations are on your sailing bucket list?" Dennis replied, "I live at my bucket list places: Tomales and San Francisco bays." And he says he likes the mix of sailing news in Latitude just as it is: "Nothing more. Keep up the good work!"
At the bottom of Dennis's note he admitted that he's not really under 40; he's 68. "Forgive me for intruding," he wrote, "but, as I still sail my Laser (countless water-mileage in all these years) I do not feel my age. When I'm out sailing I feel like I'm 34 again.
The self-taught sailor explains, "I was 34 when I bought this little beast, and spent the first few sessions alone, mostly swimming in San Francisco Bay off Crissy Field and in Tomales Bay. That first day I went home early thinking 'I've bought a boat that I can't sail!'
"But persistence and meeting some other helpful Laser sailors at China Camp (where afternoon conditions were just as gnarly) really helped my learning curve and spirits.
"This boat is like riding a fast horse. You are part of the equation. It is a force bigger than you. It requires finesse, delicate balance, and, in big wind, some sustained muscle work and bravery. While spitting out saltwater, you'll be talking to yourself as adrenaline rises and the mind empties of all but what is happening right now."
How do you get the next generation of sailors out on the water? By Dennis's example, one answer is to start with the basics aboard a Laser, El Toro or even a vintage Sunfish. You can often pick one up for a song at a yard sale or marine flea market. If the boat you sail makes you feel much younger than your actual age, we'd love to hear about it.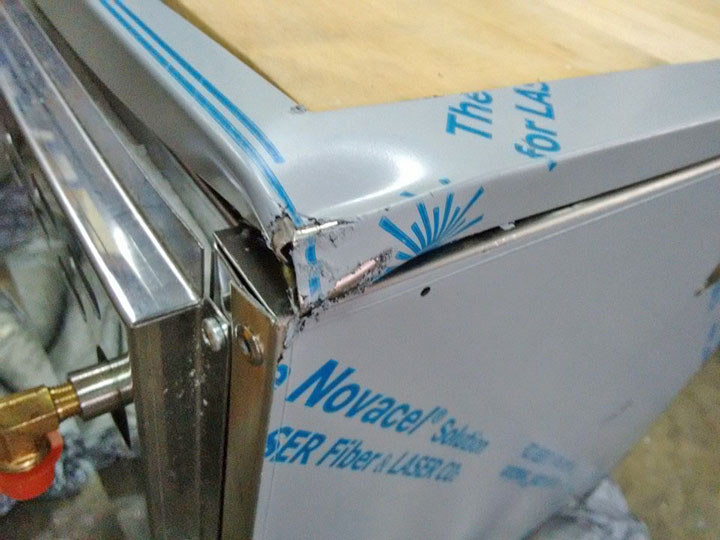 Murphy has a sister named Erin who is in the shipping business, and she has her own 'Law': The more trouble and the greater the distance it is to have something shipped to your boat, the more likely it is to arrive damaged.
Gene and Sheri Seybold of the Stockton- then Honolulu-based Esprit 37 Reflections, who have been out cruising for ages and are currently at Rebak Marina Island Resort in Malaysia, know all about Erin's Law.
"The Mariner Regal stove we had from New Zealand was 34 years old, and despite having had it refurbished while in Auckland in 2003, it needed to be replaced. We loved the stove — the oven could accommodate a 21-lb turkey! — and would have replaced it with the same had the manufacturer not gone out of business. We spent a lot of time researching a replacement, and decided on the Dickinson Mediterranean because it has the largest oven we could find. We placed a special order with West Marine via Noel at the marina here. The stove was to be shipped on a pallet via air.
"After waiting three weeks, the stove arrived. It was not, however, on a pallet, and the box looked like it had been dropped from the airplane! The oven door was pushed to the side and there were dents in the sides and back. Needless to say we were very disappointed. Noel contacted West Marine and UPS, and West is sending a replacement ASAP. So we have three more weeks of anticipation, but thanks to Noel's perseverance and West Marine's great customer service, at least we have hope."
Alas, the Seybolds' hope was misplaced, for when the replacement stove arrived three weeks later, it again wasn't on a pallet as requested, and had damage similar to the first one's! For some reason West Marine had gotten rid of the pallet, despite the fact the Seybolds had specified the stove be shipped on a pallet and that they were willing to pay extra for it. What the future will hold for cooking on Reflections is unclear.
It just so happens that Profligate's Force 10 three-burner stove — and in particular the broiler and the knobs — has not been working well for a long time. The publisher mentioned this on his Facebook page and got a lot of response. It would seem that stove problems are much more prevalent on boats than in houses, and mostly frequently with ovens and broilers. No doubt it's because of the marine environment.
Fin Beven, one of Profligate's frequent Baja Ha-Ha crew, hired a stove expert to go over the stove on his Cal 40 Radiant. "Now it works as though it were brand new," he says. With a new stove costing about $1,500, the Wanderer went looking for a stove repairman in the San Diego area, but didn't have luck finding one. The one recommended by Force 10 said he didn't work on stoves.
So the Wanderer went to the West Marine Super Store in San Diego, and lo and behold, they had the Force 10 three-burner stove he was looking for right there on the shelf. The Wanderer called Force 10 in Canada to find out if the trim from his old stove could be used as trim on the new stove. Nobody answered the phone, and nobody has called back yet. Maybe it's a holiday in Canada.
While in the West Marine store again this morning, the Wanderer took some measurements of the Force 10 stove — and noticed something disturbing. It has an unsightly dimple in the stainless right on the face of the stove! He felt an instant fellowship with Gene and Sheri. As imperfect as he himself is, the Wanderer is pretty accepting of imperfections. But at $1,500 for a stove, he's not so forgiving.
Receive emails when 'Lectronic Latitude is updated.
SUBSCRIBE