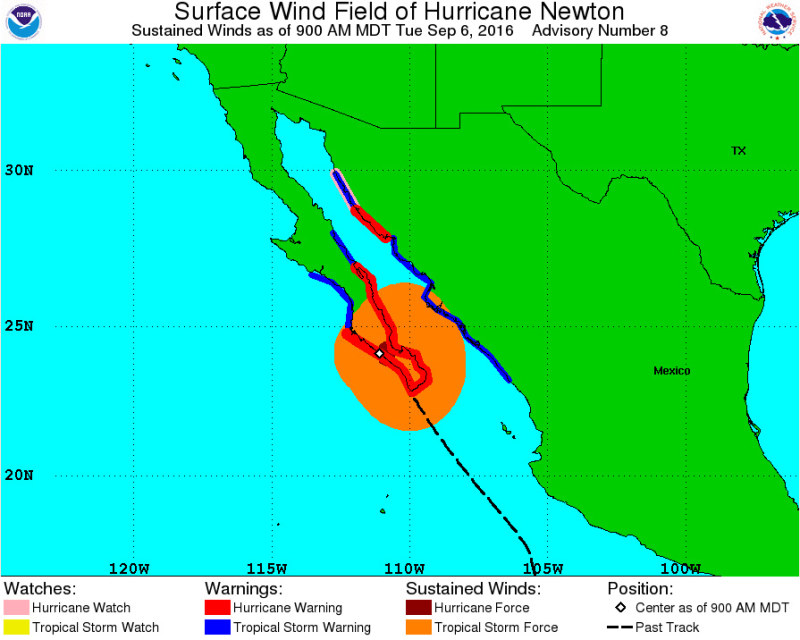 Newton, a low-end but nonetheless potentially very destructive Category 1 hurricane, hit southern Baja this morning, and continues to hammer the peninsula, threatening boating interests.
Based on satellite imagery, the eye came very close to, if not right over, Cabo San Lucas. The National Weather Service had one weather station report sustained winds of 67 knots with gusts up to 100 knots. We have not been able to establish phone contact with Marina Cabo San Lucas yet, but have our fingers crossed that the damage was minimal. They've been through much stronger storms before.
We also haven't been able to make contact with anybody in La Paz, although weather reports show winds of 43 knots. Initial reports had the hurricane passing 50 miles to the east, which would be a good thing.
Also threatened are areas such as Puerto Escondido, farther up the eastern shore of Baja, and across the Sea at San Carlos.
Newton is only the seventh hurricane since 1971 to make landfall near Cabo San Lucas. Odile, two years ago, was by far the worst, causing extreme damage that led to mayhem in Cabo, and resulted in three cruisers losing their lives on or near their boats at La Paz.
We expect to have reports from both Cabo and La Paz tomorrow.
Meanwhile, over on the East Coast, now post-tropical storm Hermine continues to weaken about 110 miles south of the eastern tip of Long Island. While tropical storm warnings are still in effect from Fire Island Inlet to Port Jefferson, they have been discontinued for the yachting centers of Block Island, Martha's Vineyard and Nantucket.
This time period is also the 21st anniversary of hurricane Luis, one of the most destructive hurricanes to ever hit the northern Leeward Islands. That catastrophic storm caused severe damage at Antigua, Barbuda, St. Barthelemy, St Martin and Anguilla. The storm accounted for 19 deaths, left nearly 70,000 homeless, and caused roughly $3 billion worth of damge in 1995 dollars. It also threw D Randy West's 60-ft cat Shadowfax high up onto a St. Martin beach, with D Randy and Michelle aboard. After repairs, a big party was thrown to attract manpower to carry the big cat back to the water.
Receive emails when 'Lectronic Latitude is updated.
SUBSCRIBE