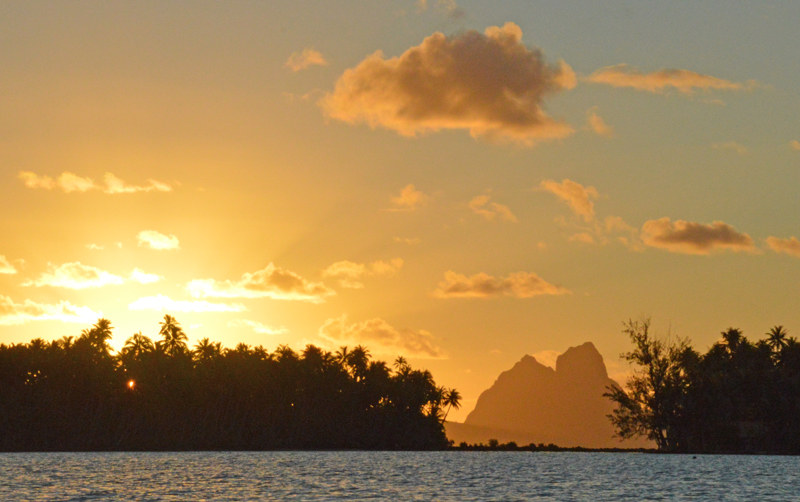 What's the souvenir that takes up no space and lasts forever? For South Pacific cruisers, the answer is easy: a tattoo. Having recently 'jumped the puddle' from Mexico to French Polynesia, Debbie and Bill Schmid of the Washington-based Corbin 39 Anakena and many others feel they've earned their stripes, so to speak, and are proud to share a cultural tradition rooted in centuries-old Polynesian culture.
Cruisers often say the experience of getting a personalized tat is a highlight of their visit to Polynesia.
Can cruisers learn to dance like Tahitians? Well, what we've found during years of 'research' is that female sailors can usually hold their own. But sailor men struggle to keep up. Nevertheless, we've got to give these guys credit for trying.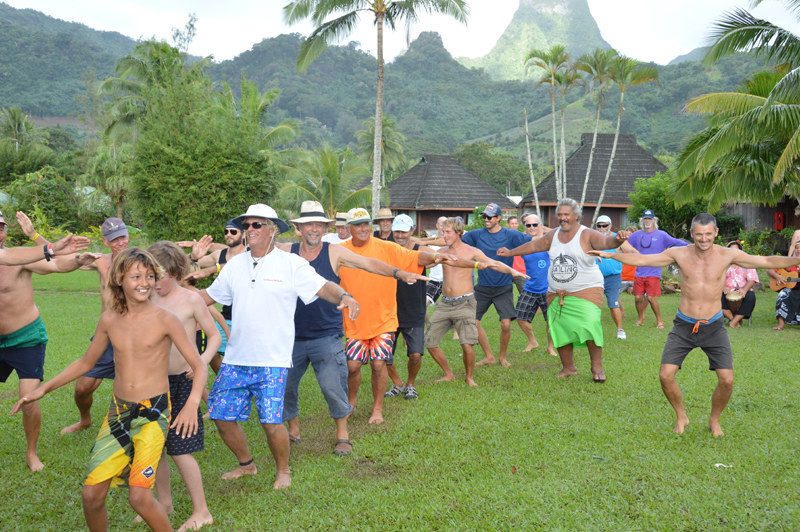 Can kids have fun while cruising? Perhaps not 100% of the time, but when they are actively engaged with other boat kids — such as during last week's Tahiti-Moorea Sailing Rendez-vous — they tend to be all smiles.
Our final question is one that has puzzled us for years: Do Polynesian women have extra joints in their hips that allow them to do rapid-fire gyrations? Watch this video and you'll see why we're so curious. (Shot last week at Moorea's Club Bali Hai in Cook's Bay.)
How do they do that?
latitude / andy
As perhaps only a couple of readers know, the 35th America's Cup is to be held next June in Bermuda. We think it's safe to say that after the fabulous spectacle of the 2013 America's Cup on San Francisco Bay, and Oracle's Cinderella come-from-behind victory, the fact that Oracle and San Francisco could not keep the event on the Bay frittered away a tremendous amount of goodwill and West Coast interest. Even among sailors.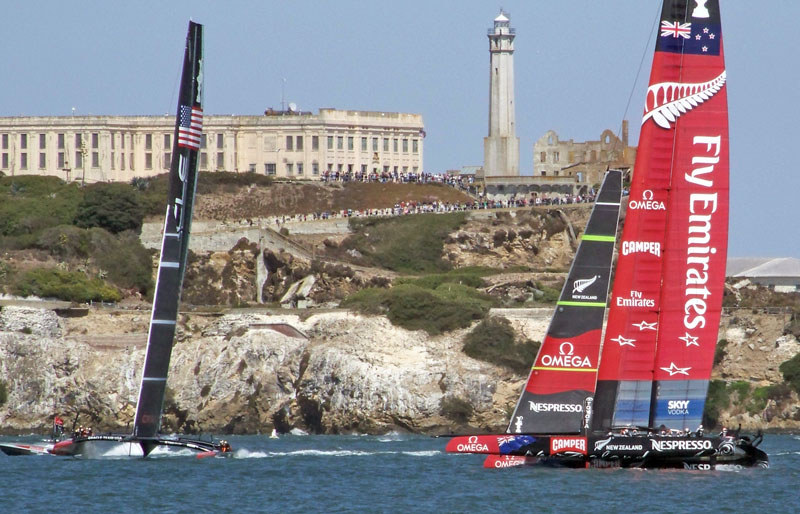 Oracle Team USA will, of course, be the Defender, with Challenges put up by Artemis from Sweden; Land Rover BAR from England; Emirates Team New Zealand from you know where; Groupama Team France, and Softbank Team Japan, featuring former Kiwi skipper Dean Barker.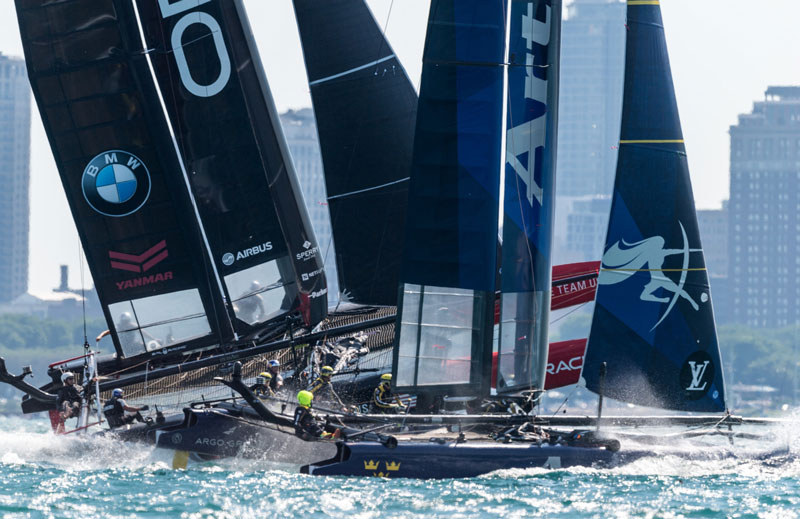 The run-up to the America's Cup has been and continues to be the Louis Vuitton World Series, which uses foiling AC45 catamarans. Three of the World Series events — in Oman, New York and Chicago — have already been held. The next one will be later this month, on July 23-24, in Portsmouth, UK, with additional ones later this year in Toulon, France, and Fukuoka, Japan.
The boats used in 2017 will be box-rule 15-meter (50-ft) foiling wing sail catamarans that are 8.48 meters wide. The Defender is allowed to build two boats, the Challengers just one each.
Twenty-five percent of each boat's crew must be sailors from the boat's country.
The Louis Vuitton America's Cup Qualifiers and Challenger Playoffs are slated to be held in Bermuda from May 26 to June 17 next year.
The America's Cup Match, presented by Louis Vuitton, will be between Oracle Team USA and the Challenger on June 17-18 and June 24-27. NBC will broadcast coverage in the United States.
The racing will be held on Bermuda's Great Sound, which is described as a "natural amphitheatre for the race course," while the America's Cup Village will be at the Royal Navy Dockyard. The islands of Bermuda cover a total of just 21 square miles — less than half of San Francisco — and have 60,000 residents.
Those are the facts. Now we have some questions for you.
1) Did you never care about the America's Cup?
2) Did you care about the America's Cup until they switched to catamarans?
3) Did you love the America's Cup on San Francisco Bay but lost all interest since it left?
4) Have you always loved the America's Cup and are you excited about next year's edition?
5) Are you somewhere in between?
We've love to hear your thoughts and just a couple of sentences explaining why you think the way you do. Send them to Richard.
According to the latest tracker data, the bulk of the 23-boat Singlehanded TransPac fleet is more than a third of the way across the Pacific Ocean between San Francisco and Hanalei bays. Topping the corrected-time leaderboard, David Herrigel's Wilderness 30 Domino is farthest south, while David Garman's Santa Cruz 27 Giant Slayer is following the most northern route. Jirí Šenkyík's Olson 30 Kato is still closest to the finish. Chris Cartwright on the J/88 Ventus says he hopes to break into his halfway goodie bag before midnight tonight.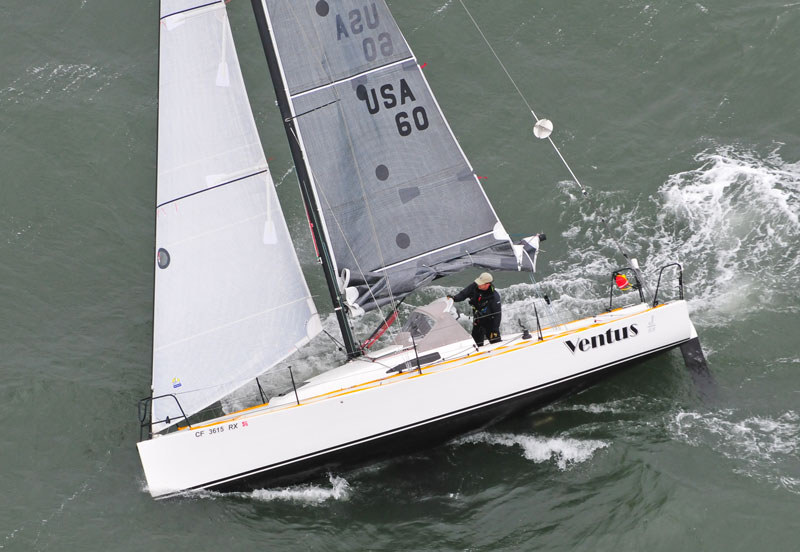 After romping in and/or struggling with lusty breeze up to 40 knots beginning a day or so out from Saturday's start, many in the fleet have been dealing with the torture of very light air. Randy Leasure on the Westsail 32 Tortuga reports "a real challenge with light winds on and off. There have been a few periods with no winds and we go around in circles. That second day of little progress after the start really cost the fleet who didn't go south of the Farallones. The sails are slatting and no boat speed, so again back on deck for me at 0300…glad I got some naps today."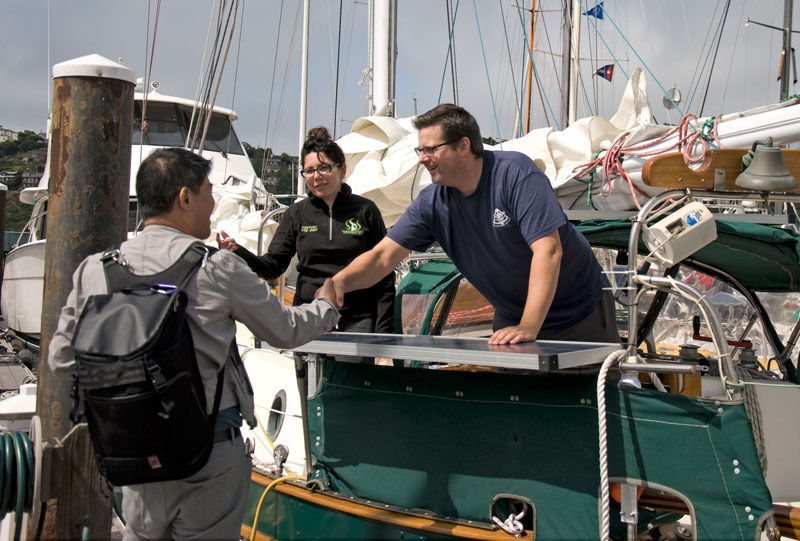 On Wednesday, Leasure went to the aid of Mike Cunningham, who thought the rudder on his Freedom 30 Jacqueline was fouled. Tortuga stood by Jacqueline while Cunningham went into the water to check the rudder. He couldn't find anything that might have been inhibiting its motion. "The friction and noise must be due to causes inside the post/bearing housing," reports the race chair, Brian Boschma. "He has opted to continue on to Hanalei. Randy has also resumed his course after rendering assistance to Mike's inspection efforts."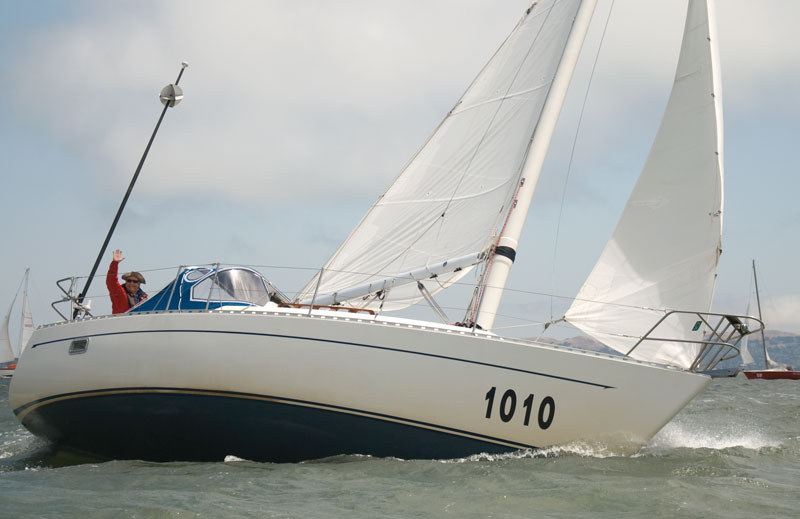 Everyone associated with this month's races to Hawaii is keeping a sharp eye on storms south of the course. Hurricane Blas has been downgraded to a tropical depression, with winds of 40-50 knots. Some models show Blas passing just to the north of the Hawaiian Islands on the weekend of July 17-18, as it slowly falls apart. Tropical Storm Celia formed southeast of Mexico and is tracking to the west. See their positions and other data at weather.unisys.com/hurricane/e_pacific/2016/index.php. For an excellent graphical representation, see Windyty. For the SHTP's official Weather Routing, Inc., forecast, see www.wriwx.com/clientproduct.php?id=7510.
Receive emails when 'Lectronic Latitude is updated.
SUBSCRIBE