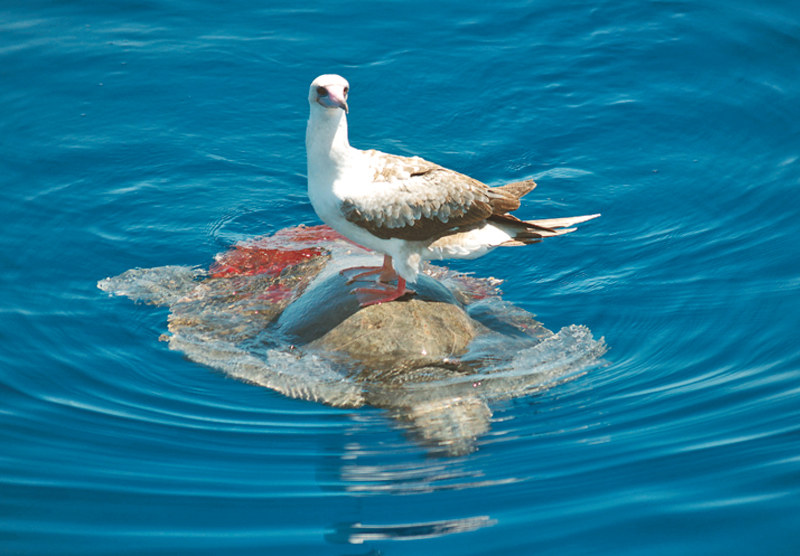 During the four decades that Latitude 38 has chronicled the experiences of West Coast sailors, we've received a fantastic variety of photos of objects floating offshore: semi-submerged shipping containers, the lower stage of a space-bound rocketship, a shipwrecked fisherman who'd been floating for days, and about a half dozen images taken in mid-ocean of seabirds catching their breath atop turtles.
Last month, Michael and Melissa Harlow of the San Diego-based Island Packet 37 Harlow Hut reported chancing upon an eerie floating object while en route from Mexico to the Marquesas (at Latitude 07.45.930 N, Longitude 123.46.773 W) that they assumed was the escape raft of a shipwrecked sailor.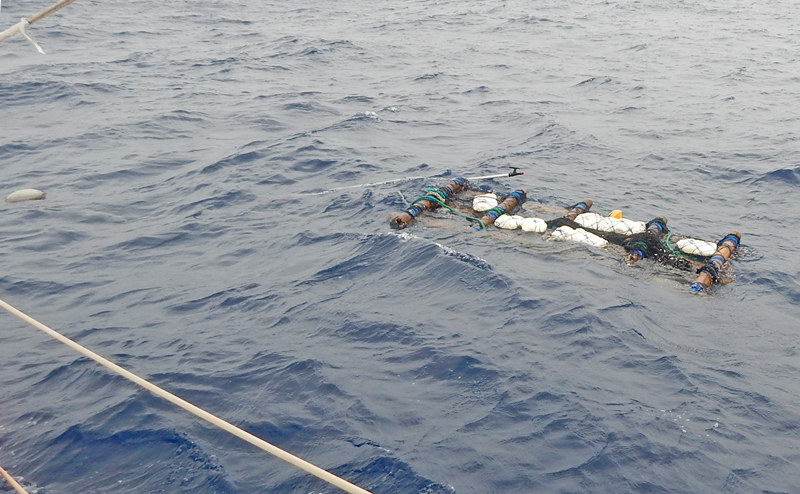 "As we approached at around 1 or 2 knots, we tried to grab a large rope that was attached to a round dome shaped EPIRB-looking device. It was approximately 18" – 20" around with a dome-type Plexiglas cover that encapsulated a mini (5" x 5") solar panel on the interior (still dry but unknown if working). The word, Emily (or partially Emily) and the numbers (I think) 1510 were hand painted in greenish blue paint on the Plexiglas, along the bottom curve."
Much to their frustration, an approaching squall prevented them from investigating further. We forwarded the info to our contacts at the Coast Guard, hoping perhaps it would relate to some 'cold case' mystery, but to date we have heard of no connection to a missing mariner.
That incident prompts us to ask: "What's the most interesting, unusual or bizarre thing you've ever come across while offshore?" We'd love to hear about it and receive a few photos if you have any.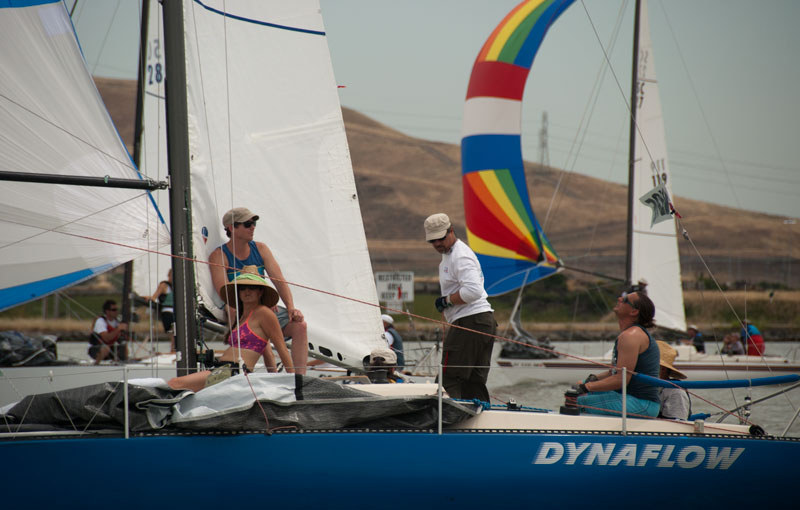 This year's Delta Ditch Run will not be remembered for carnage, dismastings, broken boats or broken records. Quite the opposite. It was pleasant, not as hot as forecast due to morning cloud cover, and a powerful flood carried racers through the wind holes.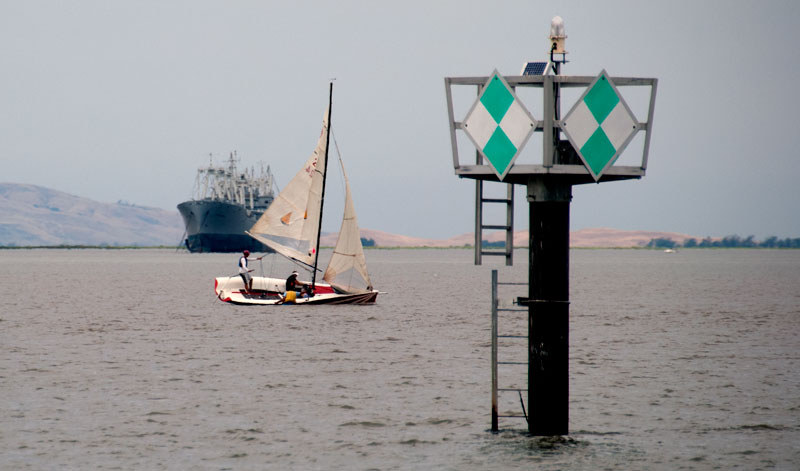 The only possible snafu turned out to be no big deal, more of an annoyance than a race-buster. On Thursday, organizers at Stockton Sailing Club and the Yacht Racing Association were notified that, due to a schedule change, military maneuvers would be held at the naval weapons station at Port Chicago, and the restricted zone there would be enlarged to the point that it would effectively choke down the passage to a corridor too narrow for 150 sailboats to transit safely. Negotiations between the powers-that-be broadened the go-zone — provided the race committee would put boats on station to check each competitor into and out of the zone by VHF. But the radio on the check-in boat didn't have enough range, and the whole thing was a bust. As the sailors passed Port Chicago they could see a ship at the wharf guarded by two small Coast Guard RIBs. No incidents were reported.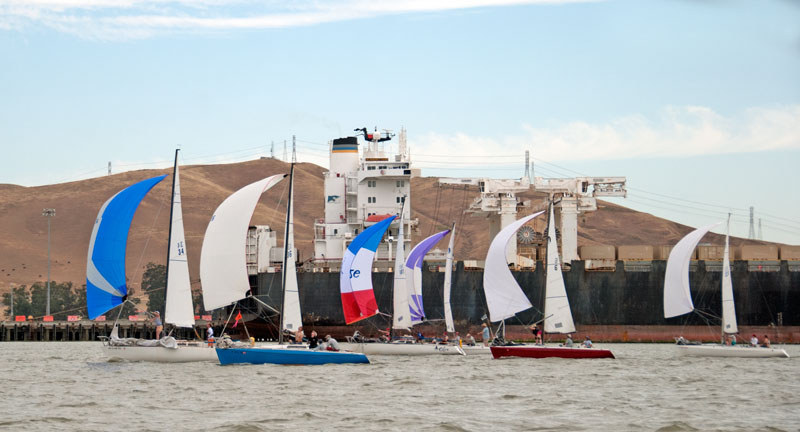 The light air led some of the asymmetrical boats to try winging out their spinnakers. Trying out this configuration were Gordie Nash's modified Santana 27 Arcadia, Chris Forrest's Santa Cruz-based, modified, sugar-scooped Cal 20 Sirena (ex-Tappo Piccolo) and a J/70. "The four crew on Sirena came up with the novel idea of free-floating the asym wing-on-wing," reports Richard vonEhrenkrook of the Cal 20 Can O'Whoopass. "They took off, easily besting the stock boats by a knot or more. And they often chose to not jibe the thing, but to just jibe the main, and go back to sailing hot and high, conventionally."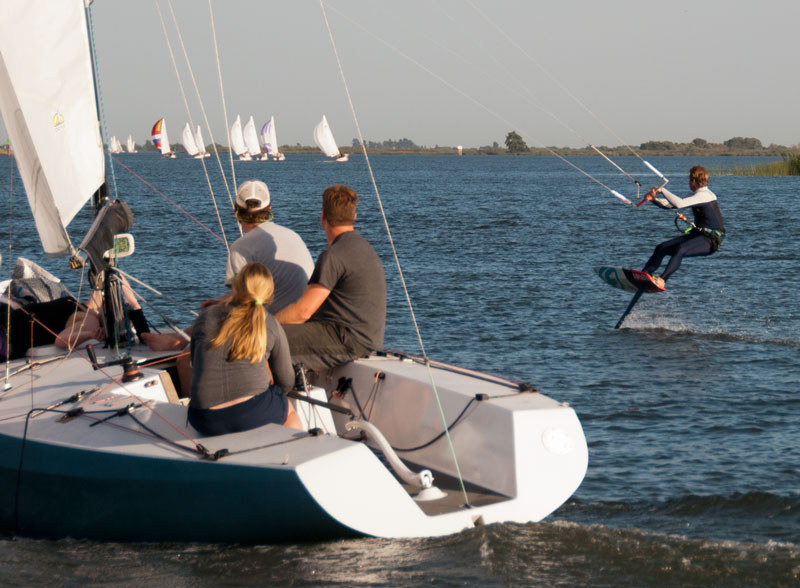 Bill Erkelens' D-Class cat Adrenaline was first to finish at 6:42; the Farr 40 Twisted was the first monohull at 7:28. Bart Hackworth's Gruntled, which topped the 22-boat Moore 24 fleet, corrected out to first monohull overall. We'll have more in Racing Sheet in the July issue of Latitude 38. See the Stockton Sailing Club's website for results.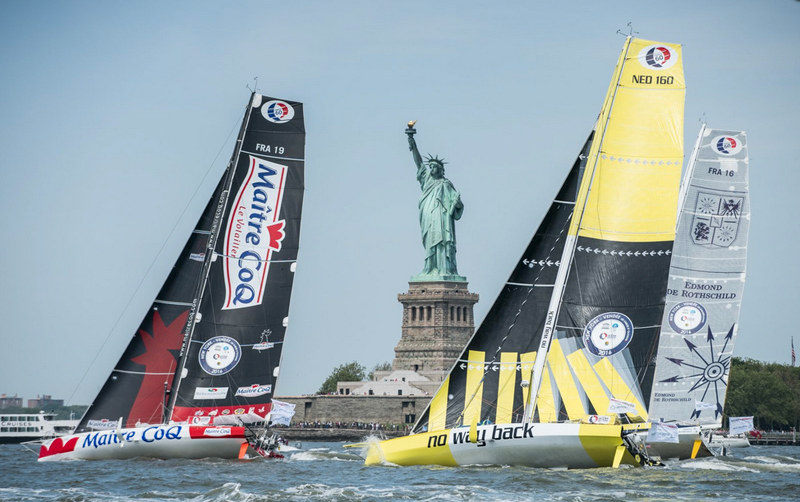 Having been ravaged by carnage and multiple UFOs — unidentified floating objects — on the first day out of New York, the top solo sailors in the in the inaugural New York – Vendée race are beginning to enter the Bay of Biscay and make their approach to the finish in Les Sables d'Olonne, France. As offshore racing fans know, this new IMOCA fleet competition (in 60-ft monohulls) serves as the final major test before the solo, nonstop Vendée Globe race starts on November 6.
As of this writing, three-time Figaro winner Jérémie Beyou and his previous-generation Maitre Coq (ex-Banque Populaire VI) lead the two remaining new-generation foiling boats by a slim margin of just five miles over Edmund de Rothschild, skippered by Séb Josse, and Hugo Boss, skippered by Briton Alex Thomson.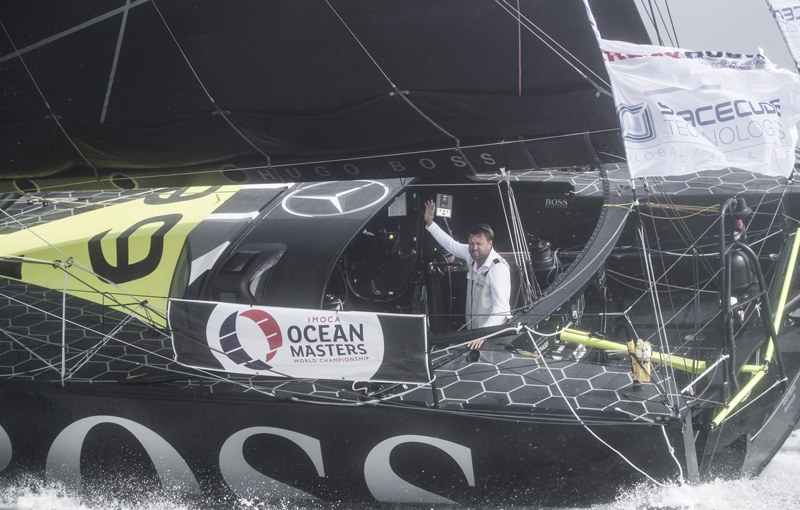 With winds going light and some 300 miles of race track left, there's still plenty to play for in this first-time transatlantic contest. While the battle at the front of the pack will gather the most headlines ahead of tomorrow's finish, arguably the biggest storyline of all is that of the uncertainty surrounding the new generation of foiling IMOCAs, which have continued to suffer higher attrition rates than their conventional competitors. While the new boats are undoubtedly quicker in the right conditions — a windy broad reach — the cumbersome 'mustache' foils have proven a challenge in both boat handling and fragility.
Elsewhere in the Atlantic, the seven Class 40s remaining in the Atlantic Cup are making their final approach to Portland, Maine, and the finish of Leg 2 of the biennial race. As was the case in Leg 1, the duo of Gonzalo Botin and Pablo Santurde on the Spanish-flagged Tales II have proven the class of the field, stretching out to another commanding lead over the rest of the fleet, which remains relatively tightly grouped.
Just as these two major shorthanded ocean races begin to wind down, New York continues to remain in the spotlight as the 'Golden Boy' François Gabart and his maxi-trimaran MACIF have gone into 'standby' mode in New York as of June 1. Once the right weather window presents itself, he will attempt to break Francis Joyon's 2013 transatlantic west-to-east solo record of 5 days, 2 hours, 56 minutes.
Receive emails when 'Lectronic Latitude is updated.
SUBSCRIBE