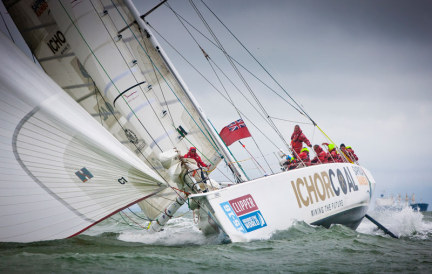 At 10:27 p.m. Friday night Clipper Round the World Yacht Race participant Sarah Young, 40, was washed overboard in the lonely waters of the North Pacific Ocean near 39°N, 160°E. She had crewed aboard the boat IchorCoal ever since the 14-leg race began in London last August.
According to a statement from IchorCoal's captain, Darren Ladd, Young was working in the cockpit, shortly after helping to reef the mainsail in 35 to 40 knots of wind, when she was swept overboard beneath the lifelines. She was not tethered in at the time.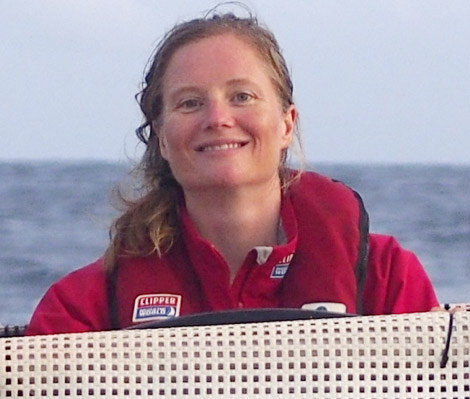 Due to weather conditions and the lack of a clear visual, an hour and 17 minutes passed before Young's body was retrieved via the signal from her personal AIS unit. Efforts to resuscitate her were unsuccessful. IchorCoal was roughly 3,000 miles from Seattle when the incident occurred, having left Qingdao, China, 12 days earlier.
Yesterday the IchorCoal crew performed a burial-at-sea ceremony, which, given the distance from any landfall, was their only option. "Sarah was a close friend and an enthusiastic and accomplished sailor," said IchorCoal Captain Darren Ladd. "On deck she was fearless and could often be found at the bow wrestling with headsails, or up the mast wrestling wrapped spinnakers… Sarah was an adventurer and lived life to the full. She died an adventurer's death battling the elements circumnavigating the globe."
PHOTO
During the same leg of the previous Clipper edition, crewman Andrew Taylor, 46, fell off the foredeck of Derry-Londonderry-Doire during a sail change, but was successfully rescued after an hour and 40 minutes in the cold water. He had not been tethered, but was wearing a Henri Lloyd dry suit, and his personal locater device greatly aided his rescue. The incident occurred during daylight hours, but rough seas and gusts up to 70 knots made his rescue extremely difficult.
Previous to Young's death, however, the only other fatality during the event's 20-year-history occurred last September during the first leg of this edition, also on IchorCoal — Sarah Young was aboard. While en route from the UK to Rio de Janeiro, crewman Andrew Ashman, 49, was struck by the mainsheet (and possibly also the boom) while helping to reef the main. He was knocked out, and never regained consciousness despite the best efforts of his captain and crew.
Receive emails when 'Lectronic Latitude is updated.
SUBSCRIBE