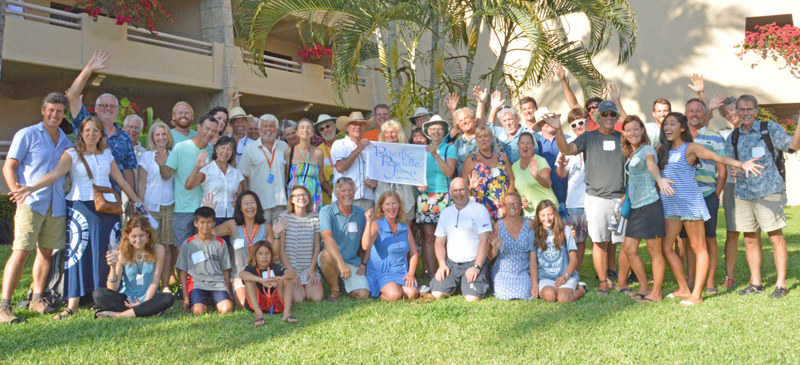 We were thrilled to meet dozens of westbound cruisers Monday at the Vallarta Yacht Club (in the Paradise Village Resort), during our annual Pacific Puddle Jump Sendoff Party. Here's a sampling of the folks we spent time with: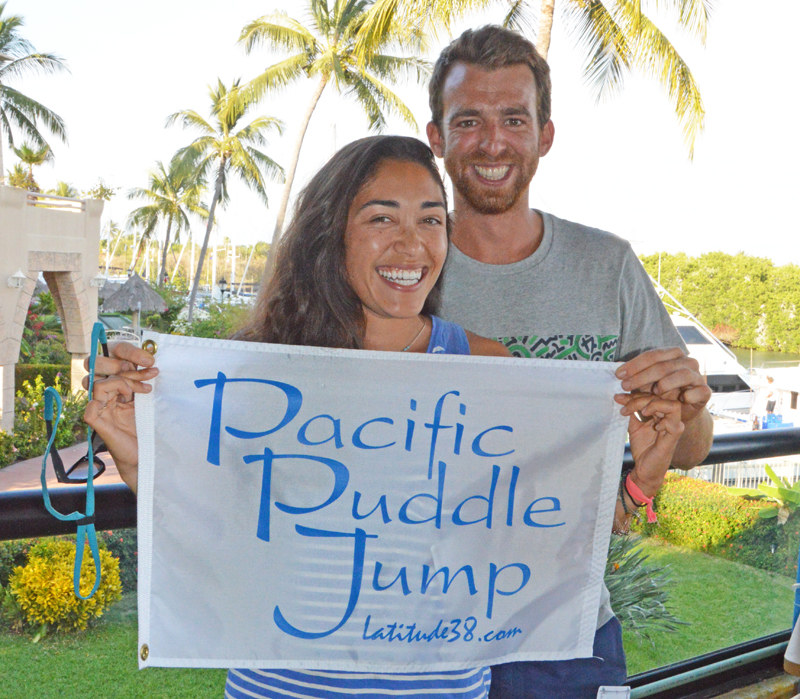 Jose Castello and Gina Harris of the San Francisco-based Beneteau 423 Carthago sailed south from San Francisco last fall with the Baja Ha-Ha, but the South Pacific was always their ultimate goal. What inspired them to set out while only in their late 20s? "The idea started while we were sailing on San Francisco Bay, wishing it was warmer, wishing the water clearer, wishing we didn't have to go to work, and reading inspiring cruiser blogs every day." After only two years of focused preparation they threw off their docklines and headed south. "As long as we're having fun," says Gina, "we plan to stay out two or three years."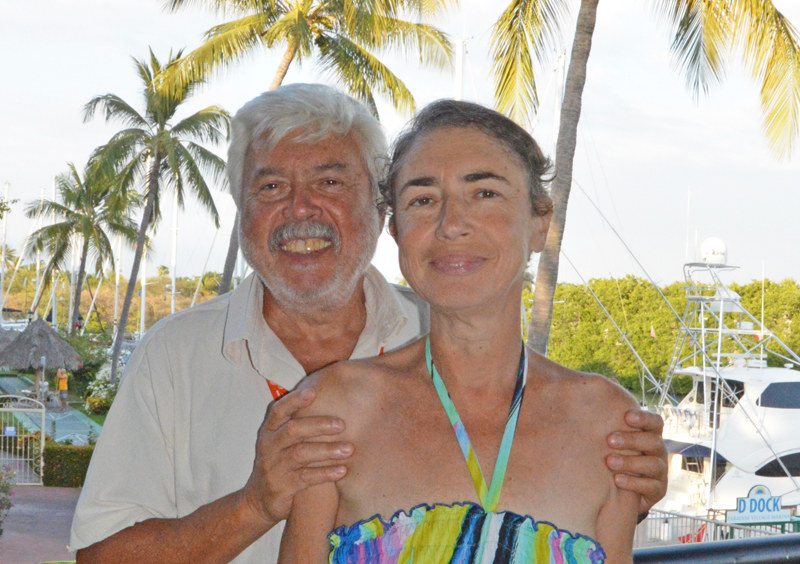 "Ve are not typical cruisers," says Vladimir Madorsky of the San Diego-based Transpac 49 Wave Dancer. He and his wife Galina Palace left Russia in the late 80s, came to the US, and worked their way "up the corporate ladder." Then, as Vladimir puts it, "Ve got out of the rat race, bought this boat and sold all our earthly possessions." They started sailing on the Chesapeake only six years ago, but are headed to the South Pacific with an open-ended itinerary.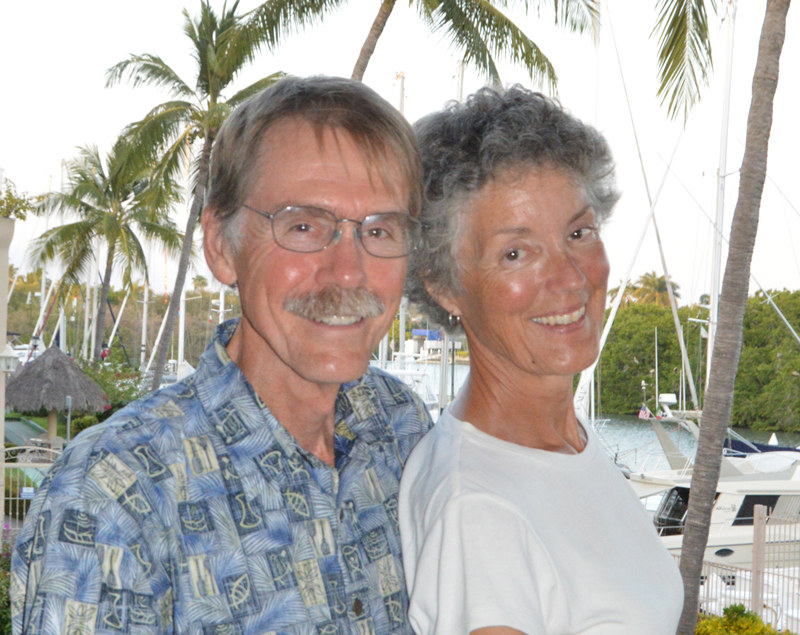 "We are on a mission to go west," says Randy Webster of the Portland, OR-based Jason 35 Velic. When he was a young kid, growing up in the Philippines, he spent most of his free time "swimming off the beach, sailing small boats and paddling outrigger canoes" — as well as reading about the adventures of Robin Lee Graham in National Geographic. Many years later he met his now-wife Ruth while racing in the Northwest. Their game plan: a complete circumnavigation.
On Sunday and Monday we will help our partners from Tahiti Tourisme host two additional events in Panama at the Shelter Bay Marina (Sunday, March 6, 10 a.m.) and at the Balboa YC (Monday, March 7, 10 a.m.) All westbound cruisers are welcome to attend. Look for reports on all these events in the pages of Latitude 38 magazine.
It could be the title of a B movie from the mid-20th century, but — to all reports — it's a true story.
Last sighted in 2009, the ghost ship in question is a 40-ft sailboat named Sayo, sailed by the now-mummified German singlehander Manfred Fritz Bajorat. He's described as a 59-year-old adventurer who had been sailing for 20 years. He had been voyaging in 2008 with his wife, Claudia, when they split up. She died from cancer in 2010.
Sayo was spotted on January 31 by a crew in the Clipper Round the World Race. According to that event's official statement, "During the leg from Australia to Vietnam, LMAX Exchange came across a dismasted boat south of Guam. An LMAX Exchange crewmember boarded the yacht and reported the find, which was relayed to the relevant authorities [the US Coast Guard in Guam], who instructed the team to continue racing while they took over the investigation and traced the next of kin."
A month later, Philippine fishermen found the battered yacht more than a thousand miles west of Guam. "A white yacht floating with a destroyed sail prompted them to enter the boat to verify further," reported the Barobo Police. That's when they discovered the naturally-mummified remains of the solo sailor, sitting slumped over at the nav station. The fishermen towed Sayo the 60 miles to shore.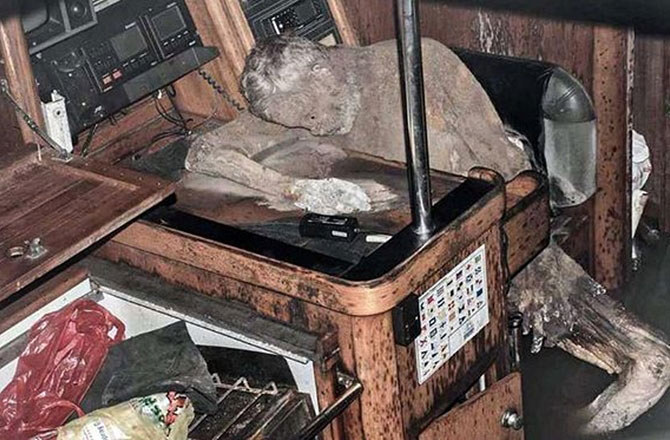 "We have no evidence of a second person aboard and no weapon was found on the yacht," said police spokeswoman Goldie Lou Siega. As forensic examiners found no evidence of foul play, they believe that Bajorat died of natural causes. They surmised that dry ocean winds, hot temperatures and salty air helped preserve the body — once again proving Mark Twain's observation that truth is stranger than fiction.
The folks at OCSC, a sailing school in the Berkeley Marina, invite you to come watch a documentary and meet its director, a person with the intriguing name of 'Moxie Marlinspike', this Sunday, March 6. Hold Fast is a documentary about four broke young people who met up in Fort Lauderdale to find a derelict sailboat, fix it up, and sail off into the Caribbean toward Haiti. Non-sailors are reassured that they will enjoy this movie, as the filmmaker's intention was to de-mystify sailing so that more potential adventurers might take it up.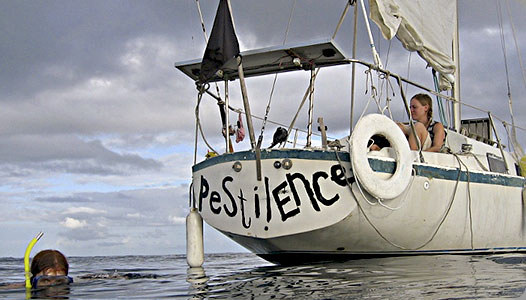 The event at OCSC will begin at 6 p.m., and a Q&A will follow the screening. Pizza, popcorn, snacks, sodas, beer and wine will be available. Admission is free but RSVP on Eventbrite or call (800) 223-2984, as space is limited.
Many additional events of interest to active and armchair sailors alike populate the March calendar. Find more in the March issue of Latitude 38 or online here.
Receive emails when 'Lectronic Latitude is updated.
SUBSCRIBE