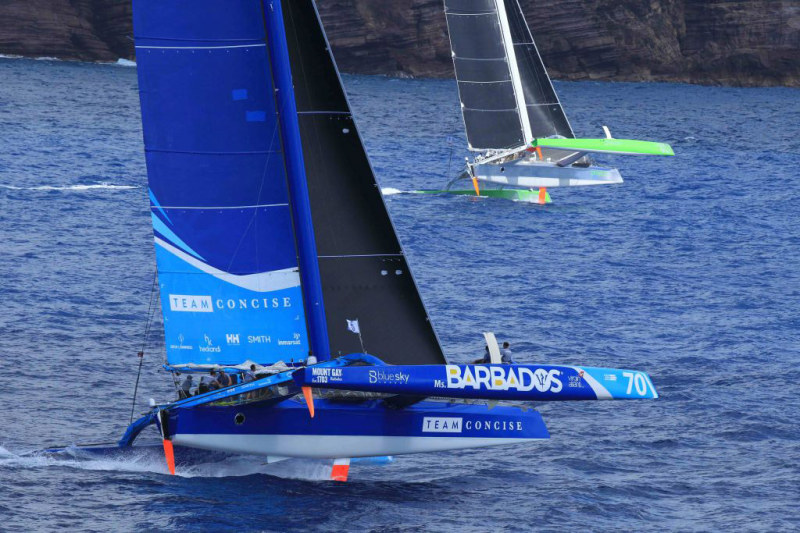 Does ocean racing get much more beautiful and exciting than you see in the photo above of Tony Lawson's Concise 10 trying to track down Lloyd Thornburg's MOD70 sistership Phaedo3 in the Caribbean 600? We don't think so. Not with great tropical sailing conditions, boat speeds nearing 40 knots, and the two boats within sight of each other the entire time — and both eventually smashing Phaedo3's course record from last year. The green machine's elapsed time of six seconds less than 32 hours means she averaged 18.7 knots. Concise 10 was a mere 10 minutes back.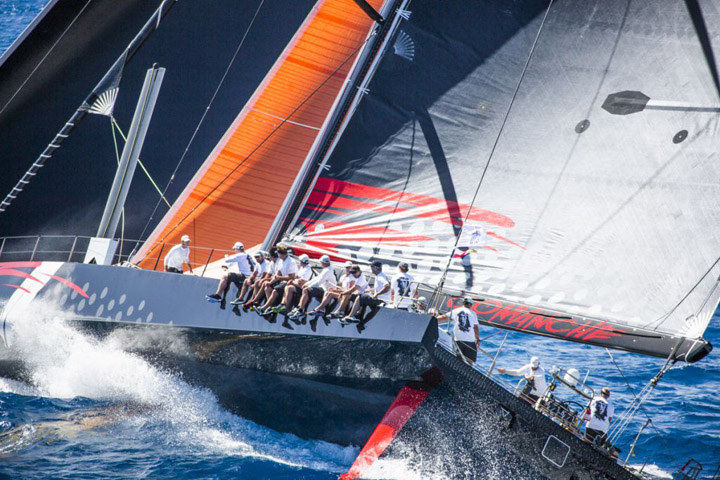 It's not to be forgotten that all but five of the boats in the 69-boat Carib 600 fleet are monohulls, and some of them are the finest racing machines in the world. With most of the boats still on a course that winds through 10 Caribbean islands from St. Martin to Guadeloupe, Jim and Kristy Hinze Clark's VLPL Verdier 100 Comanche finished about nine hours after the trimarans and well ahead of the second-place monohull. Alas, Comanche was unable to best the monohull course record held by George David's Rambler 100, as she was off the record pace on much of the fetch from St. Martin to Guadeloupe. Bay Area navigating whiz Stan Honey made a lot of good tactical calls in the last 150 miles, but the big red and black machine finished 33 minutes off the record pace.
Hap Fauth's JV72 Belle Mente was looking great for class and overall honors once again — until keel worries forced her to drop out about 160 miles from the finish. One of her crew told Latitude that the boat suffered pretty serious damage to the H-structure that supports the keel. Sailing in the trades of the Eastern Caribbean takes a toll on even the best of boats.
Many of the monohulls are still on the course. The Yellow Brick tracker on the Caribbean 600 website is a great way to track — and analyze — the race.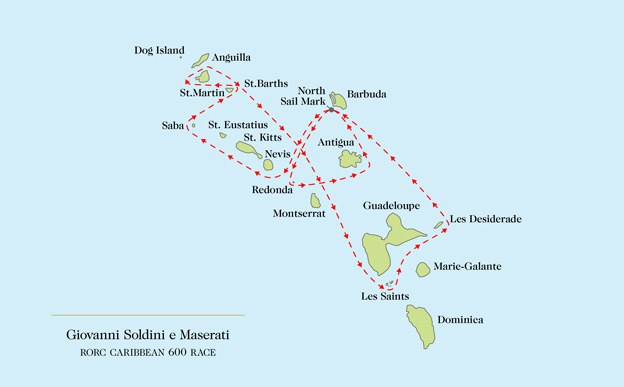 The Phaedo-versus-Concise sistership battle has been going on for about six months now. It started with Britain's 600-mile Fastnet Race, and has continued through the Transatlantic Race, the Around Barbados Race, and now the Caribbean 600. It's been a case of the student prevailing over the instructor, as one of the multihull sailing experts on Concise 10 is the French sailing legend Michel Desjoyeaux, who used to own Phaedo and who taught current owner Thornburg how to sail her. Phaedo has prevailed in three of the four races against Concise 10, having been bested only in the Around Barbados Race, and only by 10 seconds.
Phaedo3's not so secret weapon is Brian Thompson, who has been multihulling across the oceans and around the world since the days of Steve Fossett's ORMA 60 Lakota and 110-ft PlayStation. Indeed, Phaedo crewman Paul Allen from Santa Cruz told us that Thompson drove about 75% of the 32 hours, with owner Thornburg driving most of the rest. As MOD70s have flipped in as little as 15 knots of wind, you can imagine how demanding it was to steer Phaedo3 for so many hours at such high speeds, and much of it in the dark.
Thompson, who is such a cool guy in so many ways, wasn't about to take credit. "The Phaedo team is so much more improved than last year, and that includes Lloyd, who is now a really good helmsman," Thompson told the press. "He did the start, the first beat and much of the race. He is a superb driver and this is a tricky boat to sail." While Concise did briefly take the lead from Phaedo off St. Barth, Thornburg did a great job of boxing Concise out at the starting line, picking up several minutes right at the start.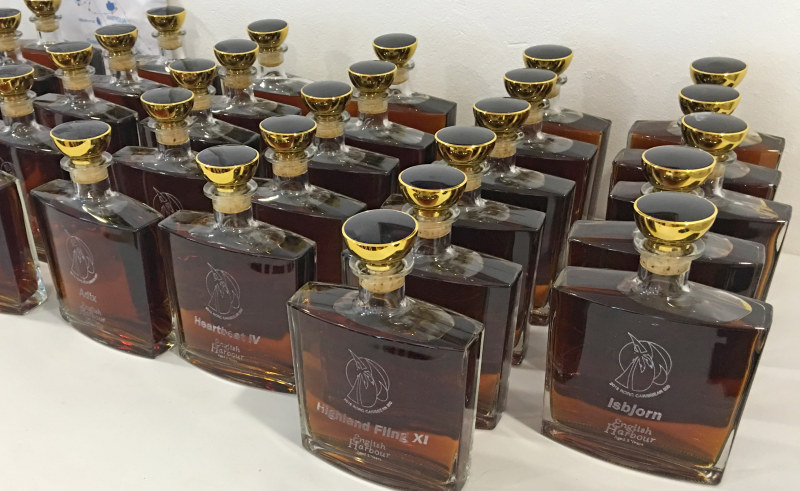 The rivalry between Phaedo3 and Concise 10 is a terrific one between good friends who enjoy the thrill of pushing each other to the limit. Thornburg and Thompson both enjoy sailing against another boat as opposed to just chasing a record. The consensus seems to be that Phaedo has the advantage off the wind, while Concise made some gains upwind, but both are constantly improving. Unlike monohulls, where an advantage might be an eighth of a knot, in multihulls such as MOD70s, it's more like two knots.
All in all it's been a great race for Thornburg, who not that many years ago was sailing a Soling out of Marina del Rey and who currently also has the orange Gunboat 66 Phaedo in Newport Beach. Now he and the crew rest up in Eric Clapton's mansion, which he leased as the crew house. But not for too long, as the St. Maarten Heineken Regatta is just around the corner, and the Voiles de St. Barth is in mid-April.
In various ports and anchorages along the West Coast of the Americas, a wide variety of international sailors is preparing to make the 3,000-mile leap to French Polynesia — a passage we like to call the Pacific Puddle Jump. Because the greatest concentrations of these westbound voyagers are always found in Banderas Bay, Mexico, and at the Panama Canal, those are the chosen locations for Latitude 38's annual Pacific Puddle Jump Sendoff Parties.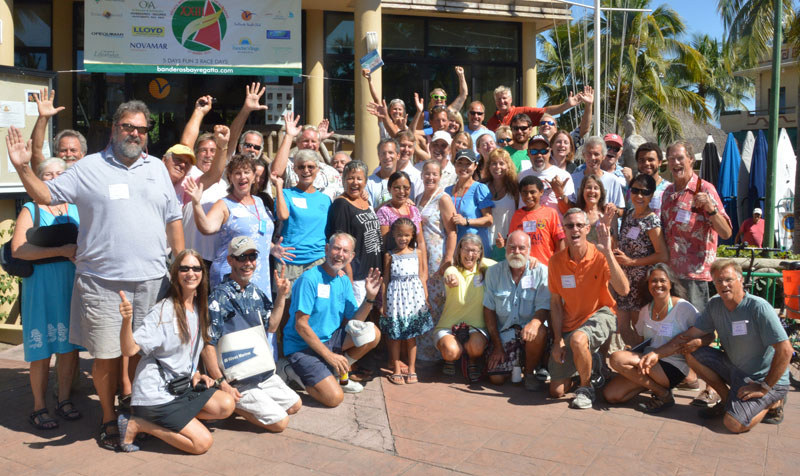 The first will be held at the Vallarta YC, at Nuevo Vallarta's Paradise Village Resort on Monday, February 29, 3-6 p.m. Latitude 38 staff will be on hand to share cruising info via media presentations, host a few party games, and interview each crew for mini-profiles that will appear in an upcoming issue of Latitude 38 magazine. All sailors registered at the Puddle Jump website are welcome to attend.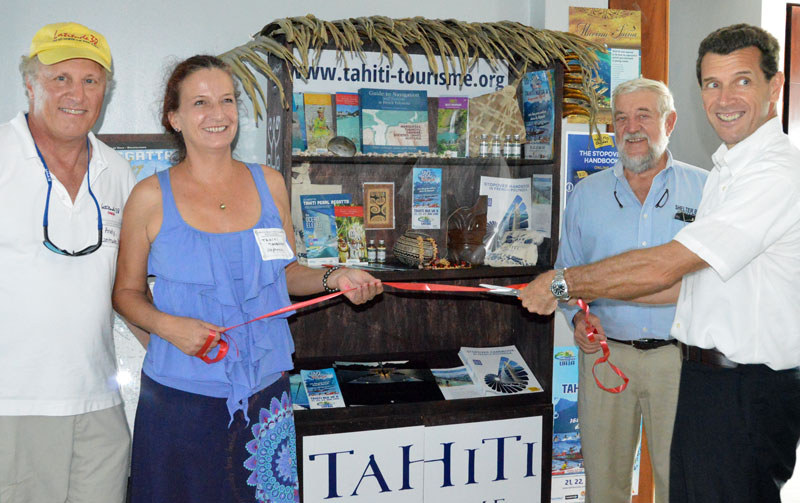 Our second departure fiesta this season will be at the Shelter Bay Marina on the Caribbean end of the Panama Canal: Sunday, March 6, 10 a.m.-4 p.m. We're thrilled to note that this will be a special affair as it is being co-hosted by our partners at Tahiti Tourisme, including Paul Sloan, the head of that organization. They will fly out especially for this gathering, which has been dubbed Tahiti Bon Voyage, along with a representative from the Whangarei (New Zealand) Marine Association and a rep from Tahiti Crew, that Papeete yacht agency that facilitates bond exemptions for registered Pacific Puddle Jumpers. (A second Panama event may be announced soon also.)
Look for reports on these festive events here and in the pages of Latitude 38. We'll follow up in a few months with a full recap on the crossing experiences of this years fleet members. Will El Niño affect their passages? That's anybody's guess.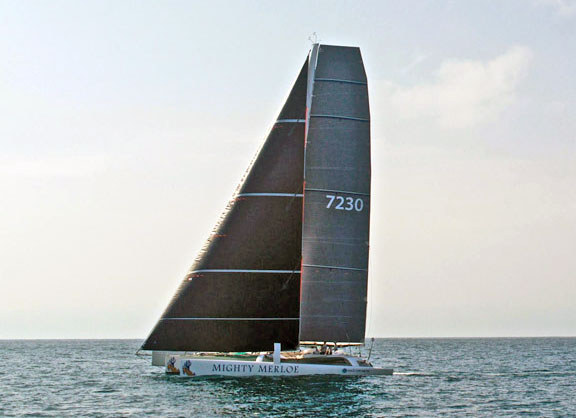 HL Enloe's ORMA 60 trimaran Mighty Merloe crossed the finish line of San Diego Yacht Club's Puerto Vallarta Race at 8:30 Tuesday morning, for an elapsed time of 2 days, 19 hours, and 49 minutes. Their first 24 hours put them 480 miles down the course with an average VMG of 23 knots. After an epic 36-hour run from San Diego to Cabo, the second half of their journey was an exercise in getting through the lee of Cabo and building speed down the course, then beating at night to the finish in the light north and east winds wafting out of Banderas Bay. Mighty Merloe is the former Groupama II that finished off the once great ORMA 60 trimaran class by being so much lighter and faster than the rest, giving rise to the MOD70 one-design class.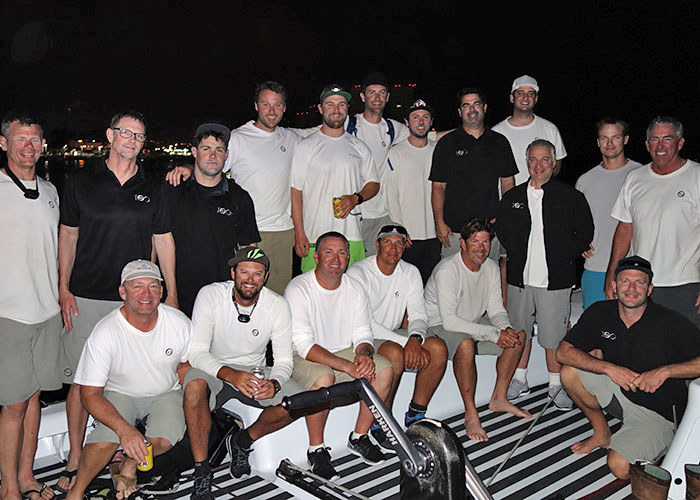 Unlike Mighty Merloe's uphill crawl, Rio100 had a much more direct line in daylight hours to finish at 7 p.m., avoiding Tuesday night's light air. Manouch Moshayedi and his crew of 19 aboard the Bakewell-White 100 set the monohull course record by completing the race in 77.7 hours. Navigator Chris Branning checked prior to the race to make sure they knew what the target was, to set their strategy and make decisions to take on the record, which had been set in 2010 by Bill Turpin's R/P 77 Akela at 80.87 hours.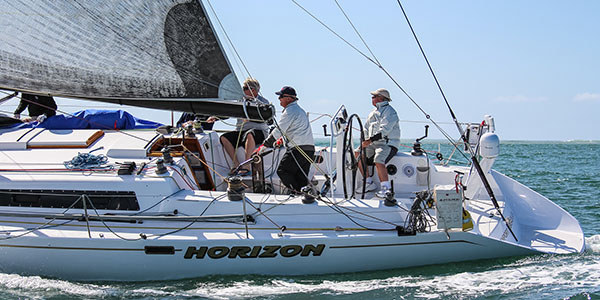 The battle of four Santa Cruz 50s and two 52s came to a head this morning, with John Shulze's SC50 Horizon beating the others to the finish. We'll have much more in the April issue of Latitude 38. In the meantime, see www.pvrace.com.
Receive emails when 'Lectronic Latitude is updated.
SUBSCRIBE