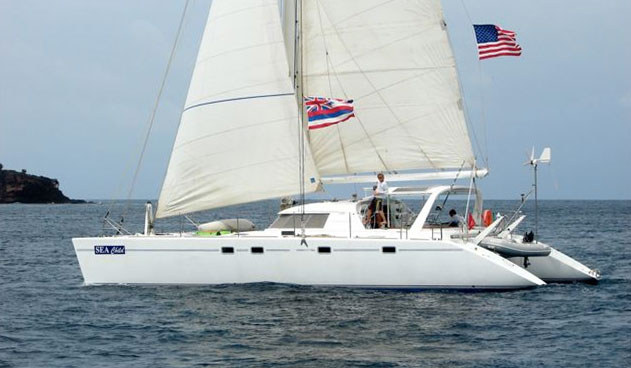 John and Geri Conser of Newport Beach report that they are joining Eric and Tamara Barto on the latter couple's Aikane 56 catamaran Sea Child for "the trip of a lifetime." Right about now they are joining Sea Child in Phuket, Thailand, for passages to the Maldives, the Red Sea, Port Sudan, the Suez Canal, and Corfu, Greece.
John Conser designed and built Warrior 29 and Conser 47 catamarans in Southern California. Geri has been a marine photographer for many years. The Bartos are from Maui, where they own Paragon Sailing Charters, a successful sailing/snorkeling company. Having owned Sea Child for six years, the Bartos have been breaking their circumnavigation into two to three months of cruising followed by two to three months back working on Maui. They started their trip in Trinidad, and have so far sailed throughout the Caribbean, through the Panama Canal, across the Pacific, and to Phuket.
As we recall, the Aikane was the first or second in what was to be a line of catamarans built in Trinidad for Catana. That idea never panned out, but Sea Child looks great.
Using the Indian Ocean and the Red Sea to get to the Med used to be the preferred way to go around the world until about 2000, when Somali pirates started hijacking private yachts as well as ships. Cruisers gave up the Red Sea route entirely for going around South Africa in 2011 after four West Coast sailors on the yacht Quest were kidnapped and then murdered by Somali pirates.
Although the Somali piracy has been almost eliminated, concerns about trouble at other places from Aden to the northern end of the Red Sea have almost eliminated private yacht traffic. A few boats are again taking that route, but it still sounds pretty risky to us. We wish the Consers and Bartos the safest of passages!
Undeniably, the Bay Area has produced a boatload of world-class racing sailors, but one of the local marine community's greatest treasures is the wealth of colorful waterfront characters who call these waters home. Several of the saltiest among them have been profiled recently through the highly acclaimed series of film biographies called Life on the Water. Filmmaker Oleg Harencar's latest effort, Warwick Tompkins — A Lifetime at Sea, will premiere February 24 at Mill Valley's Throckmorton Theatre (doors 6:30 p.m.; screening at 7:30 a.m.), with a repeat showing the following evening (same time).
If the name Warwick doesn't ring a bell, we're talking about 'Commodore' Tompkins, whose sailing feats and philosophy have been reported on countless times here and in the pages of Latitude 38 magazine.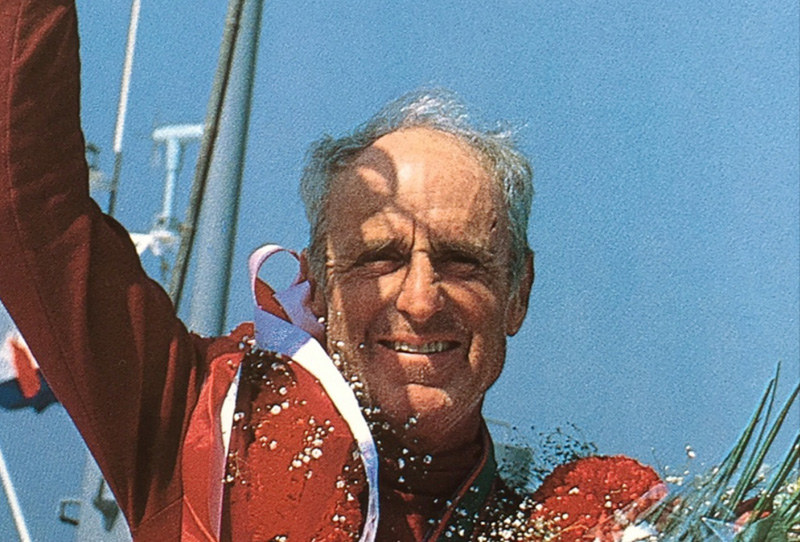 UPDATE 2/17: Wednesday's show has already sold out, as it will feature a post-viewing Q&A with Harencar and Tompkins, as well as guest speakers Hank Easom, Ramblin' Jack Elliot, Kimball Livingston, Ron Holland, Tom Wylie and others. Due to all the advance interest, a similar lineup of speakers will also augment Thursday's show. Tickets for either show can also be purchased by phone at 415-383-9600 or in person at the box office (142 Throckmorton, Mill Valley; Tuesday – Saturday, 2-6 p.m.). Appropriately, these screenings are sponsored by Sausalito's Spaulding Wooden Boat Center.
If you haven't had the privilege of sailing with Commodore, let us confirm that he's one of the most skilled and thoughtful sailors that you're likely to meet on any ocean. Born into a voyaging family, he famously rounded Cape Horn aboard the family schooner, Wander Bird, at the age of four, and he's been adding impressive feats to his sailing résumé ever since.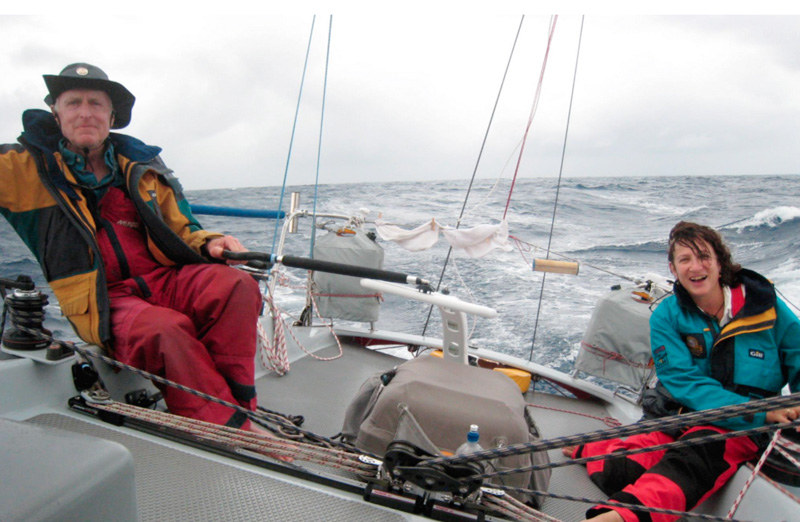 If you can't make these premiere showings, you'll soon find the Tompkins biopic available for rent or purchase at the series' website, along with other profiles in the ongoing series.
Peter Krueger and his well-traveled Double Trouble team continued their adventuring winter ways last week by helping make history in Cuba. After a strong showing at Key West Race Week, the team of Bay Area sailors participated in the first government-approved edition of the Conch Republic Cup from Key West to Cuba. The regatta was forced to stop after 2003 due to pressure and harassment from government officials during the Bush Administration, but relations are now being normalized with Cuba allowing for the first-ever truly legal yacht racing to take place between Florida and the communist Caribbean island nation.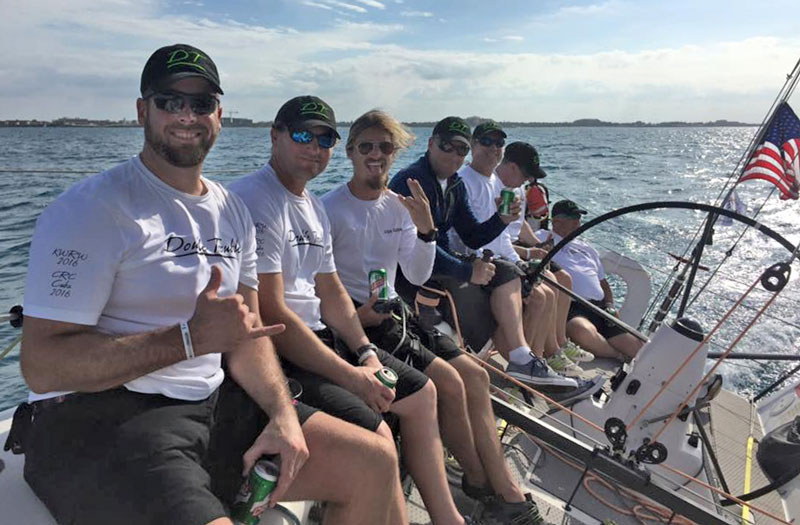 After being delayed for a day by weather, the Richmond-based J/125 Double Trouble took line honors in the 90-mile Key West-to-Veradero, Cuba, race. Covering the course in just 10 hours and 10 minutes, the Double Trouble crew had to fend off Bob Moran's shockingly quick Annapolis-based C&C 30 Bobsled, which finished second but took first in fleet and overall on corrected time. Once in Veradero — which was described to us as a "rather un-interesting Canadian Euro-trash resort with a big, empty marina and free drinks" — the fleet participated in a single buoy race.
The next portion of the regatta was a light- to medium-air passage race to Havana in which the C&C 30 Bobsled thoroughly drubbed the entire fleet to win boat-for-boat and massively on corrected time. Double Trouble made the most of their Cuban holiday, taking a relaxed approach to the Veradero-to-Havana race. "We were still sailing the boat well, but at some point everyone had a cigar or rum in their hands. We wanted to have fun and take a break from our usual seriousness of racing, so we all switched positions and mixed it up," said bowman James 'the Hippie' Clappier.
In Havana, weather again played a factor with an incoming front leading race organizers to bump up the start date of the Havana to Key West race to allow even the slowest boats to make it back to Florida safely. As a result, many entries, including Double Trouble, opted out of this final portion of the regatta to enjoy another day in Havana. "Cuba is a beautiful place with a lot of potential, and it was a cool opportunity to see it right now during its major transition with normalizing US relations. It will be interesting to come back later in life and see how it has changed," added a reflective Hippie. Once the team did decide to return to Key West, they had a quick passage across the Gulf Stream with a jib top up and then an A5 blast into Key West. Double Trouble has now been taken apart and hauled out so that she can be trucked west for a full season of racing on San Francisco Bay and the Pacific Ocean.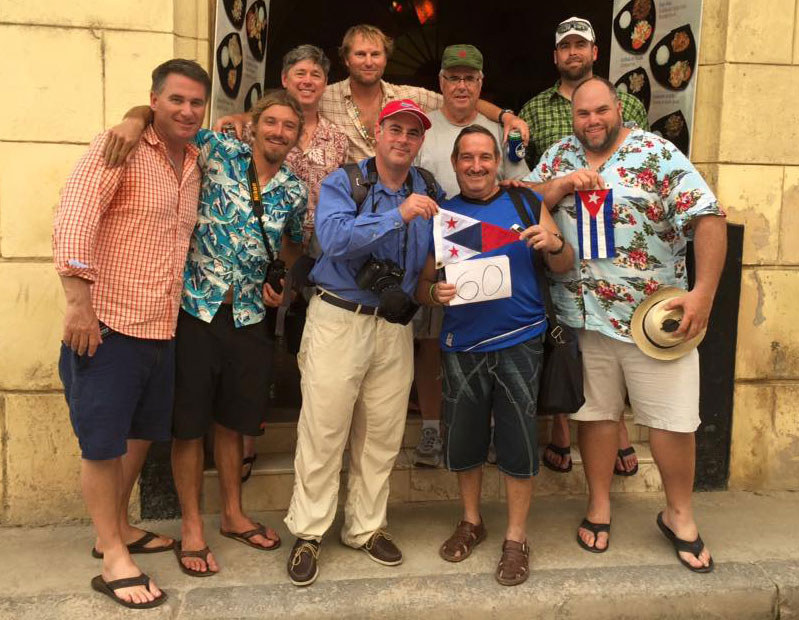 We'll have much more in the March issue of Latitude 38.
The Southern Ocean Racing Conference's Miami to Havana Race begins today, followed on Sunday by a coastal race along the Malecón and an awards party at the Hemingway International Yacht Club in Cuba. Among the 46 entries is one from Mill Valley, MacKenzie Davis's Class 40 AMHAS.
Receive emails when 'Lectronic Latitude is updated.
SUBSCRIBE