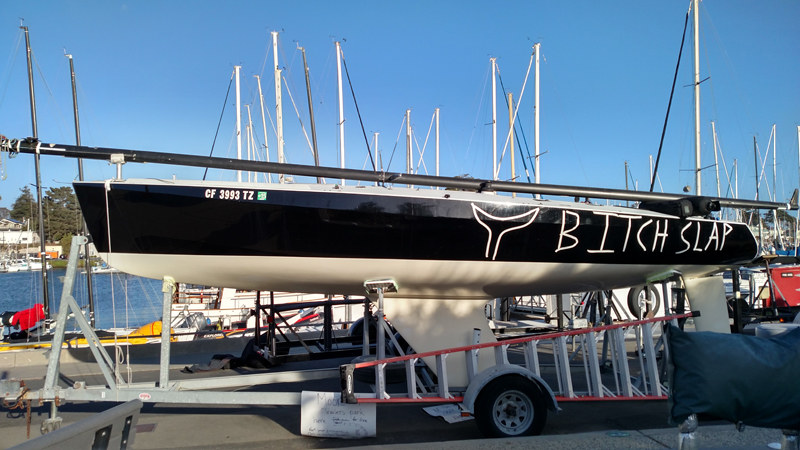 Dismastings during Northern California yacht races are a relatively common occurence, but we've never heard of one quite like this. Around 2:30 Saturday afternoon during Santa Cruz YC's Fall Classic, the bow and forestay of Bill Erkelens' Moore 24 Eclipse — whose topsides are gloss black and bottom is white — was suddenly struck by a whale's tail with enough force to send the rig crashing down into the cockpit, leaving two of the four crew in the water. Fortunately, they were quickly retrieved by a YC crash boat, and suffered only minor injuries.
Sailmaker Dave Hodges was racing nearby aboard Banditos, and says the whale simply disappeared afterward. But he tells us that an abnormally large whale population has been congregating near Santa Cruz lately, especially in the kelp beds of Mitchell's Cove, and some have been known to battle with orcas in recent weeks. Speculation around the docks is that the whale that attacked Eclipse may have thought the sloop was an orca. We have no idea if the stunning incident will inspire Erkelens to change his boat's color scheme, but as you can see, she's already got a new nickname.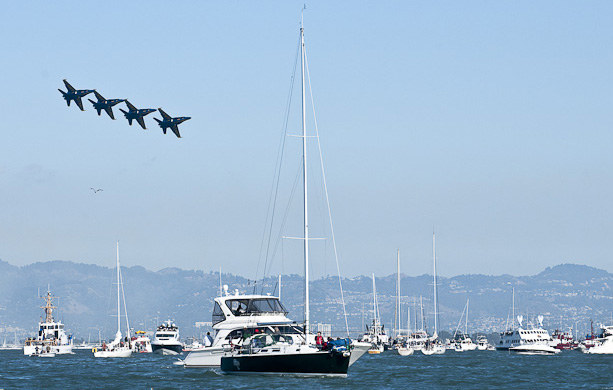 It will get a little noisy this weekend on the waters of San Francisco Bay, and we're not just talking about the roar of westerly winds blasting through the Golden Gate. October 5-12 is Fleet Week, highlighted by free Navy ship tours and spectacular air shows this Friday, Saturday and Sunday afternoons.
Begun in 1981, San Francisco Fleet Week is a proud local tradition that draws thousands of spectators to Bay Area waterfronts and to Bay waters in all types of boats. While the Central Bay is rarely more crowded than on the Saturday and Sunday of Fleet Week, it's great fun to be center stage when the amazing Blue Angels and others perform their complex aerobatics overhead — and, by the way, a great way to score points with the tech-crazy teenagers and young adults in your life.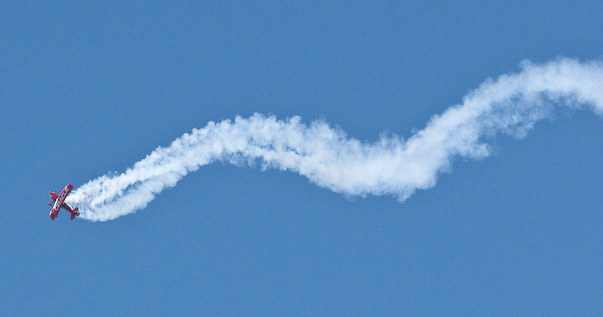 According to the event website, the point of the week's tours, exhibits, parade of ships and air shows is to honor "the contributions of the men and women of the United States Armed Forces while advancing cooperation and knowledge among civilian- and military-based Humanitarian Assistance and Disaster Response personnel." Highlights are as follows:
Friday:
• 11 a.m.-12:30 p.m. — Parade of Ships from the Golden Gate, east along the Cityfront (see ship list here)
• 12:30 p.m. — Air Show begins (if you can get away, Friday is a great day to catch the show, as there will be many fewer boats on the Bay)
US Navy Leap Frogs Parachute Team
• 12:45 p.m. — US Coast Guard Rescue Demo
• 1 p.m. — Ace Maker T-33
• 1:15 p.m. — Embry-Riddle Extra-330
• 1:30 p.m. — Red Star Pilots Formation Team
• 1:45 p.m. — Lucas Oil Air Show
• 2:00 p.m. — Patriots Jet Team Formation Demo
• 2:30 p.m. — United Airlines 747 Demo
• 2:45 p.m. — Sean Tucker's Team Oracle Pitts Special
• 3:00 p.m. — United States Navy Blue Angels
Saturday & Sunday: Air Show performances repeat in the same time slots.
If you are planning to go out on the water, be aware of the following restrictions.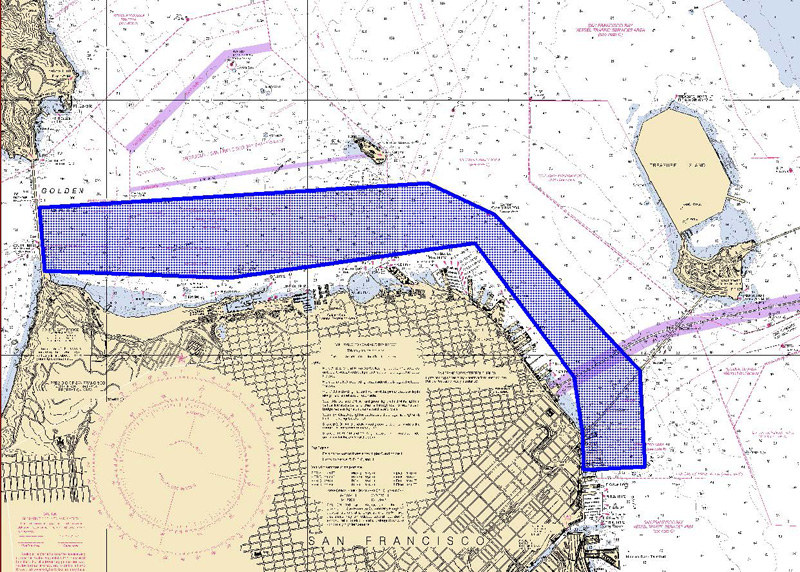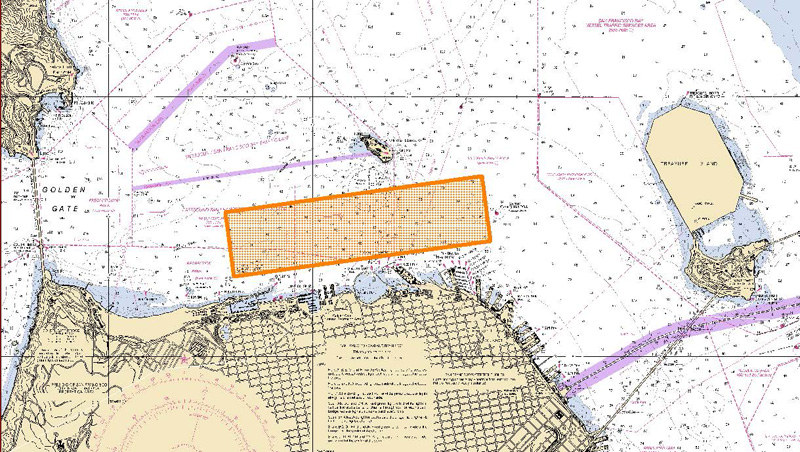 After sailing in the recent J/70 North American Championship in San Diego, top Bay Area sailor and boatbuilder Campbell Rivers was dealt a cruel and unfair blow that will likely change his life forever. While finishing a cigarette in the parking lot of a local Point Loma bar, Rivers was run over by a drunk driver in a borrowed Jeep Grand Cherokee, who had just left the bar. With injuries to his left knee and a shattered pelvic bone with five breaks, Campbell is looking at a long and challenging recovery.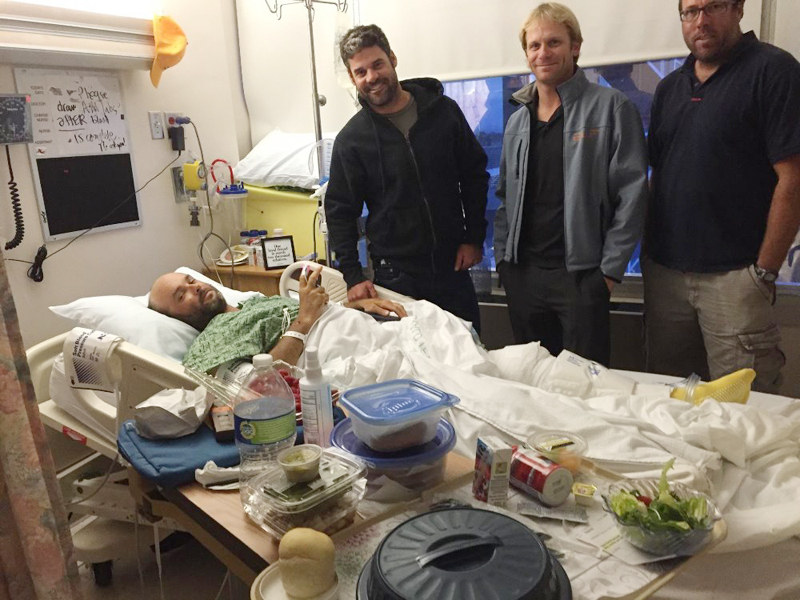 Doctors estimate that Rivers will be in a wheelchair for four to six months and a walker for another six months. For a professional racing sailor and boatbuilder who makes his living using his body, Rivers' ability to work has been greatly compromised. According to friends who have visited him in the hospital, his colorful sense of humor and driven, competitive nature are fully intact — Campbell is still Campbell — but his finances are anything but.
Because Campbell has no health insurance, and was struck by a drunk driver in a borrowed car, the only thing certain about the financial aspects of Campbell's recovery is that he needs our help. Fortunately, the West Coast sailing community takes care of their own. J/70 and big-boat teammate Jeff Thorpe of Quantum Sails has set up a Go Fund Me page to help Campbell raise $200,000, to be used toward covering his medical bills and expenses during recovery. After just the first two days, the effort raised an incredible $43,000, made up of donations ranging from a few bucks to a cool 10 grand from a gracious big-boat owner who has employed Campbell in the past.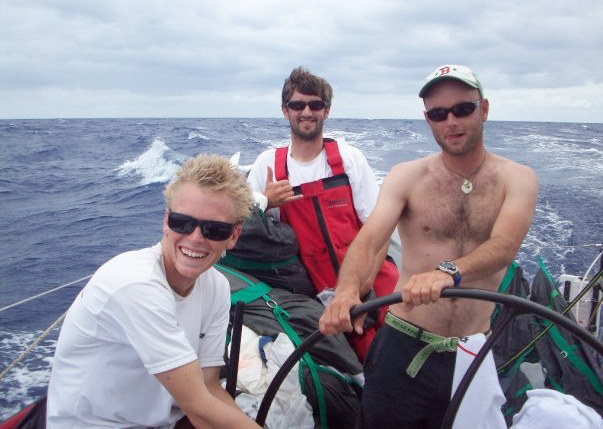 "Campbell is blown away by the amount and depth of people who have donated to his cause. He didn't realize he had so many friends who cared about him. And he says he's not going to smoke again!" says Thorpe. "He's surprisingly doing very well. He's very reflective and focused on short-term goals and achieving those because he's competitive. He's not feeling sorry for himself. He's motivated to get better."
Everyone who has met him has a story to tell about Campbell Rivers, a larger-than-life personality with a wealth of knowledge about grand prix racing yachts, carbon-fiber and rigging. We encourage you to visit his Go Fund Me page and help Campbell regain some sense of normalcy.
Receive emails when 'Lectronic Latitude is updated.
SUBSCRIBE