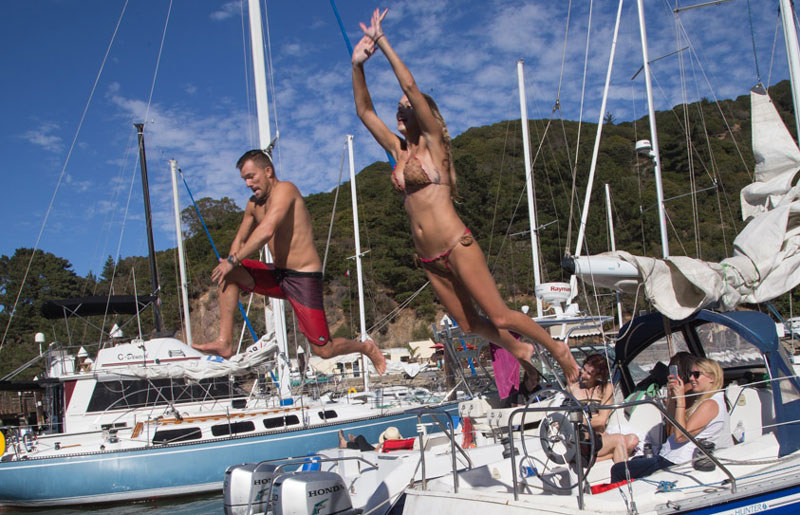 Let's just say the weather isn't always hot enough to result in this type of activity.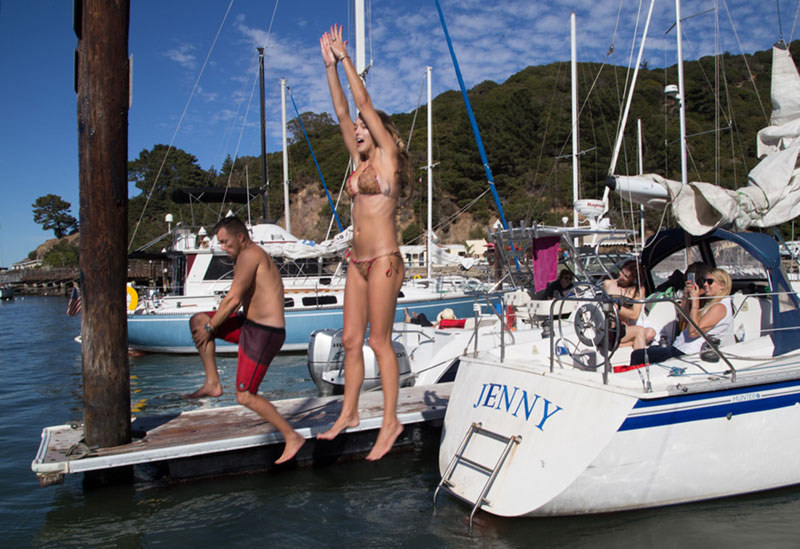 "It feels like we got the last of the summer weather," said Berkeley-based photographer/sailor Louis Benainous about the last weekend of September. "Here are some gratuitous bikini shots taken at Ayala Cove. The jumpers are Bert and Kelsey Schultes."
Jenny is a 30-ft Hunter Cherubini owned by Chris Barberich and Bert Schultes that is berthed at the San Francisco Small Craft Harbor. "Obviously we enjoy sailing her as much as possible in the Bay!" said Schultes.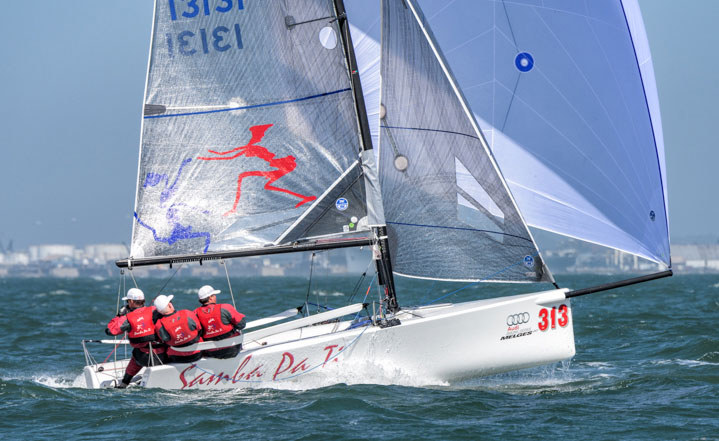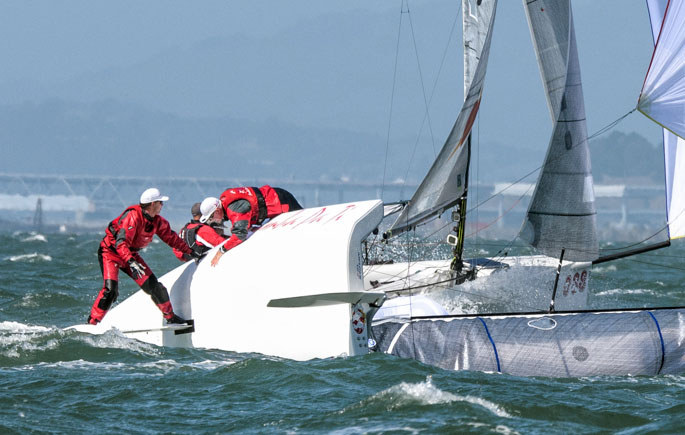 The final two races on Saturday at the 39-boat Audi Melges 20 World Championship on the Berkeley Circle were characterized as absolute knock-down drag-outs, literally for some, in big breeze. At least one Melges was towed back to shore with a busted rig.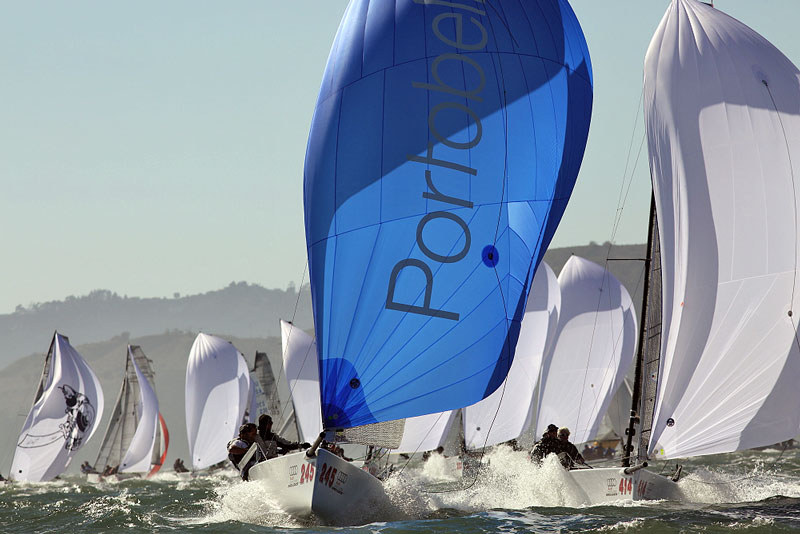 San Francisco Yacht Club hosted the Worlds on September 30-October 3. Remember rainy Wednesday last week? That day started with more than two hours' worth of shoreside postponement, and in the end racing was canceled. The next two days made up for the weird and wet Wednesday, with spectacular racing.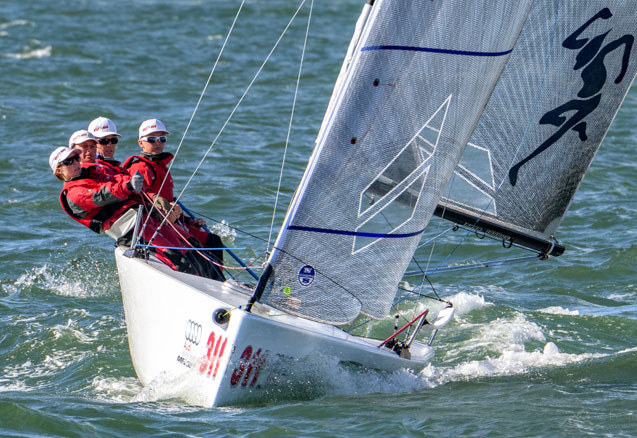 We'll have more on the Worlds in the November issue of Latitude 38. In the meantime, see www.melges20.com.
Jeff Hartjoy is making final preparations aboard his and wife Debbie's Baba 40 ketch Sailors Run for a Halloween departure from Ecuador on his approaching nonstop solo circumnavigation.
"It was a year and a half ago that I decided to go solo around the world nonstop, and at that time it somehow seemed so far away. Now today it seems to be rapidly approaching," writes Jeff. "I have been busy over the past month putting on new sails and many other parts to help insure a safe and successful passage. Chafe gear has been installed on both sets of spreaders as the back edges of them seem to be a little too sharp for the sails' best interest. Many lines have been replaced or swapped end for end to extend their service life."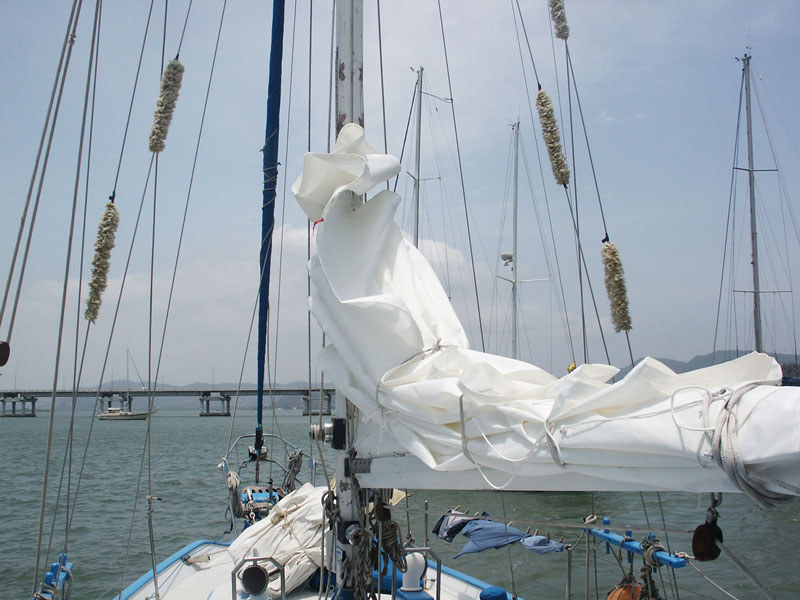 While tuning up his boat, Hartjoy has not neglected to tune up the skipper. "I have been running hard attempting to get in the best shape possible for the trip, and I'm happy to report my times keep coming down on my measured runs.
"I'm currently repainting the brightwork and will re-oil the teak in the cockpit area. I have also re-familiarized myself with sea anchor tactics and the means to deploy that 18-ft parachute if need be. Also the drogue was revisited and accessories for both made readily available. It will be interesting to see how big a part they may or may not play in the grand scheme of things."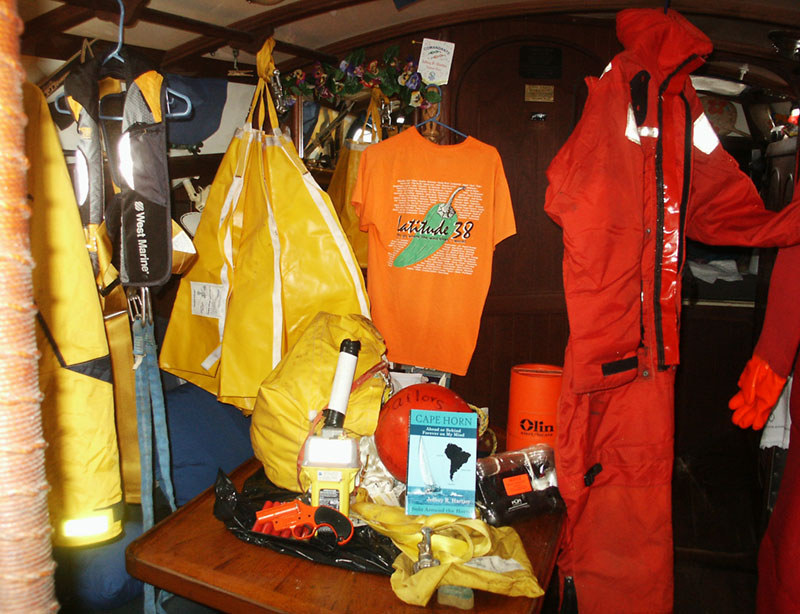 "This next month will be primarily spent on final provisioning, and trying to stuff away a seven-months supply of all necessary foods and drinks.
"I know I have bitten off a huge challenge and look forward to living the adventure that will come out of it. I feel Sailors Run is in top condition for what might lie ahead. My health is good and I feel up for my battle with nature, to propel Sailors Run around the world unassisted (meaning no motoring or outside help). I have a lot of knowledge in heavy weather sailing, and therefore feel confident that we will prevail.
"My route around the world measures out at just over 22,000 miles via a rhumbline course. To come up with this much distance, I have had to add nearly 2,000 miles to my route, by sailing southwest after I cross up into the Northern Hemisphere and sailing past Easter Island on its western shore, and continuing in that direction until Longitude 120°W and Latitude 35°S, where I plan to take my first opportunity to turn southeast and sail for the Horn and the other four great southern capes: the Cape of Good Hope, Africa; Lewellen, Australia; West Cape, Tasmania; and finally East Cape, New Zealand."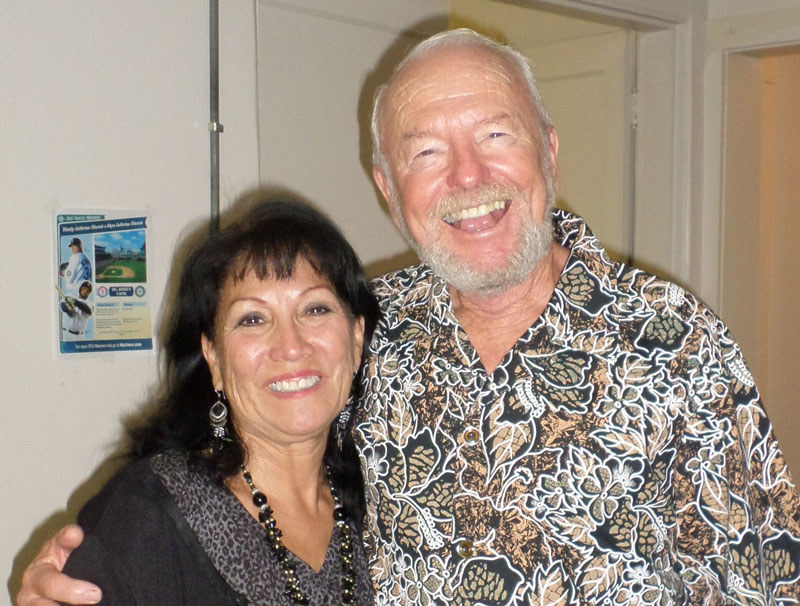 For more, see the Sailors Run blog at www.sailorsrun.com, which Debbie will maintain.
Receive emails when 'Lectronic Latitude is updated.
SUBSCRIBE