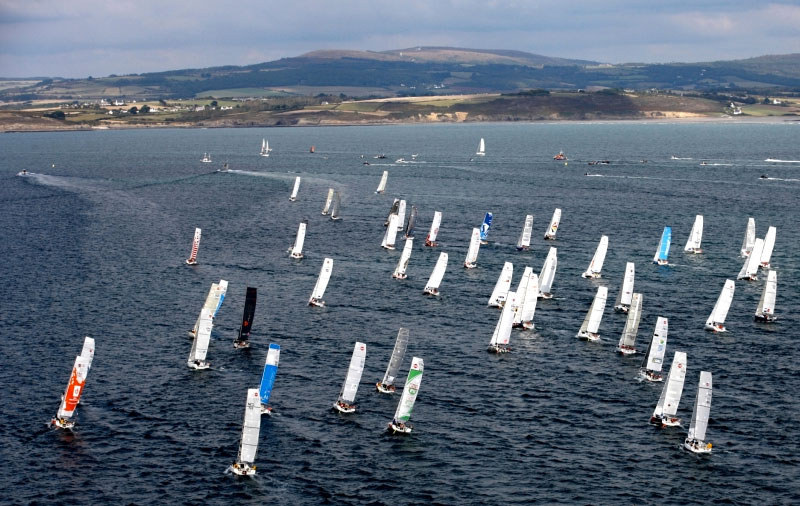 A healthy fleet of 72 Minis departed the Breton port of Douarnenez, France, on Saturday in ideal conditions to begin the 20th edition of the iconic Mini Transat race. For the six dozen skippers present at the start, the 2015 Mini Transat îles de Guadeloupe is the pinnacle of years of hard work and preparation, and, for many, redemption after having their dreams crushed two years ago. Many Latitude readers may remember the now-notorious 2013 edition of the race in which several boats were lost as a result of severe autumn gales pounding the Bay of Biscay, eventually forcing the race to be delayed and eventually started farther south in Spain.
Sailing a new Etienne Bertrand-designed Ofcet 6.50, Frenchman Ian Lipinski is leading a healthy 46-boat Production (Series) fleet of boats by an estimated 15 minutes after four days of racing, as of this writing. Reserved for fiberglass, fixed-keel and aluminum-rigged boats with at least 10 hulls built, the Series class almost always provides close racing. Surfing down the Portuguese trades at an average speed of 12 knots, Lipinski is surely not taking the fast downwind sailing for granted. He was, after all, one of the many sailors who lost his boat during the last Mini Transat, abandoning it off the coast of Portugal while 'delivering' it from Douarnenez to Sada, Spain, for the delayed start of the 2013 edition.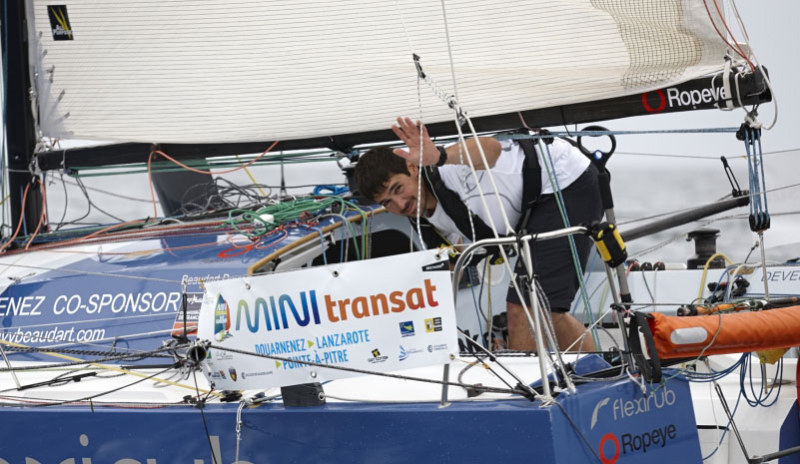 In the 26-boat prototype fleet, which allows custom-designed boats with water ballast, canting keels and the use of carbon fiber, among other things, Frenchman Davy Beaudart on Flexirub is steadily pulling away from his pursuers. Now some 32 miles ahead of second-placed Frédéric Denis, Beaudart and his unique scow-bow Mini have been waiting for this moment since the boat was launched in the spring of 2014. The second of the David Raison-designed scow-bow Minis to be launched, Flexirub is an evolution of 747, which finished first in the 2011 race and second in 2013 after breaking a bowsprit while leading. For Denis, this race is also his own personal redemption song, having spent five months repairing the keel and structure of his boat after it was also abandoned off the coast of Portugal by its previous owner during the ill-fated 'delivery' portion of the 2013 race.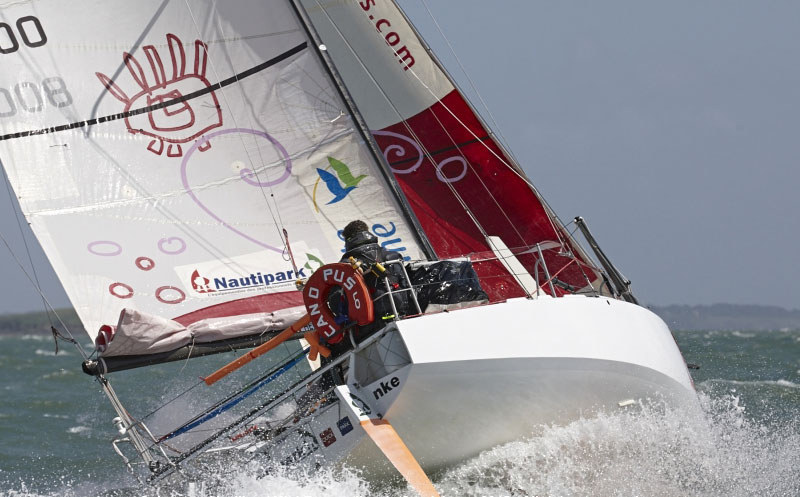 The fleet should continue to experience manageable following seas and breeze before arriving in Lanzarote this weekend. The 2,764-mile second leg from Lanzarote in the Canary Islands to the Caribbean island of Guadeloupe in the French West Indies will begin on or around October 31.
Elsewhere in the offshore racing world, Lloyd Thornburg's all-conquering MOD70 Phaedo 3 has broken Lending Club 2's Cowes-to-Dinard record across the English Channel. Requiring just 4 hours, 49 minutes and 51 seconds to complete the course at an average speed of 28.7 knots, the 'little' green trimaran knocked some 25 minutes off the time of the much larger 105-ft Lending Club 2. American racing syndicates breaking records held by other American racing syndicates — we could get used to that.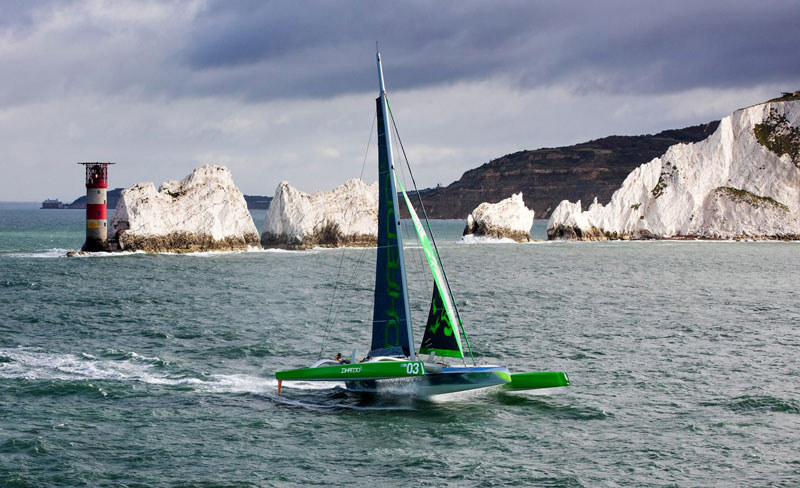 In our special report yesterday on a kidnapping incident at a Philippine marina, we presented all the details that were available to us at the time.
One quoted source, Sherry McCampbell of the Florida-based CSY 44 Soggy Paws, wrote yesterday to correct several errors in our story:
"Steve and Kaz [of Outstripp] didn't jump in the water… They didn't get away. Kaz fought like a mad-woman, and so did Steve, and they [the kidnappers] decided the two men who came running down the dock would be easier to abduct."
According to Sherry, we (and other news sources) published an inaccuracy regarding those who were taken:
"John [Ridsdel] from Aziza was taken. His Filipina partner was not taken. I can't remember her name, but she is here definitely. It was Rob [Hall]'s partner on Renova who was taken. As of last night here [Tuesday morning here], even the marina did not know her last name. I heard it was Tess, but nobody seems to know for sure."
At this time no group has taken responsibility for the attacks, nor has a ransom request been made, but there's widespread speculation that ransom was a motive. In the aftermath of Monday's late-night attack, some witnesses speculated that the choice of victims was random, but several Canadian news sources seem to be speculating that Ridsdel and Hall were key targets, due to their affiliation with a Philippine mining company. CNN Philippines reports that Risdel was the firm's "country manager," while Hall is a geologist.
According to the Toronto Star, Ridsdel, 68, "had undergone extensive hostile environment training and a quarter-century of risk-related travels, including stints for Petro-Canada in Pakistan, Burma and Algeria." But while such training will benefit Ridsdel, the Star's foreign affairs writer Mitch Potter points out ransom efforts can stretch on for many months: "Abu Sayyaf fighters are currently believed to be holding a range of other hostages, including a Dutch bird watcher seized nearly three years ago."
A special investigation task group called Oceanview has been created, and two boats believed to have been used in the abductions have been found. Both military and police units are reportedly searching shoreline areas for the culprits. The Associated Press reports that a naval blockade has been staged around Samal Island to prevent the kidnappers from escaping to a nearby island "known to house militant strongholds."
BBC News reports that, "The last related incident on Samal took place in 2001 when Islamist separatist group Abu Sayyaf attempted to kidnap tourists at another resort."
In August, West Marine announced the 29 youth boating nonprofit organizations that received $1,500 checks from its BlueFuture Fund™. Hundreds of youth boating organizations throughout the country had been nominated for the first allocation of the BlueFuture Fund™ grants.
Set up in 2015, West Marine's BlueFuture Fund supports marine conservation, sustainable fisheries, and youth boating. On June 8, a percentage of all sales at West Marine were donated to the BlueFuture Fund, totaling $70,000.
The Alameda Community Sailing Center was among the grant recipients. "We are delighted to receive this grant," says Kame Richards, board president of ACSC. "This summer we have put 140 kids out on the water for a total of 9,800 hours of wear and tear on our JY Trainers and CFJs, not including the hours added to our safety boat fleet. This money will be split between scholarships for our deserving youth and maintenance of our fleet. It has come at an exceptionally good time for us."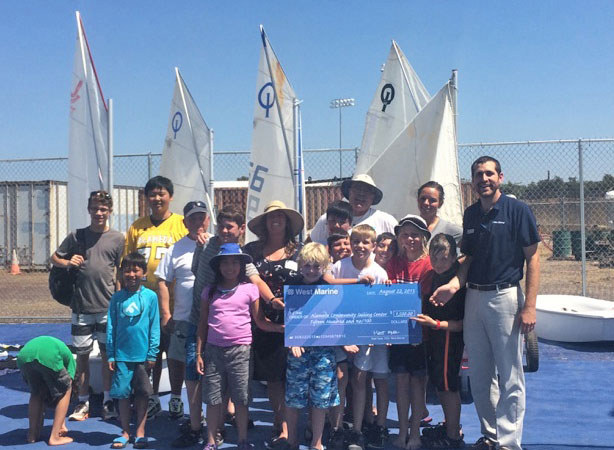 The donation was presented at ACSC's season-end sail and BBQ. "It was the day that the kids took their parents out for a sail to show them what they learned this summer," said volunteer Marianne Armand. "The kids were so cute showing off their new skills to their parents who tried not to look uncomfortable crammed into a little JY trainer. Thankfully, the breeze was light enough that there wasn't a lot of capsizing."
"We have just finished up our third Summer Youth Sailing Camp — two-week camps for ages 8 to 18," said Richards. "Through these camps we work to develop confidence, leadership, teamwork and self-reliance, and empower the students to realize what is possible when they try."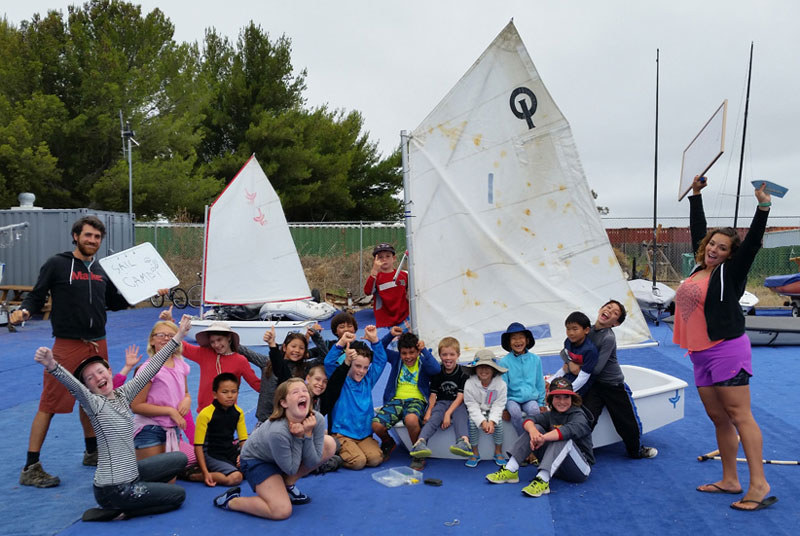 "Our physical facility has undergone a dramatic change that has to be seen to be believed," said Richards. "Our sailing fleet now consists of seven CFJs (and one International FJ), 12 JY Trainers, a Laser and a Byte. Our support boat fleet is two Whalers, two Caribe RIBs, and a 21-ft Zodiac RIB. Our yard itself is covered with fence-to-fence carpet so the kids can do somersaults when the urge arises. We have four 20-ft containers for storage, office and work space. We have created a classroom by placing 40-ft long trusses across the space between two containers, and covering the trusses with recycled sails."
ACSC's weekend Adult Sailing Program continues through the fall, with the next session beginning on October 17. Volunteers and donations are always welcome. For more information about Alameda Community Sailing Center, see www.sailalameda.org/ACSC or call (510) 629-9282.
Receive emails when 'Lectronic Latitude is updated.
SUBSCRIBE