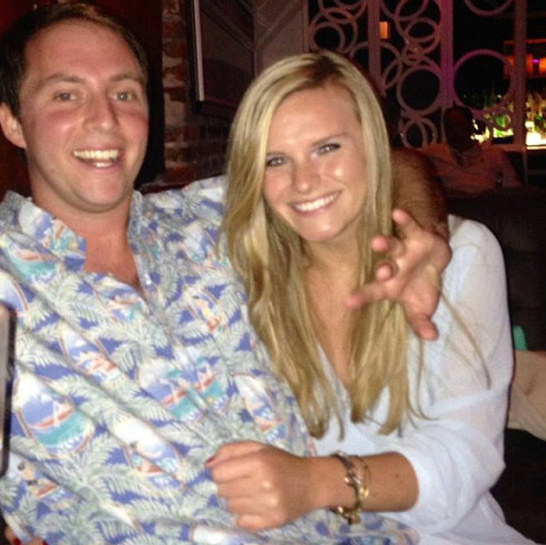 Michael Harris, 26, was killed at about 1 a.m. on Sunday when the inflatable he and four others were riding in was involved in a collision with an approximately 14-ft boat off Catalina's Descanso Bay. The body of a second as-yet-unidentified passenger in Harris' dinghy has not been found despite three days of extensive searching.
The other three passengers in the dinghy, which included Kelly Wells, Harris' girlfriend, were flown to a mainland hospital by helicopter. One of the men had suffered a head injury. Wells and the other unidentified passenger were not too seriously hurt.
The operator of the larger boat suffered minor injuries, but not enough to require hospitalization.
Few details of the accident have been released. About all Capt. Douglas Fetteroll of the Los Angeles County Sheriff's Department would reveal is that both vessels had apparently been underway at the time of the collision, and as yet it's unclear if either was showing any lights. An investigation is underway.
Harris had recently earned a master's degree in psychology, and is the son of the former CEO of the San Francisco 49ers. The online Daily Mail, of all publications, published numerous photos of Harris in what could be seen as a tribute to his life.

We can't say that we were entirely surprised by the news of an accident off Descanso Bay that night. It just so happens that the Wanderer and Doña de Mallorca had motored Profligate past Descanso Bay on Saturday afternoon about eight hours before the incident. We found the situation so chaotic/disorganized that we took a number of photographs. Presumably all the moorings in Avalon and off Descanso Bay were spoken for, so between 30 and 50 boats had anchored as best they could in the deep water offshore of them. There were big powerboats, little sailboats, three catamarans rafted together, fast fishing boats, dinghies going here and there, and ferries heading to or from the mainland. It's always kind of sloppy out there, but the wakes of countless boats made it worse than usual.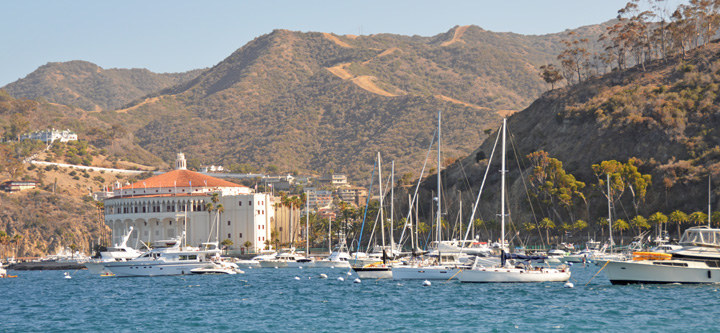 We're not suggesting that any skipper of the anchored boats was being negligent, but rather that the sum total of all of them, plus the boats on moorings, added up to a minefield of blind spots for anyone traveling in a dinghy at night. Combine that with all the ambient lights of the boats on the hook, and all the lights on shore, and it was a situation ripe for tragedy.
Because riding in dinghies and small boats with friends is so much fun, it's often not appreciated how dangerous it can be in a crowded anchorage. Three months a year at St. Barth we have a 1.5-mile late-night dinghy ride home from shore to our anchored-out catamaran 'ti Profligate. We're religious about waving a bright light around like a maniac, but nonetheless there have been many close calls. In the last 10 years there have been three run-down-while-riding-in-a-dinghy deaths, plus many injuries, in that fairway alone. Plus the old carbon fiber Rambler 92 got a big hole near her bow when she was hit by a big dinghy at night. And years ago, six people were killed in a dinghy accident in St. Thomas when two previously hidden dinghies crossed paths after suddenly appearing from behind other boats.
We hate to sound like the grouchy old man that we can be, but please people, please, please, please dinghy carefully and defensively. Particularly late at night when it's possible that operators may have been drinking, and thus are perhaps going too fast or not paying enough attention for the conditions. In saying this we are not in any way suggesting that alcohol, boat speed or inattention played any role in Sunday's collision. We know nothing more than what we've reported above.
Meanwhile, in San Francisco Bay, details are still sketchy in the death of Wouter Van Lier, 42. According to S.F. Gate, he was reported missing Monday morning by his wife and two friends, with whom he'd overnighted aboard a leased sailboat at Angel Island's Ayala Cove. After a multi-agency search of both land and sea, Van Lier's body was discovered near midday yesterday in the cove. A coroner's investigation is ongoing.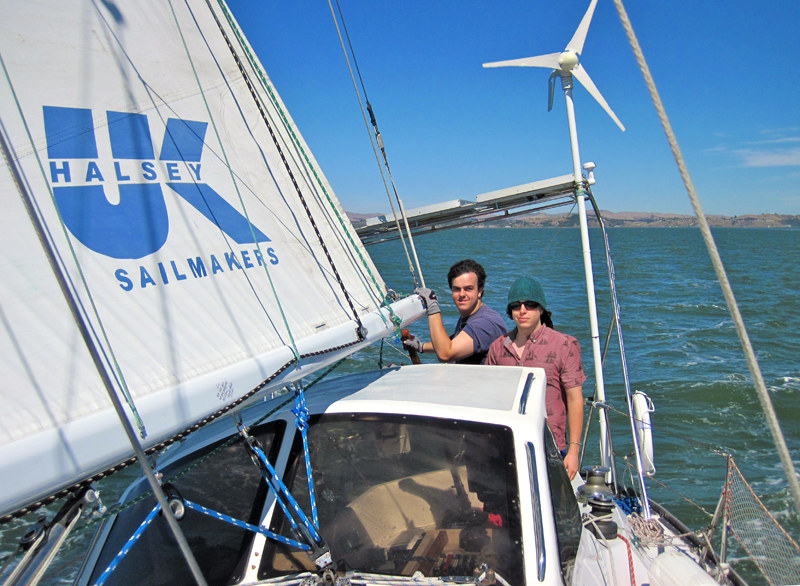 During its 21-year history, a number of famous and semi-famous boats have participated in the Baja Ha-Ha cruisers' rally. But probably none was more of a household name than Intrepid, the Islander 36 that then-17-year-old Zac Sunderland singlehanded around the world in 2009. Next month Intrepid will set sail again with young hands on the tiller in the 22nd annual San Diego-to-Cabo San Lucas rally.
Having been introduced to sailing a few years ago in Ireland, Alex, 18, Cody Brill, 15, and their father Tim fell in love with the sport and have been on the fast track to proficiency ever since. "We are an adventurous kinda family: camping, mountain climbing, skiing and travel," explains Tim, who owns an aerobatic flight school in Reno, Nevada. "But sailing triggered the boys' imaginations."
The family began taking sailing lessons from Lee Pearce of Learn to Sail San Diego. And today Alex and Cody have completed the American Sailing Association (ASA) 101, 103, 104, 105 and 106 certifications (Basic Keelboat Sailing, Basic Coastal Cruising, Bareboat Cruising, Coastal Navigation and Advanced Coastal Cruising). When their proud papa checked in with us last week, he and Cody were completing a course in celestial navigation, and we learned that Cody has been teaching the basics to other kids via a local US Sailing program. Despite the kids' sailing prowess, they're 'letting' their dad come along on the Baja run too. "Someone has to pay for all this stuff!" he says.
One of the most fascinating aspects of running the Baja Ha-Ha for the past two decades has been meeting sailors of all ages with wildly diverse backgrounds. Look for mini-profiles on many of them in the October issue of Latitude 38. (Available free October 1 from marine retailers and downloadable from the website.)
If you're on the fence about joining the fleet this year, make note that BHH registration ends at midnight September 15.
In its 20-year history, the Clipper Race, a round-the-world race in multiple legs for paying crew, has had an excellent safety record. In the last edition, a crewman who fell overboard during the wild ride from Qingdao to San Francisco was successfully recovered, despite being separated from the boat for an hour and 40 minutes. More than 3,300 amateur crew have sailed in previous races. There has never been a fatality. Until now.
In the wee hours on Saturday, the Clipper 70 IchorCoal was sailing in moderate seas, with the wind building into the high 20s, about 120 miles off the coast of Portugal, in Leg 1 from Southend, UK, to Rio de Janeiro, Brazil. Andrew Ashman, 49, was helping to reef the main when he was hit with the mainsheet — and possibly the boom — and knocked unconscious. "He was given immediate medical assistance and attempted resuscitation but failed to regain consciousness," stated the official announcement. "The boat linked immediately by satellite phone to the medical team at Praxes Medical Group, the Clipper Race remote telemedicine support service based in Halifax, Canada, where a doctor provided additional advice and guidance during the emergency." IchorCoal, skippered by Brit Darren Ladd, diverted to Porto, Portugal.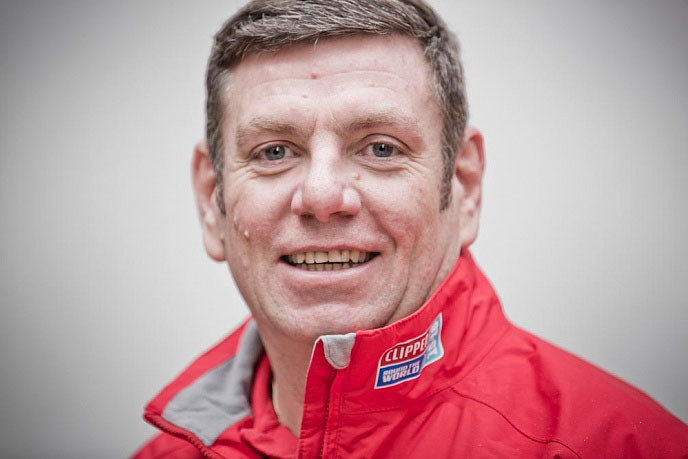 Following a unanimous crew decision and with the blessing of Ashman's brother, IchorCoal officially resumed racing yesterday. "Andy's brother Keith came out to Porto and has been a massively positive force for the team," said Ladd. "Andy had his own catchphrase, as anytime I asked him to do something he would say 'Roger that, boss.' When we talk about Andy we all say 'Roger that.' In his memory and in his honor, we have stuck those words on the transom." The boat was seen off by event founder Sir Robin Knox-Johnston.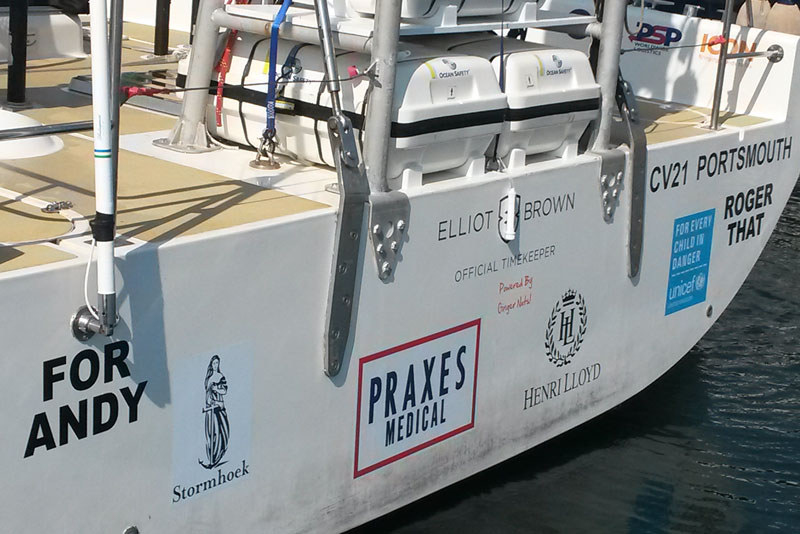 Clipper Race crewmembers come from all over the world — several hail from the West Coast of North America. Ashman was a Brit. A paramedic from Orpington, Kent, he started sailing when he was 16 and was a highly experienced mariner.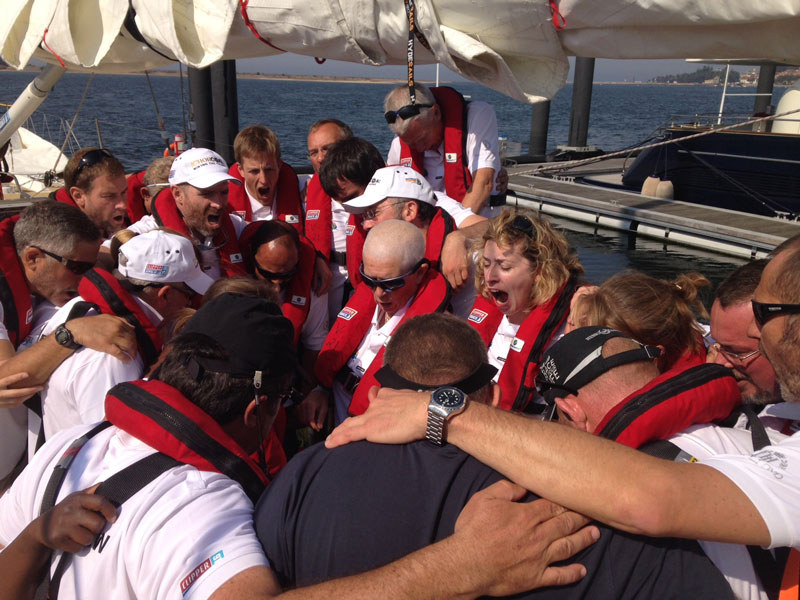 Receive emails when 'Lectronic Latitude is updated.
SUBSCRIBE