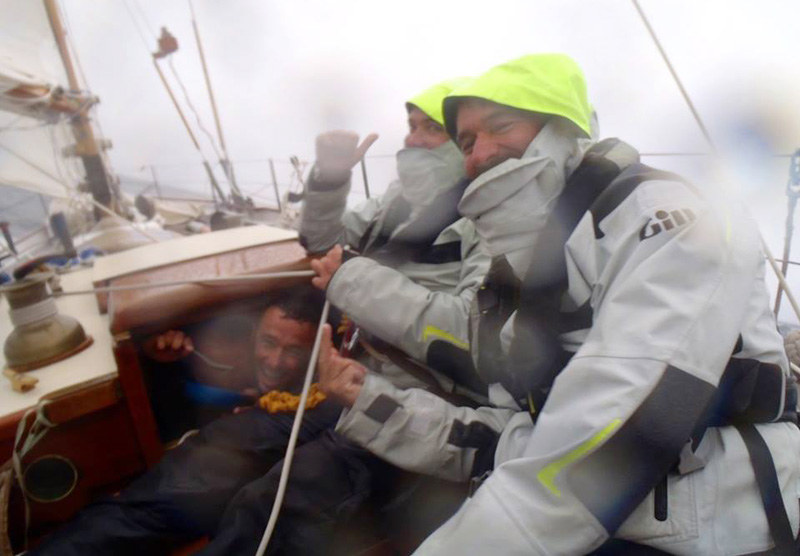 Although you can't see real-time footage of the Transatlantic Race, you need only to take quick look at the Yellowbrick Tracking site to sense the excitement and drama on the 2,800-mile race course from Newport, RI, to Lizard Point in Cornwall.
For armchair spectators like us, one of the most thrilling aspects of this year's race is that there seems to be 'something for everyone'. Among the final starters are several cutting-edge speed machines — the MOD70 Phaedo3, the VPLP 100 maxi Comanche, the Juan K 88 Rambler 88 and the Nigel Irens 63 tri Paradox — which are currently sprinting east in hot pursuit of the leaders, which started several days before them. At the same time that Phaedo3 covered 307 miles in her first 18 hours on the course (averaging 18-20 knots in an 11-12 knot westerly), the 100-year-old Nat Herreshoff schooner Mariette of 1915 is still leading the fleet. For West Coast sailors, of course, the favorite among her division competitors is the renowned 1929 S&S yawl Dorade, now based in the Bay Area (currently in second place among the classics).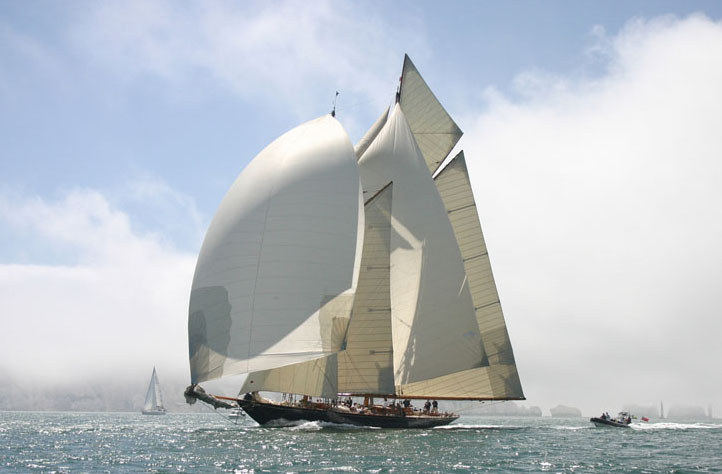 As reported earlier, owners Matt Brooks and Pam Levy are doing the Transatlantic as part of their Return to Blue Water campaign, in which they are re-racing some of the major contests that made this 86-year old beauty a household word in 1930s America. After she won the Transatlantic in 1931 by a wide margin — thus upsetting the prevailing dominance of schooners in offshore racing — the boat and skipper/builder Olin Stephens were given a ticker-tape parade in downtown New York! Really, for a yacht race.
Those were the days of seat-of-the-pants sailing, however, when instincts and gutsy gambles were the norm, contrasted by the high-tech routing strategies employed today. This year, for instance, imaginary "ice gates" have been placed along the course south of the Grand Banks to keep competitors out of potential trouble. Most of the fleet has now passed them, though, and the current quandary for navigators, such as Palo Alto's Stan Honey aboard Comanche, is how to deal with the buzz-killing high pressure ridge to the east that threatens to turn the race course into a parking lot within 24 hours. In any case, the first boats are expected to reach England sometime next weekend. For much more on the race and its competitors, see the website.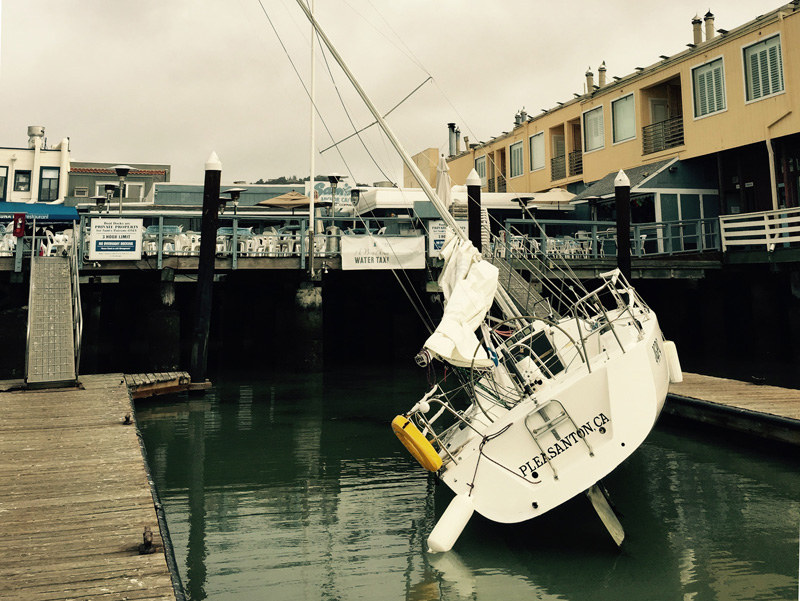 When we first saw this snapshot from the July Fourth weekend, we were reminded of a quote by flamboyant author Hunter S. Thompson: "Life should not be a journey to the grave with the intention of arriving safely in a pretty and well preserved body, but rather to skid in broadside in a cloud of smoke, thoroughly used up, totally worn out, and loudly proclaiming, 'Wow! What a Ride!'"
We suspect, however, that the backstory to this photo has little to do with making a bold arrival, but a lot to do with the skipper's not paying enough attention to the tide tables. We'd bet that he or she won't make the same mistake again any time soon. During our own checkered sailing history, we've found that truly embarrassing and/or life-threatening errors etch deepest into our mental catalog of lessons learned. This nicely careened centerpiece, we're told, belongs to a local sailing school.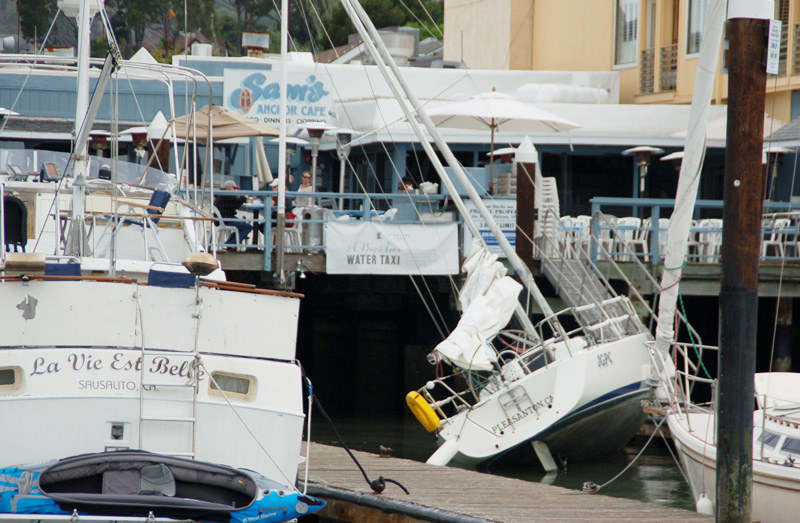 Sailing-related online message boards have been around almost as long as the Internet. One of the great assets of these types of sites is the vast wealth of knowledge their members — almost exclusively male — have (or, in some cases, think they have). The downside of such groups, though, is that those members have heard the same questions asked so many times that they can forget their manners and get snarky with newbies. Some groups even encourage such snarkiness.
Imagine you're new to sailing and eager to learn all you can. You find a group and start asking questions only to get ridiculed for your 'stupidity'. Not exactly a warm and welcoming introduction to the sport. Sadly, that's exactly what happened to Charlotte Kaufman (of the ill-fated Rebel Heart) several years ago when she started posting in online sailing groups. Appalled by the bullying behavior she encountered, she created a Facebook group dedicated to supporting sailor chicks of all skill levels: Women Who Sail.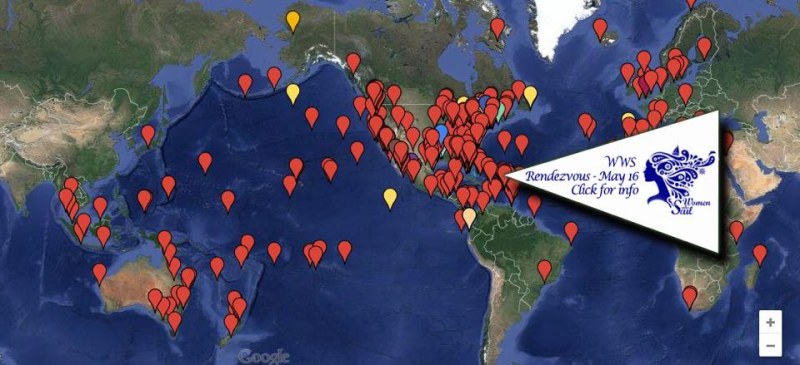 Over the past six years, Women Who Sail has grown to include almost 6,000 female members, including such well-traveled sailors as Lin Pardey, Behan Gifford, Wendy Hinman, Pam Wall, Jeanne Socrates and many more. The atmosphere is supportive without being saccharine, and all questions relating to a woman's life aboard a boat are welcome. And the most important rule is to be kind and respectful of others. How refreshing is that?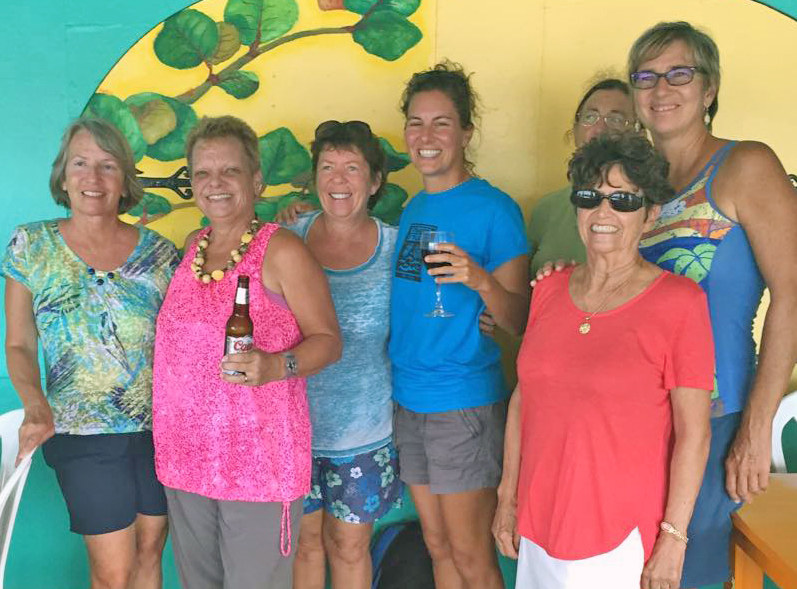 "There are plenty of the same questions and technical discussions having to do with preferred equipment types, repair advice, navigation, system maintenance, and so on that you might find in a male-dominated forum," notes member Linda Edeiken, who has been cruising with her partner Chuck Houlihan for over a decade aboard their Puerto Vallarta-based Allied 39 Jacaranda. "And there are the likely topics about the galley, medicine/health and sewing which are often, but not always, a woman's responsibility on a boat. But there are also many threads which reflect gender differences, such as communicating feelings, feminine hygiene and issues of femininity."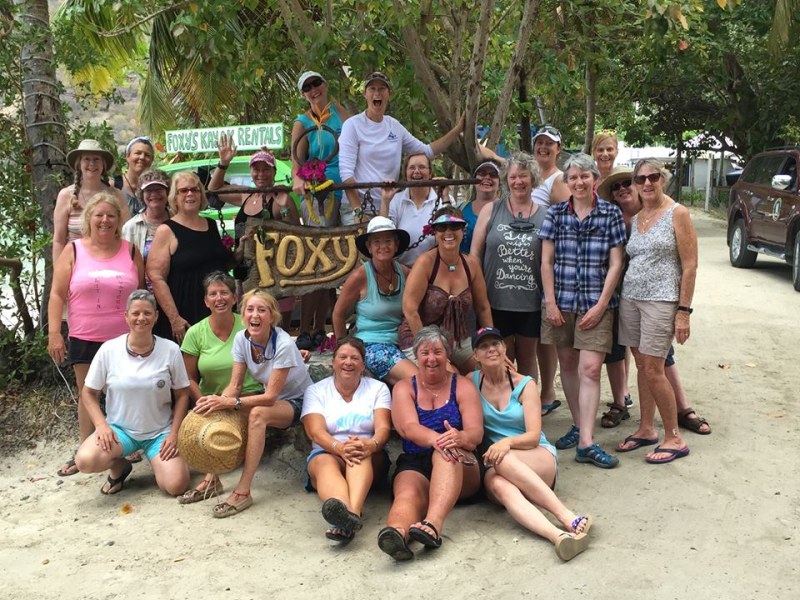 All women interested in sailing, whether they're old salts or simply dreaming of the day they own their first boat (power or sail), are welcome to join the group at www.facebook.com/groups/WomenWhoSail. Dudes need not apply.
Receive emails when 'Lectronic Latitude is updated.
SUBSCRIBE