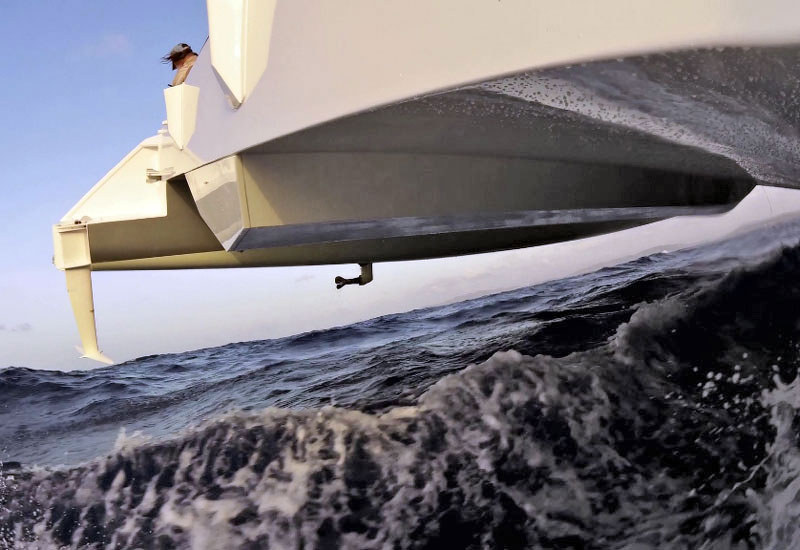 Two very successful West Coast racing sailors — Greg Slyngstad of Sammamish, WA, and Bill Gibbs of Ventura, have been experiencing different fates with their new, very fast all-carbon cruising cats.
Slyngstad, who has enjoyed much success with monohulls such as his J/125 Hamachi on the West Coast, racing to Hawaii, and in the Caribbean, launched Fujin, his new 53-ft cat, in St. Croix in early June. She was designed by Paul Bieker of Seattle and built by Gold Coast Yachts of St. Croix. Although Gold Coast has built 117 boats, mostly large cats, this was their first all-carbon boat.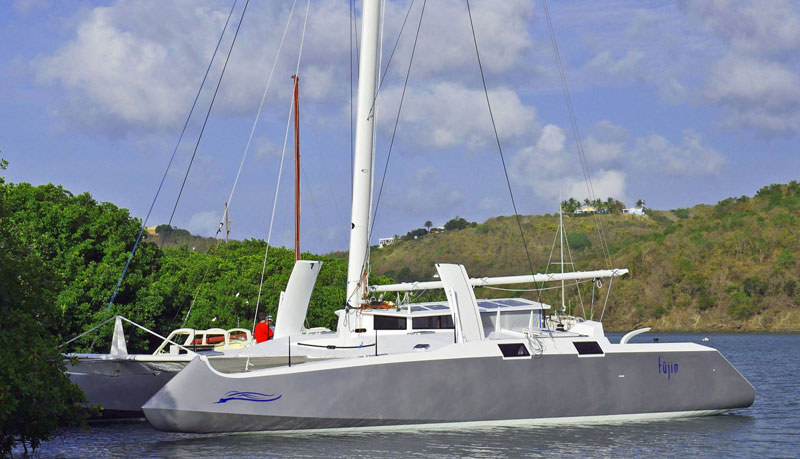 Although Fujin was still missing some sail controls, Slyngstad and crew took her out for the first time on June 6. In 14-16 knots of wind, they were soon flying a hull on the 16,000-lb boat and hit 22 knots. While not designed to foil, a few days later the cat hit 25 knots in 18 knots of wind.
An obviously-pleased Slyngstad, who will be racing his J/125 in the Transpac in July, plans on racing Fujin in next year's Caribbean 600, the St. Maarten Heineken Regatta, and the Voiles de St. Barth.
Unfortunately, things haven't gone nearly as well for Bill Gibbs, who has been smashing West Coast elapsed-time records for years with his 53-ft cat Afterburner. He purchased a partially-completed all-carbon Schionning-designed G Force 1400 fast cruising cat in South Africa a while back, and had her completed a few months ago. Ignoring Latitude's suggestion to sail her to the Caribbean, Gibbs had the cat, named Wahoo, shipped to the Caribbean. Thank goodness he did.

A few days ago, Gibbs and three crew sailed out of Guadeloupe on the 44-footer. They got the loaded-down cat up to 19 knots, but before too long one of the rudders broke off. The boat's autopilot then had trouble controlling the boat — until a while later the second rudder broke off! If you're looking for a really rotten fate, losing both rudders in the Caribbean Sea would rank right up there.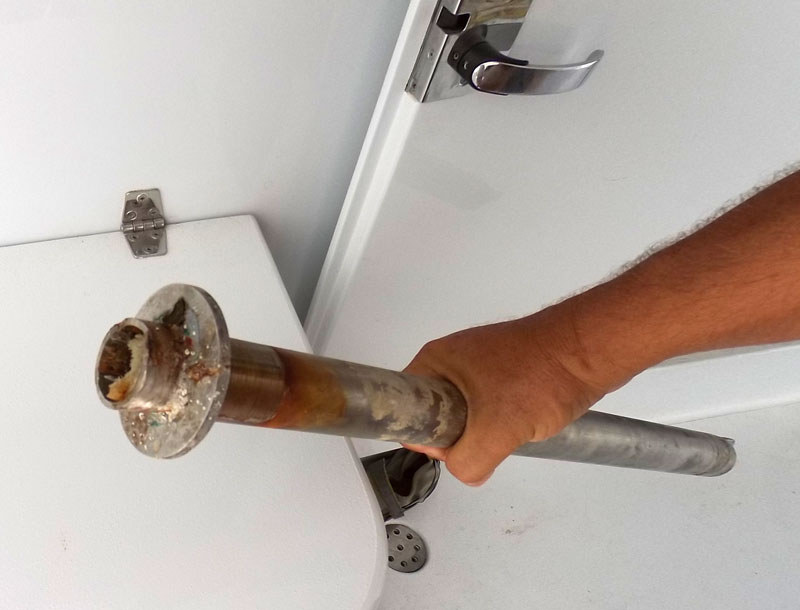 The crew had no choice but to resort to 'steering' using the two engines. Apparently one of the engines overheated from the abuse, blew an oil line, and may have seized.
The only good luck was that by then Gibbs and crew were close enough to be towed to port. But the troubles continued when the cat was slammed into a dock, apparently causing some damage to the carbon structure.
As it stands, Gibbs and crew are sorting out what happened and how to make repairs. A preliminary investigation suggests that the rudder fittings weren't built to spec.
Here's wishing Bill, a great guy, a swift comeback with his new boat.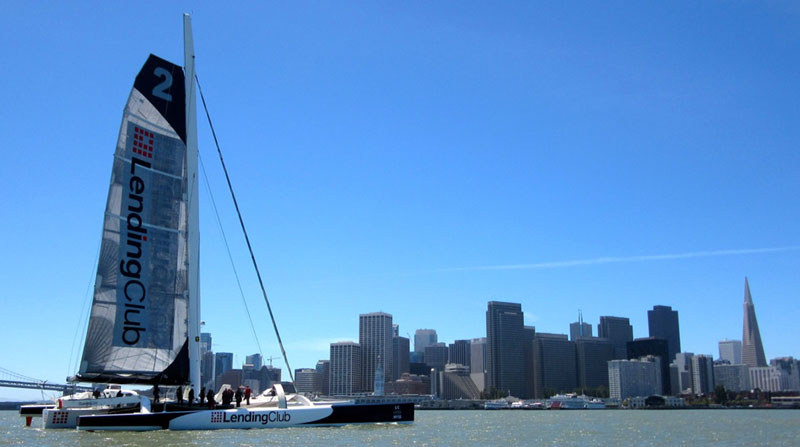 With the America's Cup packing up shop and moving to Bermuda, there's been a distinct lack of big, fast multihulls sailing the Bay on a regular basis. Fortunately for all of us, Lending Club CEO Renaud Leplanche and top American offshore sailor Ryan Breymaier have brought the 105-ft maxi-trimaran Lending Club 2 (ex-Groupama 3, ex-Banque Populaire VII) to San Francisco for five weeks of hospitality sailing to fill the void. Adopting a business model straight out of France, the forward-thinking and generous French-American businessman Leplanche has chartered one of the world's fastest and most famous racing yachts, slapped his company's logo on the sails and gone record breaking for a year. Even better, the team has embarked on an ambitious plan to share the love of sailing and spread the word about the world's largest marketplace that connects borrowers and investors by taking approximately 1,000 Lending Club employees, VIPs, sailing media personnel, and children's groups out for some high-speed sailing on the Bay.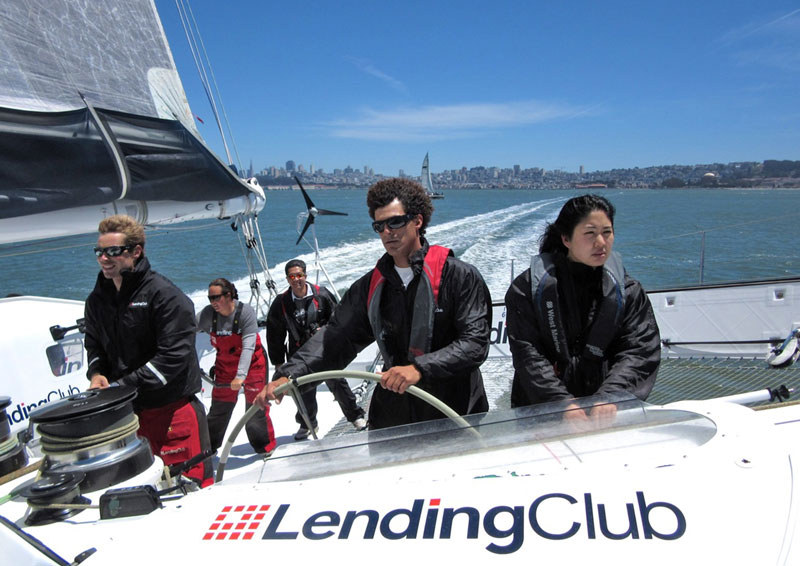 Corporate hospitality sailing is just one small aspect of the program, however, with the main focus being on crushing records. First up was the Cowes-to-Dinard record across the English Channel in which the team broke Brian Thompson and the 110-ft catamaran Maiden II's 2002 record by just 8 minutes after more than 5 hours of sailing. Just three weeks later — after a quick transatlantic delivery — the team absolutely obliterated the late, great Steve Fossett's record from Newport to Bermuda. The record had been some 38 and a half hours before Lending Club 2 sailed the iconic 635-mile course in just 23 hours and 9 minutes at an average speed of 27 knots! After a Newport to San Francisco delivery via the Panama Canal, the team will soon be at it again. During the second week of July, the team will deliver the boat south to Long Beach to make final preparations for their July 18 start in the Transpac race to Honolulu. After barely missing the record on an older turboed and lengthened ORMA 60 Lending Club during the 2013 Transpac, Lending Club 2 has returned to finish the job and finally take down Frenchman Bruno Peyron's nearly ancient record of 5d 9h 18m set nearly twenty years ago on the 86-ft catamaran Explorer.
Thanks for a heck of a ride guys, we at Latitude 38 wish you fair winds, following seas and a record-breaking passage to Honolulu!
Storms, sinkings and lots of sailing took place across Northern California and around the world as sailors celebrated Summer Sailstice on the solstice weekend. In the Bay Area, numerous activities included the annual festivities at Encinal Yacht Club, featuring a build-a-boat-in-a-day contest.
Run by Ariane Paul, the boatbuilding contest has been a highlight of the local event for eight years running. Each team must build, launch and race a boat around a buoy all in a single day. This year's contest featured four teams who started the morning with a pile of lumber and finished at 5 p.m. by launching the results of their day's labors and attempting to stay afloat for a short and competitive race.
Variety is the spice of life and, over the course of the day, a spicy fleet came to life consisting of a catamaran, a pirate ship, a rowing dinghy and a sailing dinghy. The sailing dinghy's voyage ended shortly after launch as it sank almost as soon as it left the dock, providing great entertainment for the crowd. The three remaining boat took off around the course and survived, with the catamaran edging out the others for an overall victory. All contestants were warmed later with their prizes of Gosling's rum!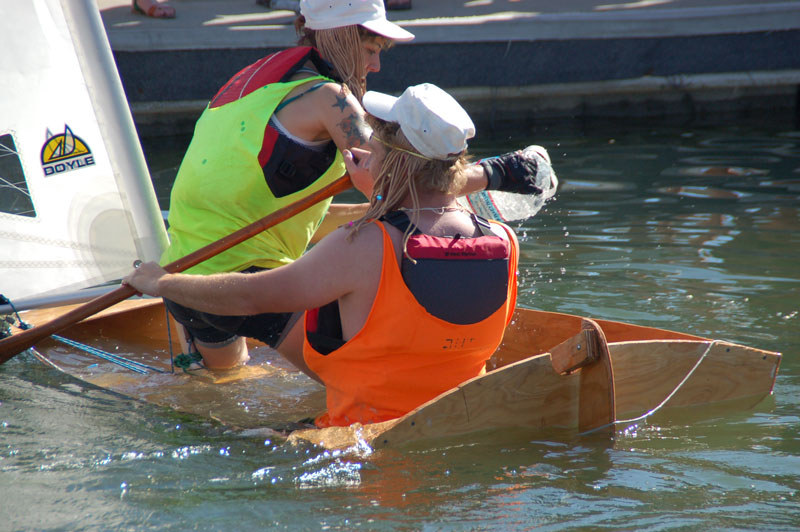 EYC also hosted small boat races and their junior sailing program, and Afterguard Sailing gave boat rides.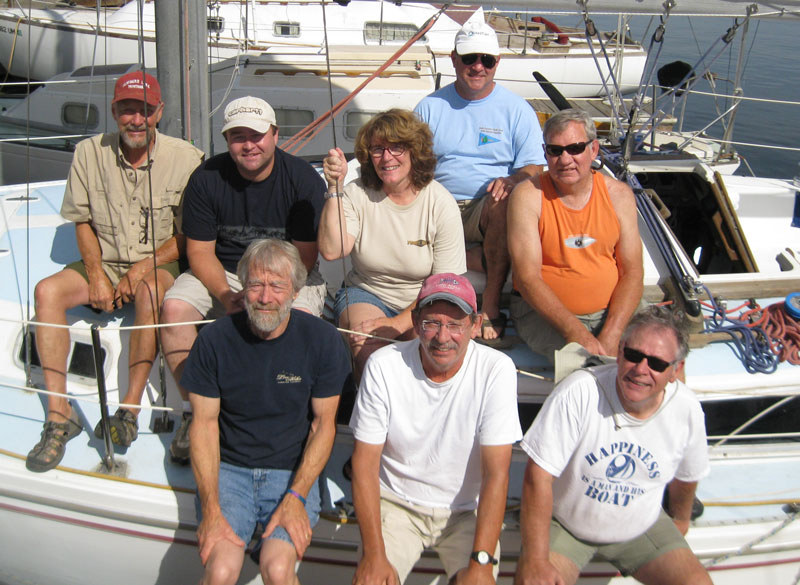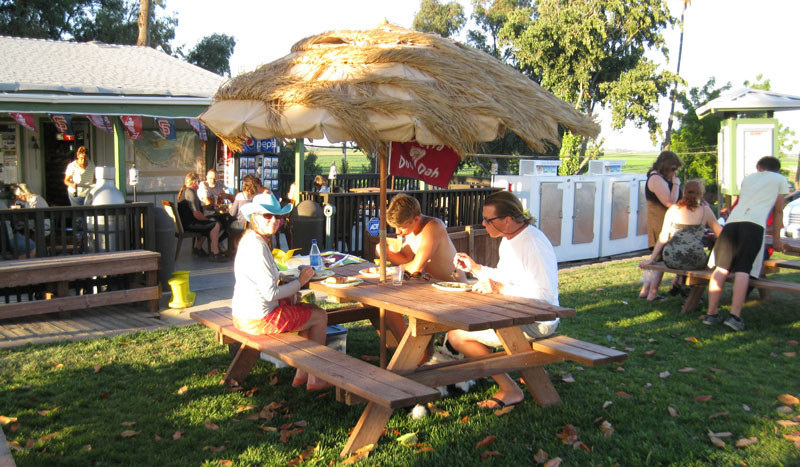 Numerous other celebrations occurred around the world with raft-ups formed, starting guns fired, and afternoon daysails enjoyed. New England sailing celebrations got whacked by the remnants of Tropical Storm Bill, and the Volvo Ocean Race's Team Alvimedica, signed up for Summer Sailstice, spent the holiday launching themselves out of The Hague toward a first-place finish in Gothenburg, Sweden.
Receive emails when 'Lectronic Latitude is updated.
SUBSCRIBE