Update: Team Elsie Piddock arrived in Ketchikan at 12:55 p.m. today to win the first R2AK, having sailed the 40 miles from Port Townsend, WA, to Victoria, BC, in 4 hours and 11 minutes, and the 710 miles from Victoria to Ketchikan, AK, in an amazing 5 days and 55 minutes.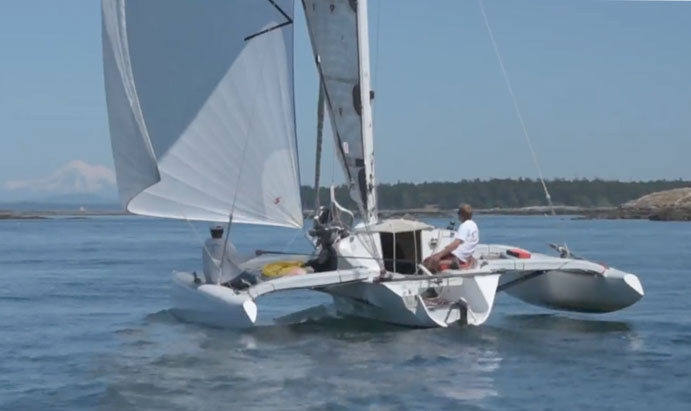 Big congratulations are due Al Hughes, Graeme Esarey, and Matt Steverson, the three-member Team Elsie Piddock. Their F-25c has absolutely smoked the Race to Alaska fleet. As of 11:00 this morning, they had only about 16 miles to go in the 750-mile race, with a lead of maybe 200+ miles on the next two boats, the well-sailed Hobie 33 Por Favor and the Farrier 38 trimaran MOB Mentality. The rest of the boats are strung out another 100 to 300 miles back. The Oakland-based Warrior 29 cat Kohara is in fourth place but stopped south of Bramham Island.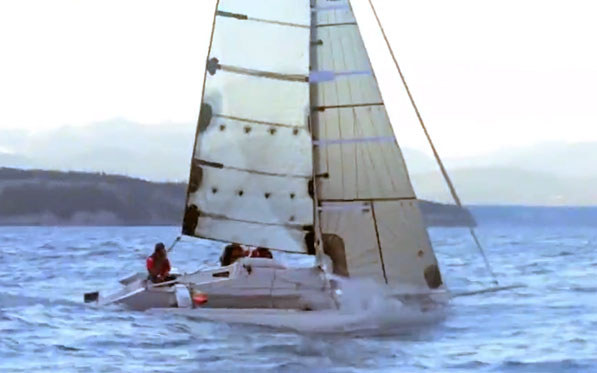 While reports have been spotty, this has not been a pleasure cruise for anyone. In fact, most if not all boats have had to battle very challenging conditions, and 19 out of the original 40 full race participants have been knocked out or decided to drop out.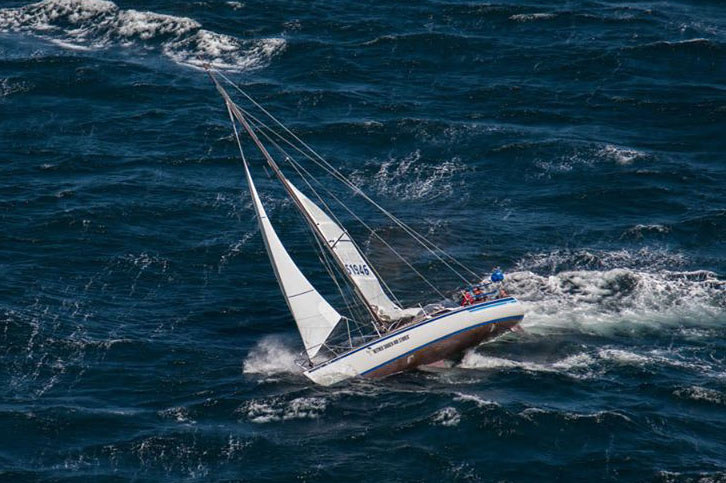 We'd also like to congratulate the founders and organizers of R2AK, Northwest Maritime Center of Port Townsend, for coming up with a simultaneously serious and wacky event that has caught the imagination of so many adventurers. That said, we wonder what they can do next time to maintain the wacky factor when it's been demonstrated that the addition of human power has been a non-factor in who has done well. It's good sailors in fast sailboats.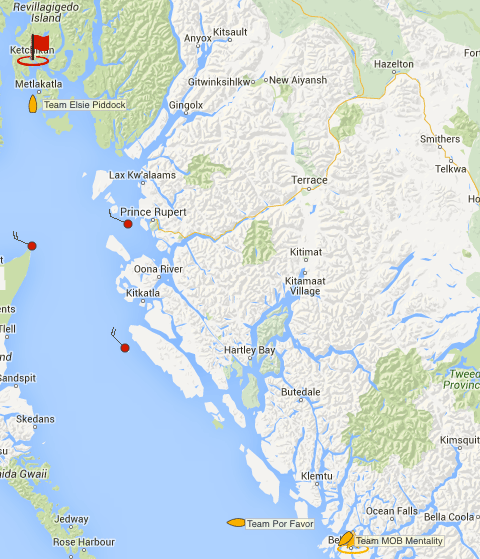 The Seattle-based Team Elsie Piddock should reach the finish line in Ketchikan, AK, this afternoon. To see what the destination city looks like, visit webcamketchikan.com.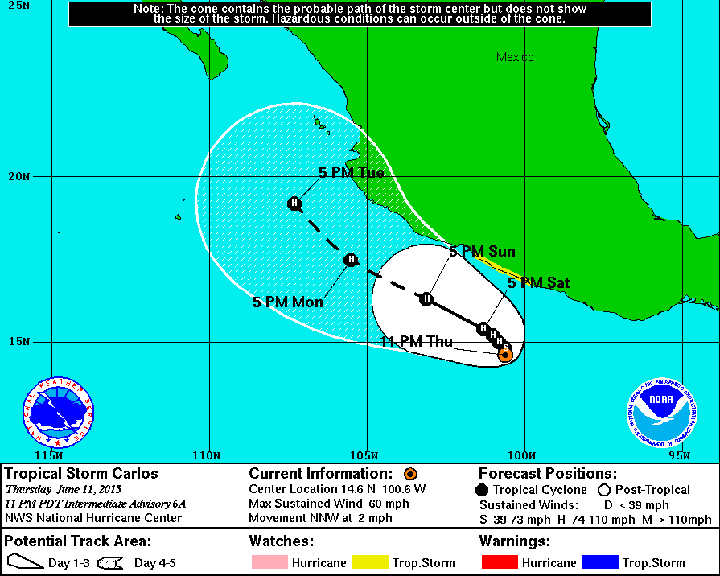 The National Hurricane Center reports that Tropical Storm Carlos, now well off the coast of Acapulco, is about to develop into a hurricane and head northwest. At this early point in the game, some computer models have Carlos going inland, some have it headed for Cabo, but most have it headed offshore. Nonetheless, all boating interests in Mexico need to pay attention.
Forecasters at the National Hurricane Center have predicted that this will be a lighter than normal year in the Atlantic/Caribbean for tropical storms, while it's likely that there will be a greater than normal number of storms in the Eastern Pacific, meaning Mexico.
For what it's worth, storm centers don't have to come close to shore to create damage. For example, Hurricane Blanca, which didn't come within 150 miles of mainland Mexico, nonetheless kicked up big enough surf to slam a big rock into the steel beach gate at the condos Doña de Mallorca rents out at Punta Mita. It knocked the gate out of action. On the other hand, surfers renting the units loved Blanca's big surf.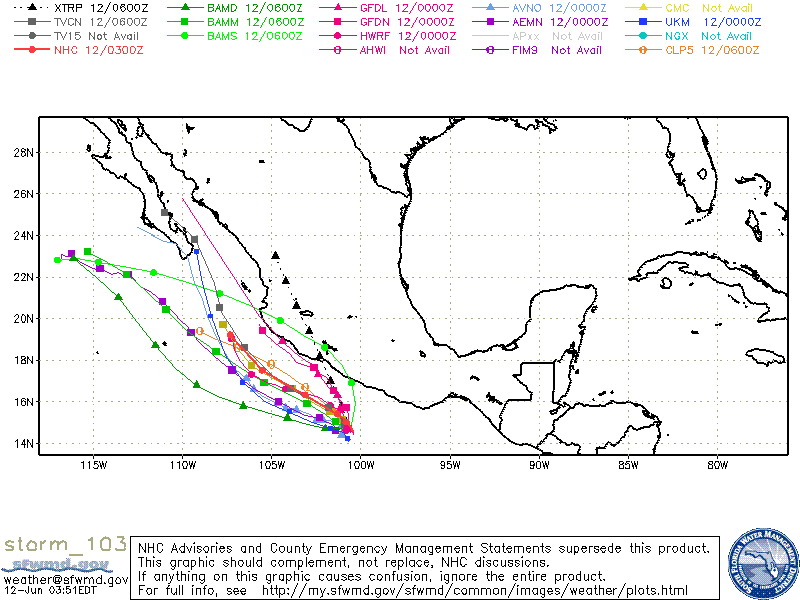 In more positive news for everyone in California, the National Weather Service's Climate Prediction Center reports that El Niño looks to be pretty strong going into the fall. The import of this is that a strong El Niño correlates well with rainy winters in California. Some forecasters are saying there is an 85% chance that El Niño will remain strong into the winter. Based on this and the fact that Latitude 38's office, perched beside a creek in Mill Valley, floods every 15 years, we've signed up for expensive flood insurance.
As reported in the March 2013 issue of Latitude 38, a group of dedicated volunteers has been working tirelessly over the past few years restoring the historic ketch Golden Rule to better-than-new condition. They plan to launch her on June 20 in Humboldt Bay.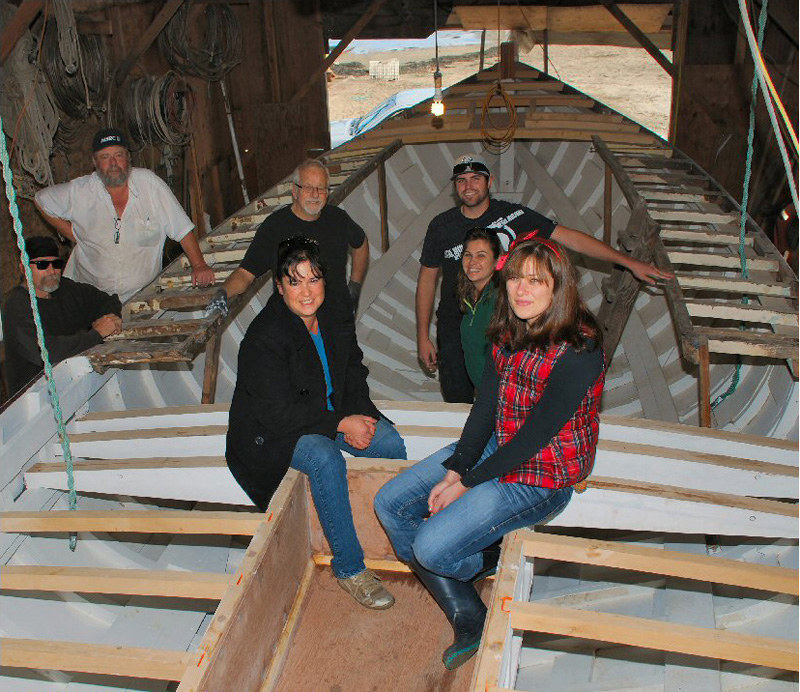 Why historic? Because she was the first vessel used to challenge nuclear testing activities on North Pacific Islands in 1958. Check out the website and you will learn how this humble vessel spearheaded a movement of nonviolent protest.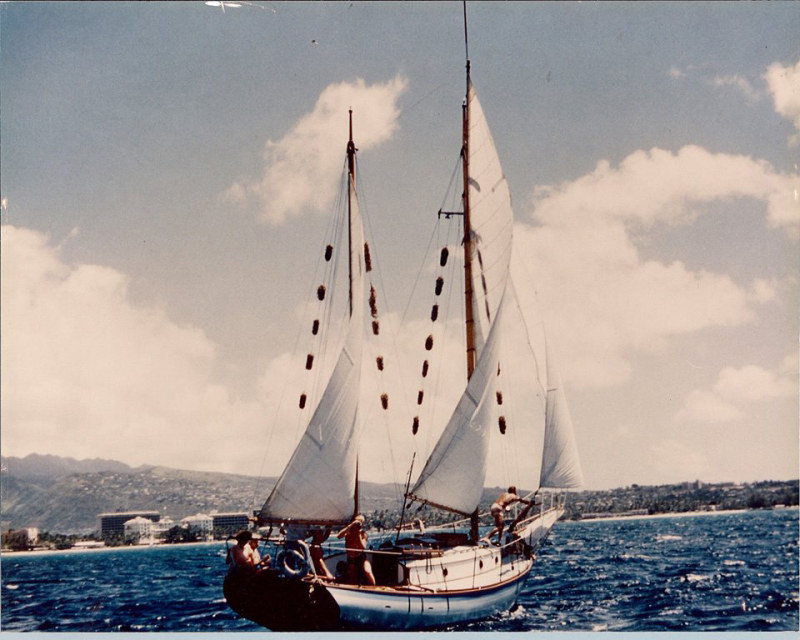 The Rule's resurrection has been nothing short of amazing, as she was derelict and partially destroyed before the Veterans for Peace took on the rebuilding project. Soon, says project supporter Skip Oliver, "The reborn Golden Rule will voyage once more, to show that nuclear abolition is possible, and that bravery and tenacity can overcome militarism." Her first planned voyage will be in July, when she'll sail to San Diego for the Vets for Peace national convention.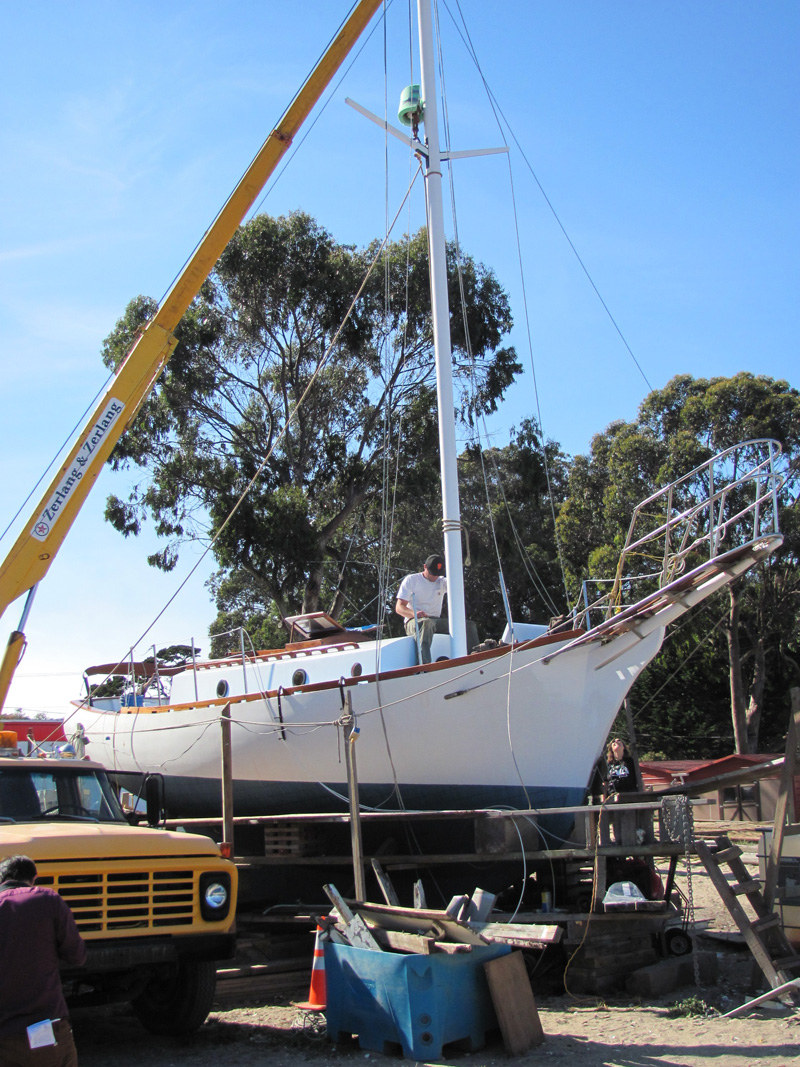 The christening and launch will take place at 2 p.m. on June 20 at Zerlang & Zerlang Marine Services, 1493 Fay Ave. in Samoa (near Eureka). All are welcome. An associated celebration will take place later that day when the Golden Rule docks in downtown Eureka, accompanied by a welcoming flotilla. From 5 p.m. to 8 p.m. at the Humboldt Bay Aquatic Center, 921 Waterfront Dr., Eureka, representatives from Greenpeace, Physicians for Social Responsibility, Quaker Friends, Veterans for Peace, and families of the original crew will speak, and oral histories will be presented by prominent peace activists. RSVPs by email are greatly appreciated.
Receive emails when 'Lectronic Latitude is updated.
SUBSCRIBE