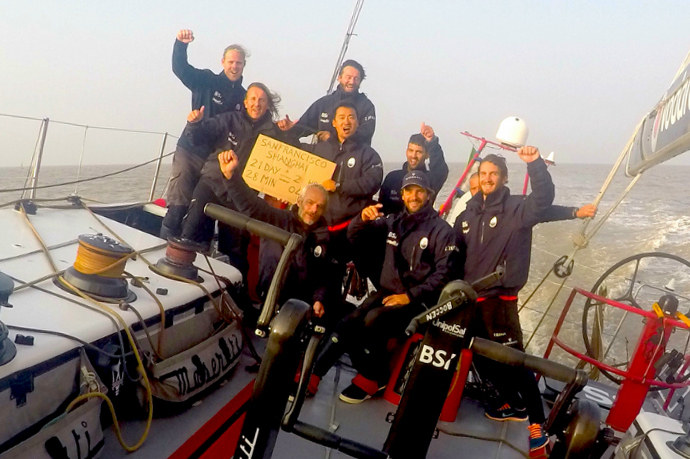 The VOR70 Maserati arrived at the bustling port of Shanghai, China, Sunday to a festive welcome, having carved more than 10 days off the San Francisco-to-Shanghai record, set way back in 1853 by the China tea clipper Swordfish. The new time of 21 days, 19 hours, 32 minutes and 54 seconds is expected to be officially ratified by the World Sailing Speed Record Council soon.
Skippered by renowned ocean racer Giovanni Soldini, Maserati had relatively good luck along its route, reaching the longitude of Hawaii in six days, then later running under the sloop's largest spinnaker for 10 straight days in trade wind conditions. Early in the trip, though, the international crew was threatened by two tropical storms, and had to slow down to avoid debris in the infamous North Pacific Garbage Patch. Heavy ship traffic and light, shifty winds made the final days especially challenging.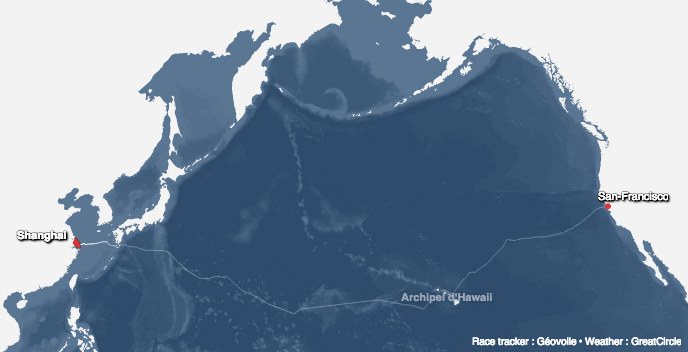 It's anybody's guess who will challenge this record next. But as Maserati crew members have intimated, their time is certainly not unbreakable. Averaging 14.1 knots, Maserati logged 7,392 nm along their southerly route, compared to the 'great circle' distance of 5,334 nm.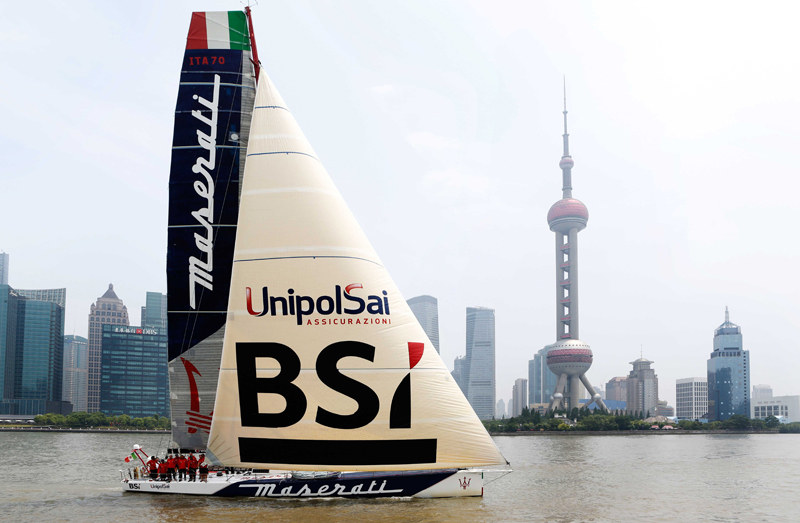 What's next for Soldini and Maserati? Look for them on the starting line of this year's Rolex Sydney Hobart Race in late December. Find more on Maserati at the official website.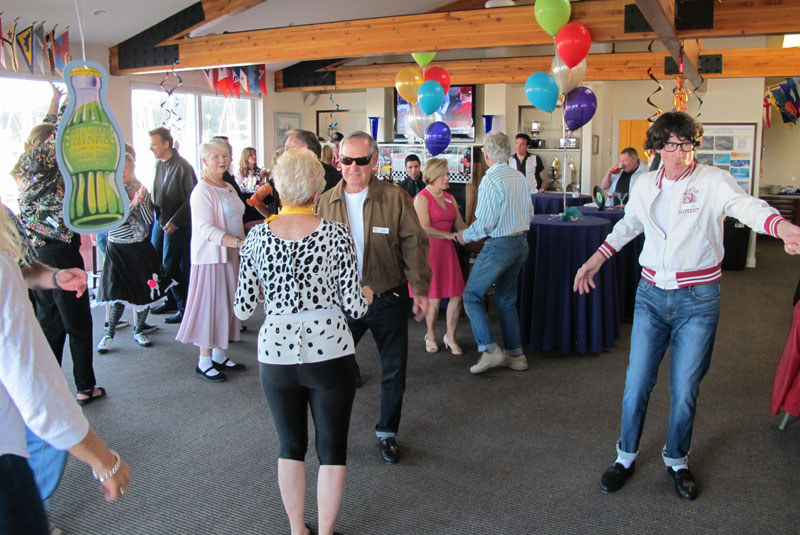 The members of Tiburon Yacht Club, which is located on the east side of Marin County's Tiburon Peninsula in the waterfront development of Paradise Cay, celebrated their 50th birthday on Saturday night. "The big bash was all that we anticipated or could ask for," reports club volunteer Jon Price. "Those who attended were decked out in '50s garb and ready to rock 'n' roll."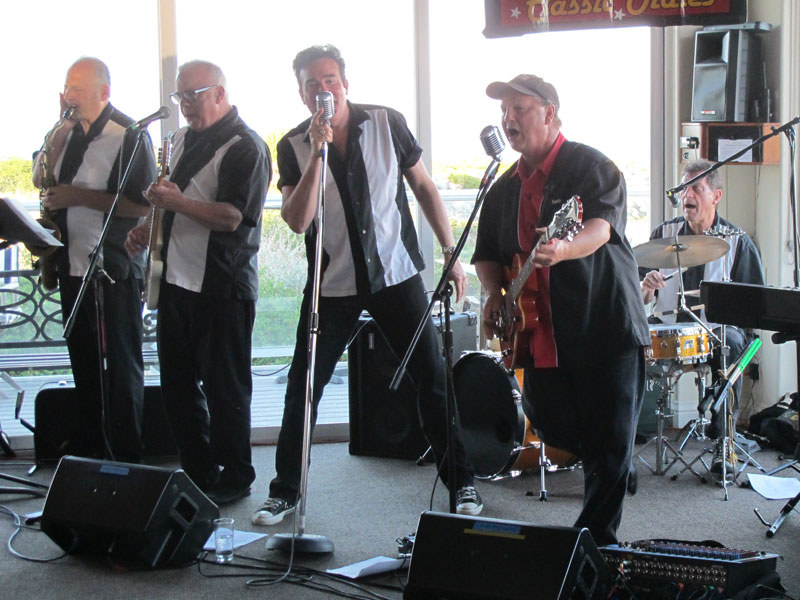 'Fashionably late' is apparently no longer in fashion, as the party started half an hour earlier than the scheduled time of 6:00 p.m. "The bar was packed with revelers from the get-go," said Price. "Dinner consisted of fabulous hors d'oeuvres in huge quantity and extraordinary quality, satisfying both the gourmets and gourmands in attendance, which even included of some of the originals who were present at the founding of the club in 1965." Founding members in attendance included Bob and Patty Cerf, Don Kunstler, and Allen and Joan Dekelboum.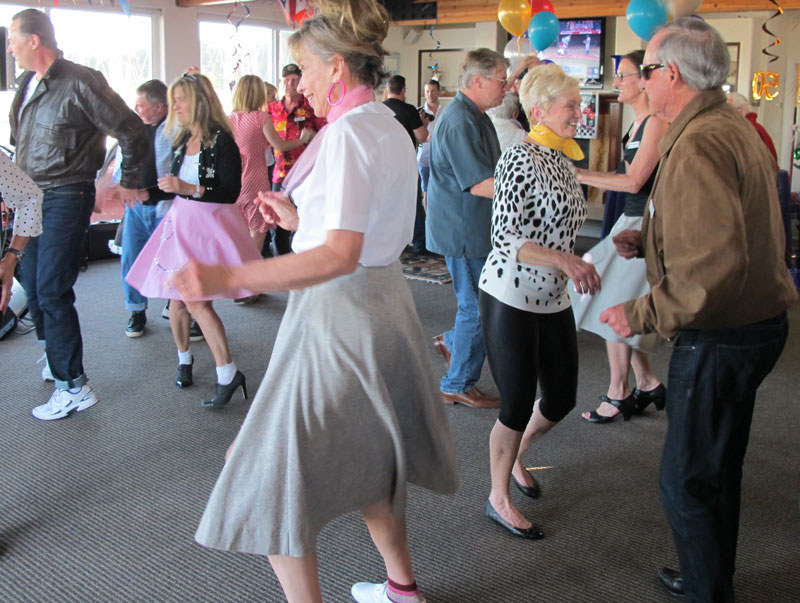 A '50s rock 'n' roll band, the Hot Rods, kicked into action at the end of dining, and was still going strong until late evening. "Participants' nostalgia with some of the songs was overcome by the urge to get out on the floor and let it all hang out," said Price. "It was an amazing scene to see so many of the elder members abruptly shed their years and return to their youthful vigor."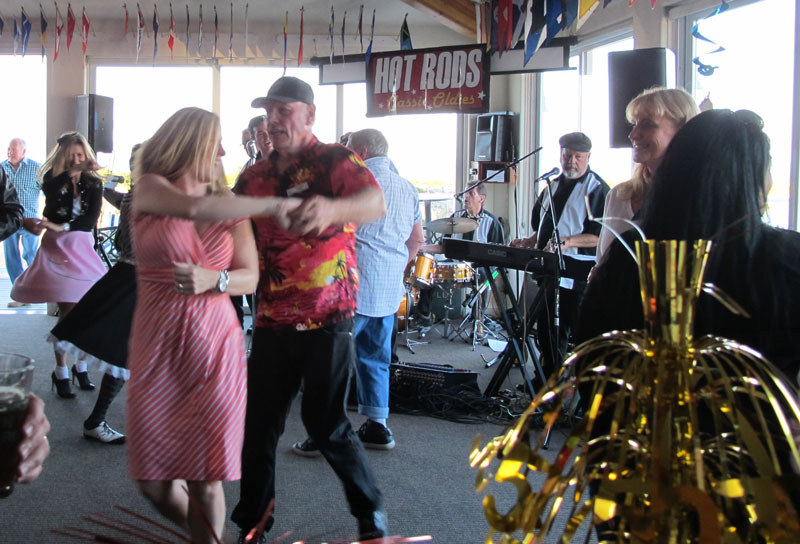 The party was preceded by the Friendship Regatta, a congenial race between TYC and Corinthian YC, also located in Tiburon. The 21 entries, ranging in size from a Cal 20 to a Santa Cruz 50, sailed in two divisions, Spinnaker and Non-Spinnaker, with the spinnaker boats starting upwind and the non-spinns starting downwind toward the Richmond-San Rafael Bridge. After the light-air start, a nice breeze filled in, topping out in the mid-teens. The short courses were completed in about an hour, and, to sweeten the anniversary celebration, TYC wrested the trophy from defending CYC.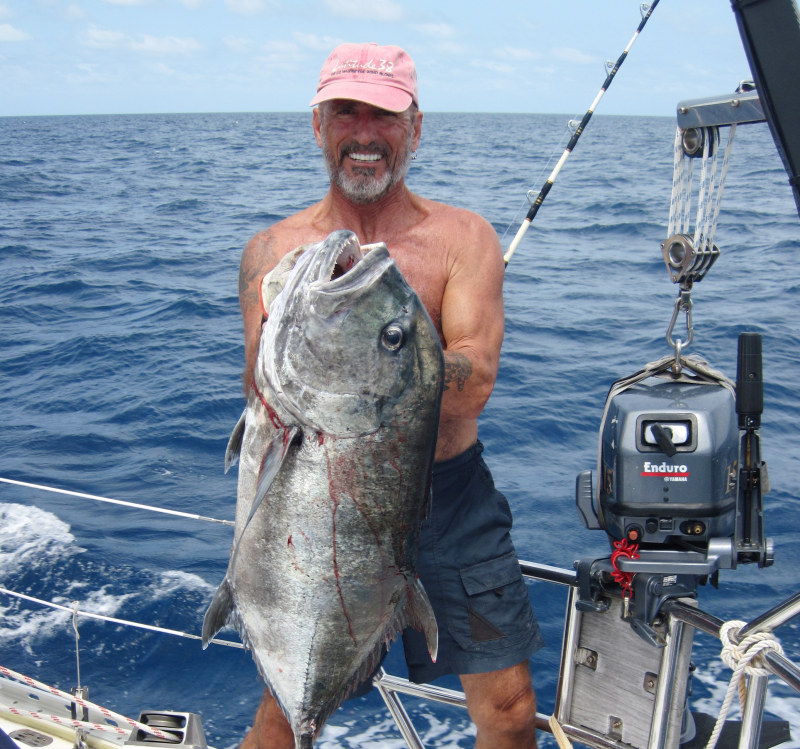 We hate to generalize, but it's probably safe to say that a majority of women love to shop for clothes and accessories, and wouldn't be caught dead wearing the same outfit or single item of clothing two days in a row.
Most guys are different — especially sailors. They can often be seen wearing the same comfortable pair of jeans, board shorts or ball cap day after day. Take Neil Farley, for example, of the Florida-based Chuck Paine 48 Attitude. In 2010, he won a coral-pink Latitude 38 hat at our Pacific Puddle Jump sendoff party at Panama's Balboa YC. And, as his wife, Kathy explains, "It's his favorite hat, and he has worn it all over the Pacific islands, in New Zealand and the Australian outback — to death, literally." Not wanting to see her shipmate fall into a funk with the threadbare-cap blues, she wrote us to plead for a replacement.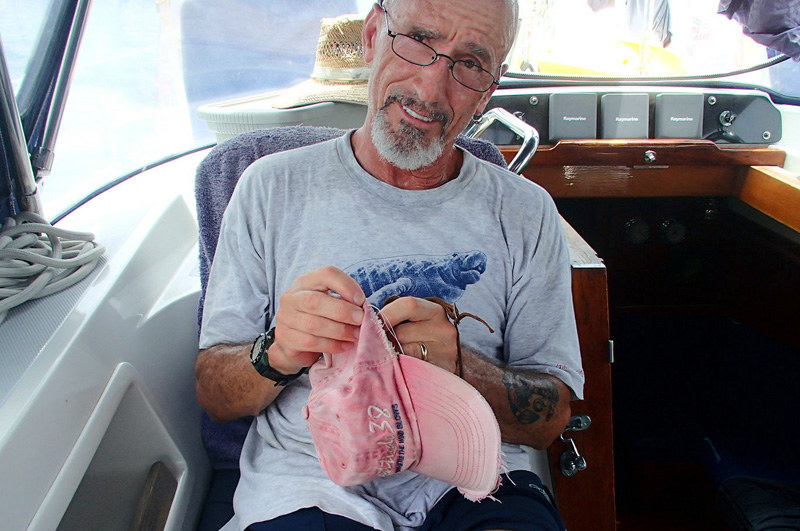 With a story like that, how could we refuse? So we arranged to get Neil a new cap — this time turquoise blue — now that Attitude is back in Central America.
But now we're curious: Neil must have sailed at least 10,000 miles with that sun-bleached cotton cap. Can anyone out there top that? Email us here.
Receive emails when 'Lectronic Latitude is updated.
SUBSCRIBE