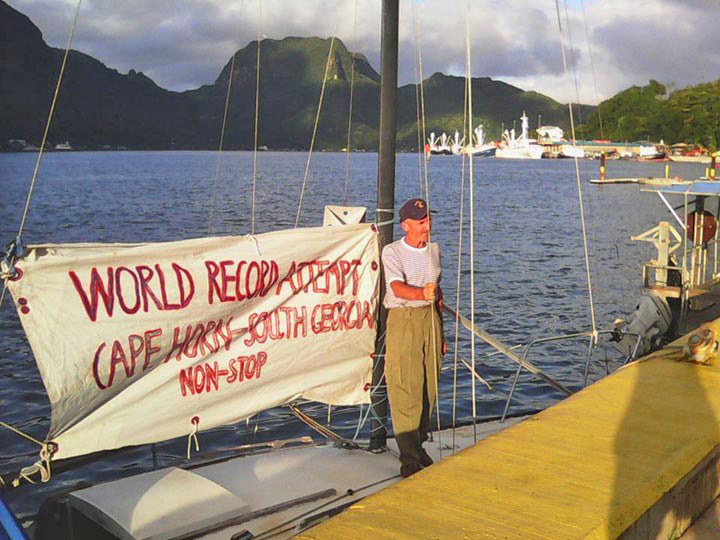 There's finally some good news from Rimas Meleshyus, the Russian-born American whose self-proclaimed 'world record attempt' of sailing a 24-ft lake boat nonstop around the world singlehanded ended last December after an agonizingly slow 121-day passage from Sausalito to American Samoa. Meleshysus now reports that he's giving up on his San Juan 24 Pier Pressure, which he acquired for $500.
"Everything inside mast not working properly," he posted on Facebook. "Many time wires stuck and would not move. Sometimes I couldn't raise the jib, and the mainsail never worked properly."
Many of the sixty-two-year-old's supporters hailed the decision, even as they pointed out Rimas' glaring shortcomings as a sailor.
"If Rimas spent money he's earned, and did the work himself, he might take care of a boat," posted Rod Koch. "Maybe that's wishful thinking, as we've seen how he takes care of stuff handed to him on a platter. He doesn't. He breaks it, complains about it, loses it overboard, leaves it out in the sun, etc."
"The problem is not the boat it's Rimas," posted Jean Mondeau, one of his biggest helpers and one who spent countless hours helping Rimas prepare Pier Pressure as best he could. "He beats his equipment to destruction out of negligence. He can break a fiberglass hammer."
And, of course, Rimas' critics were not surprised.
"Many of us have been accused and berated as being the 'voices of doom' since this 'epic adventure' began," posted David Gauci. "Now reality is rearing its ugly head as a result of Rimas not putting into action the steps he needed to succeed in his goal. Any real sailor would have pulled, inspected and repaired his rig immediately upon arrival, followed by the same inspect/repair/maintain process throughout the entire boat. I'm shocked that none of this was addressed in the five months when he arrived."
Jim Furnish reports that he spoke with Rimas by phone, and although it was hard to understand him, Rimas seemed to say he was putting Pier Pressure up for sale so he could return to California and buy another boat, perhaps a Vega 27 or a Contessa 26. Lord knows both of those boats would be more suitable for going around the world than a San Juan 24. Contessa 26s, for example, have been used for several singlehanded circumnavigations. But in Latitude's opinion, the first thing Rimas needs to do is learn how to sail. Once he becomes a competent Bay sailor, perhaps he could become a competent coastal sailor, then an open-ocean sailor. After all, he had to be towed out the Golden Gate to start his attempted circumnavigation because he couldn't sail his boat out.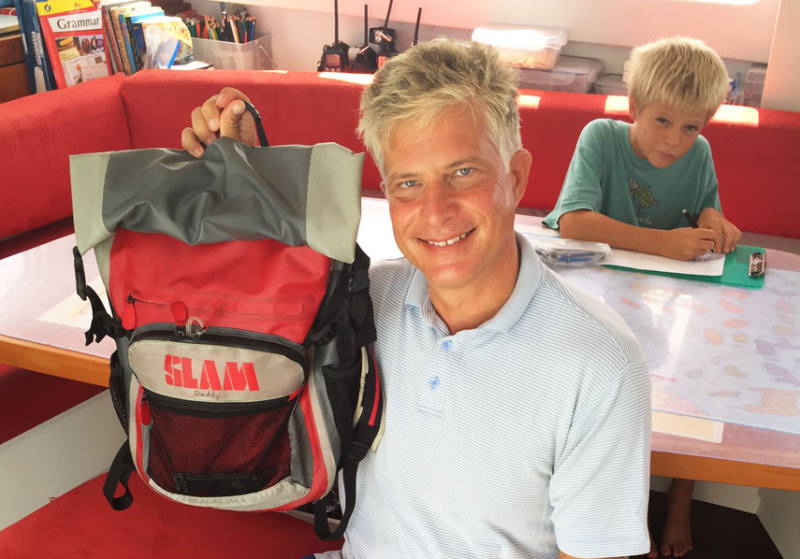 The thing that we find so amusing about this photograph is the apparent reversal of parent-child roles. What's going on is that Basil Horangic is holding up a Slam waterproof bag that he's found to be so valuable during his Menlo Park-based family's cruise from the Black Sea to the Caribbean. He has a little-boy look on his face, don't you think? Meanwhile, son Basil Jr, who is nine, is looking up from his 'paperwork' with a very skeptical parent-like 'what-kind-of-cock-'n'-bull-story-is-he-giving-you?' look. We laugh every time we glance at the photo.
We'll have a story on the Horangic family — wife Caroline, daughter Theodora, 14, daughter Helen, 12, and young Basil — in the June issue of Latitude 38, which comes out Friday, May 29. They've been doing a family cruise that's been different from most, in more ways than one. The main reasons for it have been to promote family togetherness and for the three kids to get a broader-than-normal education. And based on our conversation with them, the kids are learning a lot more than they would have, had they been in a regular school back home. Plus, they've had some pretty interesting extracurricular activities. The girls, for example, both sail Optis in international regattas, and all three kids kiteboard and scuba dive.
Receive emails when 'Lectronic Latitude is updated.
SUBSCRIBE