Undoubtedly the attitude of some boaters toward safe boating precautions is, "Yeah, whatever." But first responders such as Coast Guard air rescue personnel consider basic boating safety to be a deadly serious matter: "All too often rescue crews are called out to look for lost and injured people whose problems could have been avoided with better knowledge, planning and safety equipment." says Rear Admiral Joseph Servidio, commander, 11th Coast Guard District (which includes the Bay Area). "Make sure your boat has safety gear and that everyone wears a properly fitting life jacket. Check weather conditions, and know your limits and the limits of your boat or equipment. Everyone on the water needs to watch out for themselves, their loved ones and one another." Amen to that.
As confirmed by the just-released review of boating accidents and deaths in 2014, sailboat accidents and fatalities rank much lower than those involving most other watercraft. But in the Coast Guard's view — and ours — even one fatality is too many. (See the full 2014 report here.) Not surprisingly, the highest number of boater deaths involved alcohol. Two of the highest ranked causes of boating accidents involved operator inattention and failure to keep a proper lookout.
Given that Safe Boating Week begins tomorrow and runs through the 22nd, now is an ideal time to review your onboard safety procedures, check the condition of your safety gear, and address deficiencies. If you'd like to improve your safety education, see this link for a comprehensive list of CG Auxiliary safe boating classes (click on Boating Safety Education).
Note also that an elaborate Safe Boating Expo will take place tomorrow (Saturday, May 16) from 10:00 a.m. to 2:00 p.m. at the Coast Guard Motor Lifeboat Station Golden Gate — from which many lifesaving near-shore rescues are launched (located at Fort Baker, 435 Murray Circle, Sausalito, near the base of the north tower of the Golden Gate Bridge). There'll be tours of Coast Guard vessels and the station, bomb-sniffing dog demos, helicopter rescue demos, and free boating seminars, and free life jackets will be given away. Designed to be fun and educational for the whole family, seminars will be conducted throughout the day addressing topics such as knot-tying, weather, engines, and rules of the (nautical) road. Learn more here.
We'll be kicking off the 2015 Delta Doo Dah this Saturday evening, May 16, with a party and Delta Cruising Seminar hosted by Richmond YC from 6:00 to 9:00 p.m. The bar will be open (cash only) and complimentary hors d'oeuvres will be available. We'll have burgees and a limited quantity of logowear Sport-Tek shirts on hand to purchase (cash or check only).
RYC's commodore, Craig Perez, and his wife Ann, will present their Delta Cruising Seminar. Novice and experienced cruisers alike are encouraged to participate! Tom Lueck from Stockton Sailing Club will talk about the Delta Ditch Run and other opportunities to visit SSC.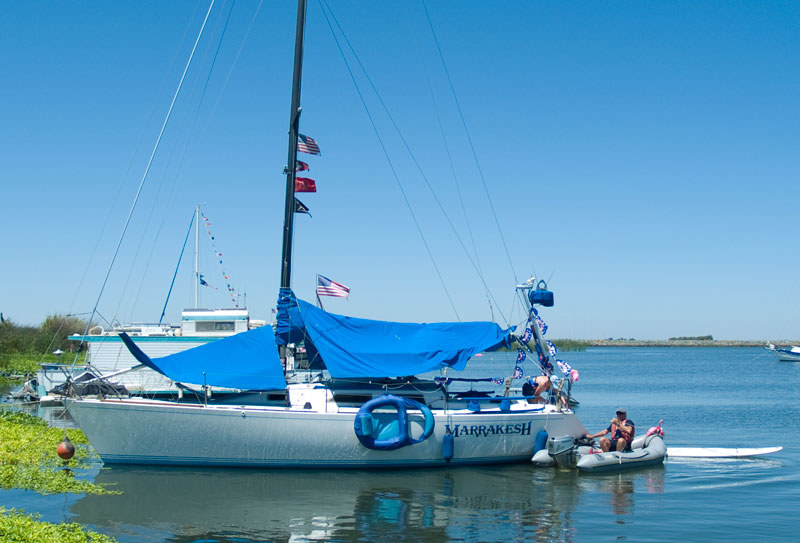 Always a favorite at our Kickoff Parties, we'll have an excellent collection of door prizes to raffle off, this year including:
An AnchorRescue from Scanmar. AnchorRescue will allow you to retrieve a stuck anchor from the bottom so you don't have to dive for it.
A gift certificate for a paddle adventure for two from Delta Kayak Adventures.
Martinez Marina will provide us with one free weekend of berthing to raffle off to a lucky winner.
Three pairs of sailing gloves from OPB-YC.
A beautiful yet highly functional bag of goodies from Owl Harbor Marina, including two coffee mugs, two T-shirts, two hats, and two hat leashes.
A $40 gift card to Rosa's at Tower Park plus a free night at Tower Park Marina on Little Potato Slough.
A pair of tickets to the Cajun & Blues Festival on June 20-21.
Because our theme this year is Lucky 7 (What Happens in the Delta Stays in the Delta), Latitude 38 will bring an appropriate surprise.
You must be present to win, and you must be registered for the 2015 Delta Doo Dah (it's free!).
Although RSVPs are not strictly required for this event, we'd love to get a rough idea of how many folks to expect, so if you can, please do drop us a note to let us know if you're coming.
Receive emails when 'Lectronic Latitude is updated.
SUBSCRIBE