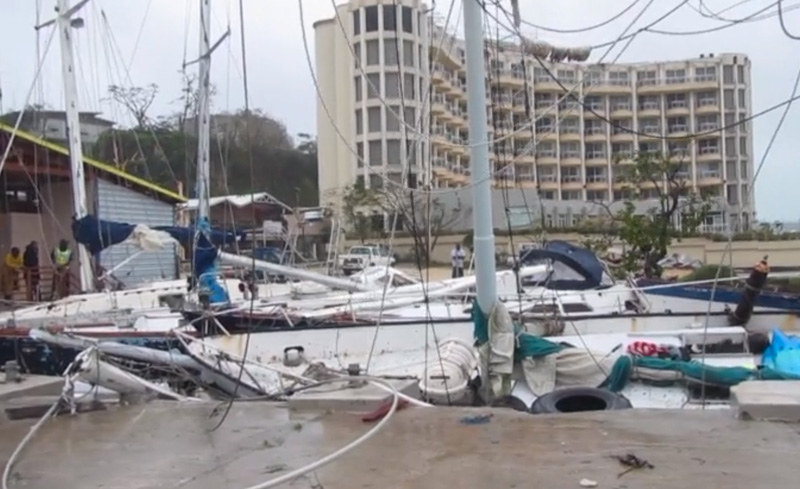 The simultaneous development of four powerful tropical storms late last week must have left some meteorologists thinking they'd stumbled into a Hollywood doomsday thriller — or were having their worst nightmare. As the graphic below shows, three storms — Pam, Nathan and Bavi — raged over waters northeast of Australia, while a fourth — Olwyn — steamed along the continent's northwest quadrant.
The worst damage came from Tropical Cyclone Pam, which steamrolled through Vanuatu's capital, Port Vila, Friday night (local time) with sustained winds of 155 mph (134 knots) and gusts up to 200 mph (173 knots), leaving a path of horrible destruction before advancing toward less developed isles of the 83-island archipelago. Officials say 90% of all buildings in the capital were damaged or destroyed. In outlying areas traditional dwellings made of sticks and thatch were, of course, completely demolished. We've seen no reports of damage to visiting yachts, but photos reveal that many were damaged.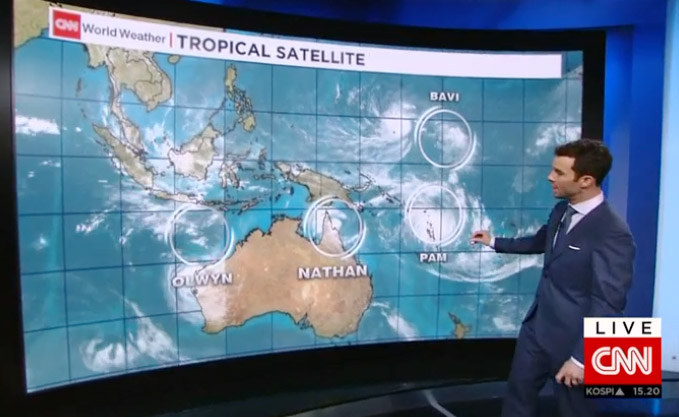 As multiple aid organizations are now arriving to give medical aid and assist with cleanup, the death toll is expected to rise substantially from the few confirmed so far. Communications, however, are still very sketchy as the capital has no electricity — or running water.
The island of Tanna, lying south of Port Vila, reportedly took more of a direct hit than the capital. On site there, Tom Perry of Care International explained, "Most people in outer islands live completely rural lives. They grow what they eat, and this will have wiped out their entire food stocks. People live in very simple accommodation, huts made of timber and palm leaves. There's no way buildings like that are going to withstand a Category 5 cyclone."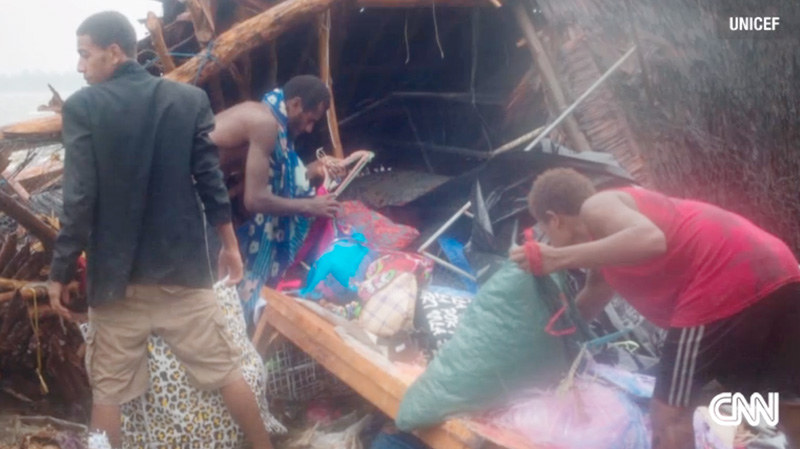 Although we have seen no detailed reports on more northerly islands of the chain, such as Espiritu Santo, which is a popular cruiser stop, prediction models showed the storm veering well to the east of Espiritu and its neighbors.
Ironically, when the cyclone hit, Vanuatu's President Baldwin Lonsdale was at a conference in Japan on disaster reduction. He believes that strong cyclones such as Pam are directly linked to climate change. "We see the level of sea rise… The cyclone seasons, the warm, the rain, all this is affected… climate change is contributing to this."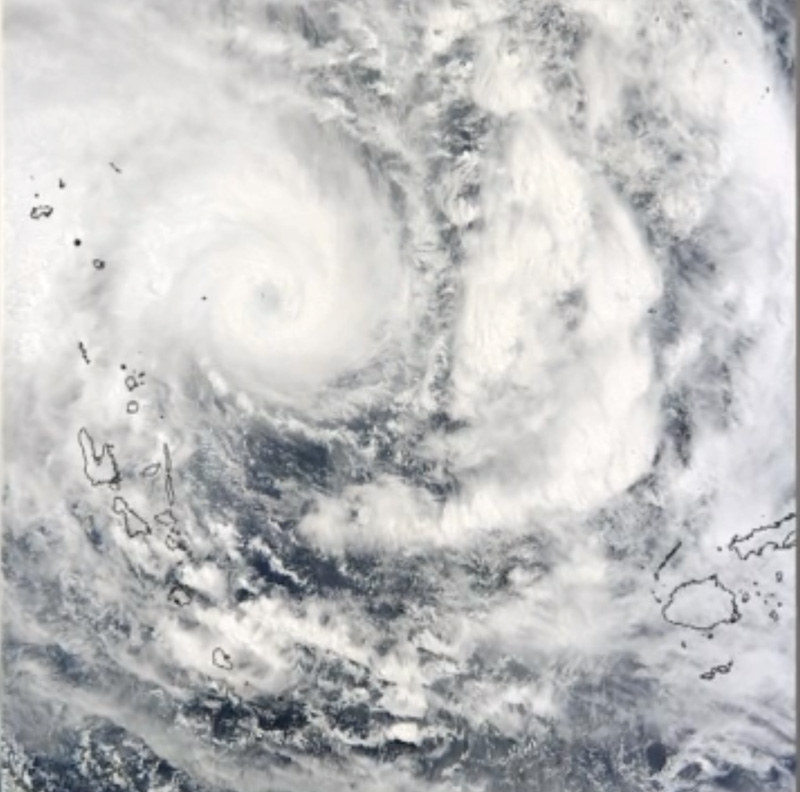 Meanwhile, Bavi has weakened substantially with 40-knot winds as it moves toward the Philippines. Olwyn hit the Aussie coast Friday with max winds of 62 mph, and since late last week Nathan has been bouncing along the coast of northeast Queensland, causing extensive flooding and wind-related damage. As it moves southwest over the Coral Sea early this week, it is expected to gain strength, with Category 1 winds predicted by the time it hits Cairns and Townsville Thursday or Friday. Both areas, of course, are renowned for their boating and diving infrastructure.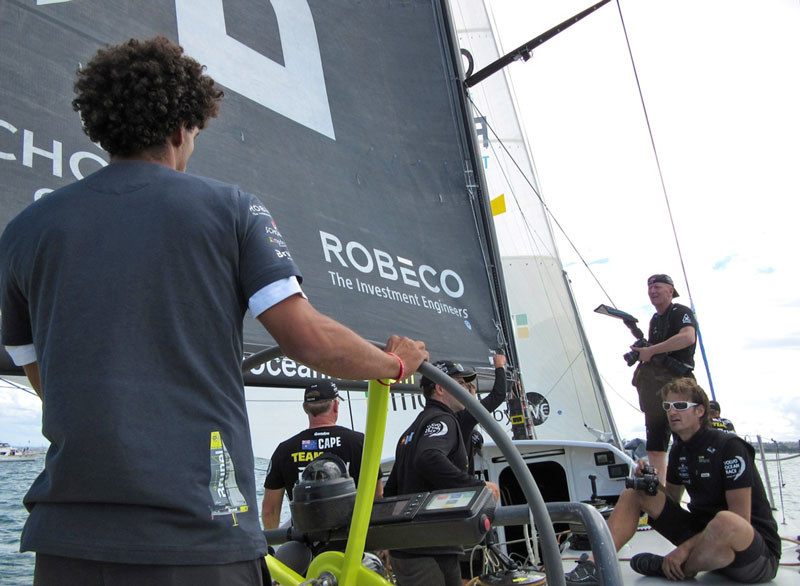 The Volvo Ocean Race's Auckland stopover is always one of the circuit's favorites, for fans and sailors alike, and this year's was no different. It all started on a perfect summer Saturday night, February 28, as MAPFRE edged out Abu Dhabi and Dongfeng to the finish, with the top three boats finishing within a span of eight minutes after more than 20 days at sea and nearly 6,000 miles of racing from Sanya, China. The entire fleet finished within seven hours of one another. With the 'City of Sails' pumping since that epic Saturday night, the VOR rolled out the red carpet for sailing fans at Auckland's centrally-located Viaduct Harbour.
Halfway around the world and just before rounding Cape Horn, the Auckland stopover is the most intensive boat-service stopover since the race's start. The fleet of VO 65s were completely torn apart and put back together in an absolutely staggering display of boat-building prowess and around-the-clock passion. New Zealand is known as being a nation of boat builders, and with the Southern Spars headquarters right down the street, the fleet will leave Auckland in top form having now sailed halfway around the world and with the most challenging leg to Cape Horn just around the corner.
Certainly the biggest story of the Auckland stopover is that of the menacing Cyclone Pam which first battered Vanuatu and then took aim on New Zealand's North Island; perhaps the most gnarly cyclone to hone in on Aotearoa in more than a decade. Race director Knut Frostad made a common-sense decision to delay the start for three days until Wednesday morning. Fortunately the storm weakened when it hit colder waters and mostly spared Auckland, creating little more than an inconvenience.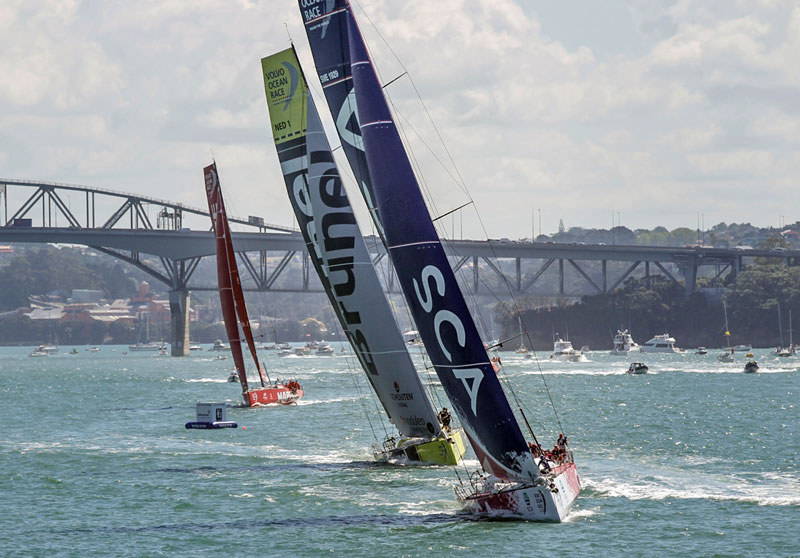 On Saturday, the all-female crew of SCA won the in-port race (their second win). While Dongfeng adds Irish rockstar Damian Foxall, MAPFRE gets Spanish skipper Iker Martínez back, SCA adds American sailor Sara Hastreiter, and former Oracle Team USA trimmer Dirk de Ridder from the Netherlands makes his comeback after the king-post cheating fiasco to bolster Team Brunel's crew list on this most challenging leg around Cape Horn to Itajaí, Brazil.
The cyclone-delayed race start will occur on Wednesday, March 18, at 9:00 a.m. local time (1:00 p.m. Tuesday PDT).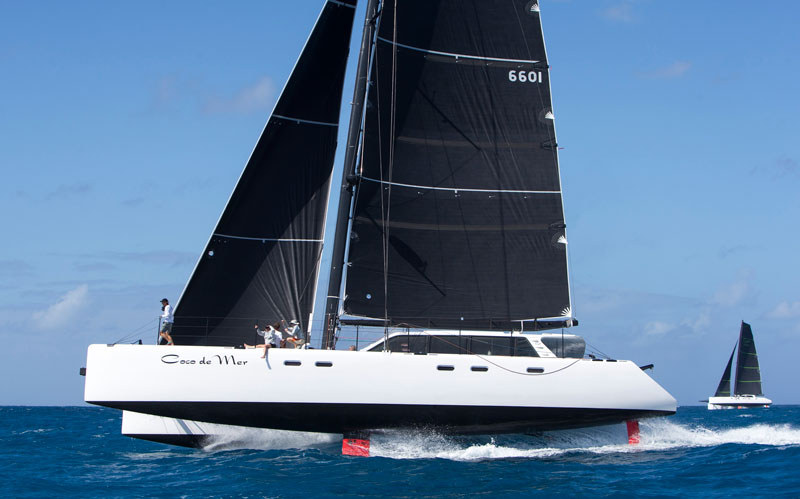 As of this morning, Transpacific YC has received 62 entries for the 48th edition of the classic 2,225-mile Transpac race from Los Angeles to Hawaii, indicating a very healthy fleet. While most entries are from the West Coast, a number are from Japan, Mexico, Australia and Canada, and there's even one from Monaco.
Given decent winds, there will be a strong assault on Alfa Romeo II's all-time monohull elapsed-time record of 5 days, 14 hours, set in 2009, as the entry list already includes three lightning-fast 100-footers. They are Wild Oats XI, co-skippered by Roy P. Disney and Robert Oatley, winner of eight Rolex Sydney Hobarts; Ragamuffin 100, the ageless Syd Fischer's super maxi, and, new from the West Coast, the redone Rio100 owned by Manouch Moshayedi, which did surprisingly well in the last Rolex Sydney Hobart.
The reason we've used a photo of two hull-flying Gunboat 66s from this year's Heineken in St. Maarten to illustrate a Transpac story is that for the first time there should be a highly competitive multihull division in the Transpac. The multihull fleet includes John Gallager's Del Mar-based Chim Chim, Gunboat 62 hull #2, which is in the midst of a total rebuild at Driscoll's in San Diego. Also new this year will be Pat Benz's Santa Barbara-based Gunboat 66 Extreme H2O. And returning from the last Transpac is Lloyd Thornburg's Santa Fe-based Gunboat 66 Phaedo, which did 428 miles in the last run to Hawaii before being dismasted. We'd actually been hoping that Thornburg would enter his new-to-him MOD70 Phaedo3, with which he just hit 40.6 knots, but the busy 35-year-old has entered her in the Transatlantic and Fastnet races.
As much as we love the hot new boats, there are three classics we're pulling for, including Sam and Willie Bell's wooden Lapworth 50 Westward, which was built in 1962. Dean Treadway's cold-molded Hawaii-built Farr 36 Sweet Okole, which he's owned almost since she was built in 1976, was leading her division in last year's Pacific Cup until the rudder broke. The Richmond YC-based Sweet Okole has sailed four Transpacs — winning overall in 1981 and placing second in 1985 — and five Pacific Cups. And, lastly, the legendary S&S 79 Kialoa III, which, under the ownership of Jim Kilroy, was probably the boat most instrumental in the growth of international big-boat racing.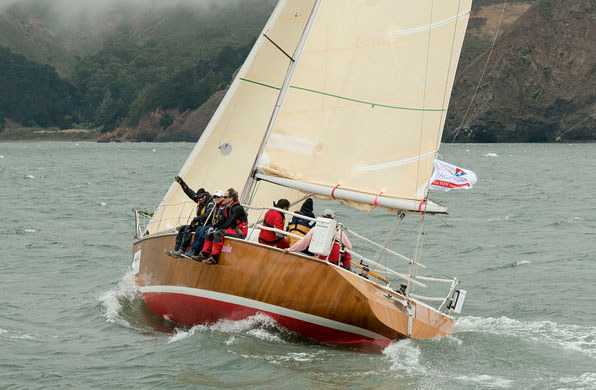 The final entry deadline for the Transpac is June 1, and the race starts will begin on July 13.
While we're on the subject of long-distance offshore racing, we want to put in a plug for the SoCal 300, the first edition of which will be held this year starting on May 22. The course will take the fleet from Santa Barbara, outside the Channel Islands, to San Diego. The race will be an official qualifier for the Transpac.
Receive emails when 'Lectronic Latitude is updated.
SUBSCRIBE