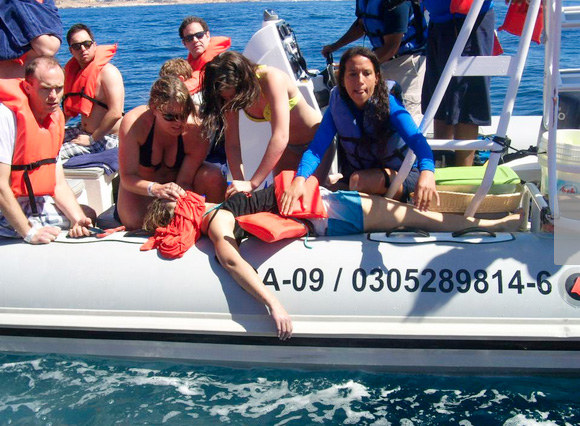 Canadian tourist Jennifer Karren, 35, was thrown overboard Wednesday when a breaching whale collided with the large RIB (rigid-hulled inflatable) that she was riding aboard in waters off Cabo San Lucas, Mexico. Despite being quickly retrieved by one of the boat's crew and another passenger, and given CPR by a medical professional who happened to be aboard, Karren was pronounced dead shortly after being transported ashore. Two other passengers were injured also. The RIB is one of several operated by Cabo Adventures out of the bustling tourist port.
As in the US and Canada, Mexican whale-watching vessels are required to stay at least 100 yards — the length of a football field — from cetaceans and other marine mammals (and 200 yards from killer whales). But as many offshore sailors know, it is not always possible to keep clear of whales despite your best intentions. Several whale species have made dramatic comebacks from near-extinction in recent decades. But the irony of that fact is that they are now a greater potential hazard to mariners, especially just off the West Coast from late fall to early spring.
In recent years we've reported on a number of close encounters with whales — some of which were life-threatening experiences. Last July CiCi Sayer's whale-watching inflatable was overturned by a blue whale off San Diego (blues are most often seen there from July – October). During the 2009 Baja Ha-Ha rally a whale collided three times in heavy swell conditions with the J/120 J World, causing her to sink, and resulting in the only offshore rescue in the rally's long history. Several years previous to that, Bernard Slabek's Freedom 36 Simple Pleasures suffered two whale strikes in a single season.
Just this week, we were shown Jared Brockway's brief video (below) of a blue suddenly surfacing dangerously close to Pierpont Performance Sailing's Corsair 31 Drei, during a charter trip in the Sea of Cortez. Crewman Bill Roberts says, "It shows how quickly the big blue emerged and changed course to avoid a collision. There was no time for us to lift the centerboard or the rudder or anything else. We owe the avoidance of a collision entirely to the gentle giant who dove below and behind Drei to let us survive to sail another day."
Video courtesy Brock Roberts, Pierpont Performance Sailing
Have you had a dangerously close encounter with a whale? If so, we'd love to hear about it. In the meantime, be careful out there.
Receive emails when 'Lectronic Latitude is updated.
SUBSCRIBE