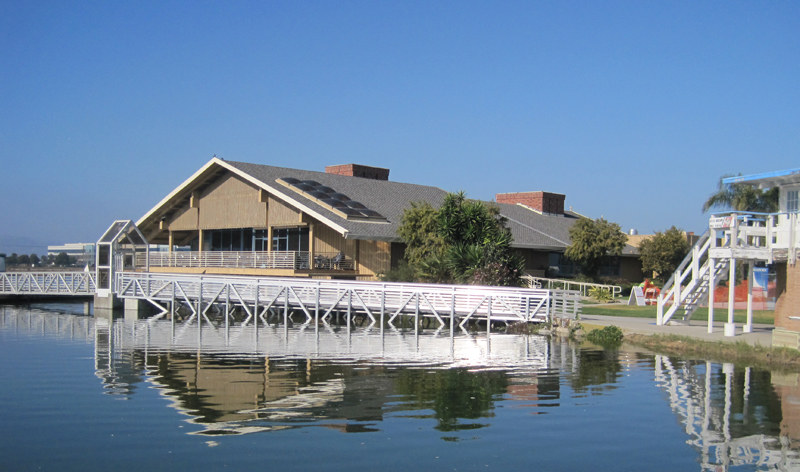 In San Francisco Bay it's always wise to plan your movements on the water with the flow of currents and the rise and fall of tides. But that's especially true today, as we're currently in a cycle of extreme — or "king" — tides. They occur several times every winter around periods when the moon is full.
At the Golden Gate today, the highest high was just 6.8 feet above the mean at 11:35 a.m., with a late afternoon low (6:05 p.m.) of -1.16. As the current flooded in this morning it maxed out at 2.7 knots, and will ebb back out again this afternoon at a max ebb of 4.4 just after 4 p.m. Not a great time to be sailing to Vallejo.
Needless to say, some waterside trails and parking lots around the Central Bay will be flooded in the middle of the day today. And in the South Bay, measurements will be really extreme: A high of 9.1 (that's no typo) is predicted today at Redwood City, down from a whopping 9.4 yesterday.
The arrival of king tides also gives us a sobering hint of what the future might look like if predictions of sea level rise become a reality. Mark your calendar: The next king tide cycle comes February 17-19. Plan to break out your galoshes that week!
Despite what you might think, copepods are not the latest, greatest racing dinghies. They're tiny crustaceans that scientists believe are the fastest animals on earth. Three meters per second might not sound like a lot, but if you scale the proportions up to the size of a human, it's somewhere in the range of 6-12 miles per second! They also happen to be bio-indicators for the health of the world's oceans.
Marin's Barbara McVeigh, formerly of Sailing Education Adventures (SEA), is an independent filmmaker with a passion for the sea. Last summer, she worked with director Carlos Graña to produce Racing with Copepods, an 18-minute film that follows 12 school kids as they learn about the environment through sailing on the Bay in Picos and aboard the Wyliecat 65 Derek M. Baylis. "They connect with the natural marine world and meet Her Deepness, oceanographer Dr. Sylvia Earle, to share a message of advocacy and hope for a healthy blue planet," says McVeigh.
Racing With Copepods trailer from Bazooka Mama Productions on Vimeo.
The film, narrated by San Francisco's Kimball Livingston, premiers at 7:00 p.m. tomorrow, January 22, at the Randall Museum, 199 Museum Way in Corona Heights Park, San Francisco. It's free and open to the public, though donations to benefit SEA are encouraged. Seating is limited, so RSVP by email. Early birds will be treated to sea chanteys by Bobbie Nikles starting at 6:30, and Graña, McVeigh and some of the student stars will discuss copepod studies after the film. "It's going to be a full house of educators, sailors, naturalists and others who care about the ocean," says McVeigh. "This project was made of magic and was a big labor of love by many."
Find out more at racingwithcopepods.com.
This weekend will be a big one for boat shows on the West Coast. The Seattle Boat Show Indoors + Afloat will start on Friday and run through February 1, with boats on the water on South Lake Union and indoor displays and seminars at CenturyLink Field Event Center. We'll have more on that show in Friday's 'Lectronic Latitude.
The Progressive San Francisco Boat Show starts tomorrow and runs through Sunday. Sailboats on display range in size from the Beneteau 20 to the Hanse 505. Paddle sports equipment, nautical gear, and a seminar program will be there too. Fred's Shed Interactive Learning Center offers free DIY clinics on boat maintenance and repair. Space is limited at Discover Boating's Hands-On Skills Training, so register for those in advance. If you want to get yourself, your kids, or your friends into sailing visit the SailSFBay booth #308, where volunteers from various Bay Area sailing programs will be helping show-goers find a path to sailing.
Parking will be available at Pier 48, and a free shuttle will run between Pier 48 and McCovey Cove. Food alcoves at AT&T Park near the entrance to McCovey Cove will offer ballpark-style fare. Food trucks will be lined up outside Pier 48; head inside the pier to find the full bar.
The San Diego Sunroad Marina Boat Show will also run January 22-25, at Sunroad Resort Marina located at Harbor Island. More than 100 new and "pre-cruised" boats on display range in size from 30 to 110 feet. Free boat rides on San Diego Bay will be available for all ages. Marine vendors, kayaks, inflatables, interactive seminars, food, "crafty" beers and steel drum music will round out the show.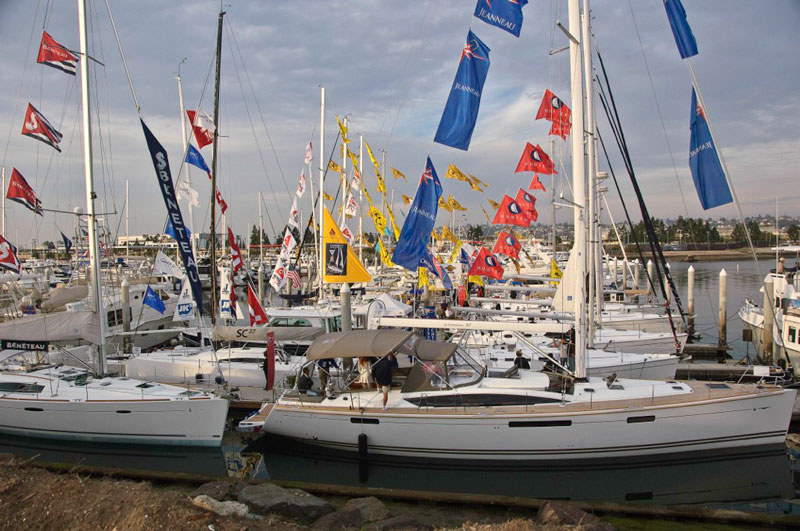 No matter which show you attend, we recommend wearing shoes that are easy to slip into and out of, as many of the boats you'll want to board have a no-shoes policy.
Receive emails when 'Lectronic Latitude is updated.
SUBSCRIBE