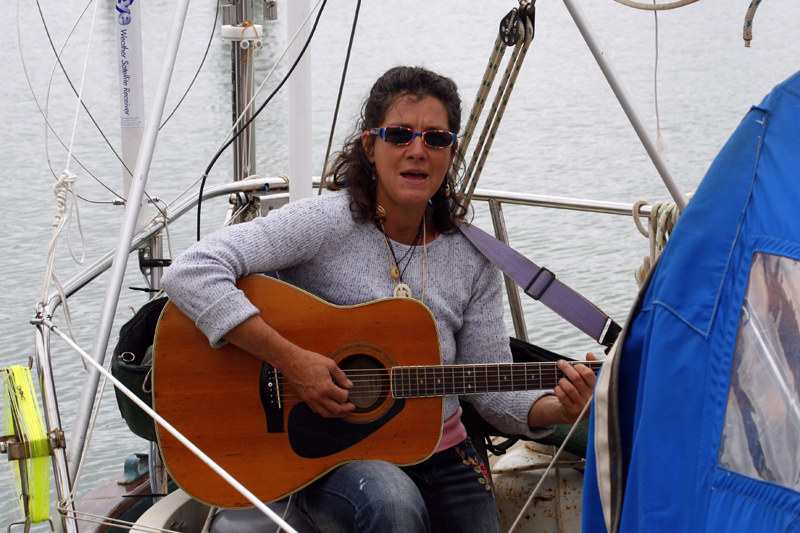 Remember Donna Lange? On March 29, 2007 this Oregon-raised, US Virgin Islands-based sailor made nautical history with the completion of a solo circumnavigation, westabout with stops, via the great capes aboard her SC 28 Inspired Insanity. In seven months she intends to set off again, but this time she hopes to do a lap around the planet nonstop. If successful, she will not be the first West Coast woman to do so. That honor went to Vancouver, BC-based singlehander Jeanne Socrates, who finished the trip last year aboard her Najad 380 Nereida. But Lange could be the first American woman to complete the circuit nonstop.
In the months before her summer departure, Lange hopes to raise money not only for her voyage, but to publish a book about her travels as well as an album of her latest original songs. Yes, Donna is quite an interesting character. A mother of four with 11 grandchildren, she is a nurse by profession, holds a 100-ton Master's License, is a published author, and plays guitar, uke, harmonica and even the steel pan. Check out her website here.
Quoting stats on singlehanders often feels like stepping into a minefield, but as far as we know, Pat Henry was the first West Coast woman to solo circumnavigate with stops (1997 in the Southern Cross 31 Southern Cross, via Panama), followed the next year by Karen Thorndike, who did it aboard the Rival 36 Amelia via the great capes. For more on West Coast circumnavigators see Latitude 38's master list here.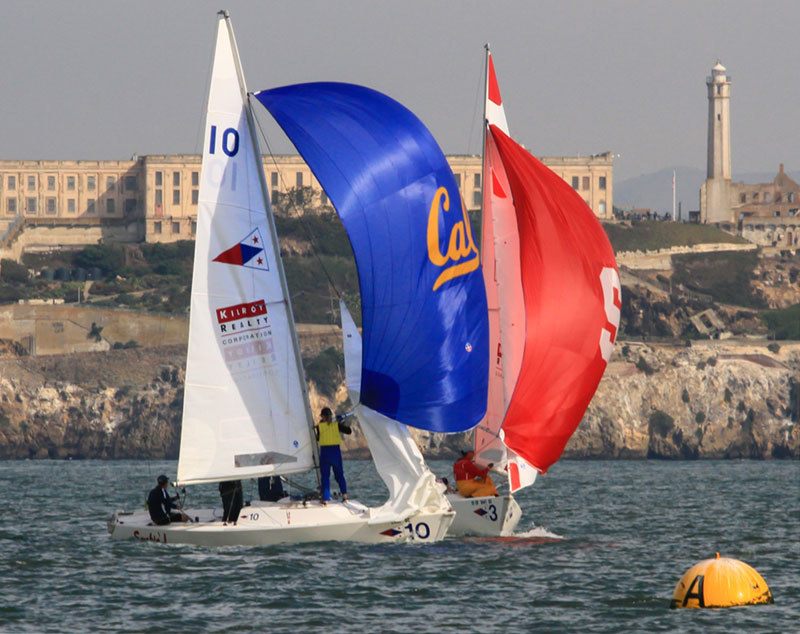 The Stanford Varsity sailing team continued their domination of the California Golden Bears, defeating the Bears for the tenth straight time in the 11th annual Big Sail. Match racing in J/22s provided by St. Francis Yacht Club, the Stanford skipper, Hans Henken, and his crew won the start in both races, and continually had Cal skipper, Stephen Bordes, and his crew off balance. The races were sailed in a 10-knot easterly, with a three-knot ebb flowing, and any mistake was quickly magnified.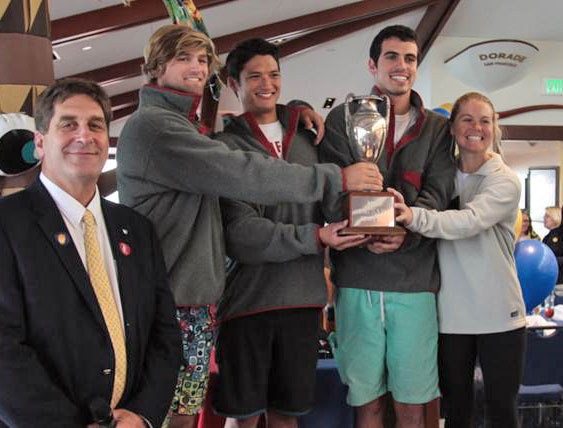 The situation was much the same in the Young Alumni (under 40) division. Skipper Nick Dugdale and his Stanford crew won two straight races over Blaine Pedlow and his Cal teammates.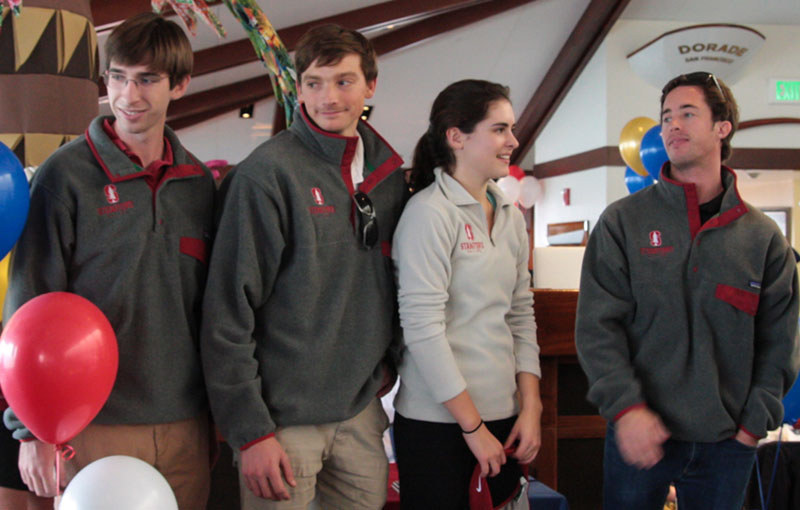 However, in the Master's division (40-59 years), Cal skipper Liz Baylis and her all-woman crew took two straight wins over the Stanford team, led by Rolf Kaiser. This is the first time that an all-woman crew has competed in the Big Sail.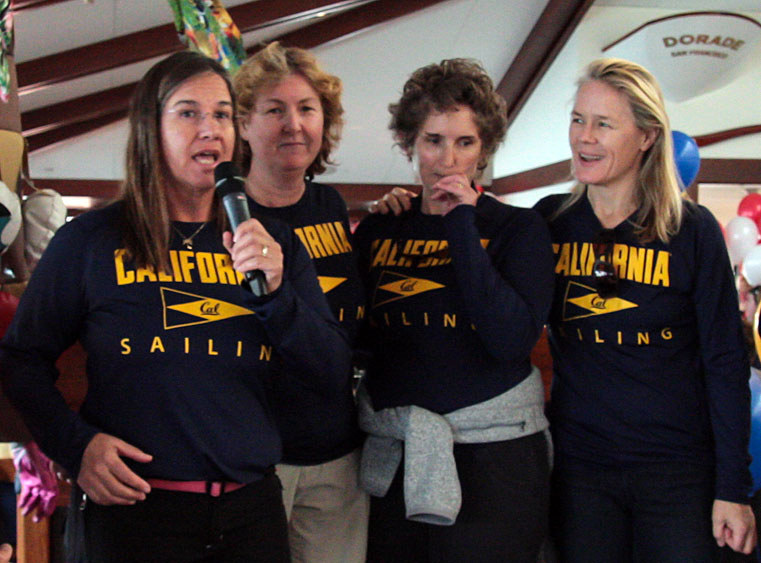 The Grand Master division was equally lopsided. The Cal team, with skipper Tad Lacey, easily defeated the Stanford Grand Masters, with Peter Szaaz at the helm, in two races.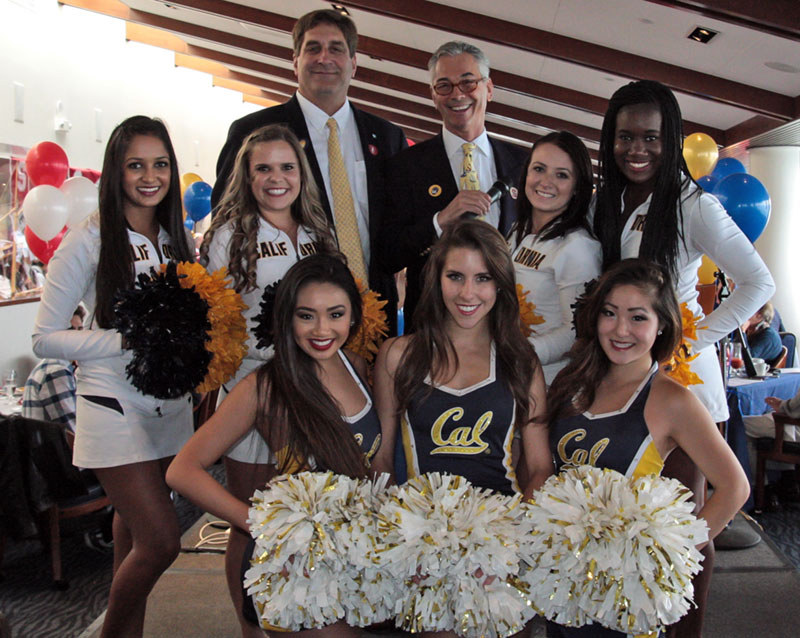 At the awards ceremony, commentators Mike Ratiani and Ron Young repeatedly asked the competitors how they might explain Stanford's dominance in the younger divisions, and Cal's dominance in the older divisions. Cal's Liz Baylis summed it up this way, "Like a fine wine, Cal sailors get better with age."
Receive emails when 'Lectronic Latitude is updated.
SUBSCRIBE