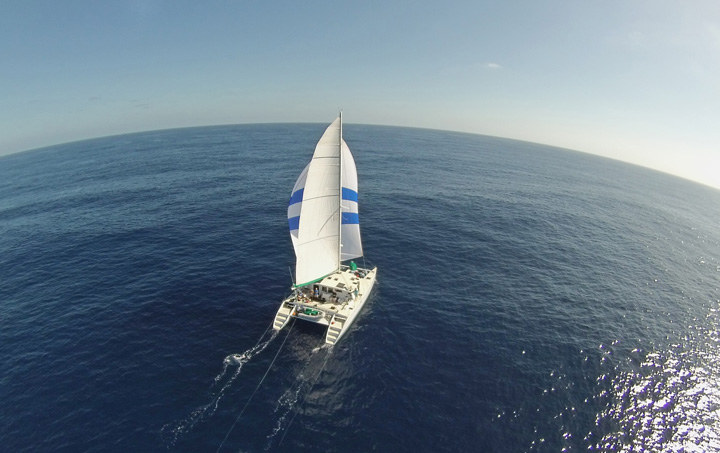 It's a credit to the inherent adventurous and beautiful nature of the Baja Ha-Ha, and the perseverance of its more than 500 participants, that this year's cruising rally was such a big success despite an unprecedented number of challenges. "I've administered the Ha-Ha for all 21 years, and sailed in 20 of them, and never have there been anywhere near so many problems and obstacles," said the Grand Poobah. "Let me list just a few."
The multiple difficulties with Mexican paperwork websites prior to the start of the event and the great uncertainty of how these problems would be resolved.
A beach party at Turtle Bay where the sandy beach had been washed away.
Hurricane Vance, an unusually late season hurricane, the mere threat of which resulted in the fleet's splitting up for Leg 2 before rejoining for Leg 3.
Losing two days of the event to the potential threat of Vance, throwing off the schedule and programs at both Bahia Santa Maria and Cabo San Lucas.
Arriving in Cabo to find that 35% of the slips had been destroyed. (It would have been nice to be informed of that in advance.)
A Cabo beach party that had to share the venue with a drinking- and sex-games program, an extremely raunchy program that had the Poobah — and three quarters of the fleet — swearing off sex and drinking for at least a month.
And, above all, very little sailing wind in the first and third legs.
The many obstacles were overcome by the following:
The second leg's being one of the two windiest in the 63-leg history of the Ha-Ha. Many boats sailed the entire second leg, often at hull speed, and Jim and Kent Milski's Schionning 49 Sea Level hit 21.7 knots with a chicken chute. Despite wind gusting to 35 knots on the beam, there were just two broken booms, a snapped carbon pole, and a couple of torn sails.
Vance not being a problem after all.
No serious paperwork problems in Mexico.
A nonetheless fine sandless beach party in Turtle Bay, with an unusual amount of fun surfing.
Spectacular Bahia Santa Maria. If you've been there during Ha-Ha dates, you know what we mean. Lots of fun surfing there, too.
Despite the lack of slips at Cabo, getting all the boats whose skippers wanted to be there into the marina.
A calm anchorage at Cabo.
Owning Squid Roe, where more than 400 Ha-Ha participants group-danced like a crazy mob — without being irresponsible idiots. You had to have been there.
And, most of all, a really great group of understanding and supportive Ha-Ha participants. The Grand Poobah felt the love throughout, and can't recall a Ha-Ha in which so many participants promised to be back for another.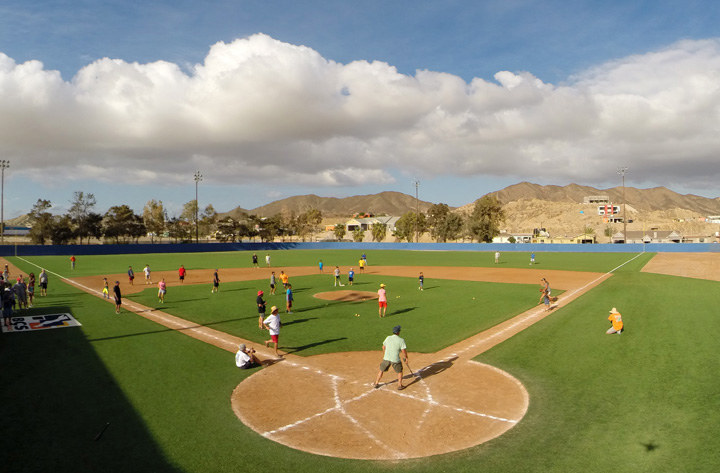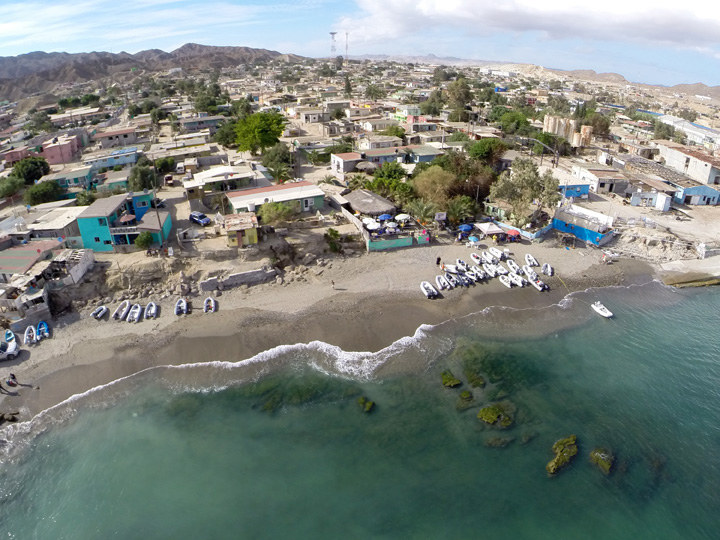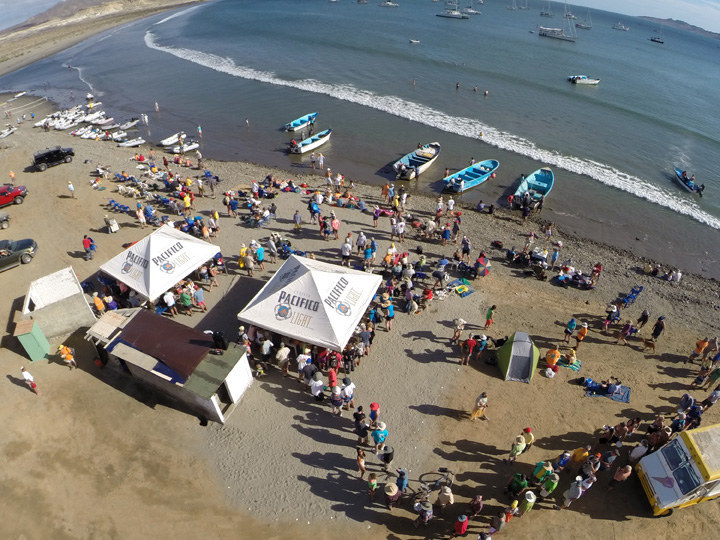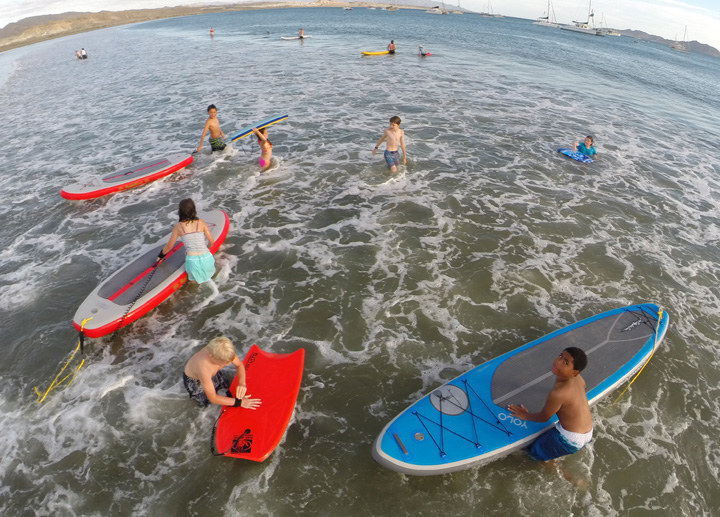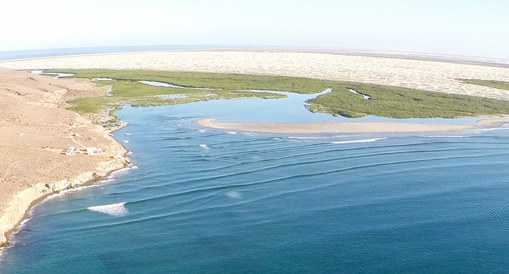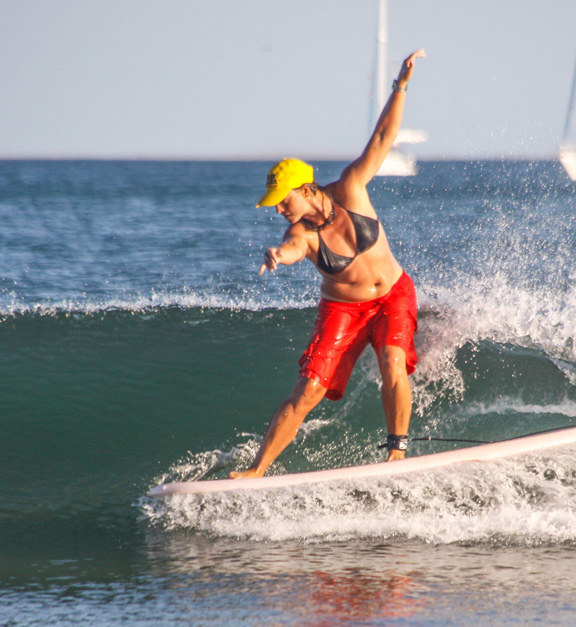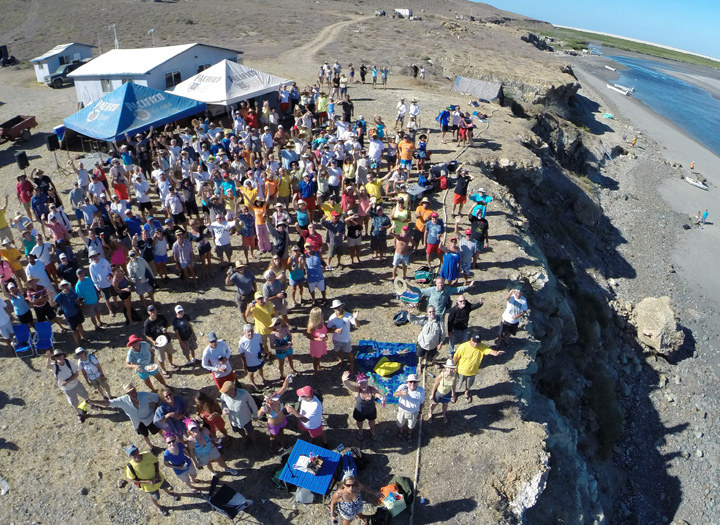 Details on Ha-Ha XXI will be forthcoming in the December issue of Latitude 38. By the way, except for a couple of damaged areas of the Cabo San Lucas Marina, Cabo looked almost the same as always. The only thing different was the striking lack of tourists.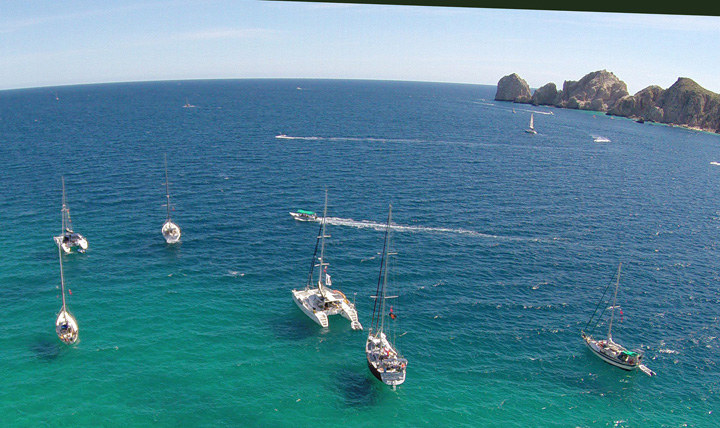 Loïck Peyron completed the Route du Rhum more than half a day ahead of his nearest competition, crossing the finish line just past midnight in Point-à-Pitre, Guadeloupe. Despite the hour, the quay was crowded with locals, excited to greet the victorious skipper. The second finisher, Yann Guichard on Spindrift 2, arrived while we were writing this story, at 14:18:46 local time.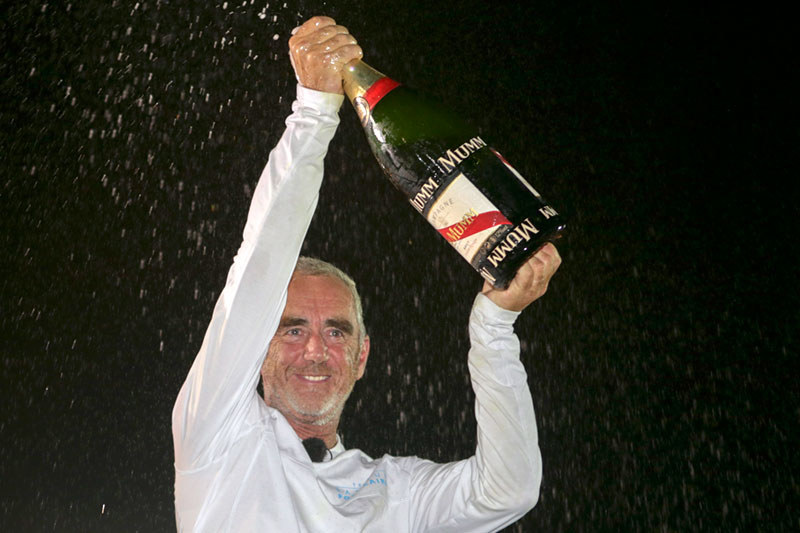 The singlehanded race started on November 2 in Saint-Malo, France. Peyron sailed the 103-ft Ultime trimaran Maxi Solo Banque Populaire VII across the 3,542-mile course at an average speed of nearly 20 knots in 7d 15h 8m 32s. (The record was previously set in 2006 by Lionel Lemonchois, who finished in 7d 17h 9m.)
This was Loïck's 49th Atlantic crossing and 18th solo voyage. He's the current holder of the Jules Verne Trophy for fastest lap of the planet. He was a last minute substitution on Banque Populaire VII, filling in for the injured Armel Le Cléac'h. "This is an exceptional situation, to stand in for Armel and to be able to skipper such a beautiful boat. This victory is thanks to Team Banque Populaire — as a whole team we did this." In 2010, the last edition, Franck Cammas won the Route du Rhum on the same boat when it was called Groupama 3.
According to Artemis Racing team manager Iain Percy, Peyron plans to return to the team base in Alameda, where he's a designer, in a few days.
A father taking his son on a sailing trip to the South Pacific is a dream come true for many sailors, but when you don't get permission from the boy's other parent, it's called kidnapping and will turn that dream voyage into a nightmare. That's exactly what authorities allege Jeffrey Hanson, 46, did when he sailed with his nine-year-old son Billy out of Seattle's Shilshole Bay Marina in early September aboard his Cooper 37 Seabird Draco.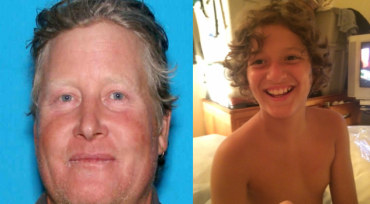 The boy's mother, Joanna Hanson, reported her son missing on September 10 when he didn't return home to Pennsylvania after a summer spent with his father in Seattle. Two days later, an arrest warrant was issued for Hanson, and the FBI sent out international alerts trying to locate Draco. The divorced couple were said to be in the middle of a bitter custody battle when Hanson, who is reportedly a two-time circumnavigator, disappeared with their son.
Draco — with both father and son aboard — was eventually located anchored off the tiny South Pacific atoll of Niue, and, on October 29, police arrested Hanson on charges of international parental kidnapping. He was flown to Los Angeles on November 3 to await extradition to Seattle to face charges in the case. It took a couple of additional days to coordinate Billy's return to his mother, but they were finally reunited on November 5.
Watch this New Zealand TV station's report on the arrest, which includes video of Jeffrey and Billy in Niue.
Receive emails when 'Lectronic Latitude is updated.
SUBSCRIBE