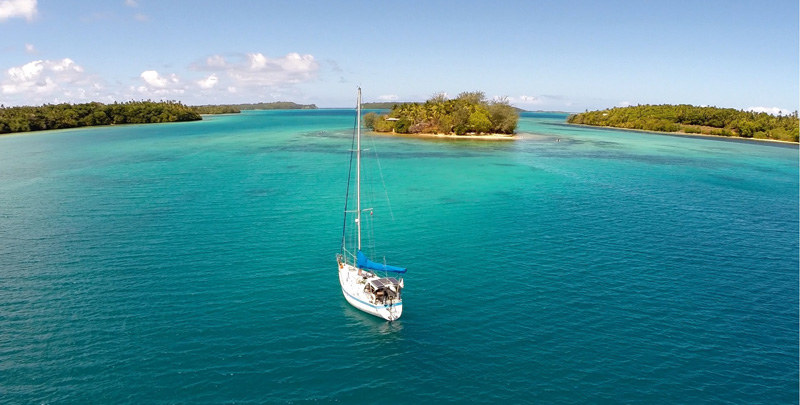 "I remember the sun rising over the peaks and the spicy floral smell of the island; the giddy feeling that we had actually sailed our home to the South Pacific." That's Livia Gilstrap's recollection of making landfall in the Marquesas two and a half years ago aboard the Victoria, BC-based Wauquiez Pretorian 35 Estrellita. At the time, she and her boyfriend Carol Dupuis intended to make New Zealand at the end of that same season. Not surprisingly, though, that game plan was radically readjusted several times — especially because these young cruisers were able to get long stay visas for French Polynesia in two consecutive years.
A note from Carol and Livia came in this morning just as we were fine-tuning plans for the 2014-2015 Pacific Puddle Jump season. Having finally pushed west from French Polynesia recently, they've been exploring the tiny island of Niue and the Kingdom of Tonga: "We swam with whales in both places and have been picking our way through the maze of fantastic anchorages and kiteboarding spots in Tonga." Nice.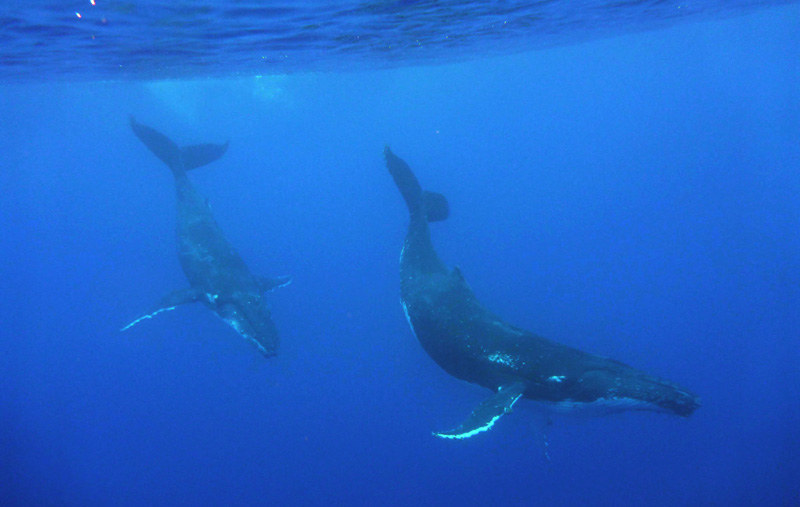 Look for more on Estrellita in upcoming Latitude 38's, and if you have an urge to head west yourself, check out details of the 2015 Pacific Puddle Jump rally in November's Sightings. Online registration for the 2015 Jump will begin in mid-November via the PPJ website.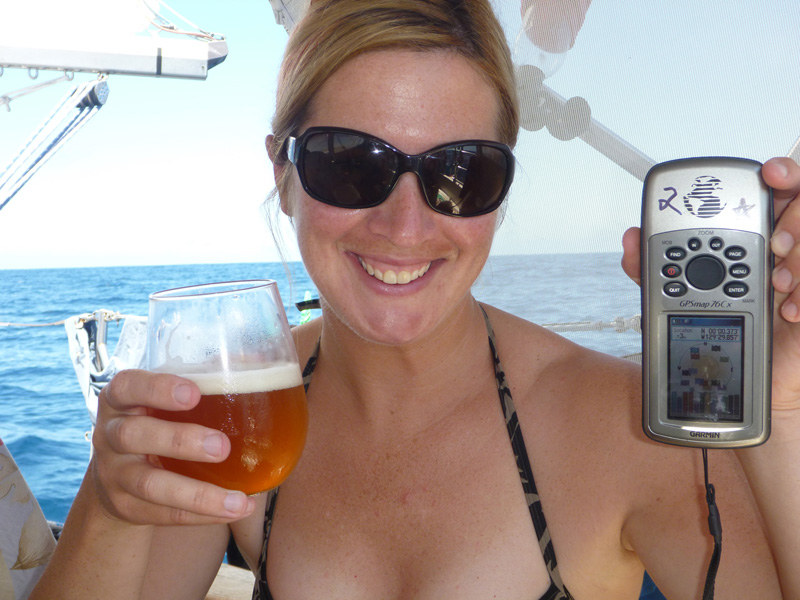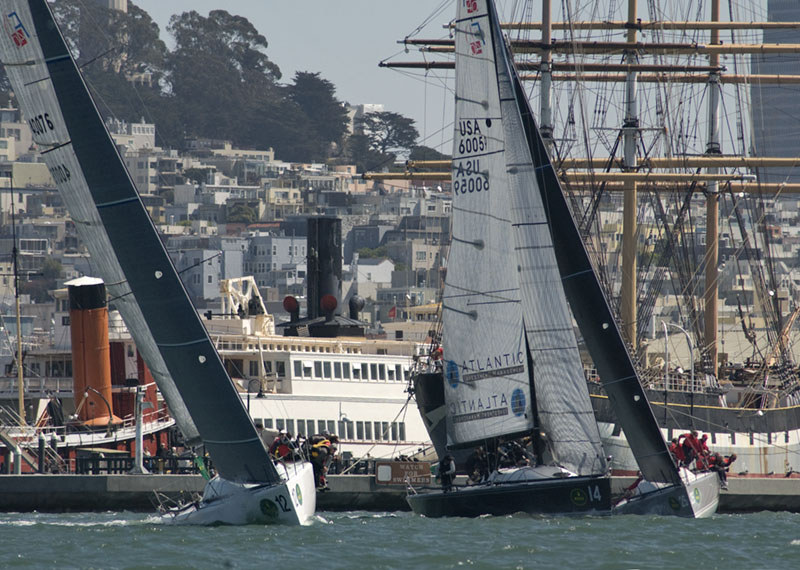 While seven teams of top-level sailors tackle the North Atlantic in the 'Everest of Sailing' (aka the Volvo Ocean Race), 19 teams, with no shortage of rock stars onboard, will be tackling the waters of San Francisco Bay this week.
Ten years after their last appearance in San Francisco, the Rolex Farr 40 Worlds return to the Bay on October 15-18, hosted by St. Francis YC. Seven countries will be represented, with Tony Pohl's Twisted the only Bay Area boat; half a dozen have come up from Southern California.
Competition in this class is so tight that last year, in Newport, RI, the champion was decided on a tie-breaker. Alberto Rossi's Enfant Terrible of Italy triumphed by virtue of having won more of the week's races than Kevin McNeil's Nightshift from Annapolis.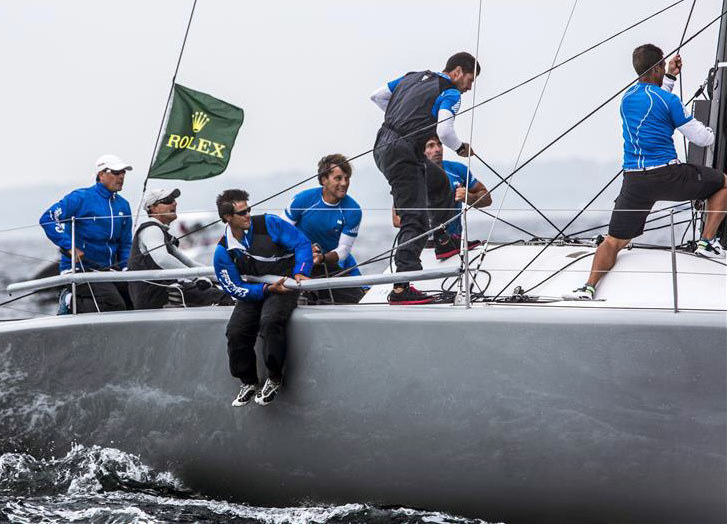 Many of the boats have been seen out practicing in the Slot and can be spotted on the hard at places like Alameda Marina and KKMI. Fifteen Farr 40s got a good sampling of late-summer conditions on San Francisco Bay while racing in the Rolex Big Boat Series (Alex Roepers' Plenty, with Terry Hutchinson calling tactics, won that regatta). However, mid-October weather on the Bay is more unsettled and variable than that enjoyed at RBBS. For instance, this week we transition from a light-air heat wave to an early-winter cold front bringing rain on Wednesday, the first day of racing.
If you were hoping, despite the weather, to hang out at the club or on the beach and watch the Worlds, you'll be out of luck, as the racing will be held on the Berkeley Circle. For much more, see www.farr40worlds.com.
"Tim Brill of Intrepid here. On Monday, October 6, I filled out the Banjercito form to get a Temporary Import Permit. It was easy. I paid my $43.40 online and received a reference number within minutes. On Tuesday, October 7, I scanned a copy of my passport and Coast Guard documentation, and emailed it to Banjercito.
Today, Saturday, October 11, I found that my TIP had been delivered by DHL Express. So no problem!"
That's great, and is a mirror image of the experience we had applying for a new TIP for Profligate. If we were someone who needed a TIP for the Ha-Ha, that's probably how we would go about it — but we wouldn't dally.
Where the problems might come in are down the road, as we know that we'll have to modify our TIP at a Banjercito branch in Mexico to reflect the fact we have a dinghy, more than nine tools, etc. But getting the basic TIP is the main thing.
By the way, we don't know what it costs to send a DHL Express letter internationally, but it's not free. Makes you wonder how much Mexico is netting on TIPs. Not much.
Receive emails when 'Lectronic Latitude is updated.
SUBSCRIBE