The Class Rule has been released for the latest generation of America's Cup catamarans, to be called AC62s. According to the designers, these boats should be faster, safer, less expensive and lighter than the AC72s that they replace. AC 35 is expected to take place in 2017.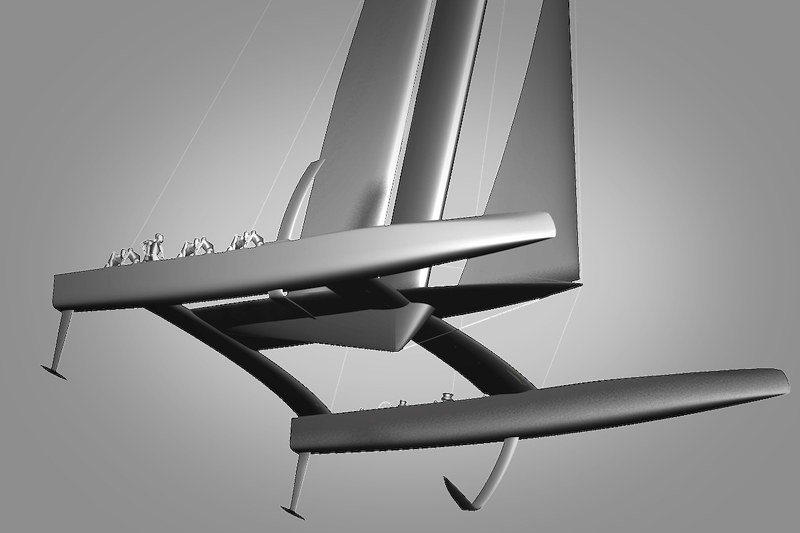 "This new boat is going to be significantly lighter and under much less load than what we raced last time," said Jimmy Spithill of AC defender Oracle Team USA, "which makes for a big cost-saving when it comes to how it gets built.
"At the same time, as designers, boat-builders, and sailors, we're all starting to come to grips with how to get the most out of foiling, wing-sailed multihulls, so I think we'll see similar, if not greater performance this time around."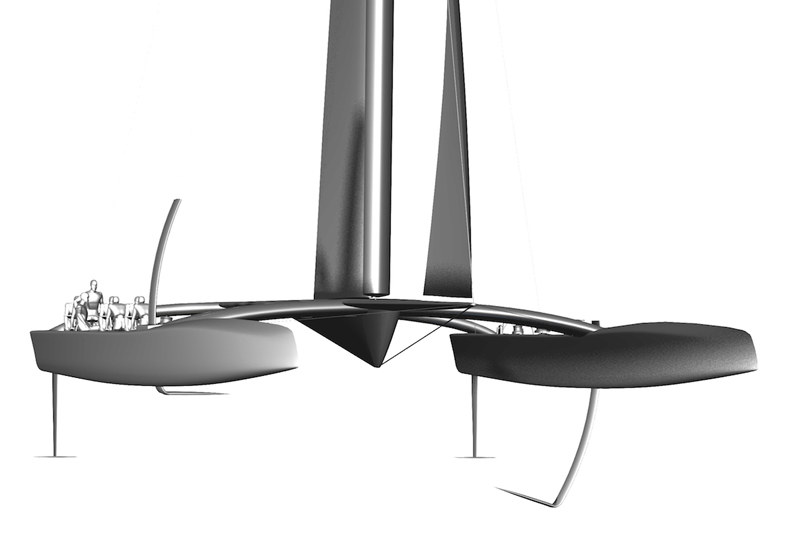 The main theme around the AC62 design was to create a catamaran as exciting as the AC72, but with significant improvements in key areas. Ultimately, these cats are expected to cost up to 50% less to campaign than the last generation of AC boats. The reduced size means that only eight crew, rather than eleven will be needed to sail the AC62. But teams won't be able to start sailing the catamarans until about five months prior to the Cup in 2017. The one-design wing is another cost-saving element that designers Morrelli & Melvin incorporated into the AC62.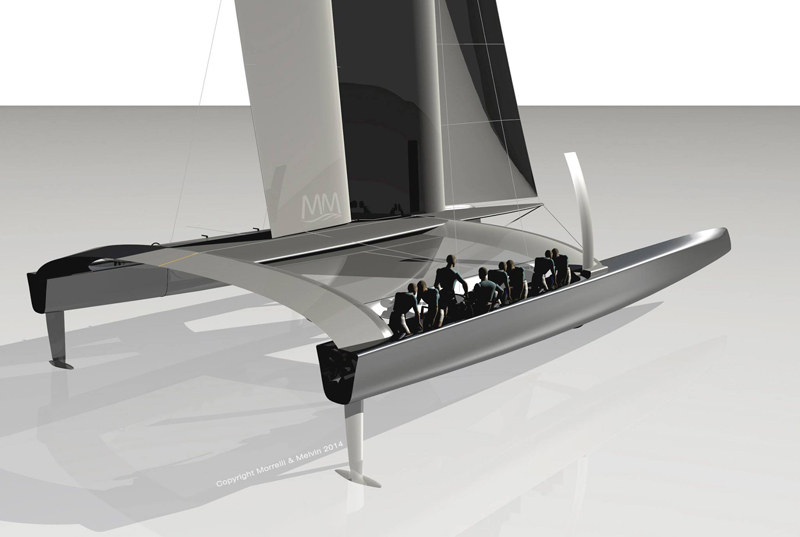 "I think it's going to be hard to wait until then," Spithill said. "It just looks like it's going to be a great boat to race. I'm really looking forward to getting my hands on it!"
Spithill also made news in an interview with TVNZ's One News where he explained that if Emirates Team New Zealand can't raise enough money to compete in AC35, maybe they need new management. It's a bold interview that you can watch here.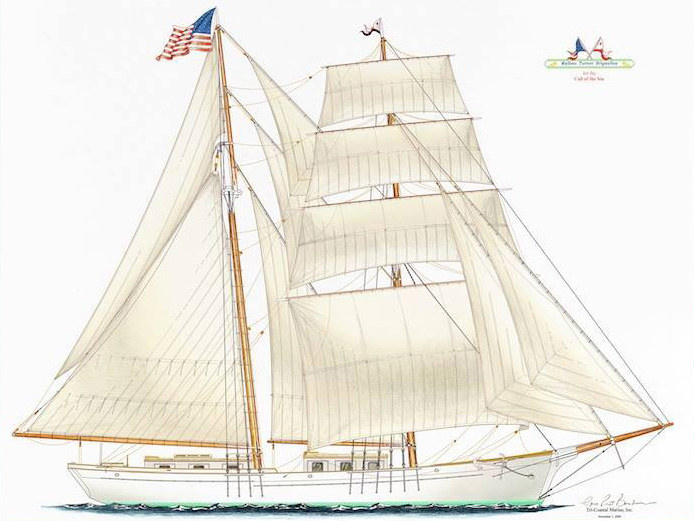 For decades it's been a sore point among Bay Area tall ship aficionados that San Francisco — despite its rich maritime history — does not have a bona fide tall ship that calls the Bay home. But thanks to the vision of local schoonerman Alan Olson and others, that sad fact will soon change.
For more than a year now, a cadre of talented shipwrights has been using both modern and age-old techniques to bring the 140-ft Matthew Turner to life. Once completed, she will serve as a platform for experiential education for "students of all ages," with programs that focus on marine ecology, sustainability, teamwork, leadership and local maritime history.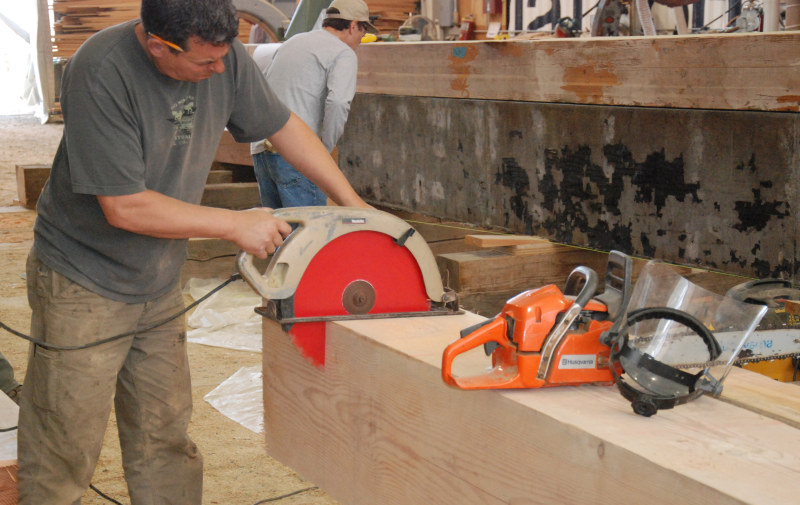 If you haven't dropped by the build site at Sausalito's Marina Plaza yet, tomorrow evening would be an excellent time to do so, as the builders are hosting their annual celebration and fundraiser — this time with a Gilligan's Island theme. (Wear your luau garb.)
The two-phase event will begin inside the construction tent, so all attendees can get up close and personal with the ship's keel and rib construction, and can check out both the detailed construction plans and the special tools used in the process. There will be live music by Sausalito's salty Waterfront Pickers, as well as great food from Saylor's, and beer and wine from local breweries and vintners.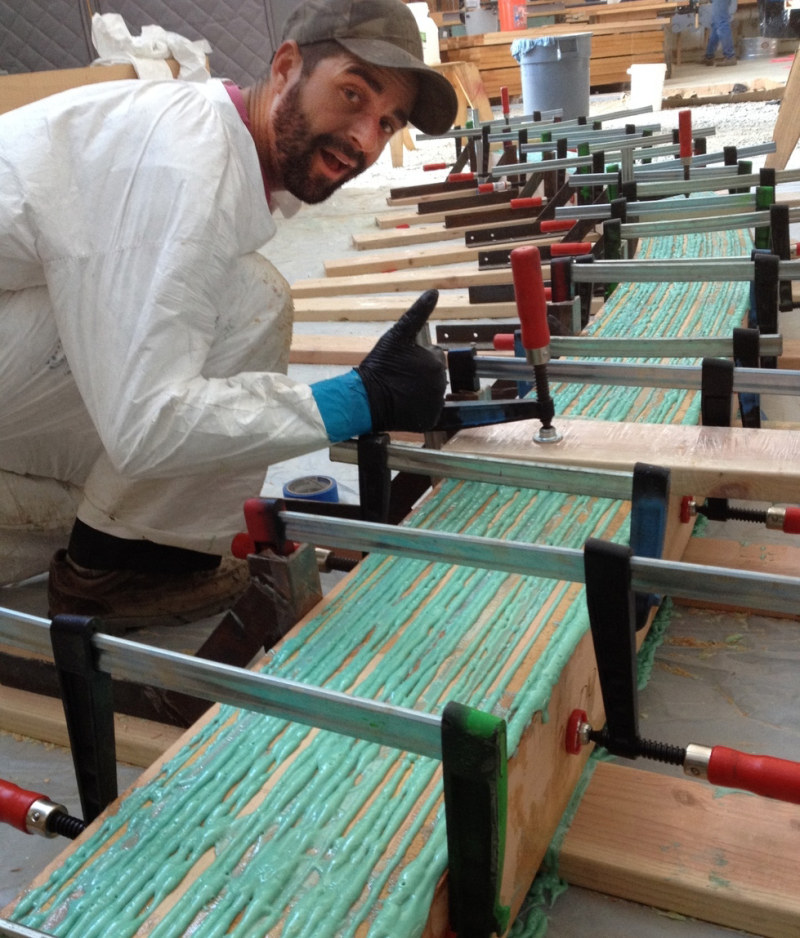 Part two of the program will be held in the adjacent Bay Model Visitor's Center, with a build-status presentation, silent auction and live music by Uphill Both Ways. The event promises to be big fun, and your attendance will directly contribute to ship's completion. Tickets available at the door, $75 for adults, $30 if under 21. The fun begins at 6 p.m. We'll see you there.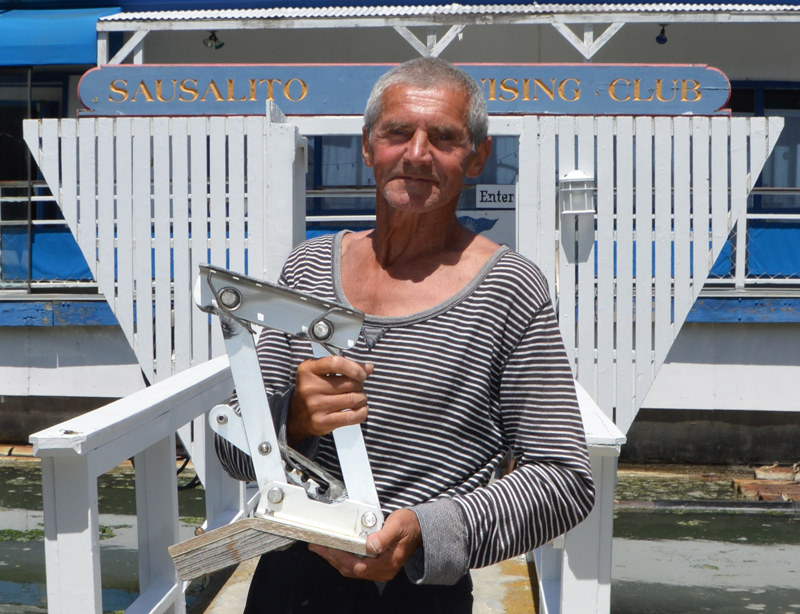 As reported earlier, Russian immigrant Rimas Meleshyus, 62, arrived beneath the Golden Gate this spring aboard his San Juan 24 Pier Pressure, ending a 56-day voyage from Hawaii.
Despite the pleadings of his friends and supporters, he is absolutely determined to sail south soon, and continue around the world via Cape Horn. He knows that his boat size, combined with his limited sailing abilities, will make this feat extremely dangerous — if not deadly — but he is eager to attempt it nonetheless.
Since Rimas' arrival, Bay Area sailor Jean Mondeau and others have been helping to upgrade the tiny sloop for greater safety and stability so that the rugged adventurer will at least have a fighting chance at success. He has no creature comforts and doesn't seek any. But one thing he desperately needs is some decent offshore foulies. "I got sooo cold at times on the trip from Hawaii," he says. So if you have a good pair of insulated, waterproof foulies — size medium — that you are willing to donate, please let us know and we'll pass them on.
We cannot condone Rimas' seemingly suicidal mission, but we have to admire his determination and spunk. He seems to have had angels looking after him thus far. So who knows, maybe he will make it around the Horn and live to tell about it.
Receive emails when 'Lectronic Latitude is updated.
SUBSCRIBE