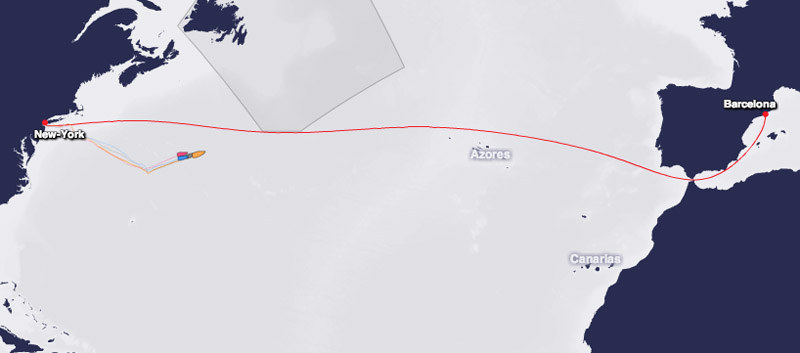 Three days into the IMOCA Ocean Masters' inaugural New York-Barcelona race, the fleet is now hurtling toward Spain on the front of a stalled depression after a slow start that saw them crawl away from the coast in light air. For the four doublehanded teams competing on IMOCA 60s, the race has seen the full range of conditions, testing both crews' tactical prowess and boat handling skills. American Ryan Breymaier and Spaniard Pepe Ribes on Hugo Boss grabbed an early lead, which fell to French team SAFRAN during the first night. The crew of Spain's GAES Centros Auditivos sailed impressively well in their older-generation Farr design, challenging the speed of their newer VPLP-designed rivals to make it a three-way battle for the lead. Meanwhile, Spanish-Chilean Neutrogena sailed slightly south of the lead trio in seemingly different conditions, and fell behind early.
Once the fleet entered the northerly winds on the back side of the depression and boat speeds climbed into the upper teens, they were faced with their first major tactical decision: when to tack. Sailing southeast, the four boats gradually hardened up on the breeze as it veered from northerly to easterly. By the time it switched to southeast, teams hedged their bets and tacked over to starboard thus heading northeast, and allowing them to gradually crack off their sheets in the southerly breeze.
French team SAFRAN continues to extend to a lead over Hugo Boss, co-skippered by American Ryan Breymaier, and these two should continue to pull away from their pursuers. Neutrogena and GAES battle for 3rd, some 70-odd miles behind the leaders, but Neutrogena should overhaul GAES and claim ownership of the position. The big question remains: Can Hugo Boss catch and pass SAFRAN for the lead? After being sling shotted off the front of this low, teams will skirt the top of a high that is being compressed by another low that is now forming before riding the westerlies at the bottom of that system. With likely the biggest tactical decisions already made in the race, the rest of the course should be a mostly downwind drag race between two VPLPs, reminiscent of the last Vendée Globe — only this time there's an American onboard. Track the fleet here.
Receive emails when 'Lectronic Latitude is updated.
SUBSCRIBE