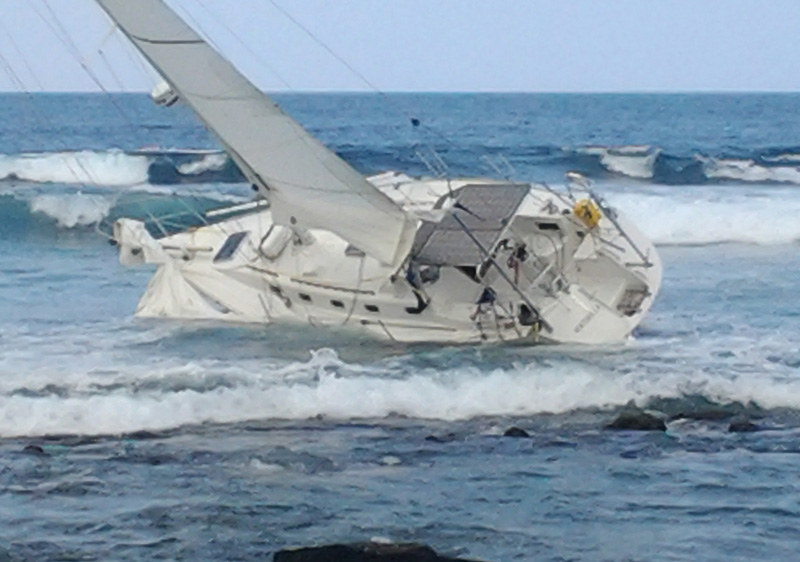 For Ventura-based sailor John Berg, who is completely blind, arriving in the Hawaiian Islands after a 21-day, 2,800-mile passage from Banderas Bay, Mexico was a life-affirming accomplishment. But he barely had time to savor his success before tragedy struck. Late Sunday night, while repositioning his Nordic 40 Seaquel from Hilo, on the Big Island's east side, to Honokohau Harbor, on the west side, the sloop was driven onto a rocky, reef-strewn shoreline near the old Kailua Kona airport in the middle of the night — just three miles from safe harbor.
A couple who'd crewed on Seaquel from Mexico departed after clearing in at Hilo, leaving Berg and his remaining crew, Dina Peters, to reposition the boat. According to friends of Berg, he lost the functionality of his navigation gear while skirting the lee shore coast of Kona, and the boat was driven ashore by huge swells at roughly 11:30 p.m. Neither sailor was injured during the grounding.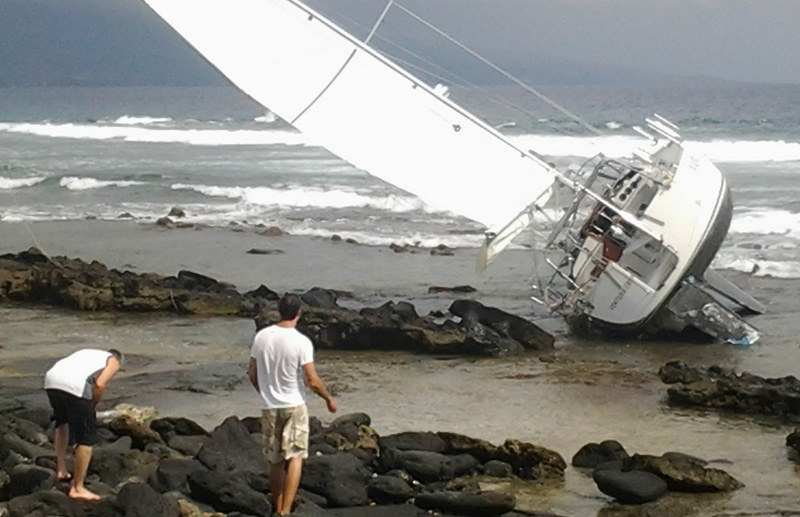 Peters reportedly tethered herself to Berg, and the pair were able to swim and scramble across the rocks and reef to safety, again without harm. Assessing the damage the next morning, an utterly stunned and depressed Berg told Hawaii resident John Dour, simply, "I f'ed up."
Berg's initial assumption was that the boat is a total loss, but there may still be some hope for her if she is pulled off soon. As of Monday there were no visible holes in the hull, but she was driven farther ashore that night. Because Berg had no insurance on the boat, and lacks the means to organize a salvage operation himself, the Hawaii department of Land and Natural Resources is spearheading an effort to remove the hull as soon as possible.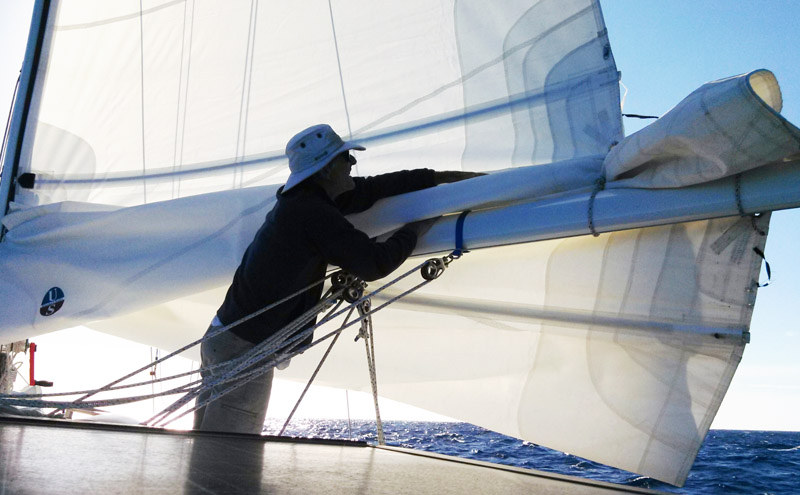 After living aboard this boat in Ventura for more than a decade with his daughter Sidney, Berg headed south with the Baja Ha-Ha rally last fall, and he thoroughly impressed his shipmates. "He knows his Nordic 40 like the back of his hand and happily goes forward to raise, reef, and lower his hanked-on headsail in all kinds of weather," said crewman John Harold. "He's physically fit and would rather pull up the anchor by hand than install a windlass." Berg has been sailing since the mid-1970s. Before losing his sight he was an active windsurfer, and once ran a bike shop in Tahoe.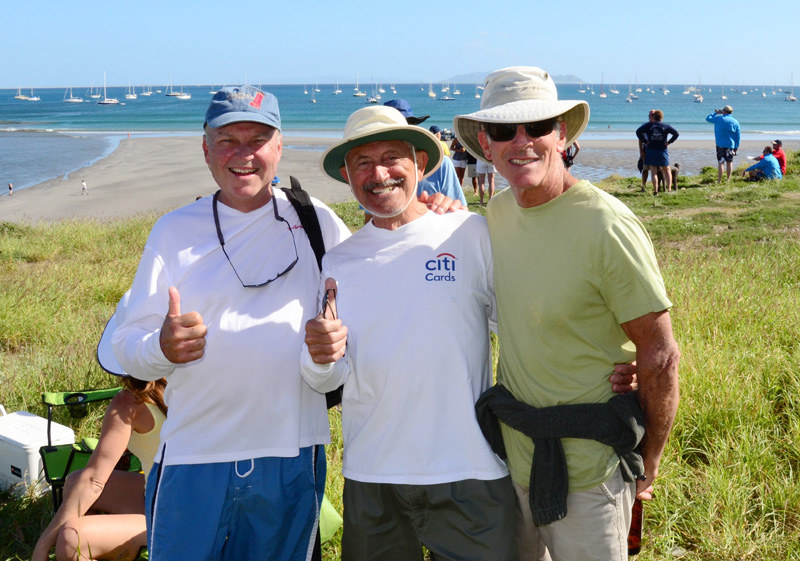 One of the best parts of cruising is meeting new people — or, as is often the case, reconnecting with old friends. Anchored in uncharacteristically warm and placid Half Moon Bay last Friday, this writer and her husband watched as several boats anchored nearby. All were flying an unusual burgee — a white triangular pennant with a wavy blue stripe across the middle. It looked familiar but we couldn't quite place it. So, on our afternoon paddle around the bay, we stopped by the closest boat and asked.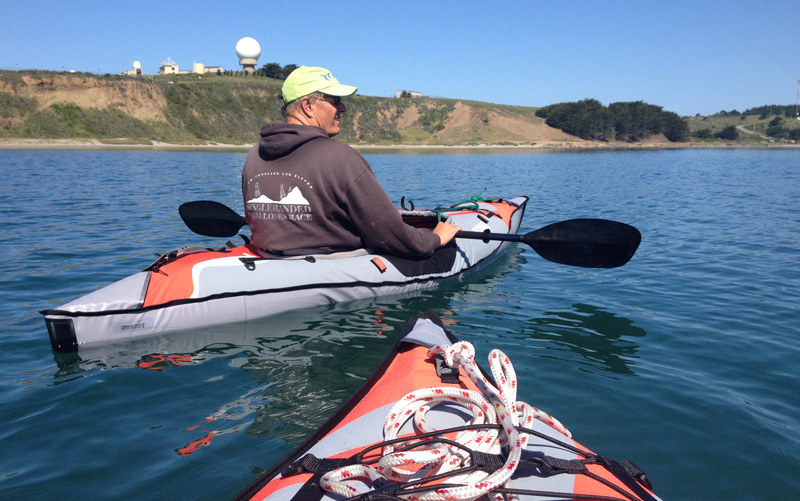 It turns out the group of five boats were all members of the Cruising Club of America, a rather elite group of well-traveled sailors, that they'd sailed down from the Bay for the weekend. We were graciously invited to join them at the Half Moon Bay YC's Friday night dinner, where we were regaled with wonderful sea tales. In attendance were Bruce and Lynne Munro of the Sabre 402 Princess, Robby and Dolores Robinson with their converted commercial fishing boat Dolores E, Zia Ahari and his crew Don on the Hallberg Rassy 31 Athesa, Mark, Jean and Kathryn Lindlow on their Nonsuch 36 Kulu, and Bob Vespa, Sue Bizio and Bob Van Blaricom on the first Bob's 52-ft 1927 schooner Scorpio.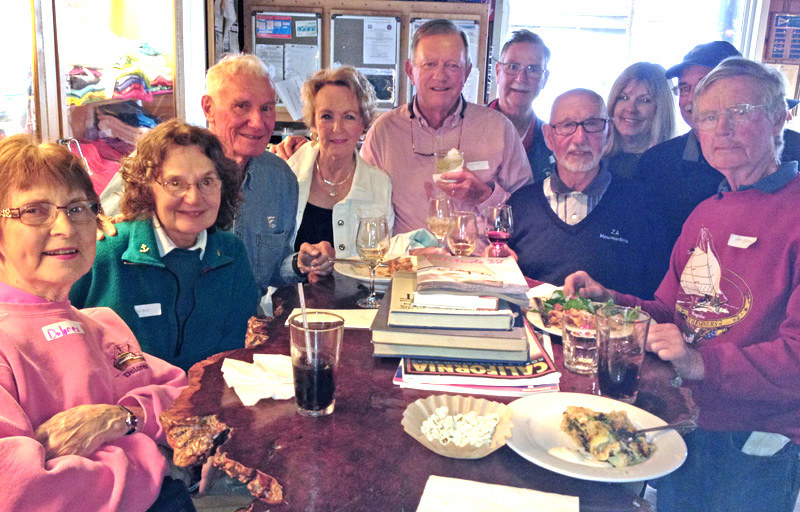 To have such an accomplished group of sailors together in one place was not only inspiring but also humbling, especially when they invited us to join them for happy hour the following afternoon. It was a weekend we won't soon forget, and unfortunately, neither will they.
Sunday morning, not long after the group had sailed out of the harbor, we watched as a schooner was towed in by the harbor patrol. At first we thought it had to be Scorpio, but we distinctly recalled she had a large stern-mounted wind generator, which this boat was missing. Then we received the call that Scorpio had run up on Flat Rock, part of Colorado Reef, in the fog, and that the boat we saw was indeed that vessel.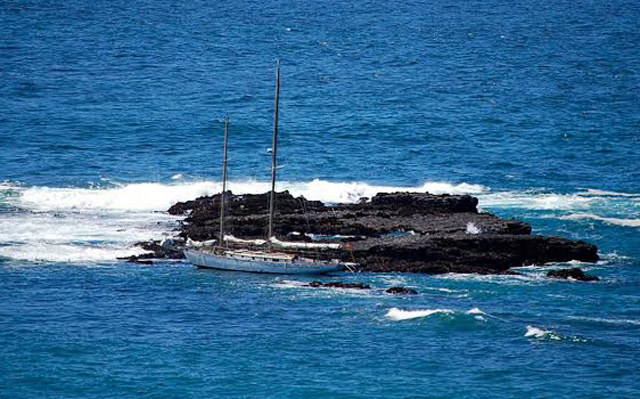 It's our understanding that at least one crew member suffered relatively minor injuries in the incident and that Scorpio was holed while she was grounded, which seemed to be confirmed by the steady flow of water being pumped overboard when we saw her tied up at Pillar Point. Yesterday morning, a Vessel Assist boat towed Scorpio out of the harbor, headed north. We wish Bob Vespa all the best with repairs to his lovely mistress and hope she's sailing again soon.
Hugo Boss' dismasting and subsequent repairs in Newport, Rhode Island may have grabbed the headlines, but there's a lot more going on in the nation's smallest state right now. Just down the river in Portsmouth, RI, the new Rambler has come out of the molds at New England Boatworks. George David's long line of offshore racing — and record-setting — maxis, most famous for the dramatic keel failure and capsize of Rambler 100 in the 2011 Fastnet race, continues with Juan K's newest design theory applied to an 88-foot length. Photos of the new hull are limited, but initial impressions appear very scow-esque.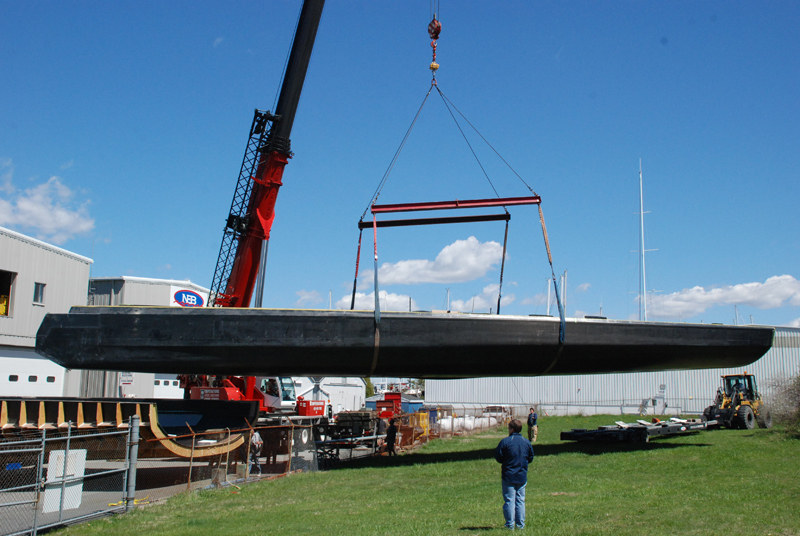 Also in Newport is a fleet of five Class 40s racing in the fourth annual Atlantic Cup presented by 11th Hour Racing. Numbers may be down this year when compared to the past, but the racing and competition are anything but diminished. Beginning May 10 in Charleston, the fleet beat and then reached out of Charleston Harbor under double-reefed mains and solents before entering the open ocean, turning left and putting up spinnakers. A three-way battle for the lead ensued through 648 miles of challenging racing to New York. At the end, the top three boats fought light wind and an outgoing current for three hours before limping across the finish line of Leg One within minutes of one another.
Leg Two saw the Class 40s race 231 miles from New York to Newport, again staying within sight of one another for the duration of the leg with JeffreyMacFarlane.com beating Dragon to the finish by just one minute and 20 seconds, to break Leg 1's record as the closest leg finish in Atlantic Cup history! The fleet is in Newport now, where the 2014 Atlantic Cup champion will be decided during inshore racing this weekend, as there is a two-way tie for first place with third place just two points back.
Receive emails when 'Lectronic Latitude is updated.
SUBSCRIBE