A well-known cruising family from San Diego were awaiting evacuation from their boat about 900 miles southwest of Cabo San Lucas this morning after their one-year-old daughter Lyra fell ill. Eric and Charlotte Kaufman, 35 and 34, left San Diego in 2012 aboard their Hans Christian 36 Rebel Heart with their young daughter Cora (now 3). The family has spent the last two years cruising Mexico, and along the way, baby Lyra joined the crew. They keep a popular blog at www.TheRebelHeart.com.
The Kaufmans' plans were to cruise the South Pacific this year before continuing on to New Zealand, and by all accounts, the crew and boat were well-prepared. Rebel Heart left La Cruz on March 20 as part of the Pacific Puddle Jump, but yesterday they called for help when Lyra became critically ill. Four pararescuemen from the National Guard parachuted down to the boat yesterday to provide medical assistance.
Details are still sketchy, but initial reports by the medics say that Lyra was suffering from a serious heart ailment and required more medical care than could be provided aboard Rebel Heart. At last word, she was in stable condition. The crew of an HH-60G Pave Hawk helicopter is underway today to transport Lyra to a nearby Navy frigate, which will take her the rest of the way to shore. It's unclear whether the entire family will be evacuated.
Bay Area sailor Larry Jacobson made headlines in 2007 when he and partner Ken Smith became the first openly gay couple to circumnavigate the globe. Today, Jacobson is making headlines of a different sort.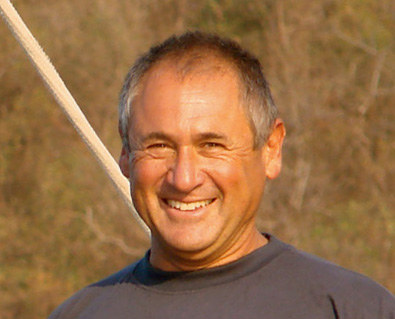 According the online newsletter Bay Area Reporter, Jacobson, 59, filed suit March 13 against various entities of America's Cup 34 for wrongful termination and other complaints. He had worked as a VIP spectator boat captain during last summer's AC events. In the suit, the Reporter notes, Jacobson claims he suffered "humiliation, emotional distress, and physical and mental pain and anguish" as a result of sexually oriented taunts by AC managers. He is seeking damages in excess of $25,000, according the Reporter. In addition to his claim of wrongful termination, he has cited sexual orientation discrimination, failure to pay overtime, and failure to pay wages upon discharge.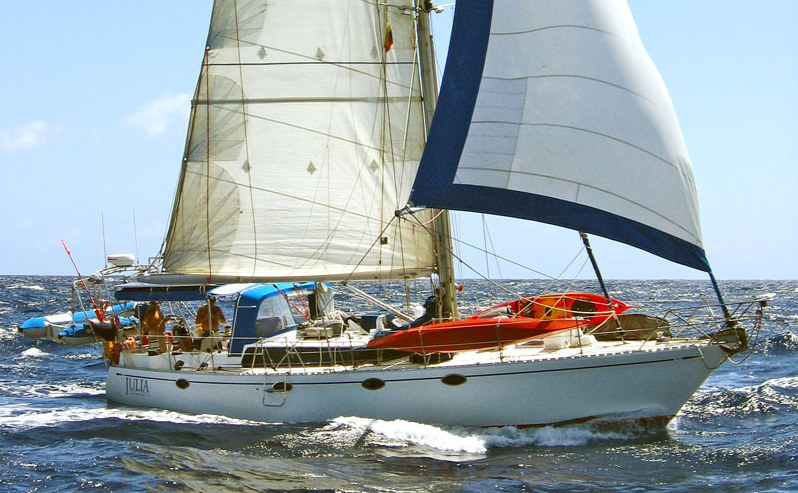 After Jacobson returned from his six-year circumnavigation aboard the Stevens 50 Julia in 2007, he published a book about his and Smith's adventures titled The Boy Behind the Gate. He now works primarily as a motivational speaker and business consultant.
Just about every sailor we know thinks that a reality television show based on cruising would be a great idea. We don't share that opinion, as we'd prefer that reality TV and cruising never cross paths.
Nonetheless, Mark Fife, President of Attitude Adjustment Sailing, LLC, is progressing with his idea to develop "a TV series focused on the cruising lifestyle," and he tells us that, "My production house thinks it is time for me to look for crew and other boats to feature in the show." He's asked us to get the word out.
"I am looking for two females to round out the Catalina 445 Attitude Adjustment crew," Fife writes, "and a young couple with kids and a boat ready to leave on the Baja Ha-Ha. I would also like to see if there is a couple over 40 with their own boat and crew. We will be shooting 13 episodes of Attitude Adjustment Sailing between October and June of 2015. We will be leaving from San Francisco, and end the season on the west coast of Florida. If the show is picked up for a second and third season, we will continue up the East Coast of the United States, across the Atlantic to the British Isles, and then into the Med."
"There will be cash compensation for the participants; however, I don't know the amount at this time."
Fife can be reached by email and/or visit the website. We'd give you his phone number, but knowing how many people are dying to be famous, we think that would be cruel.
We want to make it clear that Latitude does not know Mr. Fife and has absolutely nothing to do with this proposed project. So if you respond, you're entirely on your own.
Receive emails when 'Lectronic Latitude is updated.
SUBSCRIBE