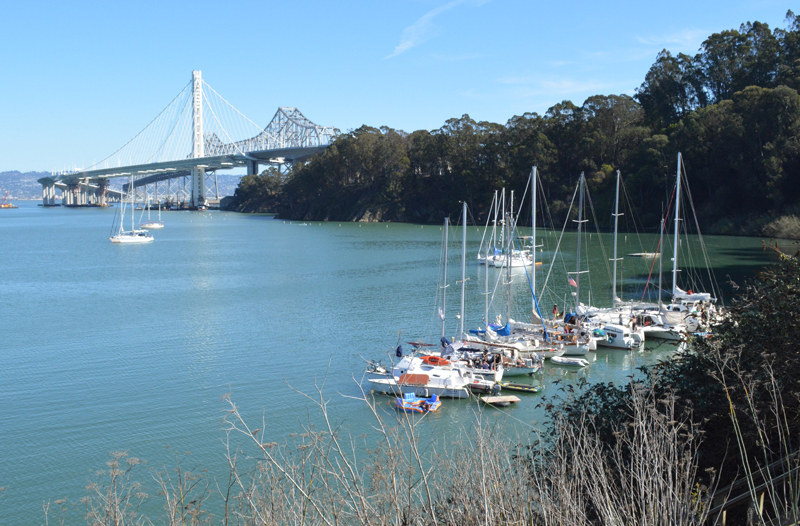 Who says you can't cruise in the winter? Nearly 20 boats proved that theory wrong at Clipper Cove this long holiday weekend. Of course, most of those boats belonged a group of young (and young-at-heart) sailors who do everything they can to raft up at Treasure Island at least once a month.
While Saturday was overcast and gloomy, Sunday offered up what has become typical of this winter: Gorgeous sunny skies and warm temps. As much as California needs rain, there were more than a few sailors out this weekend who were thanking their lucky stars for the 'terrible' weather.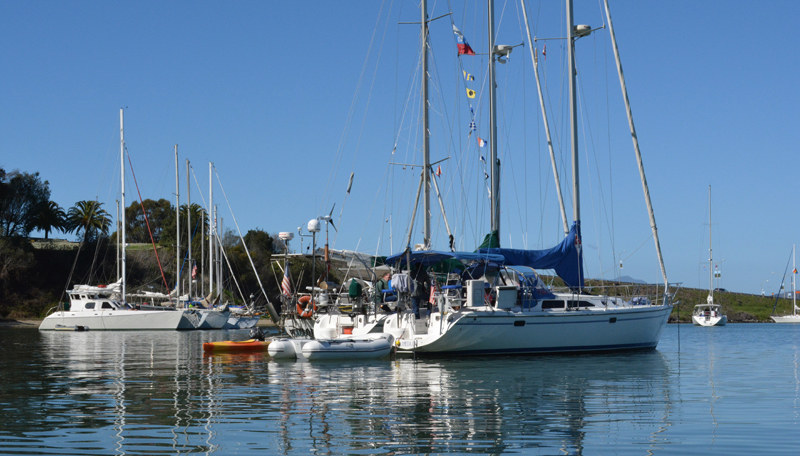 In addition to the big raft-up, three boats from the Catalina 36 Association enjoyed a mini-cruise-out as well — even though one of them wasn't actually a Catalina at all. Jeff Berman, of the Alameda-based Catalina 36 Perseverance, is the cruise director for Fleet 9. He explained that three-day weekends usually take the fleet out the Gate, but a variety of factors led to his changing the destination to Clipper.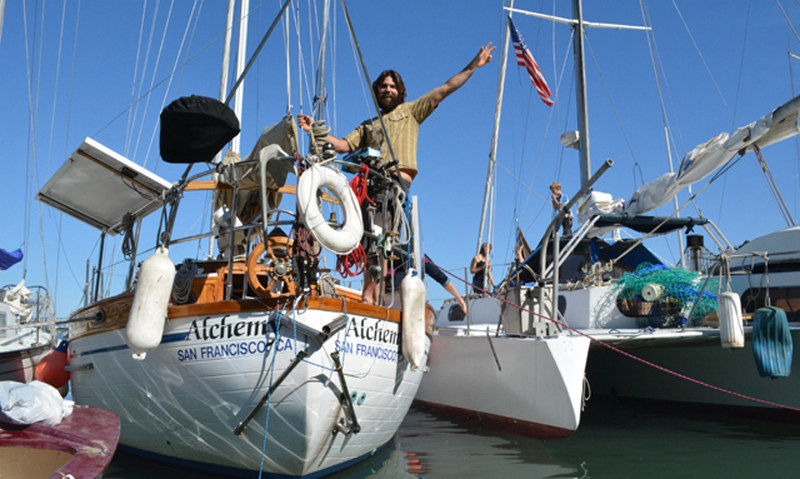 "By then I only had one boat confirmed (Alameda's Mike and Dana Ashmore of Pleiades), and then our friend Dale Jennings joined us." Jennings, by the way, built his Vallejo YC-based Sampson 37 Penelope in the early '80s and has sailed her as far as Australia — with his wife and kids — and is currently planning a trip to the Solomon Islands.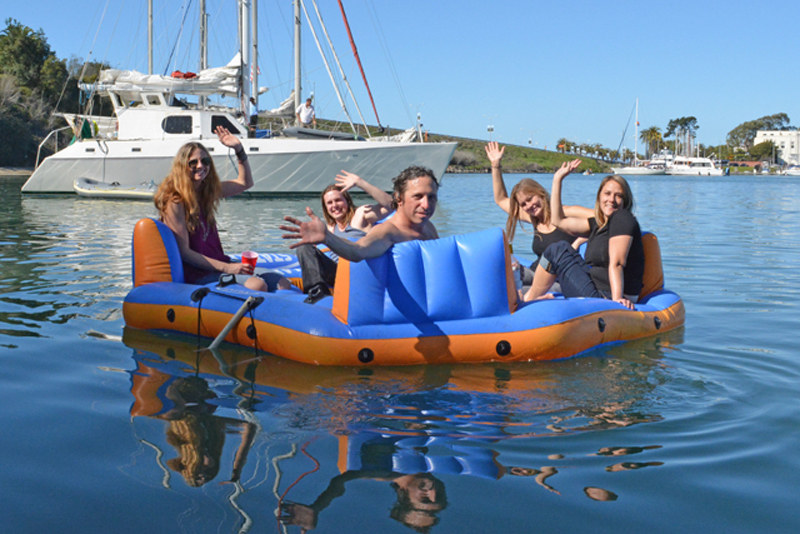 While we all pray for rain, don't forget to take the time to enjoy what the weather gods are giving us: The chance to cruise San Francisco Bay in the winter — and make all of our Facebook friends jealous while they shovel out their driveways.
Tere Grossman, president of the Mexican Marina Owners Association, has provided us with a list, complements of the AGACE, of the boats that were 'Reviewed', 'Embargoed', and 'Liberated' in Mexico.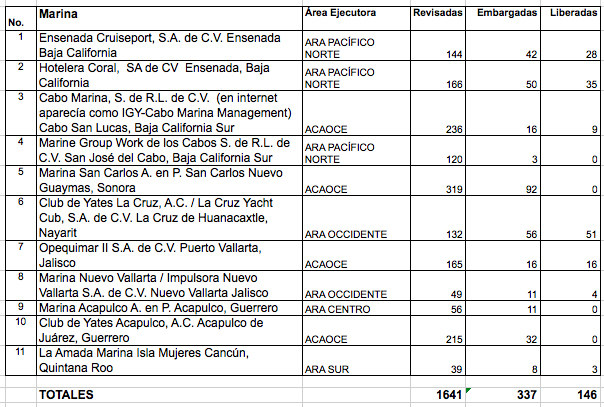 As you can see from the chart, 1,641 were reviewed, 337 were embargoed, and 146 have been liberated. That means 191 are still embargoed.
It would be interesting to see a breakdown of the boats still embargoed by size and type. And how many of them are owned by Mexicans in the names of U.S. corporations.
Grossman tells us that as yet, no boat owners have been fined.
It's our understanding that close to 20 of the boats that have been "liberated" had been already taken from their respective marinas by fearful owners. Does that mean they are now free to return to Mexico without fear of reprisal? Who knows?
What do you get if AGACE 'reviewed' your boat, 'embargoed' her, and after finding that everything was in order, 'liberated' her? You don't get a certificate from AGACE or anything, but if you were in La Cruz Marina, you got a document that showed yours was a 'liberated' boat. We presume this is true of boats that were liberated in other marinas, too.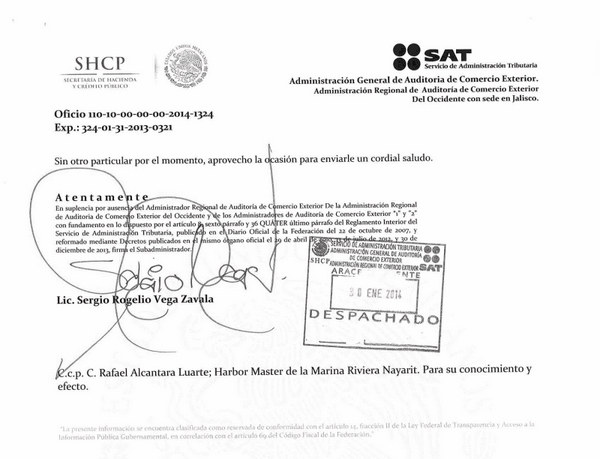 Oddly enough, if AGACE approved of your boat on their first sweep, your boat isn't on any list of 'approved' boats. Does that mean your boat is subject to another 'review'? Who knows?
Are foreign boat owners now 'safe' to take their boats to Mexico without fear of another reckless round of 'reviews' by AGACE? We're pretty confident they are safe. But as we've already said twice before in this article, 'Who knows'?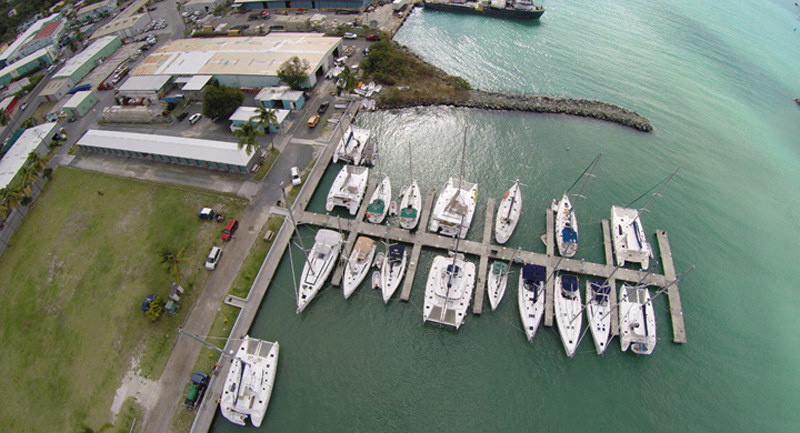 The Wanderer and Dona de Mallorca are currently in Tortola aboard the Wanderer's Leopard 45 cat 'ti Profligate to begin our annual editorial investigation of the Caribbean. So far it's been mostly all work behind our keyboards in less than optimal working conditions — at steamy bars, restaurants, tennis clubs, and such with often dubious internet service.
One of the best places to work so far has been Southern Trades Yacht Center, which is owned by ex-Californians Bob and Denise Carson. They do the bookings for mid-to-high range charters, and Carson tells us business has been off the graph this year. This echoes what we've heard from BVI Yacht Charters, our management company. Yacht sales, on the other hand, are coming back, but still slow. Carson listed off several incredible deals waiting for buyers. We have no idea how he has time to run his yacht sales and charter business because he builds so many custom surfboards at his place at Cane Garden Bay. "One family just ordered six," he tells us, "and I had to build 30 for Christmas.
Anybody remember Charlie Herndon of the Corinthian YC? As we recall, he built a Freya 39, cruised her to Greece, then came back to the Virgins to found Southern Trades in the early 1980s. Small world.
We're so sick of sitting behind a keyboard in strange places instead of sailing that we're going to try to hook up with Steve Schmidt of the SC 70 Hotel California, Too, tonight so we can crew for him in the Sweethearts of the Caribbean Regatta on Sunday. Schmidt is originally from Saratoga or someplace in the South Bay, and we sailed with him in last year's Voiles de St. Barth. Although it's the only cruising version of an SC70 ever made, HCT has done far more races than any other SC70. Steve will be singlehanding the 70-footer in a race tomorrow, with Laura Greces of BVI Yacht Charters as his observer.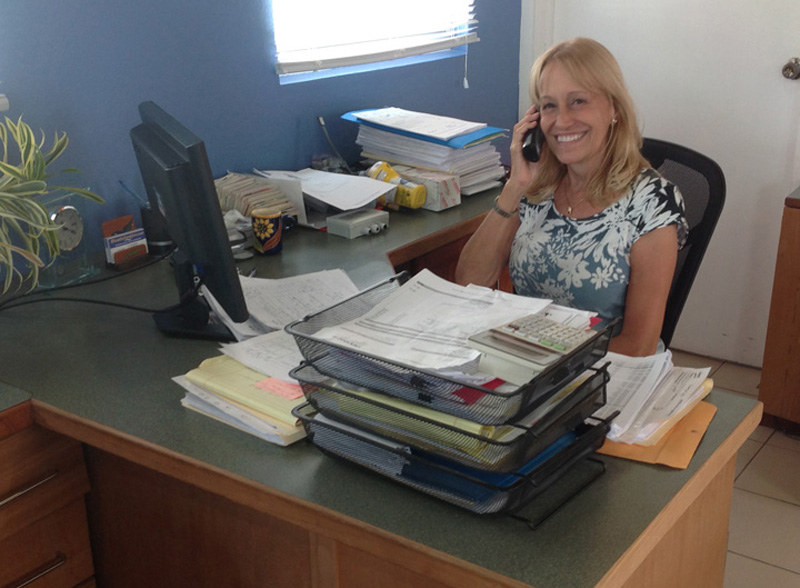 If you cruised Mexico many years ago, you might have met Laura when she was the manager who helped set up The Moorings bases in Puerto Escondido and in La Paz. When we told her about the recent impoundings in Mexico, she just laughed. "Well, that's Mexico," she said. She remembers that armed marines once stormed the charter base in La Paz for no good reason, scaring the bejesus out of clients.
One of our main reasons for coming to the Caribbean this season is to take photos of anchorages and other yachtie points of interest with our latest version of the DJI Phantom quadcopter with a GoPro camera. The combination of the quad, the gyro, and the camera can get pretty confusing. Indeed, a good friend who was a 737 and Citation 10 pilot lost his on a 'flyaway' on his second day using it. Anyway, after much frustration in the States and in the Caribbean, we finally got our quadcopter up and working properly this morning. Wow, wow, wow, wow! Despite being buffeted by 15 knots and more of trades, it took broadcast quality stills and video.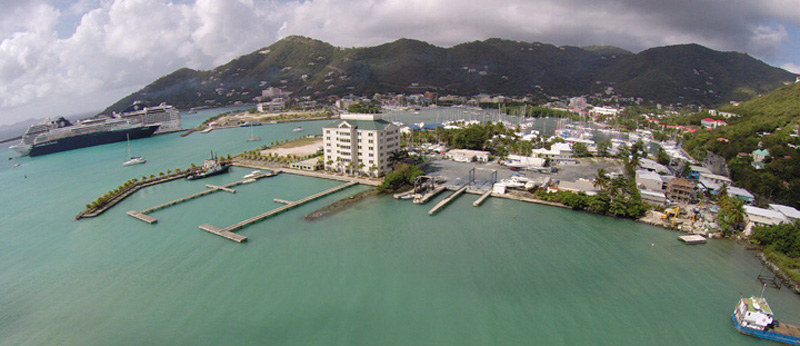 We were hoping to head down to St. Martin and to check on our Olson 30 La Gamelle, then on to St. Barth as quickly as possible, but life has conspired against us. First of all, there is the magazines' February deadline. It's impossible to enjoy yourself on a boat if you have uncertain internet and a short month deadline hanging over your head. Secondly, we found out that a recent charterer had put 'ti Profligate up on some rocks at White's Bay. Nobody knew how bad the damage was until the diver went down with a camera yesterday. It's pretty bad, with all kinds of fiberglass shards. The keelets are sacrificial because charterers are notorious for putting boats on reefs. So the plan is to haul on Monday, and relaunch on Thursday after repairing the keelet, painting the bottom and repainting the boot stripe. The BVIs are the center of the universe for chartering, so boats have to be repaired quickly.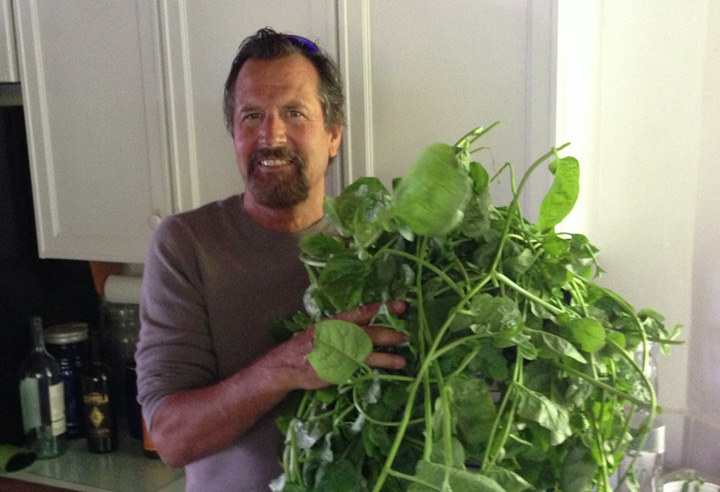 Dengue is always a threat in the Caribbean, and now there is also a new African virus that won't kill you, but is putting people in a world of hurt. Since the boatyard at West End is full of mosquitos, our plan is to take the ferry back to Charlotte Amalie in the U.S. Virgins and impose on our friend Warren Stryker. Back in the '70s, both Warren and the Wanderer both had Bounty IIs in Sausalito and we became good friends. Tired of the Northern California cold, he set sail for the Virgins about 30 years ago and has been there ever since. He raced Fifties Girl, his Bounty, very successfully for years. She was sunk in a hurricane, and after a month he raised her to race again. About five years ago he sold the nearly 60-year-old boat for a Hunter 54, not losing a cent in the process. He christened the boat Botox Betty and claims she's one of the best boats ever. We're not sure about that, but a few years back Botox was first to finish the prestigious St. Barth Around the Island race. Every Wedneday night he races with whoever shows up to crew. Usually there are about 30. With any luck, we'll be part of the crew next Wednesday night just before returning to 'ti Profligate.
This kind of chillin' in the Caribbean is exhausting.
Receive emails when 'Lectronic Latitude is updated.
SUBSCRIBE