The first thing you might notice about the new February issue is the quality of the pictures. You might also notice the magazine's new 'saddle stitch' binding. As you'll read inside, we've changed printers. We're very pleased with the results and we hope you will be too.
There are some great stories to read in Sightings, a feature on two women's journey sailing around the world, a recap of last month's Manuel Fagundes Seaweed Soup Regatta, a primer on the South Pacific and an in-depth look at the troubles facing some cruisers in Mexico. Of course there's a bunch more, so grab a copy today.
On January 26, the Napa Valley Register correctly broke the story that Latitude 38 is organizing the three-day BottleRock music festival at Napa Valley Expo to be held starting on May 30. Last year was the first year of BottleRock, and it was a financial disaster, as it racked up a reported $5.5 million in outstanding debts and spawned many lawsuits over breach of contract. No wonder Latitude 38 was able to buy selected assets from the previous promoter, including the BR name, at a bargain price. However, as the Register reported, Latitude 38 did not purchase BR Festivals' liabilities or obligations, "and does not control how BR Festivals handles its debts." After all, who wants to buy someone else's problems?
Who will be playing at BottleRock this year? We don't have a clue, because we at Latitude 38 actually don't have anything to do with it. You see, BottleRock has been taken over by an outfit that calls itself Latitude 38 Entertainment, and was thus repeatedly referred to in the Register article as Latitude 38. It's a little confusing, don't you think?
Over the years there have been what we believed to be several attempts to trade in on the good name we at Latitude have developed over the past 36 years of doing business as Latitude 38 Publishing, much better known as simply "Latitude 38." It's true that long after we founded the magazine, a real estate company and then a housing search service in San Francisco started businesses using the name Latitude 38, as did a vacation rental business in Telluride, and a long established restaurant in Oxford, Maryland. We've never had a problem with any of them because they were clearly in very different fields and/or locations. But we didn't like it when, a few years ago, a fellow started something called Latitude 38 Productions and began advertising yacht charters on San Francisco Bay. Fortunately, that enterprise didn't last long enough to be a concern.
It seems a little trickier with Latitude 38 Entertainment, as we at Latitude 38 have long put on an assortment of parties, rallies and events, which all could easily fall under the general category of entertainment. It seems to us that the entertainment company in Napa chose a poor name. But maybe we're too close to the matter to evaluate it objectively. So we're asking you, our readers, if the use of the name Latitude 38 by the music festival organizers causes you confusion over the question of whether we the publishing company or somebody else is putting it on? We hate lawyers and the courts, but do you think we should take legal action? Let us know.
As reported in yesterday afternoon's special 'Lectronic Latitude, all 53 of the impounded boats at Riviera Nayarit Marina in La Cruz — including Latitude's 63-ft catamaran Profligate — have been released. Most of the boats are owned by Americans or Canadians, although some were owned, perhaps through American corporations, by Mexican nationals.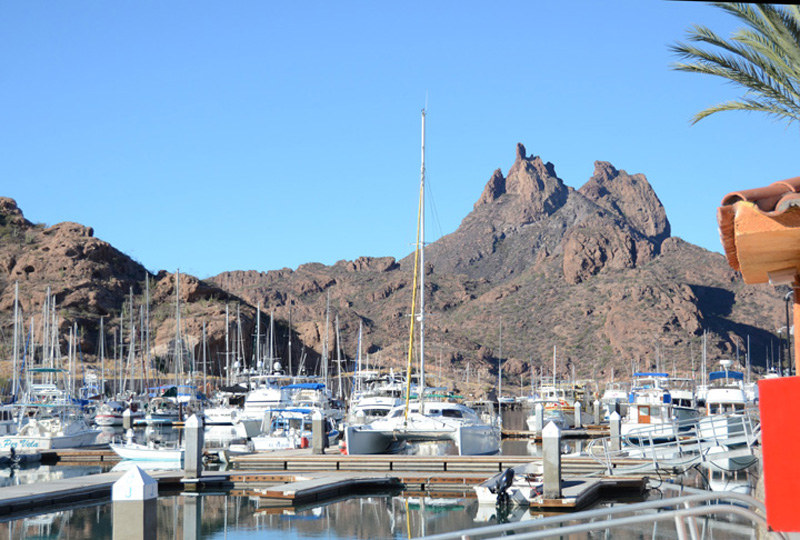 It's our understanding that all but a very few of the boats that had been impounded for two months had met every legal requirement to be in Mexico all along. Based on our conversations with a number of boat owners, the biggest things they were guilty of is not being on their boats when inspectors arrived unannounced, or having their boats inspected by auditors who didn't know anything about boats or the law.
The owner of a Hans Christian 38 said that when auditors came by his boat, there were a bunch of locals working on her. They asked if the owner was aboard. Not knowing that man's wife, a co-owner of the boat, was aboard, the boat workers said nobody was around. Unable to check for documents, the auditors put the boat on the impound list by default. She wasn't allowed to leave the dock for two months. We've heard countless variations of this, where boats in full compliance with Mexican law were nonetheless prevented from leaving the dock since late November. In many cases these boat owners incurred unwanted marina costs.
"There's no snow, so I guess it's not the worse place to be stuck," said one boat owner, putting the best spin on everything.
The release of the boats in La Cruz doesn't necessarily mean the immediate or long term fiasco is over. For one thing, as far as we can calculate, there are still more than 250 mostly foreign-owned boat impounded in marinas in Ensenada, Los Cabos, Cancun and San Carlos. Yesterday's release of the boats in La Cruz is promising news, but doesn't mean the other boats are released. We can only wait.
Equally as troubling are the statements in the Mexican press by Aristóteles Núñez, the head of Sistema de Administración Tributaria (SAT, the Mexican IRS). Noting that Guillermo Ruiz de Teresa, the Coordinador General of SCT, which is the agency in charge of ports and marinas, yesterday told the press that there wouldn't be any similar audits or embargoes of foreign-owned boats in the future, Núñez said the head of SCT was wrong. Núñez said there would be more audits and perhaps embargoes. As he's in charge of the agency that conducts audits and embargoes, it would seem that his opinion carries the most weight.
"It's a ridiculous situation," Herbey Rolando Chacón told Latitude in a telephone conversation this morning. "SAT is deaf. They don't want to say they were wrong or sorry. They say they are going to keep doing the audits." Rolando, a reporter for Reforma, the very influential 'New York Times of Mexico', says his interview with the publisher of Latitude 38 will appear in tomorrow's Reforma.
We like to think that SAT is putting up a bold front, but that behind the scenes Mexican politicians and officials, aware of the tremendous damage done by the SAT, will stifle their ambitions in this area.
All this comes at a time when tourism and nautical tourism in Mexico seems to be booming. Airline seats and better accommodations in places like Puerto Vallarta seem difficult to come by, and an employee at Applegate, the biggest realtor in Vallarta, said they had more people looking for real estate than they could handle. While Marina Vallarta has lost some boats because they are redoing many of the docks, all the other marinas on Banderas Bay seem to be operating at record or close to record occupancy. The anchorage at La Cruz has lots of boats, and the anchorage at Punta Mita, which rarely saw more than eight boats a night in years past, has often been home to more than 20 boats a night.
Assuming that the remaining 250 boats are released quickly, the question becomes how is Mexico going to reassure frightened foreign boat owners, both those currently in Mexico and those who were planning on coming down next year. Latitude is planning on working with the Mexican Marina Owner's Association, and hopefully Tourism, to create a booklet and posters describing what's necessary to bring a boat into Mexico, to transit between ports, and to leave Mexico. Hopefully such a booklet can serve as a baseline, so when changes are made, the booklet can be updated.
What kind of changes, you may ask. Well, when the new navigation rules are published shortly, they will say that it's mandatory to have a captain's license to bring a boat into Mexico. While that's what the new law will say, port captains will be sent a memo instructing them to ignore that part of the new law. We hope they get the memo.
That's the latest in Mexico, where, other than the fiasco created by SAT, the cruising has been fantastic. Stay tuned.
This Additional Weirdness Just In: The owners of an impounded boat in Ensenada say that a California Highway Patrol officer has been in touch with them, as he's been given the job, by Mexican officials, of determining whether or not their boat is stolen. The officer was satisfied that their boat wasn't stolen, so the owners hope that, after two months, their boat will soon be released. The California Highway Patrol investigating whether a federally documented boat is stolen . . . nothing will surprise us now.
Receive emails when 'Lectronic Latitude is updated.
SUBSCRIBE