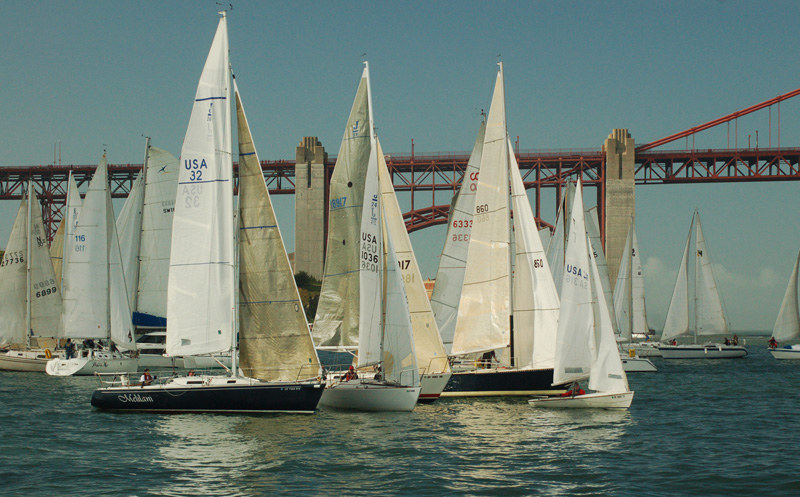 Back on January 6 we asked Singlehanded Sailing Society members why they loved the infamous Three Bridge Fiasco so much. To our surprise, we received a heck of a lot of responses. Naturally, we wanted to share them with you, since the race begins early tomorrow morning and we figured this would be a good way to get everyone amped for the big race.
Larry Riley: "Well actually, I have found that for the most part the weather is pretty nice. I'm usually praying for wind. That said, we'll probably have a 30-knot sleet storm this year. So, yes a bit colder than summer but the race has: flat water, usually mild wind, great lighting — the sun's low in the sky.
"Why single hand? Hmm, poor personal hygiene? Crappy personality? Too cheap to feed the crew? In love with my spinnaker and want it all to myself. All of the above?
"Well seriously, I just like single- and doublehanding. Just don't like a crowd on the boat when sailing."
Daren Heldstab: "Because it's a blast? Seriously, the thing about the Three Bridge is that it's a real sailor's race. The racers have to deal with January's often-very-light, fluky conditions in addition to adverse currents, etc. But the weather is often mid-winter spectacular! Also, the folks with the most high-tech, expensive gear aren't necessarily going to seize the day since there is no set course, and things are so fluky that time of year that things could go a number of ways, and often local knowledge trumps bankroll."
Robby Robinson: "It is past tense for me — many years ago — but Dolores and I usually never did well aboard Rolling Stone due to lack of wind during the Three Bridge, but I remember one really, really stormy race with one squall following another, the old IOR One-Tonner finished first in class. I've done a lot of singlehanded racing, including two TransPacs ('82 & '88), but I can still remember that Three Bridge race.
"The Three Bridge gives meaning to crowd sourcing. I could never understand why more YCs or the YRA didn't run races similar to the Three Bridge. It requires thinking beyond boat speed. It has obviously been the most popular race run on San Francisco Bay."
Ants Uiga (Three Bridge Fiasco founder): "Flash back to '88 or '89, the memory gets a little vague.
"Typical January conditions include no wind, fickle winds, strong tides, and big changes. It all adds up to a race chairman's dilemma in trying to figure out a way to configure a race. Besides, I was never a good sailor and couldn't figure it out.
"So, I transferred the decision-making from the race chair to the skipper. Fiasco seemed like a good name. If no one finishes, the race chair wins. This gave me an option to win that would not happen as a skipper.
"The proud 'papa' watches with glee as the number of participants increases. A big special thank you to all the volunteers who manage the race each year!"
Darren Doud: "Let me count the reasons:
"Anyone has a chance to win one of the largest sailboat races, so why miss out.
"It feels a little like playing the lottery. Will this be my year to win the Three Bridge? The race format combined with the shifty winds, large wind holes, and strong currents creates so many passing opportunities. If you make enough right decisions, combined with some luck, then you might have a shot at the top spot.
"More choices in race tactics. I think the wider range of race tactics creates a more interesting problem to solve. One of the first questions I am asked by other racers about the Three Bridge is which way are you going or which way did you go. It is one of the first big decisions we have to make in the race, and if it turns out to not work out, then you spend the rest of the year wondering if you could have done better going the other direction.
"Mid-race progress report. It is always fun to pass boats going the other direction and gauge your process mid-race. It keeps you in contact with other boats that are racing.
"Tradition. My dad introduced me to the race and I have been competing in it since the late '90s.
"The first to finish is the winner. No crunching rating numbers after the race and if you can see the first boat to finish, then you know you did good."
Some Alameda boat owners had an unwelcome holiday surprise: Thieves were back in action, stealing at least eight outboards and two boats from marinas and private property.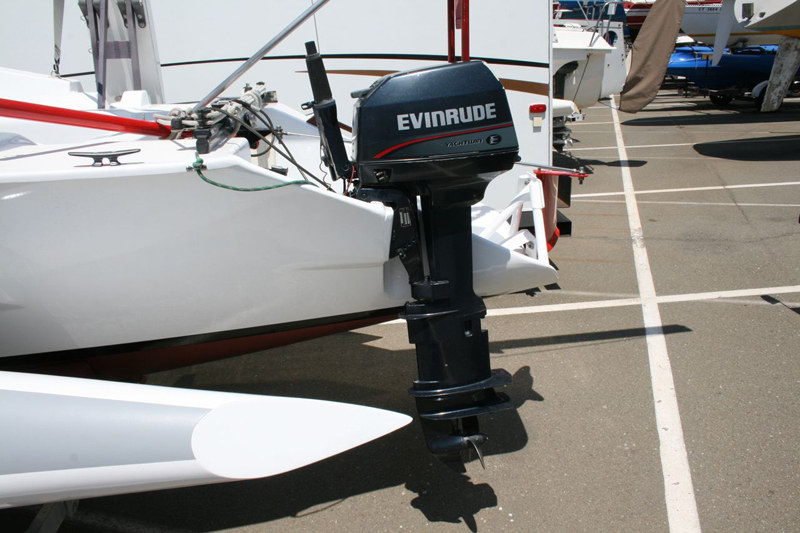 Hardest hit was Alameda Marina, where at least five outboards and one Boston Whaler went missing between September and mid-January. The thefts haven't been limited to Alameda Marina, though. Alameda Police also recorded recent thefts from Viking Street at Alameda Point, Grand Marina and the Encinal YC at Pacific Marina. Because the value of the outboards and boats was over $900, the thefts are classified as felonies. Lt. Jill Ottaviano says the Alameda Police Department is investigating the cases aggressively and has strong leads that they hope will result in an arrest — or arrests. "It seems to be cyclical," says Ottaviano. "We'll have some [thefts] and then we won't have any for awhile." Ottaviano says police monitor Alameda's popular antique and flea markets for stolen property such as the engines, but she suspects they are being sold further afield.
While police look for the thieves, marinas and boat owners are also dedicating energy and money to thwarting future thefts. Alameda Marina harbormaster Brock de Lappe said there are nine gates on the 43-acre property. Thoses that had been open during the day will now be closed and accessible only by dock key. That won't, of course, deter getaways by water, which have been known to occur and are particularly problematic to patrol since Alameda County greatly reduced its Marine Patrol Division from a full-time unit to ancillary, part-time patrols.
For boat owner Ken Johnson, the recent theft represented the second time in two and a half years that a Tohatsu 6 had been taken from his Corsair 750 stored in front of Doyle Sails loft at Alameda Marina. "This time the thieves used bolt cutters to cut the padlock inside the vinyl-clad steel tube that covered the mounting screws," Johnson said. "I also had my fuel tank and hose stolen there six months ago." In May 2011, the thief used the leverage of the shaft to rotate the engine, leaving only deep scratches behind.
When Johnson puts on his latest engine, he will take a variety of precautions including protecting the transom clamps with a $100 stainless steel high-security outboard bar lock. He's planning to add two bolts adjacent to the transom brackets to prevent rotation. That way he can remove the engine after unlocking the lock bar. He's also planning a lower-tech fix: painting the engine. "I cruised for 13 years in the Caribbean and South Pacific with my Johnson 15 painted bright yellow and a custom fabricated SS lock bar. My motor was not touched. I remember another cruiser painted his outboard navy gray with 4-inch high "ACME" stenciled on its sides. I kicked myself for not painting my outboard to make it harder to fence. Remember to paint below the cowling too."
Here are other anti-theft/pro-recovery tips to consider:
Owners should always have the make, model and serial # for their motor available for police.
Outboards should always be locked with a case hardened lock with a sturdy chain and/or stainless steel cable.
Outboards should have the owner's driver's license engraved, preferable in several place, to facilitate identification and return if recovered. (Alameda Marina is going to be offering the use of a battery-operated engraver to its tenants.)
New GPS-based tech options, some with motion-sensitive sirens, are coming on the market. Many are already popular with cyclists.
Fito Espinoza, Harbormaster at Marina Coral in Ensenada, one of the marinas most affected by AGACE's impounding of more than 338 foreign owned boats, reports that there will be a meeting tonight in San Diego of SAT (Mexican IRS) officials and the mangers of at least seven Mexican marinas. This is according to Captain Pat Rains of Point Loma Publishing. The meeting will take place at 7 p.m. tonight at the pagoda of Sunroad Marina, following the San Diego Boat Show. All interested parties are invited to attend. It's expected that there will be some kind of announcement regarding the impounding of boats in Mexico.
We sure hope there will be an announcement, as AGACE's 'auditing' policies have been a disaster for nautical tourism in Mexico, and it's been a very unpleasant experience for all those whose boats have been impounded — particularly the vast majority who followed all the rules in the first place, but whose boats are still impounded.
If all goes well, SAT will make some kind of face-saving statement, and then along with the marina managers will announce that for the first time pertinent regulations for foreign boat owners will be made clear in English as well as Spanish, both in the form of posters at appropriate locations in Southern California, Mexican ports of entry, and also in booklets — which we at Latitude would be more than happy to publish and distribute for free.
Among the issues that need to be covered are requirements for clearing into Mexico, checking out of Mexico, clearing out and checking in at different domestic port captain districts, the need and requirement for Temporary Import Permits, the need and requirements for captain's licenses, the need and requirements for sanitation certificates, the need and requirements for exit zarpes from the United States, and everything else that port captains, Customs or SAT wants to require of foreign boat owners.
The truth of the matter is that the relationship between foreign boat owners and Mexico should be a marriage made in heaven, as both have what the other needs and wants. It could be so sweet and easy. The other truth is that except in the most extreme cases, foreign boat owners want nothing more than to comply with whatever Mexican officialdom wants. We do not have stolen boats and we are not "tax cheats." Up until November at least, it had all been simple, easy and inexpensive.
We've been getting a lot of emails from boat owners and captains asking if it's now safe for foreign boat owners to take their boats to Mexico. As our boat is one of more than 300 boats that remains impounded, it would be a little bit awkward for us to say, "Sure, no worries, come on down," even though we think that's probably true. So we'll just say that there haven't been any 'raids' since late December, and several well-placed marina owners tells us it is extremely unlikely there will be, given all the terrible publicity the first ones generated.
If we were a concerned boat owner in the States wanting to sail south, we'd take our cues from what is said — and what is not said — at tonight's meeting and expected announcement from San Diego.
Personally, we at Latitude 38 are optimistic.
Receive emails when 'Lectronic Latitude is updated.
SUBSCRIBE