Thanks to two America's Cup races being slated for today because there was too much wind yesterday, Oracle Team USA's Larry Ellison has conflicting commitments. On the one hand, there are the two critical races scheduled for this afternoon that he surely doesn't want to miss. On the other hand, Oracle software has to give its quarterly report at about the same time as the start of the first race. Ellison often gives the report himself. If he doesn't, it's likely to send a 'sailing is more important to me than my company' message. Shareholders wouldn't be impressed, and it could cost Ellison — who still owns more than 20% of Oracle — tens if not hundreds of millions in the value of his Oracle stock. You and we should have such problems.
At this critical point in the Cup finals, New Zealand leads 7 to 1, and needs only 2 wins to take the Cup back to Auckland. Oracle will have to win 8 races to keep the Cup here in the United States.
Normally not one to get ahead of himself, Kiwi honcho Grant Dalton told the press that if the Cup goes back to New Zealand, it's almost certain there will be two changes. First, in order to attract many more participants, it's going to cost much less to mount a campaign. Dalton says he'll consult with other possible participants, including one from the U.S. not named Oracle Team USA, to see what kind of boats they want to race in. Dalton is open to monohulls as well as multihulls, although having been to sailing's version of Paris, it's going to be hard to ever go back to the farm. In addition, Dalton will push for some kind of nationality requirement, although the details haven't been worked out yet. While requiring most if not all of the sailors on a team to be from the country they are sailing for wouldn't be a hardship on traditional sailing powers, but it would make entries from China, Korea and other developing countries non-competitive and therefore not very interested.
Anyone care to take a guess what's going on in the following video?
Answer: It was part of the Helly Hansen fashion show put on during an Artemis function last week. It included a woman in a Helly Hansen bikini doing a routine on a pole, but the lens on our camera got too foggy for reproduction. The show was as different from the norm as the 34th America's Cup is different from its predecessors.
You may have heard that the America's Cup officials have floated the idea that if both teams agreed, they could sail in winds in excess of the current limits. Perhaps because of nearly flipping in that earlier race, the word is that the Kiwis aren't so hot on the idea. With yesterday's strong front having passed through, it's likely there will be two races today, despite the fact that there will still be a considerable ebb.
Don't miss the racing today — if the Kiwis win two, it's over, and we won't see boats racing like this again for years . . . if not decades.
As predicted would happen when the Department of Parks and Recreation absorbed the Department of Boating and Waterways last year, California state lawmakers tried to dig their fingers into the Harbor and Watercraft Revolving Fund for non-boating uses. The Recreational Boaters of California and Boat US joined forces last week to alert boaters about this last-minute money grab and their lobbying paid off.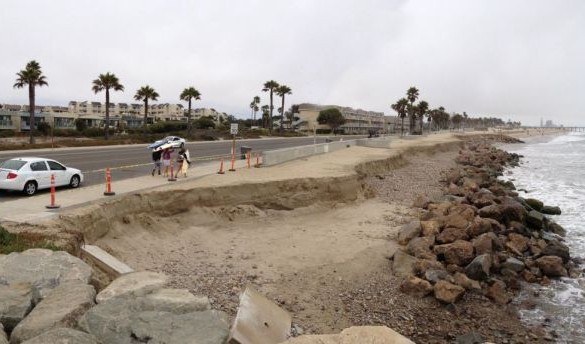 California Senate Bill 436 passed in the final hours of the state legislature's 2012-2013 session, but a key portion that would have opened up the HWRF for non-boating purposes — which would have set a troubling precedent — was dropped. Instead, the bill allows for the possibility of "a grant or loan of $1 million from the HWRF to Port Hueneme for emergency measures to prevent damage to streets and property along Hueneme Beach caused by beach erosion and flooding." The two boater advocate groups say they will continue to do everything they can to protect the integrity and effectiveness of the HWRF.
Everyone hoped that Tropical Storm Manuel would have fizzled completely when it made landfall near Manzanillo, as it brought a lot of rain but no wind to the Puerto Vallarta area. Unfortunately, the bugger reformed as a tropical depression as it has continued northwest. As of this morning, the National Hurricane Center was predicting that Manuel would continue into the warm waters of the Sea of Cortez, build back up to tropical storm strength, and then take a highly unusual half circle path toward La Paz. If you have a boat anywhere near La Paz, make sure it is well secured by Friday, as the depression/tropical storm is expected to arrive early on Saturday.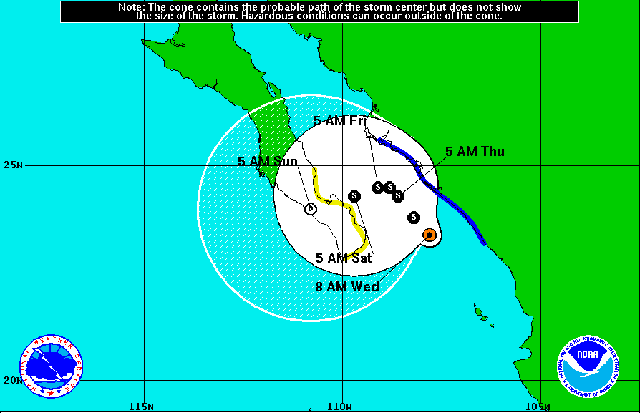 Given the highly unusual predicted path of Manuel, we'd get our boat secured no matter where it was in the Sea, or even down in Cabo. Fortunately, Manuel will no longer pack that much of a wind punch.That isn't to say that Manuel hasn't been a killer. When it started coming up the mainland coast of Mexico a few days ago, it brought as much as 25 inches of rain. There have been more than 20 confirmed deaths as a result of flooding. Acapulco, a resort city of millions, was completely cut off, although the sun is shining there again now. It was a double whammy for Mexico because the same day Manuel caused so much damage on the Pacific Coast, mild Hurricane Ingrid whacked the Caribbean coast, resulting in more than 20 additional deaths from flooding.
We believe in climate change but we don't believe anybody has a very good handle on what those changes might be.
Hurricanes — or rather the lack of them — are one of the reasons. For years now, climate change activists have been raving that climate change means we're going to have more and stronger hurricanes. They may be right, but they haven't been right so far. As it turns out, the United States is currently in the midst of the longest period of time when it hasn't been hit by a major hurricane, a major hurricane being a Category 3 or higher. Before anybody mentions Sandy, remember that for all the damage Sandy did to New York and New Jersey, it wasn't even a hurricane when it made landfall. New York's problem is that it's naturally vulnerable.
And last Wednesday the National Hurricane Center in Miami announced that Humberto had reached hurricane force. It had been blowing 75 knots not far from the Cape Verdes in the eastern Atlantic but has since been downgraded to a tropical storm. Had the Center waited but a few hours to make the announcement, Humberto would have been the latest 'first hurricane of the season' in recorded history.
We're not going to read too much into these two facts, on the other hand, we're not sure about the wisdom of starting to spend tens of billions of dollars putting dikes around every city with a shoreline.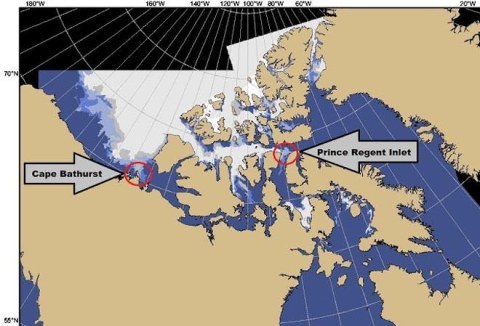 By the way, Douglas Pohl of Sail-World reports there's 60% more ice in the Northwest Passage this year, effectively trapping 22 boats, some of which have already been abandoned. What's that about?
Receive emails when 'Lectronic Latitude is updated.
SUBSCRIBE