If there was a better argument for changing the Deed of Gift for the America's Cup to specify one-design boats than the 34th America's Cup, we don't know what it would be.

As screwed up as much of the goings on were prior to the first race of the America's Cup Finals, the Cup itself has been almost perfect since the first gun. San Francisco has delivered in spades with great sailing conditions and scenery. Given the moderate conditions, the AC72s have provided unparalleled America's Cup sailing excitement. The brilliant video and graphics have made what's going on understandable to everyone. The crowds and facilities have been great. And the teams have been almost equally matched, with skippers Dean 'The Dream' Barker and Jimmy Spithill demonstrating tremendous skill at the helm.
And then there is the racing. There hasn't been such great match racing in the 162 years of the America's Cup — at least until the first few minutes of the third leg of each race. And there's the rub. While the boats are equally matched for the exciting starts, the reaches and the screaming runs, the races are all over on the upwind leg before Alcatraz because Emirates Team New Zealand has a more nimble boat that accelerates faster out of tacks and is faster upwind in a straight line. While a few extreme geeks sitting at CADs may stand up and gleefully shout, "I told you the cat with the fatter hulls and more U-shaped bottom would be faster tacking and upwind! I told you!" everyone else just groans as the race excitement balloon rapidly deflates. We keep watching, but only to gaze in wonder at the cats as they foil on the second downwind leg.
Unpredictability of outcome is what makes for great sport. But we don't have that in the 34th America's Cup. Now, after seven races, everybody knows that, while the starts and first two legs will be fabulously even, each race will be clinched just after the start of the weather leg. The Kiwis are not just faster upwind, they are much faster. It's just no fun when the race is over long before it's over.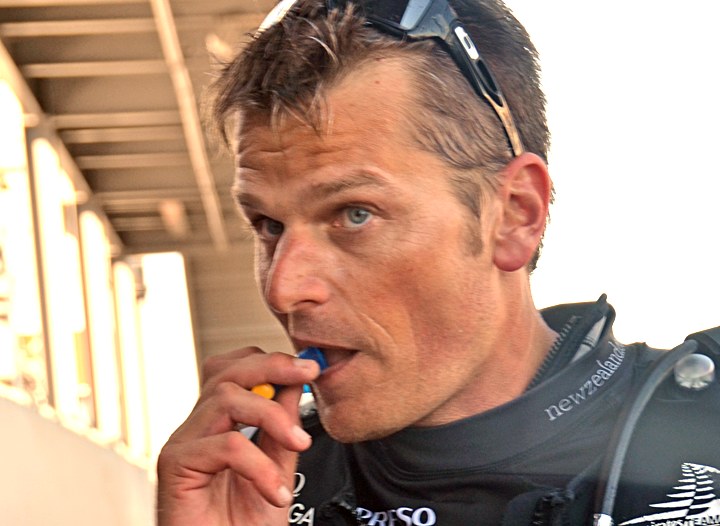 The Kiwis may have demonstrated a slight superiority in crew work, and Scott Easom says Dean Barker is the best natural helmsman he's ever sailed with. But if there's an edge in crews, it's only slight, as Spithill and Team Oracle have seemed a little better at the starts. The bottom line is that if the two teams traded boats, we think Team Oracle would be as far in the lead as the Kiwis are at this point. It's the design, not the sailors, who are winning the America's Cup for New Zealand.
This is not to take anything away from the Kiwis. They've been incredibly well-prepared and maintain incredible focus on the water. But as any sailor will tell you, there's nothing like a faster boat to give you confidence and keep you loose. That said, the Kiwis have done a masterful job of using tactics to leverage their upwind speed advantage.
We've been very impressed with Jimmy Spithill, whose stock will certainly not be diminished by this America's Cup. As the losing skipper in all but one race, he's always been in the hotseat in the press conferences, but has handled himself admirably. After yesterday's two losses put the Kiwis up 6 vs OTUSA's -1 (due to their two-point penalty), Spithill was asked how he was keeping his spirits up. He basically said that being so far down gave them the opportunity for a spectacular comeback. Nice attitude.
We've also been very impressed with the way both teams have conducted themselves, particularly Barker and Spithill. The two are the polar opposites of the 'I ain't no role model' thugs that populate so many professional sports teams in America. On numerous occasions we've seen Spithill and Barker stay around after races to sign autographs and have their photos taken with people until there was nobody left. After yesterday's two losses and a difficult press conference, we watched as an older woman rushed up to an obviously exhausted Spithill and asked to have her photo taken with him. Spithill did it, and did it with a genuine smile. The skippers and crews of both these boats are bringing great credit to the sport of sailing.
Actually, there was one off-the-water screw-up on the part of Oracle Team USA. After the two losses on Tuesday, and maybe some questionable decisions by navigator John Kostecki, 'JK' was replaced in practice the next day by Ben Ainslie. The creepy thing was that Ainslie was wearing Kostecki's jersey. If this was some kind of attempt at subterfuge, it was a bungling one, because Kostecki is clean shaven while Ansilie has a beard. It made it seem as if Kostecki, one of the most talented, accomplished sailors in the world — and a great guy — had symbolically been sent to Siberia.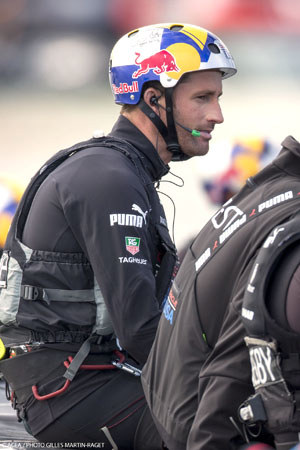 The most comical America's Cup sidelight has been the actions of Jim Clark, who made over a billion dollars in Silicon Valley by helping launch Netscape and Silicon Graphics, and whose 289-ft schooner Athena is stern-tied to the America's Cup Park. Clark's mega sailing yacht has been flying the Kiwi ensign and a giant Kiwi supporter flag. Rumor has it that Russell Coutts, the Kiwi CEO of Oracle Team USA, had a mutual sailing friend ask Clark to take the Kiwi symbols down.
Clark would have none of it. He told the New Zealand Herald, "I'm from the U.S. and I would have otherwise been happy to see the Cup stay here. But once I heard about how the cheating stuff was being handled and no one was taking responsibility, I said, 'Right, get me the biggest Kiwi flag you can find.' If people ask me why I'm not supporting the home team, I tell them, 'Because I don't support cheaters'."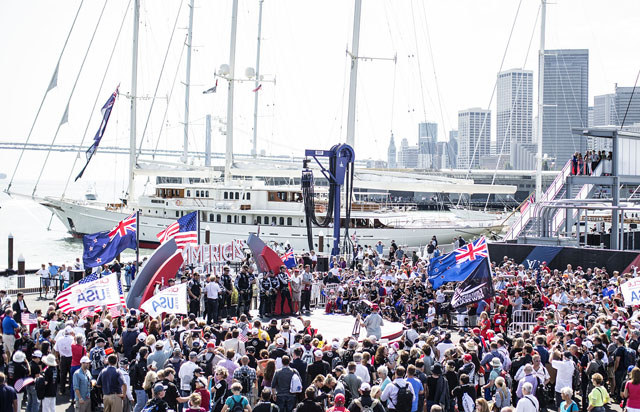 This obviously hasn't made for happy berth neighbors at America's Cup Park, where Larry 'Google' Page's 194-ft motoryacht Senses is the only thing that keeps Clark's 289-ft Athena from being bookended by Ellison's 288-ft motoryacht Musashi and his 184-ft sailing yacht Asahi.
Peter Johnstone is the honcho of Gunboats, the Carolina-based company that makes blazingly fast Gunboat cruising catamarans. You may remember that Lloyd Thornburg's Gunboat 66 Phaedo did more than 420 miles in this year's TransPac before getting dismasted. Anyway, Johnstone got on Facebook and posted his recommendations for the future of the America's Cup:
1) A nationality rule would be great.
2) Make the cats cost less, but try to keep the excitement and spectacle of the Cup Finals. Something like 50- to 60-ft foiling cats. Open up the foil control systems, but ditch the wings.
3) Keep up with the AC World Series as it kept us enthralled between the Cups and should continue.
4) The Red Bull Youth America's Cup was awesome.
Johnstone is right on every single count, which makes it so surprising that he forgot the part about the America's Cup boats needing to be one-designs.
You know where else the Kiwis are much faster than Americans? Filing tax returns. Former Latitude Racing Editor Sutter Schumacher, who now lives in New Zealand, says she just finished her taxes for both countries. Her New Zealand tax return was six pages. Her U.S. tax return was 59 pages.
Receive emails when 'Lectronic Latitude is updated.
SUBSCRIBE