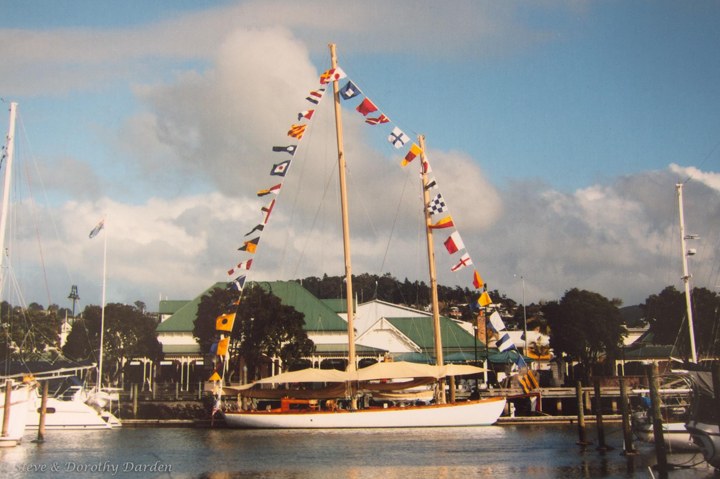 "My wife Dorothy and I are optimists," Steve Darden told Latitude in a telephone interview. "We believe that the pessimists will be proven wrong, and that the crew of the schooner Niña will be found safe, despite not being heard from in more than a month."
Niña is the classic 70-ft American staysail schooner built in 1929. On May 29, she and her seven person crew set sail on the 1,100-mile passage from Opua, New Zealand, across the Tasman Sea, to Newcastle, Australia. There were seven people aboard: Owner and commercial ship captain David Dyche III, 58; his wife, Rosemary, 60; their son David IV, 17; their friend Evi Nemeth, 73; Kyle Jackson, 27; Danielle Wright, 18; and Briton Matthew Wootton, 35.
Dyche has owned the boat for 25 years, and had previously sailed her from the East Coast to Turkey and to the Caribbean.
The Tasman Sea is notorious for gales, and the Niña crew knew it. The night before taking off, Dyche made a Facebook post that the Tasman Sea was spitting out gales and that he expected that Niña would be hit by several of them on the way to Australia.
The last Iridium telephone call from the 84-year-old schooner was on June 3 to New Zealand meteorologist Bob McDavitt. The vessel then was 425 miles northwest of Cape Reinga — the north tip of New Zealand's North Island — and her crew reported they were in 50- to 60-knot winds and seas to 25 feet. "The weather has turned nasty," said Evi Nemeth. "How do we get away from it?" McDavitt advised them to head south and brace for rough weather.
The last communication of any kind from Niña was a text message via an Iridium satellite phone on June 4 that reported her storm sails were in shreds and that she was headed north at four knots under bare poles. For whatever reason, this text message didn't reach who it was sent to, and wasn't released by the U.S. government until early July.
It wasn't until June 12, after the urging of family members and friends of the Niña crew, that a search was initiated. New Zealand authorities subsequently conducted one of their largest searches ever looking for the schooner, covering 615,000 square miles. No trace of the schooner was found. Niña carried a manually activated EPIRB. No signal has been received from it.
Steve and Dorothy Darden are former Tiburon residents who had the custom Morrelli & Melvin 52 catamaran Adagio built for them in New Zealand in 2000, and have been spending most of the time since cruising between Alaska and Tasmania. The Dardens became friends with the Dyches while in New Zealand last year, and were among the last to see them alive.
"When we arrived at Whangarei, New Zealand, from New Caledonia to have some work done, Niña was already there," remembers Dorothy Darden. "David, who runs a big vessel for the oil industry in I believe Brazil and works three months and then gets three month off, was at work at the time. But we became good friends with Rosemary and her son David Jr., 17, who were staying on the anchored-out schooner. They spent Christmas with us, came to my birthday party, and had dinner on our boat.
"David came back sometime in March," Dorothy continues, "and in March or April he and their crew set off for Australia. Unfortunately, Niña's engine broke down. So they returned to Opua, ordered a new engine, and David returned to work in Brazil. When David came back, the new Caterpillar engine was installed, and the boat prepared for sea. They would ultimately clear out of Opua for Newcastle, but the day before they left they drove down to Whangarei to say goodbye to us and others."
Based on the time he spent with David Dyche, Steve Darden thinks of him as "very competent and knowledgeable, a professional skipper. If he had any weaknesses, I wasn't aware of them. I have a lot of respect for David. His 17-year-old son David is strong, smart and agile, and has many sea miles to his credit. Rosemary, who was working in the marine industry before meeting David maybe 25 years ago, was also very knowledgeable about boats and had lots of sea miles."
"As far as we observed," Steve continues, "Niña was very well maintained by people who knew what they were doing. She's a boat that I personally wouldn't want to be responsible for because she's so large and wood, but over a period of 25 years David had rebuilt the schooner from an unhappy condition. I wouldn't have had any worries about going to sea on Niña."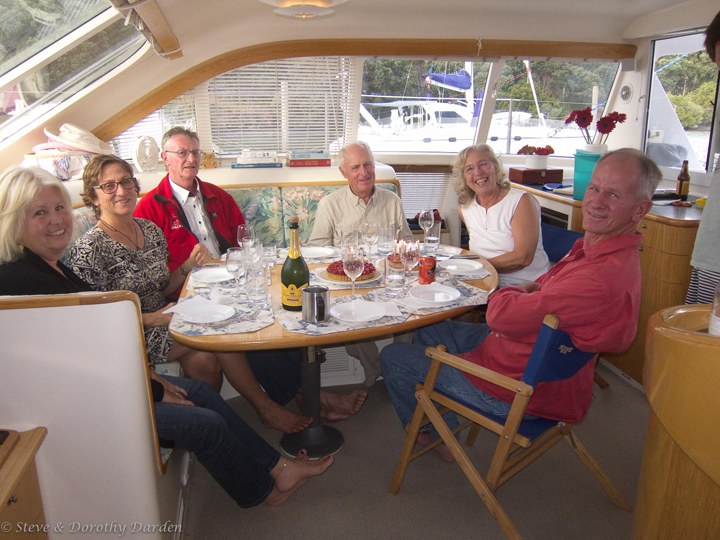 Two other Northern California sailors, 'Commodore' and Nancy Tompkins of the Mill Valley-based Wylie 38+ Flashgirl, also became friends with the Dyche family in New Zealand. Indeed, Commodore had a strong family connection with the 85-year-old schooner.
"When we got to Whangarei, I saw Niña – which, like Katherine Ross [who co-starred in the film The Graduate decades ago], is very distinctive – and immediately recognized her," says Commodore. "She was the schooner my father Warwick had navigated across the Atlantic Ocean to victory in 1929."
A narrow schooner with long overhangs, Niña was designed by the famed Starling Burgess and built by Ruben Bigelow on Monument Beach in Cape Cod in 1928. She was built specifically to win the 3,900-mile race from New York to Santander, Spain. And she did. When she arrived in Santander, a launch pulled alongside and a gentleman waved his cap and shouted, "Well sailed, Niña, I congratulate you. I am the King of Spain." Niña continued on to England where she became the first American vessel to win the prestigious 600-mile Fastnet Race.
"Here I am, 80 years old, walking around the interior of a boat that my father navigated across the Atlantic 85 years ago when he was just 30," says Commodore. "It was powerful experience." All the more so because Commodore is every bit his father's son.
"My father and I only really talked about the Niña once, and when we did, I came to the realization — as all sons must — that their fathers are not all-knowing. When I asked him how many degrees Niña tacked in, he said he didn't know. I found this astounding. Even though he hadn't sailed on the boat in more than 50 years, how could a vessel's navigator not remember how many degrees she tacked in? My father also wrote that 'Niña danced around like a dervish at sea.' He attributed this to the fact that she was cut away forward, whereas my father's Wanderbird, the former Elbe River pilot schooner that he sailed back and forth across the Atlantic and around Cape Horn, had a full forefoot."
Commodore is notorious for being critical of boats. "He can't help himself," explains his wife Nancy. For example, upon completing the delivery of our catamaran Profligate from Mexico to California some years ago, he wrote a single-spaced two-page letter listing the litany of reasons why we should sell the cat immediately.
Based on an hour aboard Niña, dinner with the couple, and another meeting, Tompkins said it was clear that both David and Rosemary had "totally embraced the schooner." But to his very critical eye, the schooner looked "a bit rundown" and "like an old boat that was struggling to be kept going." We asked him for specifics. "I noticed that a couple of the turnbuckles were slightly deformed. These were very large bronze turnbuckles that might have been the first the Merriman Brothers ever made. They needed to be replaced. David also explained to me that they had rebuilt the foundation of the forward mast — without unstepping it. I don't see how that could be done properly without unstepping the mast. Thirdly, he told me that they had sheathed the entire hull, and I believe the keel, in a quarter inch of fiberglass. 'That's what enabled us to do this trip,' he told me. That suggests to me that the underlying 86-year-old hull was not in the best condition."
We asked Commodore to speculate on what might have gone wrong on the schooner.
"The first thing that occurs to me is that there was still something wrong with the base of the foremast, and that under the tremendous compression of heavy weather, it opened up the garboards. That would sink the boat in a hurry. The second thought is that maybe one of the deformed turnbuckles had failed, causing the big aluminum main mast to fall, fill with water and, still attached to the boat, ram a big hole in the hull. Or the butt could smash a large hole in the hull. A distant third possibility is that some of the fiberglass sheathing no longer adhered to the hull and led to some kind of hull failure."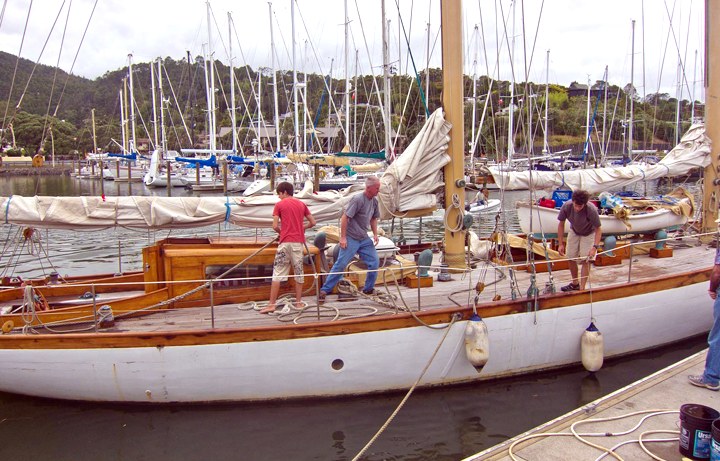 These theories are certainly plausible. For instance, about 25 years ago San Diego sailmakers Paul and Susan Mitchell took off across the Pacific aboard their 61-ft wood schooner White Cloud. Without warning, her hull opened up in moderate conditions in the Coral Sea, and she sank within minutes. They survived to buy a smaller aluminum sloop and cruise her for many years, and more recently have taken to cruising the canals of Europe.
When we suggested that Niña might have sunk as a result of a collision with a whale or container, Commodore dismissed the possibilities. "You have to be fatalistic about those things if you're going to go to sea, so it's counterproductive to think about them." We're perplexed by his reasoning.
Is there any hope for the crew of the Niña? It's true that the Tasman Sea is large and not home to many vessels. Indeed, one poster to a report on SFGate.com said he'd been on a fishing boat in the Tasman Sea that lost all power, and drifted helplessly for a month or so before being stumbled upon by a sailboat. Indeed, when we started Latitude in the late '70s, and when EPIRBs were much less common and reliable, it was not that rare for boats or crews of boats in liferafts to survive unheard of for a month or more.
The biggest mystery to us is why no EPIRB signal has been received. It suggests three possibilities: 1) There was some failure so catastrophic that nobody had time to get to the EPIRB, which had to be manually activated; 2) the EPIRB went down with the vessel so quickly that there was no time for the signal to get out; 3) the EPIRB battery was dead and/or there was some other problem with the EPIRB.
While the chances of the Niña or her crew being found are becoming more slim by the day, we, like the Dardens, continue to think positively.
Receive emails when 'Lectronic Latitude is updated.
SUBSCRIBE