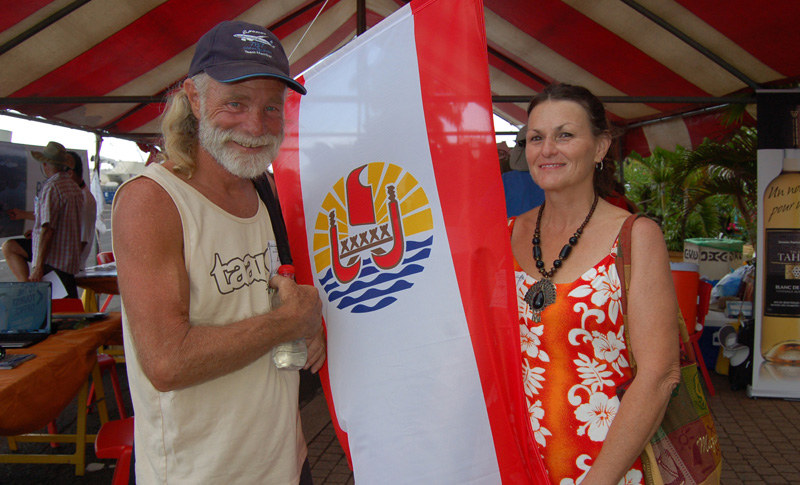 Dozens of sailors from all over the world converged on Papeete, Tahiti, late last week to take part in the eighth annual Tahiti-Moorea Sailing Rendezvous (June 28-30). All had recently made the 3,000-mile passage from the West Coast of the Americas to the fabled landfalls of the Marquesas and Tuamotus — the voyage we call the Pacific Puddle Jump.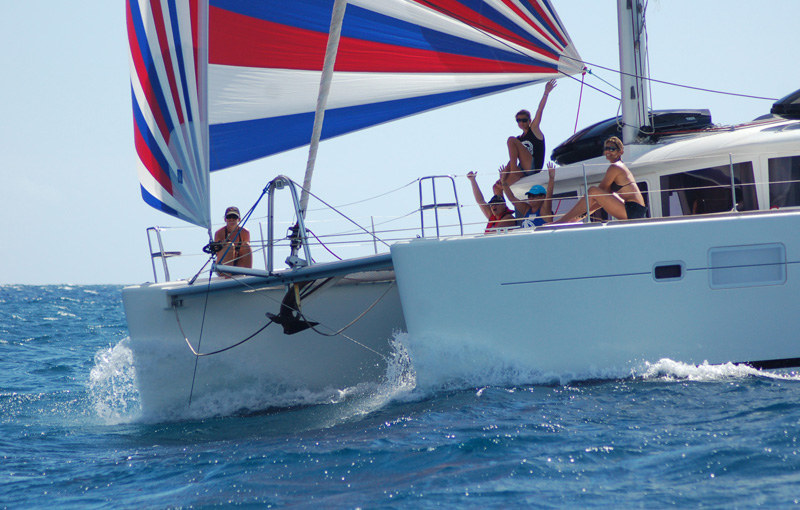 Organized by our longtime Tahitian partner Archapelagos, with additional support from Air Tahiti Nui, Tahiti Tourism and other organizations, this annual gathering serves as a forum for fleet members to celebrate their successful crossings while swapping tales with fellow cruisers. It's secondary goal is to showcase highly revered Tahitian cultural traditions in music, dance, sport and cuisine.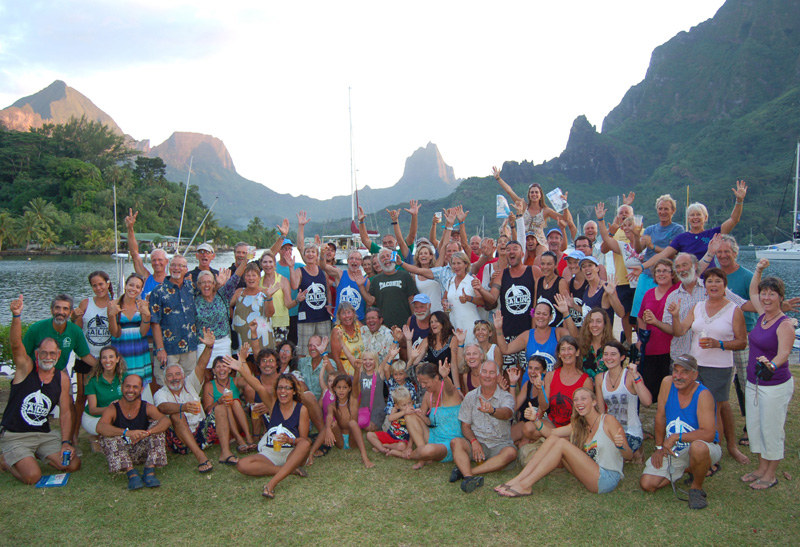 Among Friday's activities were a chart briefing about local cruising highlights, a cocktail party, the blessing of the fleet by a Tahitian chieftain, and a dance show.
Saturday, the fleet made the 15-mile crossing to Moorea's majestic Cook's Bay in robust conditions that had every boat hitting its hull speed, with the spray flying. That evening, fleet members came ashore at the Club Bali Hai where Miss Moorea welcomed them with flower leis. The evening's big treat was watching the International Uke Festival, which was hosted by the hotel — an uplifting experience for all.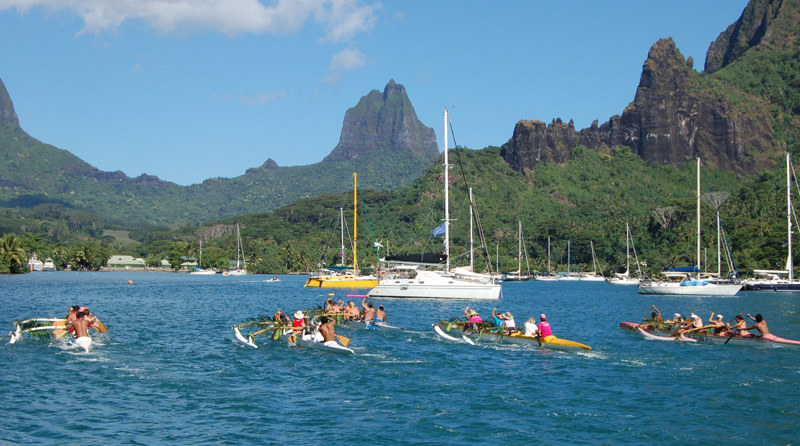 The Rendezvous' Sunday schedule is always filled with a variety of beach games and cultural demos, the highlight of which is always the six-person outrigger canoes races. Via a series of round robin eliminations, this year's champs were a studly group of young men from the catamaran Skimpy, whose unique team name was 'We're Not Wearing Any Underwear'.
That's the basics, but as you can see, the pictures tell the story. If you plan to sail to the South Pacific next year, we highly recommend you put the Rendezvous on your must-do list. It happens every year on the last weekend of June or first weekend of July.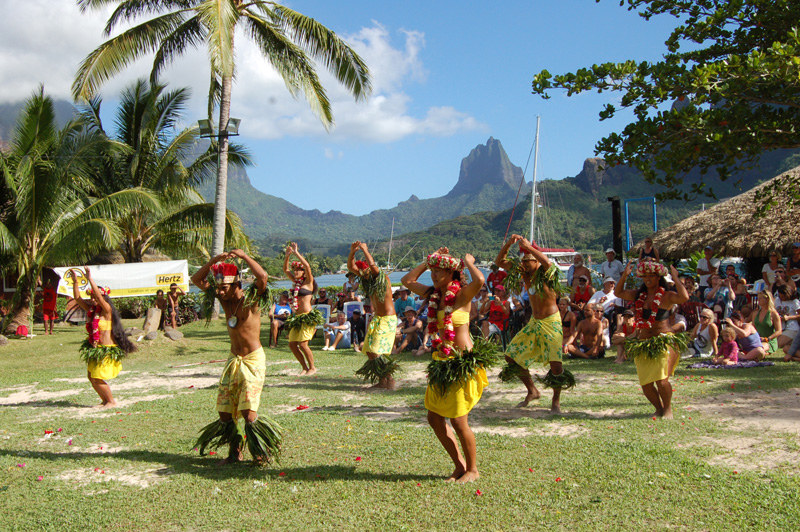 While most sailors are getting ready for casual Fourth of July fun on their boats, five Mini 6.50 sailors are amping up for the July 6 start of the Mini 650 Pacific Challenge. The event will see the singlehanders race their 21-footers some 2,000 miles from Marina del Rey to Hawaii.
The entries are:
Jerome Samarcelli on Team Open Sailing
Sean McGinn on Daisy Cutter
Przemyslaw Karwasiecki on Libra
Luiz Eduardo on ARG 842
Charles Calkins on C's Folly
These box rule 6.50 boats are high-tech and have launched the careers of many great sailors, particularly in England and the Continent. Thanks to live tracking, family, friends and transpacific racing fans will be able to follow the boats as they make the crossing.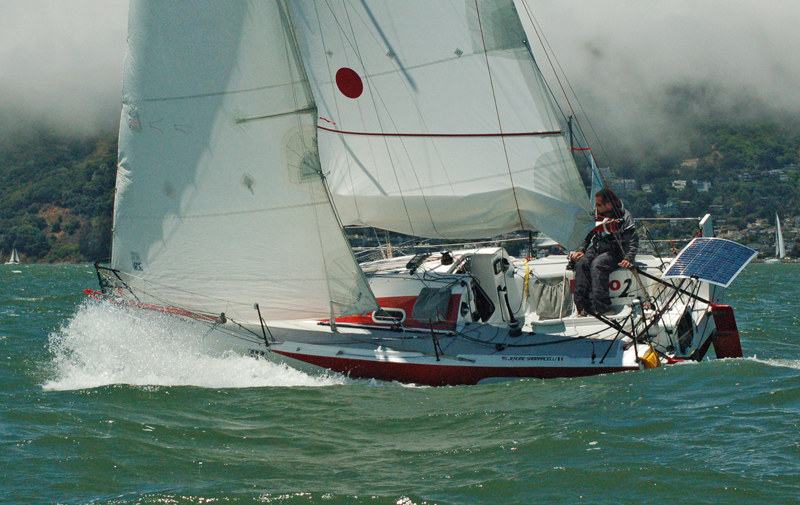 Small boats racing to Hawaii is not new. The Santana 22 Able Sugar did the Singlehanded TransPac in 1978, Norton Smith did the same event in 1980 with his Wylie 20 American Express, as did Amy Boyer in her Wilderness 21 Little Rascal. Robert Crawford raced his Cal 20 Black Feathers in the 2008 event, and Jerome Samarcelli did it last year with the Mini he's using for this race. For reference, his elapsed time was 13d, 22m, 35s.
Also coming up, with starts on July 8, 11 and 13 is the 47th edition of the Los Angeles to Honolulu Race. There is a healthy fleet of 59 boats this year, with what seems to be an unusually high number of competitive boats. It's also a very international TransPac, as there are six entries from Japan, two from Australia, and one each from Germany, Mexico and Italy (see the preview of the race in the July issue). However, our favorite is Michael Spies and Patinyakorn Buranrom sailing the Tripp 40 Sansiri out of Ao Chalong, Phuket, Thailand. If you've ever been to Ao Chalong, you know what we mean.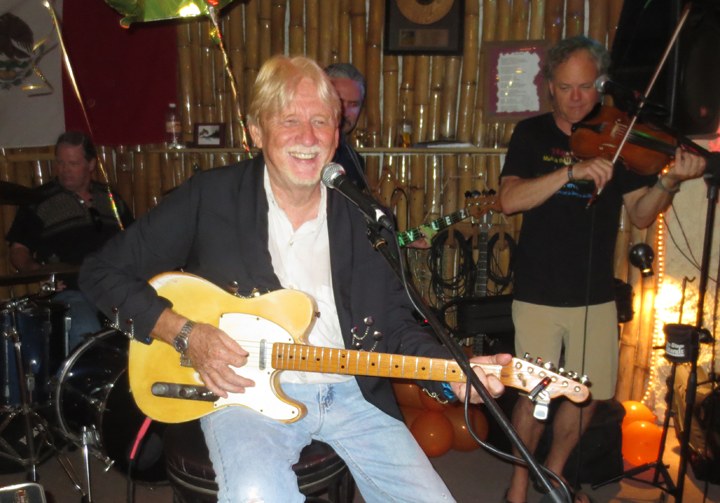 The plan was for Profligate to be relaunched at the Riviera Nayarit Shipyard about a week ago, and for the Wanderer and Doña de Mallorca to do a two-person Dash/Bash up to San Diego. But then the TraveLift had to be taken out of service for a few days for maintenance. Knowing that idle hands are the devil's workshop, the Wanderer had Peter and his crew at the Shipyard do a little job. They did it so well that another job was ordered up. And another and another, each one bigger than the one before. So Profligate, brand new bottom job and all, is now disassembled for numerous jobs we wish had been properly done when she was launched 16 years ago. We'll have more on the nasty projects in a future 'Lectronic. As of now, we're hoping to be able to head north in a month.
Being stuck on Banderas Bay in the early off season isn't bad at all. Not bad at all! Up until about the the third week in June, the weather was fabulous. Not too warm, not too humid, and no rain. Since then it's gotten warmer and more humid, but it's still very bearable if you've got good fans and like to swim. And it's started to rain a couple of hours a day most days. And when it rains down here in the summer, it pours, and is accompanied by tremendous amounts of lightning and boat-shaking thunder. Some days it's blowing 20 and pouring rain at 9 a.m., but by 1 p.m. it's the kind of beach day Southern Californians can only dream about. A week after the first rain, the jungle vegetation suddenly turned green. Fabulous!
Naturally the cruisers celebrate Fourth of July in Mexico. There will be swimming pool volleyball and more traditional activities at the Marina Riviera Nayarit, and big doings at Paradise Marina, too.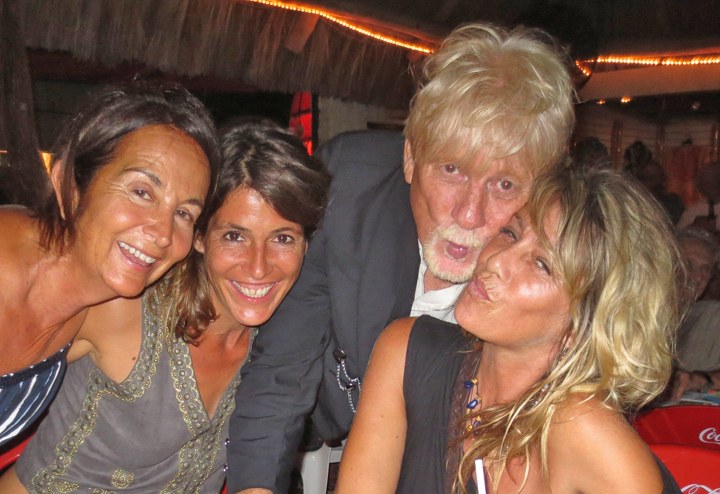 Last week Philo Hayward of Philo's Music Studio, Bar and Restaurant held his annual birthday party and 12th anniversary party at his place in La Cruz. He says he's 68 but plays and acts like he's 49. We don't know where all the people came from, but the place was packed. Originally from Mendocino, Philo came south with the 2000 Ha-Ha aboard his Cal 36 Cherokee. The minute he strolled the streets of La Cruz, he fell so much in love that he immediately bought the place that has become Philo's. He continued on across the Pacific the next two summers before selling his boat in New Caledonia, and spent the winters getting the music studio and bar going. It's now long been a Riviera Nayarit institution.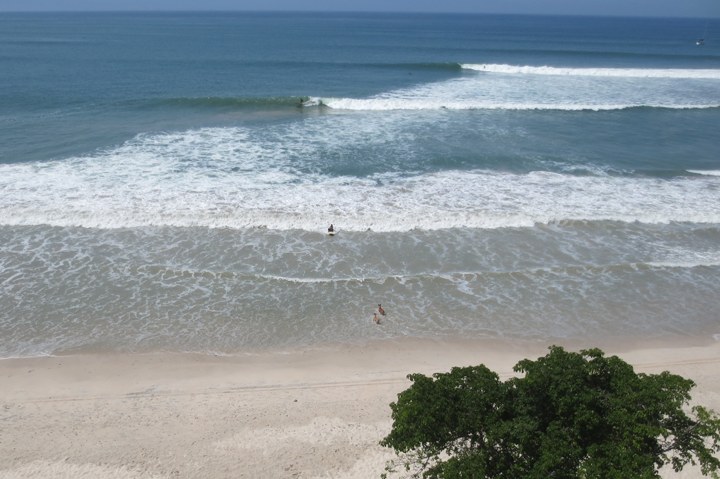 Summer means tropical storms and hurricanes off the coast of Mexico, which also means great surf. About two weeks ago there was a five-day swell that locals said was the biggest in three years. It peaked with 8- to 10-ft waves at places like the Mexican Malibu, Stinkys, Pachucos, La Launcha, Burros and the break just to the east of the Marina Riviera Nayarit. There were way more waves than surfers, and it was so light and warm people were out until 9 p.m.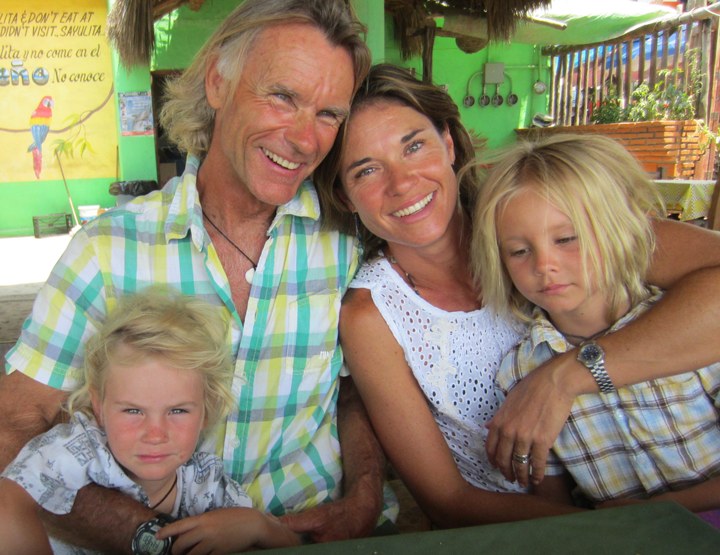 There are still a few boats at the anchorages at La Cruz and Punta Mita, but not many. Among the last was the Lagoon 440 cat Sonrisa belonging to the Bettingham-Moore family — Nick, Melissa, Benjamin, 6, and Huon, 3 — of Tasmania, Australia. After a career running powerboats without budgets and living the flash life in the Med, Melissa got pregnant, so they decided to call it a career. They decided what they really wanted was a family and the very simple life aboard a Lagoon 440 catamaran they bought new in La Rochelle, France. Ever since 2007, they've been headed home to Tasmania, and figure they'll get there in about five more years. This is the family's second year in Mexico, and they're loving it. They find the Mexican people to be just wonderful, and don't miss the high life of the Med in the least. A few days ago they headed north to spend a second summer in the Sea of Cortez. We'll have much more on the Bettingham-Moore family in a future issue of Latitude.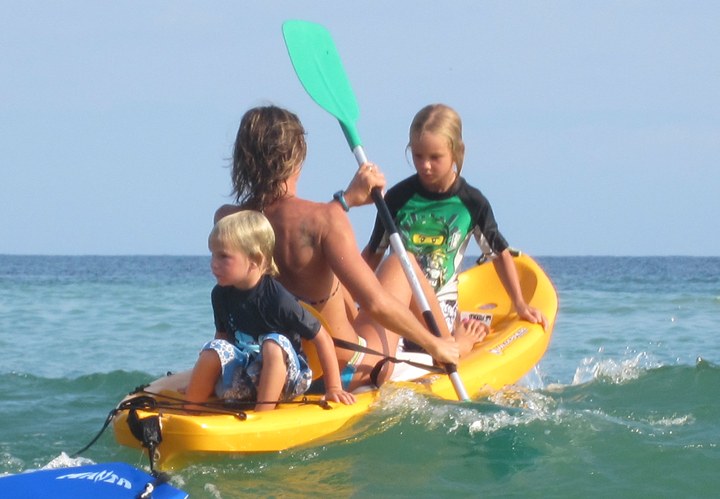 For those who have waited to do the Bash, there have been some excellent weather windows. Bill Lily gave the following report from his Newport Beach-based Lagoon 470 Moontide:
"As of 2 p.m. on Monday July 1, we are a bit north of Punta Baja. I don't want to jinx Judy and myself, but here is what we've have had for weather since we left Cabo:
"Cabo Bay to Cabo Falso — 22+ knots on the nose with bouncy seas for about four miles. We had to drop down to 3 knots for a bit.
"Abeam Falso — 12 knots WNW.
"Two hours north of Falso — 6 to 8 knots from the NW.
"The rest of the way to Bahia Santa Maria — Less than 8 knots.
"BSM to Turtle Bay — Never more than 6 knots.
"Turtle Bay to Cedros — 12-14 knots from the NW for 30 minutes, then down to under 10 knots the rest of the way.
"Cedros to San Carlos — Under 12 knots, mostly from the SW.
"San Carlos to Punta Baja — Less than 10 knots from the E to SSW.
"The forecasts have been calling for such benign weather that we've been stopping at night instead of continuing on in placid conditions. Our plan is to overnight to Ensenada, have dinner at Sano's tomorrow night, then run up to San Diego in time to clear Customs by 9 a.m. so we can get a spot to anchor in La Playa Cove on the Fourth of July. But so far the weather has been so mellow that I'm telling Judy that she doesn't get to count it as a real Bash."
A short time later Lily reported that the wind had come up to 16 to 18 knots . . . out of the south! "It was almost worth putting up a chute," he said.
And Moontide wasn't the only boat that had an easy Bash. Patsy 'La Reina del Mar' Verhoeven of the La Paz-based Gulfstar 50 Talion reports that she and crew Bob Martin and Bruce Bloch had an "easy trip" from La Paz to San Diego, which is about 880 miles. "We made it in seven days, and that included spending two nights in Turtle Bay."
Our World Headquarters will be closed on Thursday and Friday, so no matter where you all, all of us at Latitude 38 wish you a wonderful — and safe — day of sailing on the Fourth!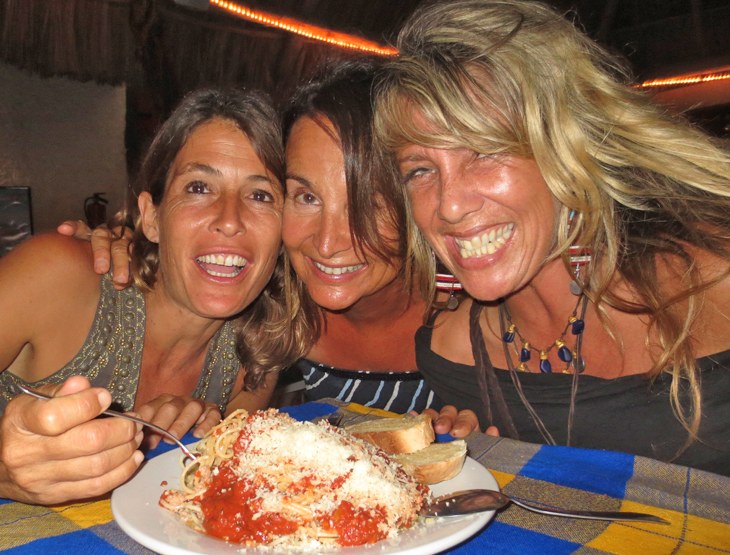 Receive emails when 'Lectronic Latitude is updated.
SUBSCRIBE