We're thrilled to announce that the Delta Doo Dah 'Fab 4' edition, July 28-August 3, is now open for registration. We started this little rally four years ago with the hopes it would encourage Bay sailors to explore their own backyard, whether as part of the rally or on their own. Though we keep the entry list at 50 to not only make the fleet manageable but also because most spots in the Delta can't host much more than 50 boats, hundreds of Bay Area sailors vie for the coveted positions every year. In the past, registration has been a first-come, first-served process — Delta Doo Dah 3D sold out in 25 minutes last year — but in an effort to allow everyone an opportunity to join in the fun in the sun, we've changed the process this year.
Registration will be open HERE until midnight tonight. Registrants will fill out a short form with their information but will not be asked for payment. Tomorrow, the Doodettes — Christine Weaver and yours truly — will randomly select and notify 50 entries, who will then have 24 hours to complete the registration process and make their payment of $99. In the meantime, we'll build a waiting list from the remaining registrations. If any of the first 50 don't respond or pay within 24 hours, we'll take them off the list and offer their spot to the next person on the waiting list.
So what can you expect on the Doo Dah? The entire itinerary hasn't been nailed down yet, but we do know that Berkeley YC will once again graciously host our Kickoff Party on July 27. The official start will be the next morning at the Richmond Bridge as the fleet makes their way to Vallejo YC. From there, everyone will enjoy the hospitality of Peter Yates and the gang at the Sugar Barge, Devery Stockon and her terrific staff at Owl Harbor, and our new hosts at King Island Resort. Keep an eye out at www.DeltaDooDah.com for the complete itinerary, but also to join in our online Delta forum to share tips, anchorages and fun stories. You'll get all of this, plus a burgee and T-shirt stuffed into a swag bag with other goodies from sponsors for the measly $99 entry fee! (You can order more shirts and a cool new hat during the final registration process.) But we should warn you to make sure you can actually 'do the Doo' before signing up as there are no refunds. (You can read the Notice of Rally here.)
So relax, there's no need to rush your registration. If you're reading this after work, you're not too late. Go ahead and sign up anytime before midnight tonight at the link above. Just don't put off what you can do today or you'll miss out on one of the most enjoyable ways to spend a C-note.
Thanks to a well-coordinated effort by several US Coast Guard resources, two injured crew were safely transported Sunday from the Clipper Round the World Race vessel Geraldton Western Australia to the cutter Bertholf. Within hours of this posting, they should be receiving medical care at San Francisco General Hospital.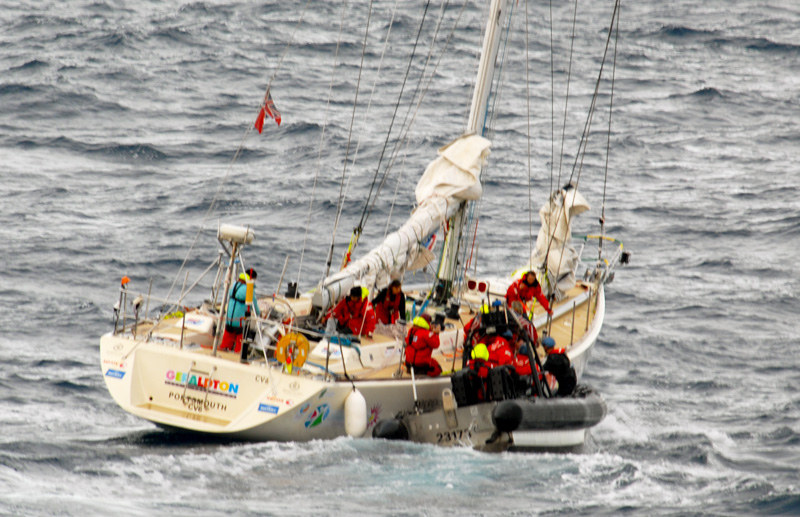 Two UK-based sailors, Jane Hitchens, 50, a doctor, and Nik Brbora, 29, a software engineer, were seriously injured Saturday when a huge wave lashed the 68-ft sloop during a period of intense weather — gusts as high as 60 knots were reported. Two other crew were also injured, including the helmsman at the time the wave struck, but they elected to stay with the vessel.
During Saturday's initial search and rescue response, a California Air National Guard pararescue team flew out to the Geraldton, then 400 miles off the coast, in a long-range Coast Guard HC-130J Hercules aircraft. But conditions proved too severe for them to parachute down to the damaged yacht.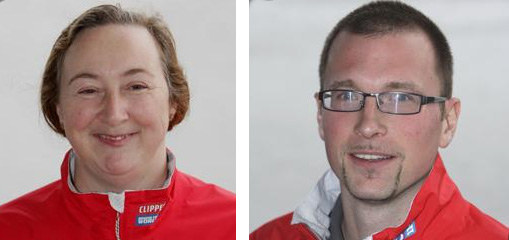 Our hearts go out to Hitchens and Brbora, not only because of their painful injuries — suspected broken ribs and suspected pelvic strain, respectively — but also due to their disappointment in not being able to complete the 6,000-mile leg from Qingdao, China, after completing more than 90% of that distance. Also, both are among the minority of Clipper crew who booked the entire eight-leg, around-the-world voyage.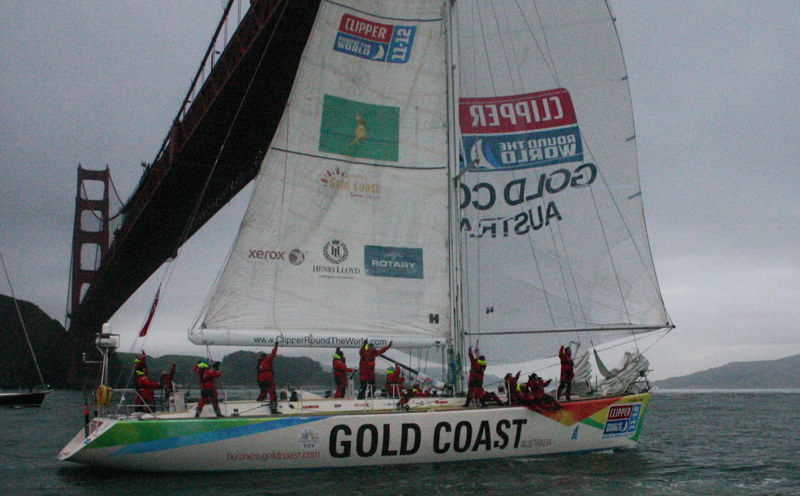 Meanwhile, jubilant celebrations erupted throughout the weekend on the docks of Oakland's Jack London Square, as Clipper yachts finished the nearly month-long leg one by one. The first was Gold Coast Australia, which came in Friday evening with a commanding lead over her competitors. Click here for more on the race.
In Friday's preview of the four-race Voiles de St. Barth, which begins tomorrow and will run through Saturday, we incorrectly reported that one of the entries would be Rambler 100, which participated last year — and then late in the summer flipped off Fastnet Rock during England's Fastnet Race. Alas, as we should have expected, Rambler 100 is now the center of a big dispute between the insurance company, the owner and the charterer for the Fastnet Race. All naturally want as much of the insurance money as possible, but most of it will probably go to the various lawyers. It's unclear whether 100 will ever sail again.
Anyway, the same charterer, George David, is back for the Voiles this year, but with the still-fast-but-much-less-radical R/P 90 Rambler 90. We're still waiting for a final entry list, but it appears there will be over 60 boats in the Volies, between 30 and 118 feet. Unlike the recently concluded St. Barth Bucket, the Voiles is a much more competitive event, so while there aren't as many men around the island this week, there is nonetheless a much higher concentration of testosterone. For an idea of what the sailing fun will look like, and why you should maybe charter a Beneteau from St. Martin to do it next year, check out the video of the day at
Beware of the water! Lots of diners in St. Barth are shocked when they get their bills for lunch or dinner. Because if you say yes, you'd like some water, at a place like Nikki Beach they bring you water in a really fancy bottle — then charge you about $25 for it. In the tropics, it's easy for a group of four to drink two or three bottles, which knocks the bill up by $50 to $75. Ouch! And sometimes it seems like they must use Nikki Beach water to do the laundry on the island, because it usually costs $30 a load, and that doesn't include machine drying.
One guy who would never pay $25 for a bottle of water is artist/musician/circumnavigator David Wegman of the homebuilt Cowhorn 32 schooner Afrigan Queen, who has been part of the St. Barth scene for more than 30 years. On Sundays, when all of St. Barth shuts down, Wegman takes his battered and patched-together old schooner over to Columbie, and invites one and all to an 'old St. Barth' afternoon of wine, food and fun. The following photos tell the story best.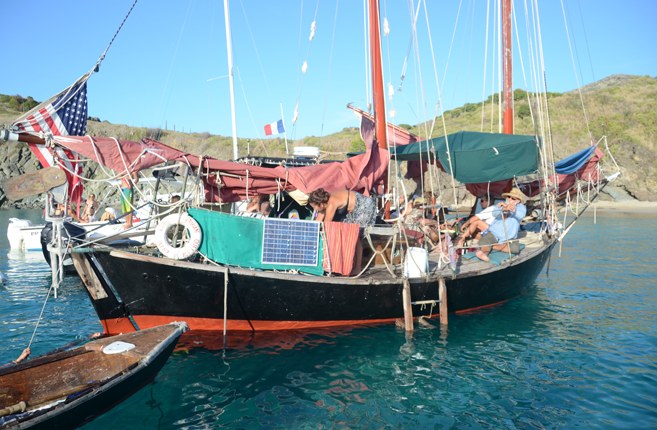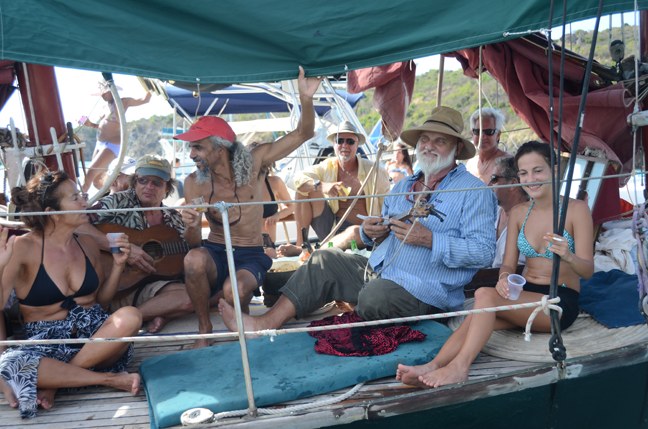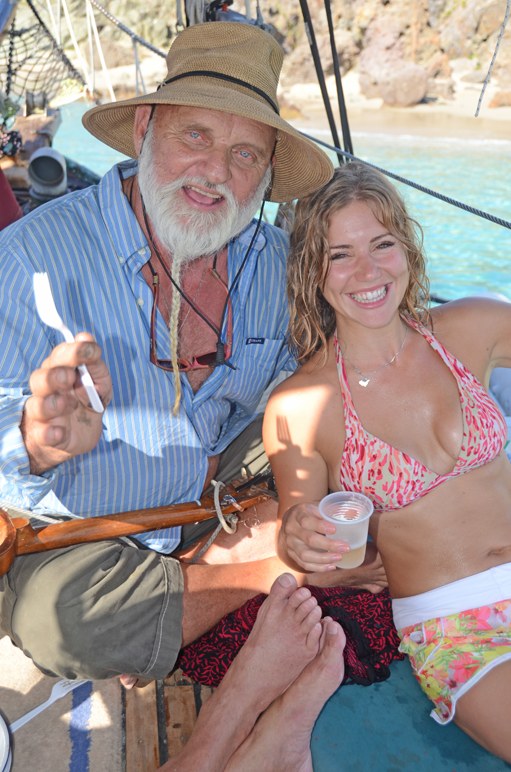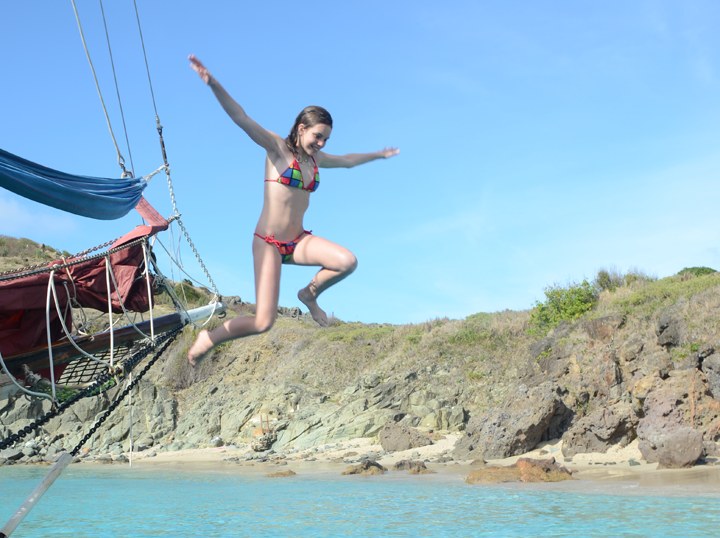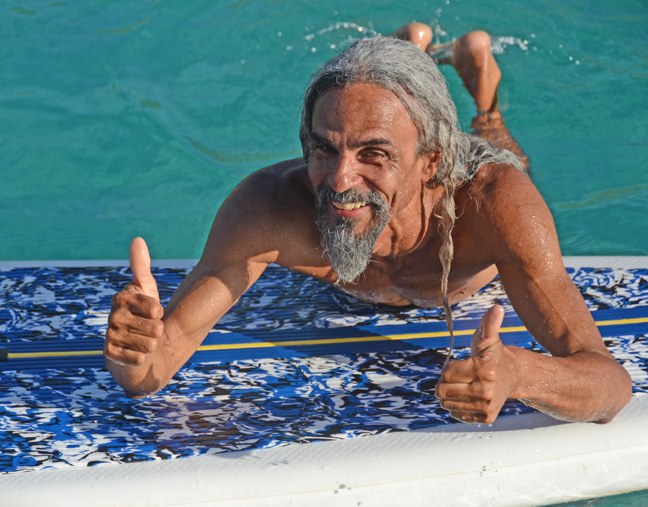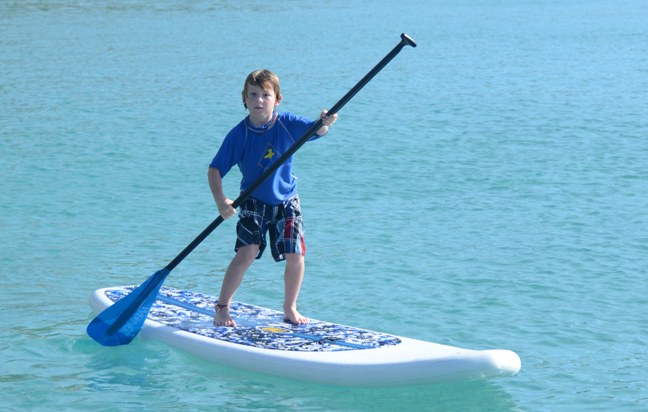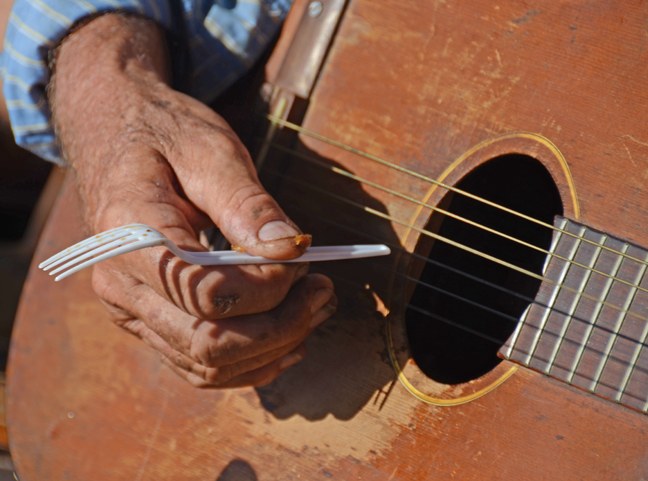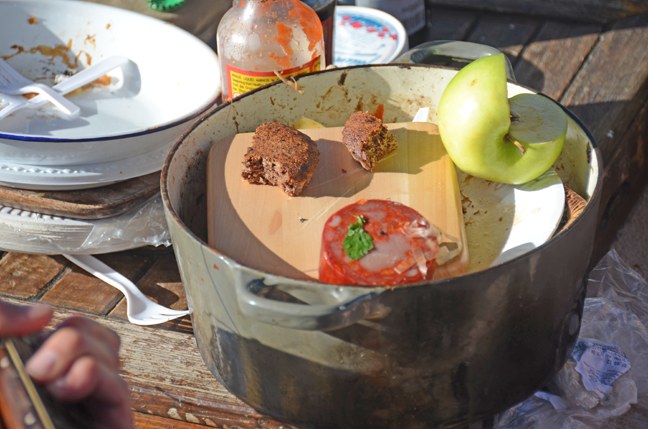 Receive emails when 'Lectronic Latitude is updated.
SUBSCRIBE